Last week, like many others, I received an email promotion from Typo .
It was a graphic posing the question – Watermelons v Pineapples. I found it rather amusing that there was a graphic posing this very now but first world question. I immediately posted it on my Facebook page.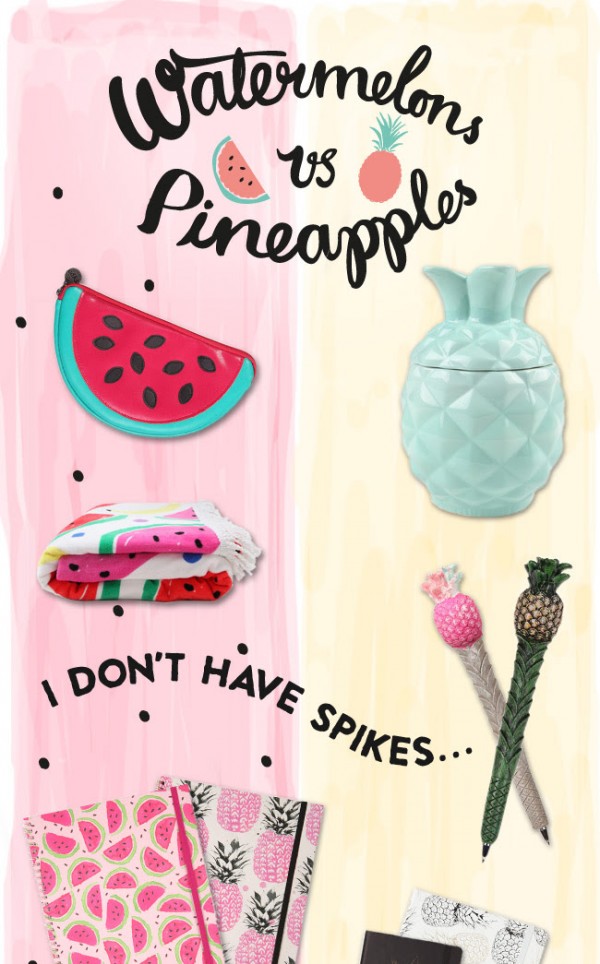 Then I actually had to stop for a moment and think. I'm a fan of both you see, and then I thought, how funny that fruit is all over EVERYTHING at the moment.
Not just stationery. Not just cushions. Not just pens.
Fruit, particularly pineapples and watermelons are EVERYWHERE at the moment. When I started looking around, it didn't take long to find fruity prints on clothes, artwork, beach towels …. well, pretty much anything.
Why? Well, as Derek Zoolander would say, fruit is so hot right now. It's a trend that is fun, fresh and is a very big nod to summer – fruit platters, cocktails and of course trips to The Big Pineapple (always with a souvenir pineapple pen) and the long summer holidays.
So, if you are not sure which team you are on and need a little convincing one way or the other, this post is for you. And as you can see below, stores and brands across the price spectrum have all embraced the fruit trend in a big way, making a slice of this style accessible at any price point.
It's also for those of us on Team Switzerland, who love a bit of fruit fun, however it comes!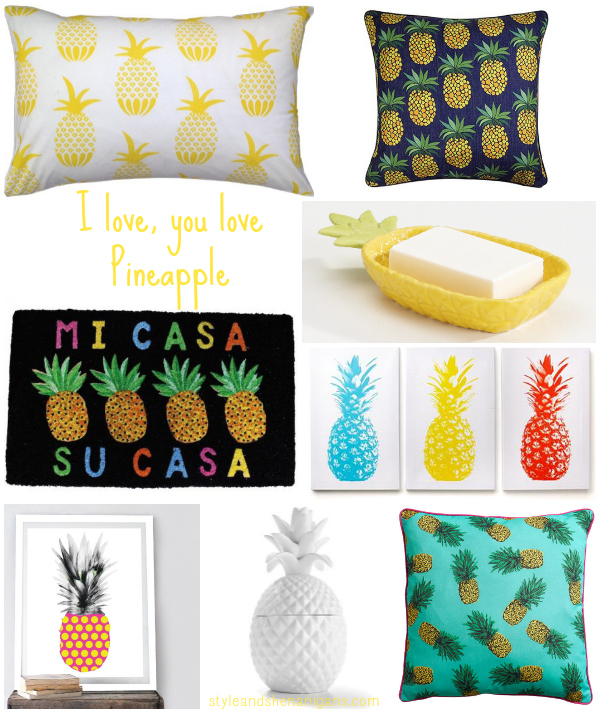 CLOCKWISE FROM TOP LEFT: Pina Colada Pillow Case in Sunshine, $24.95 from I Love Linen; St Lucia Pineapple Cushion Cover, $34.95 from I Love Linen; Pineapple Dish, $11.95 from Brown Trading Co.; Pineapple Print Set, $12 from Kmart; Pineapple Outdoor Cushion, $30 from Target; Ceramic Pineapple Jar, $9 from Kmart; Pineapple Dots Art Print, $90 Everything Begins; My Home is Your Home Doormat, $85 from Lark Store.
If you love a hint of pink in your decor, it's hard to go past a juicy slice of watermelon. It's also hard to go past Baby Houseman's classic line in Dirty Dancing ….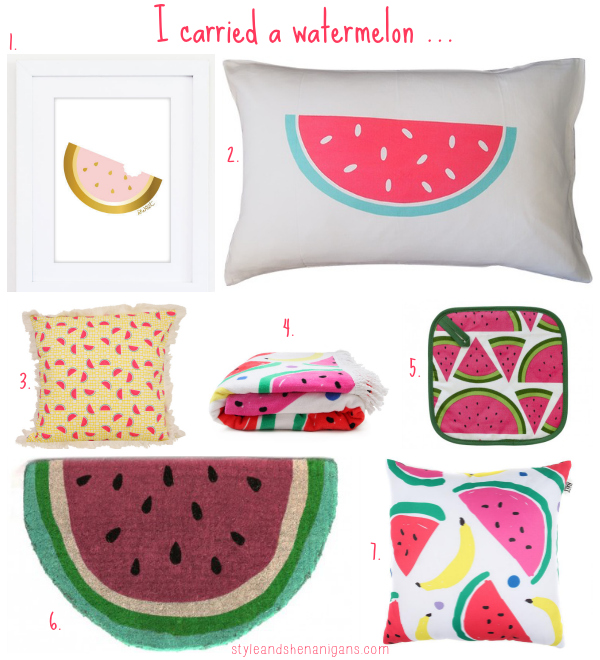 1. Sweet Watermelon Print, $24.95 from Down That Little Lane; 2. Giant Melon Pillowcase, $24.95 from I Love Linen; 3. Watermelon Cushion Cover, $15 from Brown Trading Co.; 4. Watermelon double beach towel, $49.95 from Typo; 5. Watermelon Pot Holder, $11.95 from Lark Store; 6. Watermelon Door Mat, $58 from Lark Store; 7. Watermelon Printed Cushion, $24.95 from Typo.
Watermelon and pineapple prints are not limited to decor either.
As you can see below, fruity prints are a huge trend this summer from women's wear right through to girls, boys and baby wear and accessories.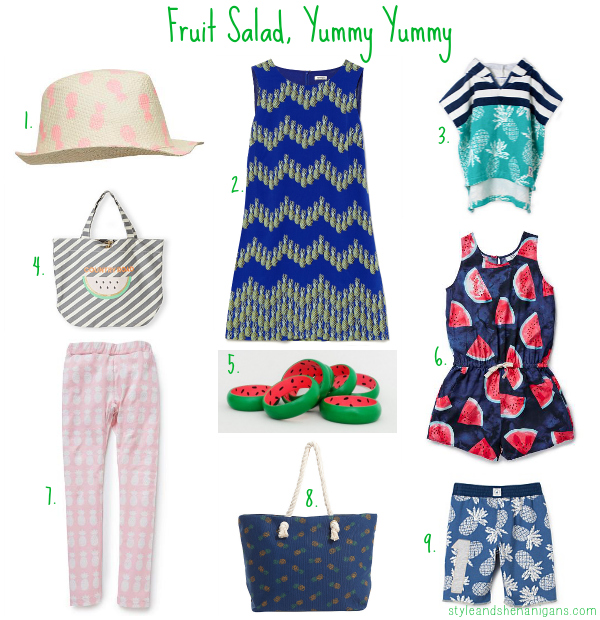 1. Girls' Pineapple Fedora, $29.99 from Seed Heritage; 2. Silk Pineapple Shift Dress, $216.75 from Marcs; 3. Child's Pineapple Poncho, $39.95 from Country Road; 4. Girls Watermelon tote, $39.95 from Country Road; 5. Secret Watermelon Bangle, $25 from Lark Store; 6. Girls' watermelon playsuit, $59.95 from Seed Heritage; 7. Girls Pineapple Leggings, $19.95 from Seed Heritage; 8. Pineapple Beach Tote, $16 from Target; 9. Boys' Pineapple Sweat Short, $39.95 from Country Road.
Are you loving fruity decor and/or clothing? What fruits would I find at your place? Ever visited the Big Pineapple?