It's been a bit of a turquoise festival here at Style and Shenanigans this weekend. As I wrote in The Top 9: Time for Turquoise at Home, I love turquoise and I wear it. A lot. In summer, I love the lighter shades of aqua and find it quite versatile insofar as it looks great with white, tan or silver shoes/accessories. It looks particularly gorgeous with a fake/spray/responsible tan and is a definite go to colour for those of us with blue eyes.
There are lots of great aqua accessories and summer clothes available for summer. You can almost always source jewellery and accessories with aqua tones at Sportsgirl, Ishka and Tree of Life and Kaftan/beach dresses and cover ups from Adrift and Firefly.
Below, I have put together an outfit using one of my favourite combinations: aqua, white and a pop of pink. I could happily wear all of these items on high rotation all summer long. If you are not as confident with colour, an aqua ring and a colourful print tote bag or bright scarf with a white/block colour dress is a good start.
If you love wearing prints, this dress, bracelet and a pair of Havianas is a fun, comfortable casual look. If you are happy to clash prints (which I am), throw the bag over your shoulder to top the whole look off.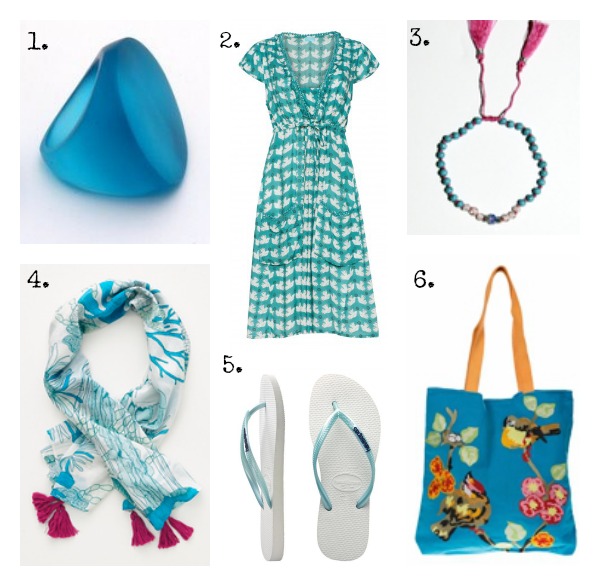 1. Ring – Luna Resin Ring in Transparent Turquoise, $25 from Polka Luka
2. Dress – Amber Dove Aqua Dress, $89 from FireFly
3. Bracelet – Neon Nights Bracelet from Beautiful Life Industries, $12 from Down That Little Lane
4. Scarf – Tropicalia scarf in sea, $69.95  from Mozi
5. Thongs – Slim Rubber Logo Havianas in White/Aqua, $29.99 from Havianas Australia
6. Bag – Summer Blossom Tree Bag by Hand of India, $64.95 from Birdsnest
Do you wear aqua/turquoise? If you do, do you wear small pops or big prints? Talk us through your aqua approach!