Hot pink and I go waaay back. Back to the hot pink shorts I wore in primary school through to my wedding back in '02, when my beautiful bridesmaids wore hot pink sequinned tops with hot pink silk satin skirts.
I love wearing hot pink either against black and white in the cooler months, or with a tan in summer. It is such an arresting colour albeit not for someone who likes to blend into the background!
I am so happy to see hot pink return this summer in women's clothing and accessories. As the selection below demonstrates, hot pink looks striking against blacks and golds in a modern pared back look for smart days or hot nights. The printed pants, watch or necklace are great examples of this.
I am loving hot pink paired with leopard print and picked up a pair of these Havianas at the Gold Coast airport recently. What a hot look for summer and oh so GC!
Hot pink can also create a relaxed, bohemian aesthetic as this folksy clutch evokes.
As for these bathers, I think they are just gorgeous and I love the vintage styling and flattering halterneck. I can imagine myself wearing these, lying on a banana lounge with a cocktail and glossy magazine in hand. Although in reality,  I would probably be supervising serious sand play at Blairgowrie instead. At least the kids would be able to find me easily if they got lost!
The dress is a versatile number and the lace and belted waist create a vintage look. I would wear this delightful frock to the races or a Christmas function.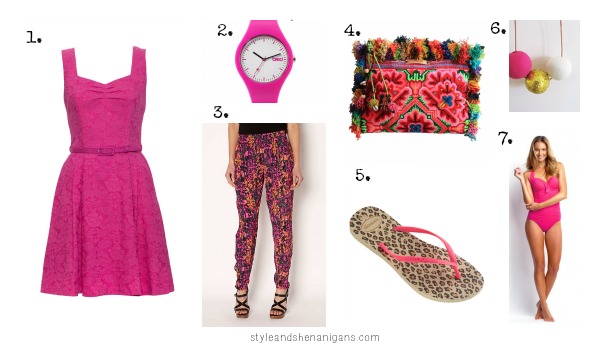 1. Dress – Tina Dress, $149.00 (on sale) at Review;

2. Watch – Breo Classic Watch in Pink, $44.99 from Hard to Find; 
3. Pants – Viscose Printed Pant $99.95, from Witchery;
4. Clutch – Martini Clutch in Pink Garden by Spider + Lily, $79.95 from Hard to Find;
5. Thongs – Slim Animals Fluoro in Sand Grey Havianas, $29.99 from Havianas;
6. Necklace – Neon & Glitter Necklace in Pink, Gold and white by Danidot Designs, $32 from Down That Little Lane;
7. Bathers – Seafolly Goddess Halter Maillot in Neon Pink, $169.95 from Seafolly.
Do you wear hot pink? Why or why not? How do you like to wear it? What do you pair it with?