I love Christmas, I really do. Still, I can't wait until after Christmas.
I have my eyes firmly on the prize – that week or so after Christmas. You know, those days when you have no plans and no one expects you to do anything or go anywhere?
Those days when you can get up and say, "What do I feel like today?"
I have a particular idea of my wardrobe for this time. It consists of floaty fabrics to hide the festive aftermath, slip on footwear and a big tote to carry all the supplies we'll need: bottles of water, sunscreen and fruit for a day out or a trip to the local pool or park.
It's the time of year when I finally crack out a pair of shorts and play bocce in the park with the kids.
I can't usually be bothered with makeup or doing my hair during this time, so I like to wear a big pair of sunglasses and a hat and let my colourful clothes do the talking.
Even better if the colours conjure up summer favourites like the ocean, watermelon and nectarines!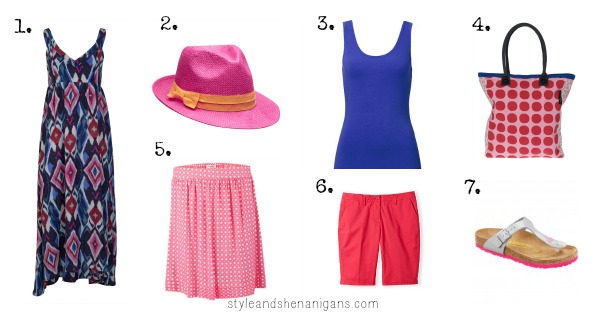 1. Sass Wildcat Maxi Dress (sizes 8 – 16), $109.95 from Birdsnest;
2. Suzanne Bettley Fuchsia Trilby with Ribbon Band, $15 from Target (online exclusive);
3. Women's Apparel Favourite Tank, $9.95 (on sale) from Seed Heritage;
4. French Bazaar Red Dots Carry Bag, $59.95 from Birdsnest;
5. Peter Morrissey Printed Spot Skirt – Pink (sizes 8-16), $25 from Big W;
6. Stretch Short (sizes 4 – 14), $69.95 from Country Road;
7. Birkenstock Gizeh Birko-Flor Colourmix Ash Patent Pink Sole, $139 from B Store.
What is your ideal summer outfit? What do you love to wear or avoid like the plague? What does your January look like? What are you looking forward to the most? 
Thank you for your comments. I love to hear from you!