The boys have been a bit underrepresented of late, so I thought it was high time I unearthed some great Spring finds for the men, big and small, in our lives.
For the Lads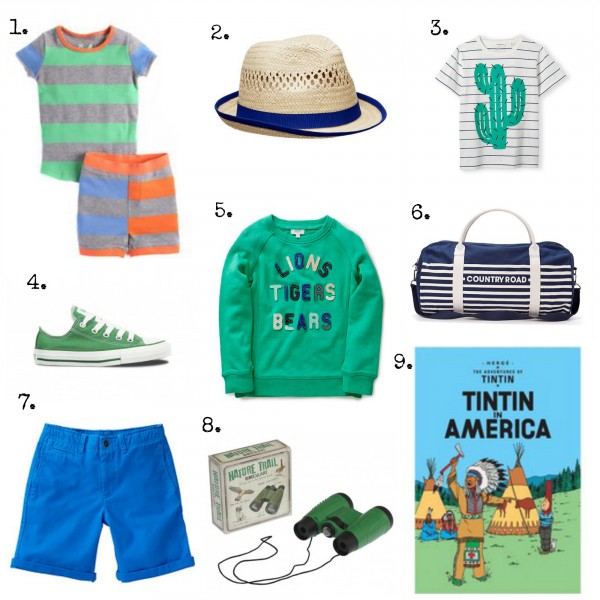 1. Pyjamas – My boys love their Cotton on Kids pjs. They are snug and comfy and are $19.95 each or 2 for $30 for some styles;
2. Hat – While a sunhat is essential for summer months, a Fedora is more of an accessory. We gave our boys Fedoras for Christmas last year and they were a huge hit. This Fedora with Contrast Trim (Royal Blue) is also available in Green and is $24.95 from Seed Heritage;
3. T-shirt – This Cactus T-Shirt, in sizes 2 -12, is perfect for a long hot summer. It is $29.95 from Country Road.
4. Trainers – I am loving these cool Chuck Taylor All Stars in green and even better, they are currently on sale for $44.99 from Converse.
5. Sweater – Green is a great colour on boys and always works with navy and denim. This Washed Crew Sweater, in sizes 1-10 is $49.95 from Seed Heritage.
6. Tote Bag – When your little man is ready to go on his first sleep over, you might find that children's bags aren't big enough to hold his essentials. I find these adult sized totes from Country Road ($59.95) are a good size for a couple of nights away and there is enough room for Teddy as well.
7. Shorts – Target makes great, on trend basics for boys and these Cuffed Chino Shorts in Victoria Blue, for boys 7 -16, are a great example. They are $22 and you can find them here. For younger boys (sizes 1 – 7) check out the Boys' Cargo Short in French Blue for $8 here.
8. Binoculars – Boys love spying on their siblings, their neighbours, pretty much anyone. I will be popping a pair of these Natural Trail Binoculars in the Santa Sack this Christmas or pairing them with a book for a birthday gift. They are $9.95 from Lark Store.
9. Book – I can't go past the retro styling of this graphic novel of Tintin and his adventures in America and my Master 7 and his buddies would love this.  It is $12.19 in Paperback from The Book Depository.
For Men/Dads

With Spring upon us and all the social functions coming up (think Cup Day BBQ, picnics, end of year break ups and Christmas), your fella might need a bit of an up date style wise.
Hat – I am a big fan of hats on men and this Flemington Trilby is a very cool addition for Spring and would add a nice finishing touch to a Spring Racing outfit. It is $39.95 from Witchery Man.
T-shirt – A fresh clean t-shirt is a wonderful thing. This one is $49.95 from Superdry.
Shorts – These shorter Grid Check shorts would look the business with a polo and a pair of Havianas. They are $69.95 from Country Road.
What do you like to dress your boys in? What do they like/not like wearing? Does your man need a style up date?