Welcome to the latest edition of Everyday Style @ Shenanigans Central.
Today I'm featuring a couple of outfits I've been wearing on high rotation over the last few weeks.
Both feature Winter worthy frocks that I've been able to wear on cold days and in which I've felt good, comfortable and warm.
They've provided some welcome relief from endless pants wearing too, which a frock loving gal like me needs to get me through Winter.
The first outfit features the Bohemian Traders' Charlie Yoke Pleated dress.
I'd been lusting after it for yonks but was concerned about it's length on me until I saw it on the gorgeous Styled by Bec at Voices 2015. So, the next BT promotion later, I snatched it up post haste.
This dress is now on sale for $89, reduced from $149 and is still available in sizes 8 – 16.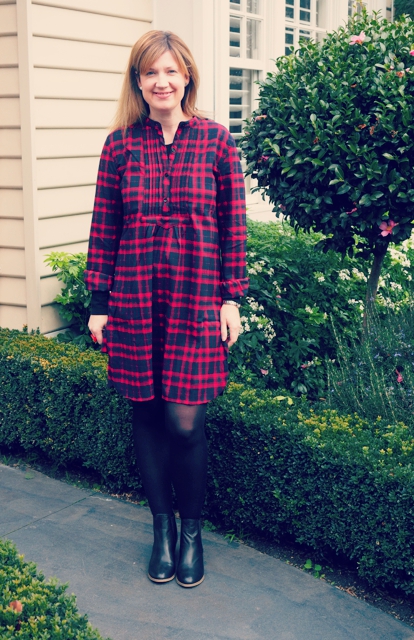 I'm 5'9″ and wearing size L/14 and I've got plenty of room. I think the next size down would also have worked although I wouldn't want to go any shorter length wise. I quite like oversized, short dresses in any event.
I've worn this dress when having friends over for dinner, out on the weekends and even mid week. It's seriously easy wearing.
The fabric is a reasonable weight too, without being bulky, but I still need an under layer here in Melbourne at this time of year.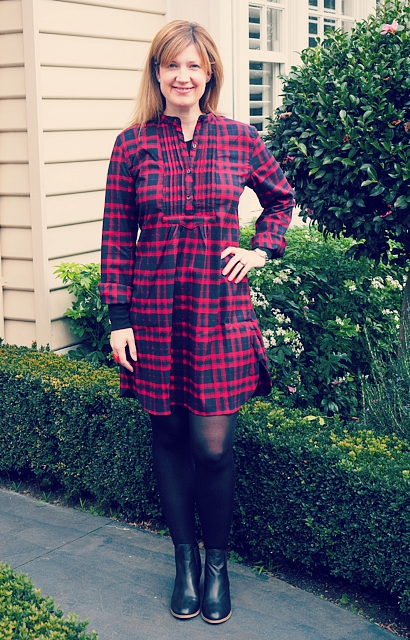 Underneath it, I wearing a thin merino wool knit from Kathmandu which I bought for our trip to New York City, earlier in the year.
I initially couldn't tell if the plaid was red/black or red/navy. In this light, it is clearly navy but it usually looks a very dark navy. Either way, I love to pair it with black boots and tights for some Winter boho vibes.
Come Spring though, I'll be wearing this with trainers.
The second outfit is a combination of pieces I've previously worn separately but on the spur of the moment, paired together. And I think it worked.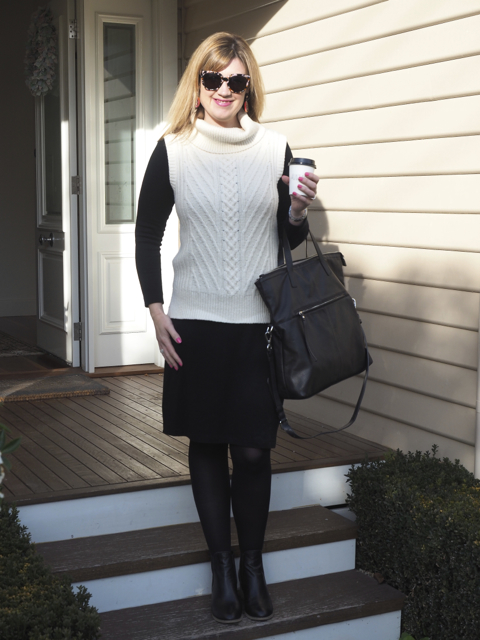 I'm wearing a merino wool dress from Woolerina (gifted, and previously featured in this post) and a cable knit wool sleeveless vest from Trenery (picked up early in the mid year sales).
I have loads of wear from this dress over Winter. It's been a total winner and so versatile.
It's still available in five colours, in sizes 10 – 18. I'd say it's true to size but because it is a straighter cut, I've sized up from my usual 12 to a size 14 so it skims instead of clinging. It does have quite a bit of give though.
It's been easy to care for too – I wash it in the washing machine on a gentle wool cycle and give it a quick iron and it looks as good as new.
I totally love this apres ski vest. It's a bit retro but class all at once. It's now sold out but I've found a similar style, below. I usually wear this vest with jeans, as I've done here.
To counter what would otherwise be a relatively classic, perhaps conservative look, I've added some fun Flock Curiosity Assembly earrings (as discussed in this post), some pink leopard print sunnies from Gorman (last summer), a Boden trench coat from seasons past and an oversized Trenery tote (last summer).
These two layers of wool (plus a coat) offered reasonable protection against a very cold, windy day of just 11C, without the need for thick bulky layers. It was also dressy and warm enough for a work related meeting last week. Loving that!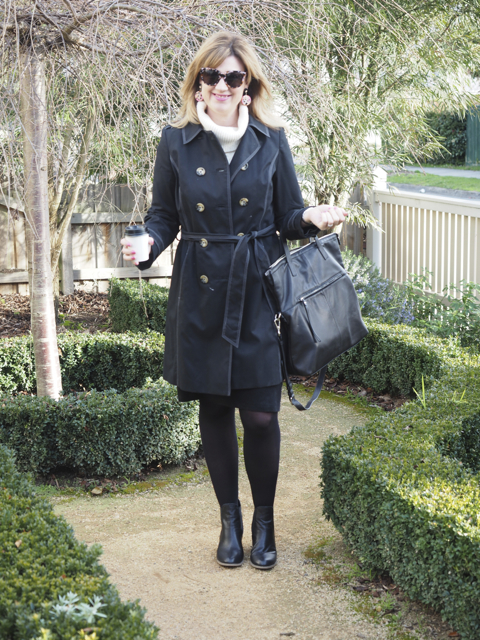 Again, I've paired them with my black Sadore ankle boots by Django and Juliette and a pair of opaque tights.
If you'd like to shop my style, I've set out all the elements (or similar items if they've sold out) and links to shop them, below.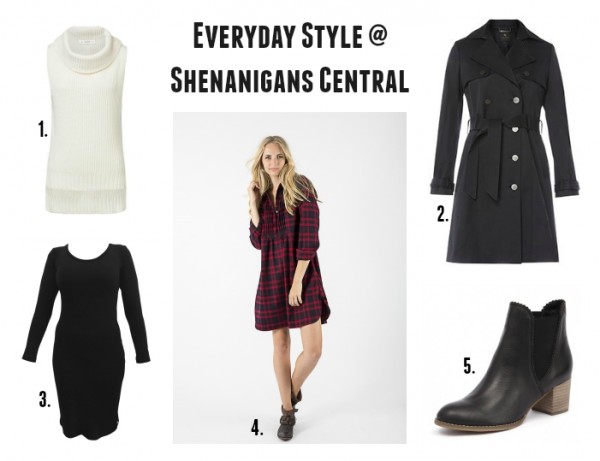 1. Cotton Roll Neck Sweater, $89.95 from Seed Heritage; 2. Addison trench coat, $299 from David Lawrence; 3. Merino Wool dress, $139 from Woolerina; 4. Charlie Yoke Pleated dress, $89 (on sale);  5. Sadore Black Leather, $189.95 from Styletread.
* This post contains affiliate links. You don't pay any extra but I earn a small commission. You can read my Disclosure Policy here.
Have you been living in pants too? Do you have a couple of Winter worthy frocks in your wardrobe?