I've been lucky enough to be invited to some fun celebrations of late.
Three girlfriends have turned 40, so there have been parties, arvo teas and outings a plenty.
While I'm always up for a celebration, working out what to wear and contending with the weather has been a bit of a challenge because it's been freaking cold around here of late.
Last Saturday, for example, was absolutely freezing. It was 8 degrees for most of the day, with the day's maximum peaking at 10 degrees at 10pm. Cold times and then some!
With temperatures that seriously threaten to dent a girl's style (a thermal onesie dress code would be welcome right about now), I managed to put together a couple of outfits for cold nights out that feature one of my favourite Winter must haves – the snood.
As I said recently in this post, snoods have been on high rotation in my Winter wardrobe in a big way). In fact, I nearly renamed this post Everyday Style at Snood Central!
In both of the outfits I'm wearing a gorgeous mustard Sprint Circle snood from Mimco which I picked up on sale recently. It's sold out now in this colour, but it's still available in black at full price ($99.95). It's a wool/acrylic blend with a loose knit but it's warm and fabulous and does it's job nicely.
The first outfit I wore to an intimate birthday dinner on Saturday night.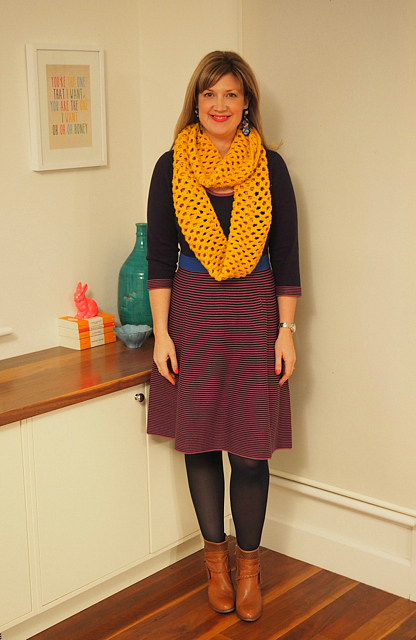 I'm wearing Julietta knit dress from Boden ($138.60 on sale but in very limited sizes), Sprint Circle snood from Mimco (detailed above), Ambra tights from Myer,  Gex Tan Ankle Boot by Django & Juliette,* $229.95 from Style Tread which were quite firm to begin with but now I've worn them in, they're are fine. In fact, they are awesome and fast turning into my go to dressy boot.
My earrings are from Flock Curiousity Assembly (no longer available but the same style in a different colourway are available here) and I just love everything about them – they are big, fabulous and oh so 80s. Oh and they pick up the navy, cobalt and plum in my dress with a pop of gold. What's not to love?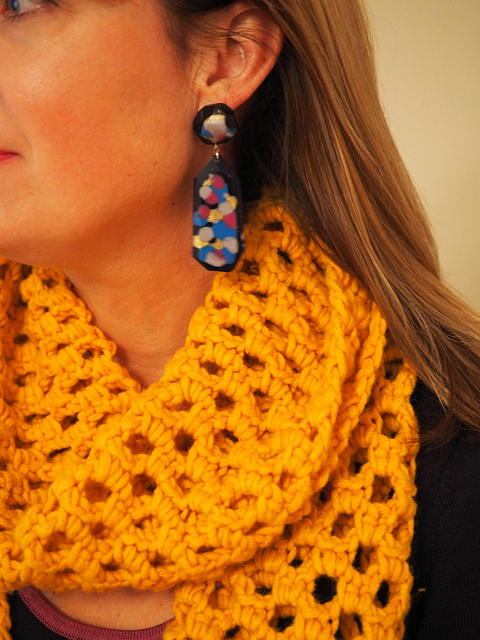 This knit dress is an absolute winner too. Not only does it keep me warm, it has a flattering shape with it's fitted top, A-line skirt and contrasting blue waistband.
My coat is the Ingrid Coat from Boden, now sold out (sorry – just this time of year!), which I picked up for a song on clearance a while ago. Again the mid blue of the coat picks up the contrasting waistband and earrings.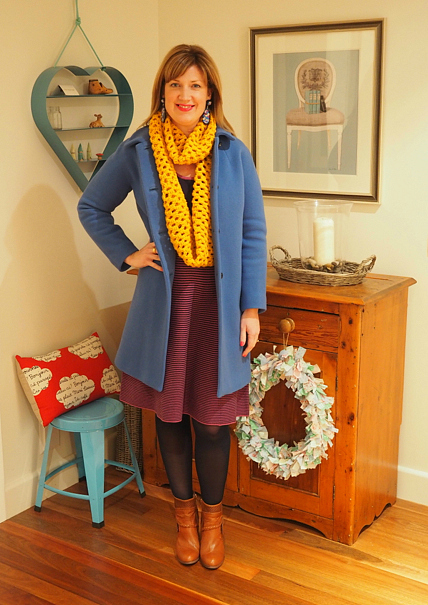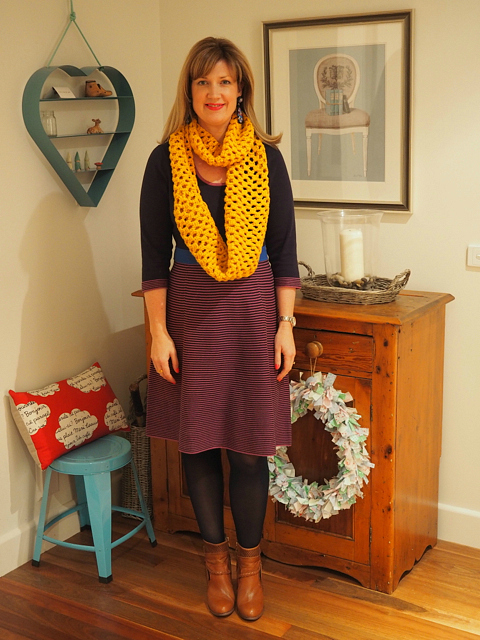 This second outfit I wore out to a Sunday evening performance of The Rocky Horror Show, a surprise group present/night out for a girlfriend.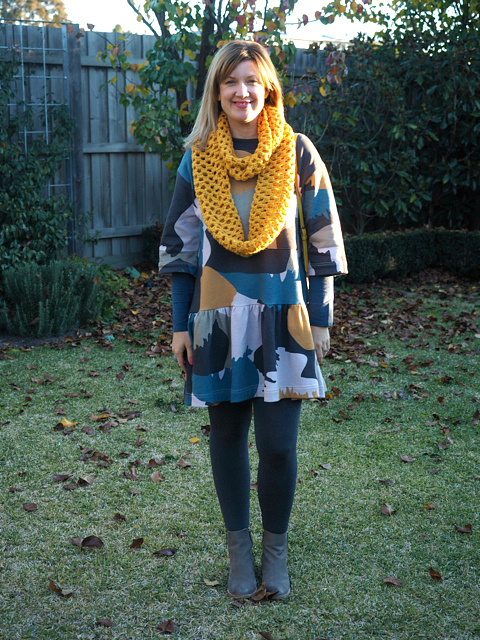 I'm wearing the Snowdrift Smock from Obus ($129 on sale), grey Sabina ankle boots from Country Road (they are sold out online but check out the new Monica style), a teal long sleeve tee from Boden some Winters ago and cute pineapple resin earrings from a market.
If this Obus dress looks familiar, I featured a different style of dress in the same print in this post a few weeks ago.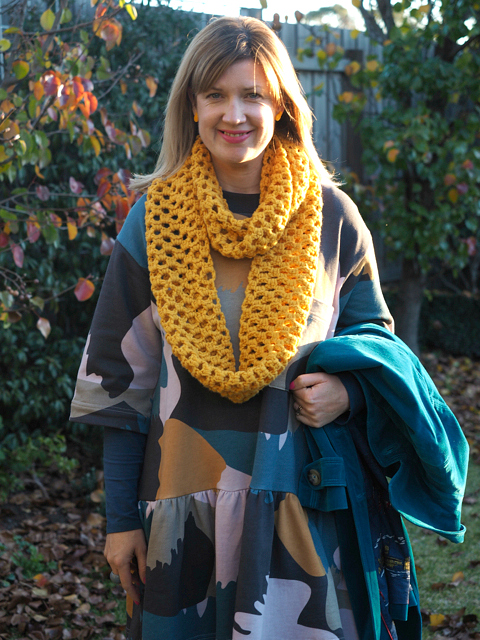 This oversized smock dress is my idea of a good time. It's comfortable, warm and easy wearing – with it's loose, drop waist, this is the exactly the sort of dress you'd reach for if you felt bloated, self conscious or a bit blah.
With it's sweater like cotton fabric it feels casual but this snowdrift print is fun and interesting, making it an easy dress to dress up or down. I've worn it with flat ankle boots here for an early evening theatre performance followed by a casual dinner, but it would also look great with a heeled ankle boot or a pair of New Balance or Converse trainers.
I'm a big fan of this colour palette too with the teal, grey, mustard and lilac providing loads of options for co-ordinating accessories. And yay, it looks fab with my new Mimco snood which is the finishing touch.
Size wise, I'm wearing a 3 which according to the sizing info is a 12. Given it's oversized styling though I could have easily have sized down to a 2 (size 10). Also, as this dress has wide sleeves, it's not a dress that can be worn under some coats.
If you're looking for a snood, check out the great selection at Seed Heritage here.
Are you on board the snood train? Are you loving blues, mustard and easy frockery this Winter?