It's possibly not breaking news around here, but I'm someone who tends to gravitate to the dressy, statement and colourful end of the fashion spectrum.
Statement earrings? Yes please.
Printed dress? How did you know?
Embellished knit? Naturally.
You get the picture.
I love the interest and colour these pieces add to my everyday wardrobe but the truth is, I have a wardrobe full of these pieces. I know I'll never stop being drawn to them, but I'm trying to balance things out a bit.
So this year, I'm making a concerted effort to get back to basics with some comfortable, hard working and versatile pieces (like this dress I wore last week), in my every day wardrobe.
In particular, I'm searching for pieces on the casual to smart casual end of the spectrum as that's what I'm wearing 95% of the time. I'm also looking for denim-esque pieces that I can pair with leggings, tights, boots and scarves over the next few months.
So when I came across this  Seam Detail Tunic Dress, $139.50* from UK mail order company, Boden, a little while ago, it was a no brainer.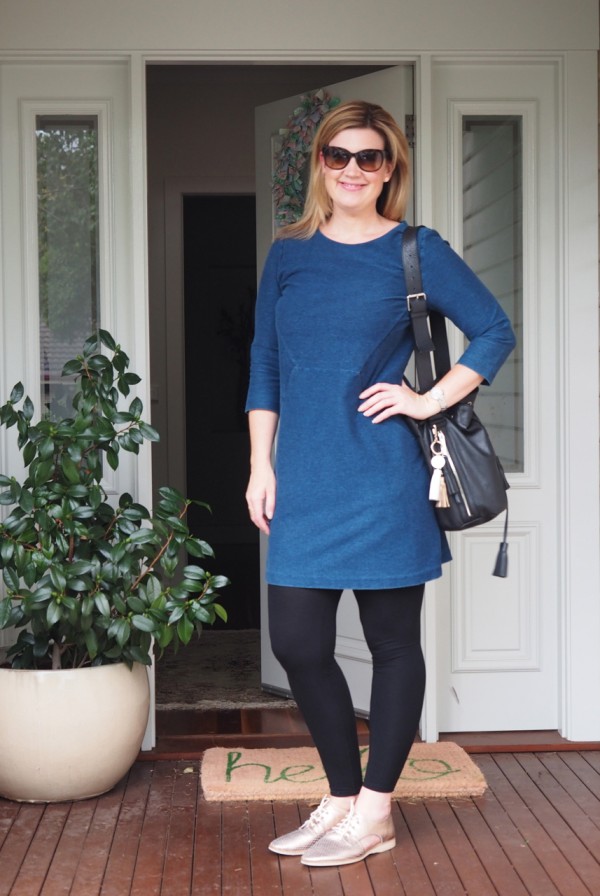 I've been wearing Boden nearly 8 years, ever since a girlfriend put me on to it. Our love affair has been intense, enduring and expensive given Boden designers love colour and print as much as I do, not to mention international postage and varying exchange rates.
Thankfully now they've launched an Australian website though so postage is significantly reduced and returns are much, much easier and less expensive.
I'm always delighted to see my dotty packages arrive although strangely, their arrival does not have the same affect on Mr SnS.
Lately though I've been trawling their new range (currently SS16 for the northern hemisphere) for more classic pieces, like this tunic dress above.
All Boden dresses come in two lengths (regular and long), but I went for the my usual size 14 in the regular length (14R) as I wanted to wear this dress over leggings and jeggings over winter.
Above, I've styled mine with my ever faithful Boden leggings bought several years ago and a pair of Rollies (you can shop the same colour without the side cut here). This is a super comfortable every day outfit for me as I find leggings much more comfortable to wear than jeans.
The indigo fabrication gives a denim effect though keeping this look casual and appropriate for every day.
If you like this cut and shape, this dress also comes in navy and black textured fabric (the red has sold out but is available on the UK site) and in a longer length, it makes a great dress for work.
It also has pockets and we all know how I feel about frockets: very happy indeed. They're perfect for storing random Lego, miscellaneous pegs, household items and the garage remote.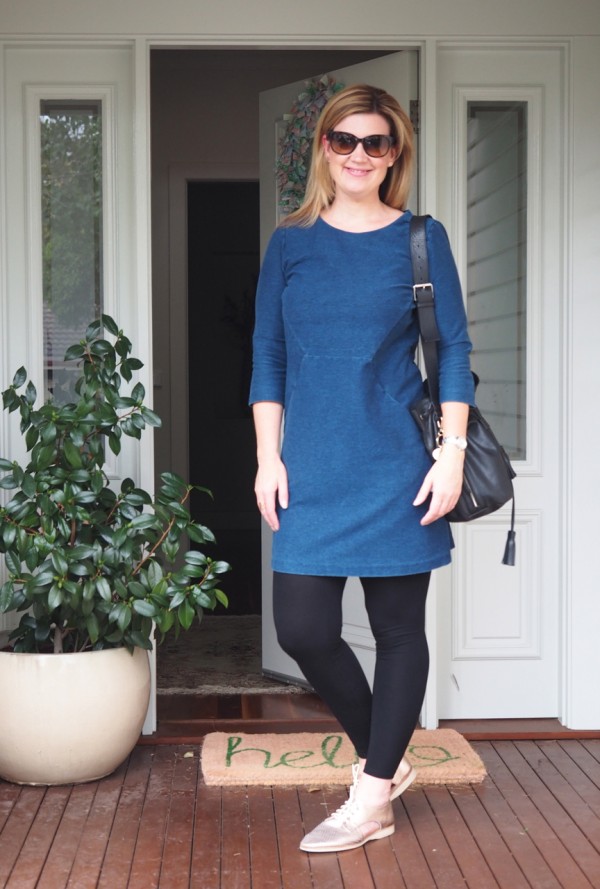 I wore a slightly modified take of the same outfit (pictured below) on our last date night, where we caught the train into the city for a relaxed dinner at Chin Chin and a visit to the NGV to see the Warhol + Wei Wei exhibition.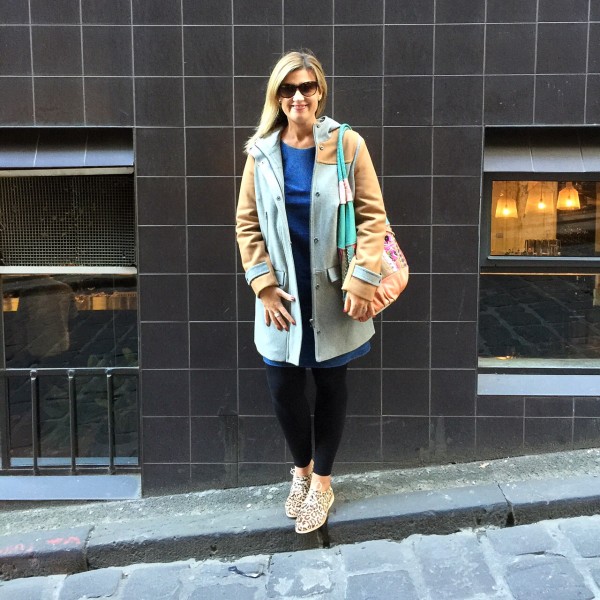 I wanted to wear comfortable flats as we were walking all over the city, so I'm wearing my latest Rollie acquisition and this Hampton Coat I picked up in Boden's clearance section recently. It wasn't a bargain by any stretch but half the price of a comparable coat in Australia at this time of year.
* I bought it during a 20% off sale – Boden regularly has sitewide promotions and discounts. Follow them on social media to be notified of the next promotion.
This post contains a couple of affiliate links. You don't pay any extra and I earn a small commission. Read more in my Disclosure Policy here.
What's on your shopping list at the moment? Are you Boden mad too?