A pinch and a punch already?
Even though October is a long month – even longer when your husbo heads overseas for 11 days I've heard – it's somehow November already.
And yes, I've begun writing All The Lists for All The Things on in the next two months, which has included thinking about all the end of year, Christmas and birthday dinners, parties and other social functions I've got coming up.
I've also begun writing lists about Christmas gifts, which is why I set myself a challenge in this month's What to Wear post.
This month I made a concerted effort to only include pieces under $100 (most are well under), as I know it's an expensive time of year. Interestingly, there was still loads to choose from, and even some of my favourite, higher price point-ish brands, e.g. Gorman, have still got plenty to offer that's budget friendly. So be heartened – if you've got the time and inclination to look, it's totally achievable to dress fabulously on a modest budget.
I also discovered that there are still a great range of sizes available in the outlet stores, so if you do need an investment piece (such as a leather handbag, coat or shoes), it is well worth trawling the clearance or outlets sites – especially Country Road, Trenery and Witchery – as you may well nab a bargain, such as this stylish trench coat from Witchery in the first outfit below.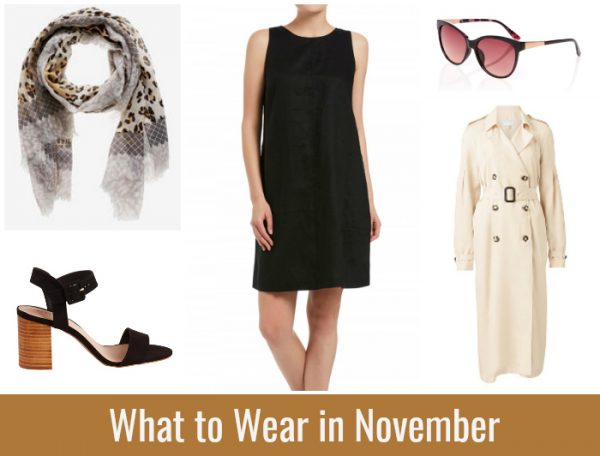 ABOVE, CLOCKWISE FROM TOP LEFT: Aztec Leopard Scarf, $39.95 from Seed Heritage; Linen Tank Dress, $99.95 from Sussan; Ally sunglasses, $39.95 from Portmans; Pleat Sleeve Trench, $99.95 (on sale) from Witchery; Magnolia Heels, $69.95 from Birdsnest.
This first look is a fresh take on a Spring/Summer work outfit, based around this black Linen Tank Dress from Sussan, a dress which can be dressed up with heels for work or down with sandals on weekends.
I also love this classically simple yet stylish black/tan/leopard combo for both work and play. It always looks simple yet chic for work but each of these pieces above can easily translate to a weekend wardrobe, by dressing up or down by adding in distressed denim, a basic white tee or tank or changing up the footwear and accessories. If you really want to have a tightly edited work or corporate wardrobe for the summer months, this is a great place to start.
If you're looking for a quality handbag for everyday, check out this Mikayla Crossbody Bag, $99.95 (on sale) from Country Road.
Finally, if you've got the neutrals covered and you'd prefer to add some colour to your look – namely a fresh green for Spring – this Susanna ring, $59.95 from Country Road and this beautiful Botanical Print Scarf, $59.95 from Witchery would also look The Business and change up this look completely.
It won't surprise many of you but I would wear this next outfit in a heart beat.
So if you've got a date night, drinks or other cocktail soiree this month, and want to have a bit of fun, this outfit, inspired by an 1980s electric boogaloo colour palette, might be just the ticket. Disco flicks optional.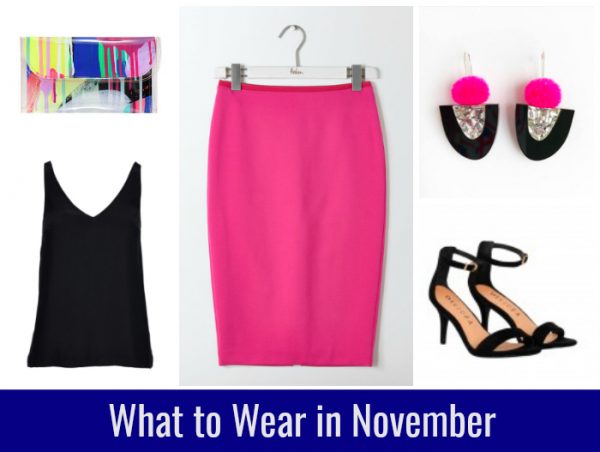 ABOVE, CLOCKWISE FROM TOP LEFT: Born This Way mini clutch, $100 from Tiff Manuell; Ponte Skirt, $98 from Boden; Each to Own Earrings, $52 from Etsy; Amy Minimal Heel, $79.95 from Decjuba; Leila Silk Tank, $79.95 from Portmans.
On a serious note, this bright pop pink ponte skirt is a winner for work too, if you tone it down with a black, navy or white knit, shirt or blouse and mid heels.
Alternatively, throw on a black jacket and some more understated jewellery for work and then come Friday night drinks, add a bold lip and swap out the studs for some fabulous statement accessories – as I've done above – and you're reading to paint the town … er, pink. Did someone say Prosecco?
Oh and if you can't get enough, Boden also has the co-ordinating ponte jacket and pants if you're looking for more options and ways to wear this great skirt or you just love this brilliant hue.
Portmans do a great, well priced silk tank too. I bought one of these last summer and it's perfect with pencil skirts, full skirts and also with printed pants and culottes.
Now onto our third and final look for November.
This final outfit is a relaxed weekday (if you're at home with kids) or a weekend look, ideal for running around after the kids, doing a few errands or perhaps a picnic or a round of bocce in the park on a sunny Sunday. I love throwing on a t-shirt dress and thongs, sandals or trainers on the weekend – it's one of the laziest form of dressing but always looks like you made so much more effort. Add some on trend, fun accessories in your favourite colours and you're good to go.
ABOVE, CLOCKWISE FROM TOP LEFT: Love Heart Earrings, $26 from Ruby Olive; Swing dress, $69.95 from Birdsnest; Casey Sunglasses, $69.95 from Witchery; Moondance tote, $59 from Gorman; Walnut Plimsoles, $49.95 from Birdsnest.
This well priced swing dress from Birdsnest has been such a bestseller, they've bought it out in a great range of colours (thirteen colours in fact) as well as in both sleeveless and now longer versions.
As a tall lass – I'm 175cm – I've just purchased this striped version in the longer style and I'm loving that it hits my knee and the lower back hem, falls slightly longer. Super flattering and easy wearing and, I think, at $69.95 great value. I do have the regular length too in khaki which I really like too.
If you're after a casual, budget friendly chambray OTS instead – which would also work with all the accessories above – check out this new Chambray Off the Shoulder Dress, $39 from Target.
This post contains some affiliate links. You don't pay any extra and I earn a small commission. Read more in my Disclosure Policy here.
What's your go to outfit at the moment? Which of the above outfits would work best for you?