In my circles, at this time of year – the last week before Christmas and the week to follow – it is Casual Central. Generally speaking, we have all almost run out of juice and are just crawling to the finishing line. Or hanging on.
By our collective fingernails.
For me, the peak of my "dressy" period is usually the weeks between Spring Racing and Christmas parties. I go to town, wear all the dresses and break out my highest heels. I love it. The closer it gets to Christmas, however, the harder I find it to glam up. I just want to be comfortable and wear flat shoes. And big sunglasses and a hat. Or my pajamas.
As a result, I don't usually get super dressed up for Christmas Day or New Year's Eve. I'd like to on some levels (the thought of a cocktail party on New Year's Eve particularly appeals), but in reality, I spend these days preparing food, making numerous trips to the recycling bin, putting together toys, inserting batteries and playing backyard cricket in between unloading the dishwasher and hanging out a sneaky load of washing.
I guess I'm in the end of year wind down. I want to still feel and look good but my care factor is lower than normal.
When I've thought about what I'd wear for Christmas Day and New Year's Eve, I initially thought glam and heels – and I hope to wear an approximation of the glam outfit for my birthday drinks this weekend – but truth be told, I'll be in flats pretty much from Christmas until February. And not just flats but thongs. And I'm totes OK with that.
Some families/friends really glam up for these occasions and I say do whatever works for you and wear what you like and what you feel fabulous and comfortable in. You don't have to buy anything new or impress anyone but if you want to, go for it.
As for me, I'm not expected to dress up for Christmas. We spend the day with both sides of our immediate family (people we see regularly) and everyone on both sides of our families is chillaxed, casual and there is absolutely no pressure. I know in other families, there is more of a culture of dressing up and that's fine too if that's your thing.
New Year's Eve these days is pretty low key for us. It's likely to consist of a BBQ at a friend's place where the children significantly outnumber the adults. I'd love to dress up more on this of all nights but a Maxi and flats will probably be the extent of it for me.
So if you are looking for some comfortable casual inspo for Christmas Day and New Year's Eve, you've come to the right place. I've thrown in a more glam outfit too for those lucky enough to have a night out on the tiles or who have a babysitter locked in. Have a great one!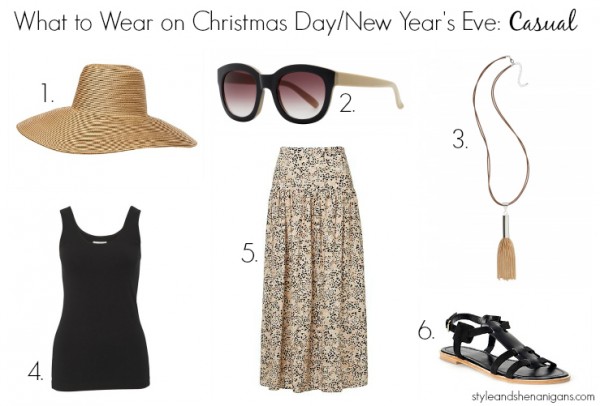 1. St Tropez Hat in Biscuit, $59.95 from Witchery; 2. Mae Sunglasses, $34.95 from Sussan; 3. Mixed Metal Tassel Necklace, $29.95 from Sussan; 4. Tank Top, $9 from Target; 5. Split Animal Skirt, $79.95 from Seed Heritage; 6. Toya Sandal, $99.95 from Country Road.
I love the ease and effortless sophistication of the above outfit. The black singlet hides food stains and the Maxi hides the fact that you didn't quite make it to the beautician in the Christmas rush. The wide brim hat and the sunnies provide stylish protection from the sun and the gladiators are really just posh thongs.
I totes love this outfit below. It might seem a little odd to include a white dress for Christmas, but this short, floaty frock is perfect for a Christmas or New Year's spent by the beach or chillaxing outside. It's loose and will hide any food babies too. Just wear an apron if you hit the kitchen or are drinking red wine! These fab accessories would work equally well with a floaty black dress.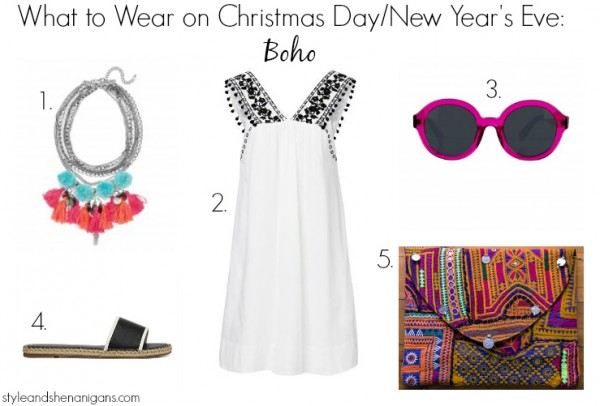 1.Pom Pom Necklace, $39.95 from Sportsgirl; 2. Embroidery Strap Dress, $119.95 from Seed Heritage; 3. Peepers Sunglasses, $169 from Gorman; 4. Imogen Slide, $69.95 from Witchery; 5. Oversized Mythology Bag in Neon, $139 from Bohemian Traders.
I have the dress in the outfit below and I can tell you it is a winner winner Christmas dinner. It has a flattering V neckline, an elasticised waist for definition and a curved hem. The lace inserts make it slightly dressier but it is a dress that can be worked plenty of ways. Below I've paired it with some inexpensive jewellery and accessories. I'll be wearing mine to one of my birthday do's this week if Melbourne's weather co-operates.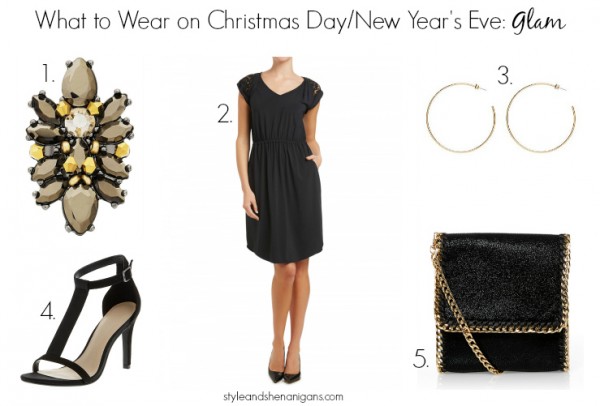 1. Crystal Mix Ring, $24.95 from Witchery; 2. Lace Insert Dress, $119.95 from Sussan; 3. Hoop Earrings, $14.95 from Seed Heritage; 4. Alix T Bar Sandals, $40 from Target; 5. Roberta Chain Cross Body Pouch, $49.95 from Portmans.
For more inspo, check out Styling You's styled outfits for New Year's Eve here.
What's the dress code (if any) for your Christmas Day or New Year's Eve? Have you sorted your outfit already or given it any thought?