Have you ever travelled to the US?
I visited some seven and a half years ago and despite being told about how AH-mazing the shopping was before I left, nothing prepared me for the breadth, quality and value on offer. It was consistently mind blowing. I'll never forget the moment when I stepped in to the Anthropologie store in Beverly Hills. It was a case of overwhelm in the highest.
In the years since, I have periodically ordered online from my favourite US stores and tried hard to ignore the hefty delivery costs and fluctuating exchange rates.
I've shopped around at various online stores but once I get to the checkout, I've found that some stores' delivery costs are even more than the value of my order so I've reluctantly emptied the shopping cart I spent hours filling. It was a bit depressing. And don't get me started on the cost of the odd return delivery.
A few iconic American brands such as Gap, Pottery Barn and West Elm have popped up on Australian shores which has been great, but plenty of US brands remain relatively inaccessible or unaffordable.
Enter Shopolla*.
Shopolla is a brand new online store which stocks over 1000 brands direct from the US. Those brands include some of my all time faves including Kate Spade, Desigual and COACH.  Other well known brands include Calvin Klein, Free People, The North Face, Lucky Brand, Marc Jacobs to name a few.
Shopolla stocks a huge range of women's and men's shoes, fashion, accessories, jewellery, bedding and beauty products.
The piece de resistance for me, however, is the 100 day local return policy and free shipping for orders over $79. All products are also priced in Australian dollars too, so no foreign currency shenanigans.
I also like that they donate $1 from each order to one of three charities nominated by Shopolla. It's great to see some corporate social responsibility.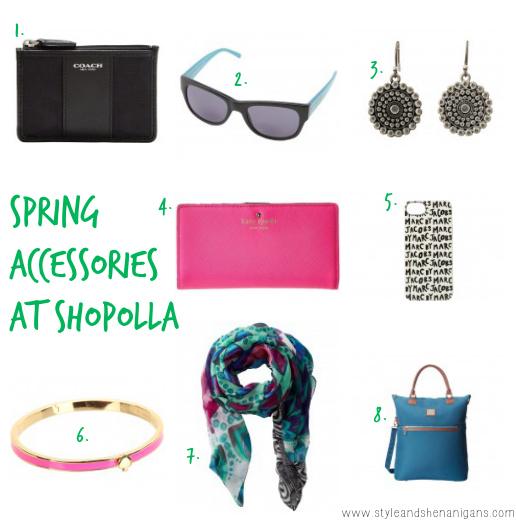 1. Coach Signature Leather Skinny Mini, $61.68; 2. Kate Spade New York sunglasses, $88.67; 3. Lucky Brand Blue Moon Tribal Drop Earrings, $32.13; 4. Kate Spade Wallet, $128.51; 5. Marc Jacobs Phone Case, $48.53; 6. Kate Spade Bangle, $61.68 ; 7. Desigual Allegra Scarf, $62.97; 8. Dianne Von Furstenberg Soft Totes, $77.10.
I've had a good look through the Shopolla site to look for great Spring accessories – designer accessories if you don't mind – to give you a taste of what Shopolla is all about.
All but one of the above are under $100. Yes, that's right, COACH, Kate Spade, Diane Von Furstenberg, Desiguel and Marc Jacobs designer accessories for under $100 bucks. Hello.
And, to top it off, Shopolla would like to offer a Style and Shenanigans reader the chance to win a $100 voucher at Shopolla. How fab is that?
The Competition
This is a game of skill. To win a $100 shopping voucher at Shopolla, please leave a comment below with a link to what you would like to buy with a $100 voucher at the Shopolla online store and why you must have the chosen the item/s. All entries will be judged on their creativity by me. 
Please ensure that you include an email address when filling in the commenting system below so you are eligible to enter and I can contact you with the winning voucher code.
This prize is not able to be exchanged for cash and please note that only orders over $79 are eligible for free shipping.
The winner will be decided on Tuesday 9th September, 2014 at 6pm AEST. If the winner does not respond within 48 hours to my email, another winner will be chosen. This competition will be open from Tuesday, 2nd September 2014 at 6am (AEST) and close on Tuesday, 9th September at 5pm (AEST). This competition is only open to Australian entries.  By entering this competition, entrants accept that I will email the winner with the email provided and publish their name subsequently here and on Facebook. 
*Shopolla has also given me a voucher to go shopping at their online store in exchange for featuring their products in this post. For more info, head over to my Disclosure Policy here.
If you'd like to keep up to date with what's happening at Shopolla, you might like to check out/like their Facebook page here.
What's your favourite US brand? Do Shopolla stock it? Don't forget to enter SnS's very first competition!