When I saw the weather forecast for this week in Melbs, all I could see was rain, rain and more rain.
Downpours, torrents, showers and sprinkles.
It's all happening.
While it might be good for the garden (and I actually mean that as we're trying hard to not kill our new turf),  it's not fabulous when you're trying to get to work or Uni, wrangling kids at pick ups and drop offs or just trying to have a good hair day.
So what to do when it's pouring?
Is it possible to look like a cool cat instead of a drowned rat?
I reckon it is, even if that's just by throwing on a great coat and a colourful umbrella.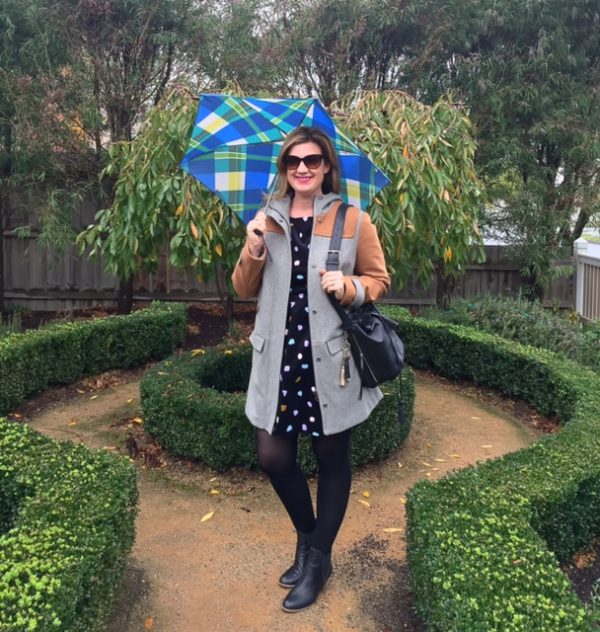 Above, I'm wearing the shattered cord dress from Gorman, under a Boden coat. My Django & Juliette boots are still available at Style Tread but the umbrella is an oldie but a goodie from Boden.
Seriously though, there is some great wet weather fashion around at the moment and in today's post, I've rounding up my picks, from luxe to less.
A proper, waterproof raincoat is your best bet when it's wet and you're running from the car/bus/train or tram and don't have your umbrella handy. Not all "raincoats" are actually water proof though so always check the info or ask some questions in store to make sure it's fit for your purpose.
Some styles are in fact only shower proof which is NOT what you want to discover in a deluge.
Here's my round up, beginning at $49.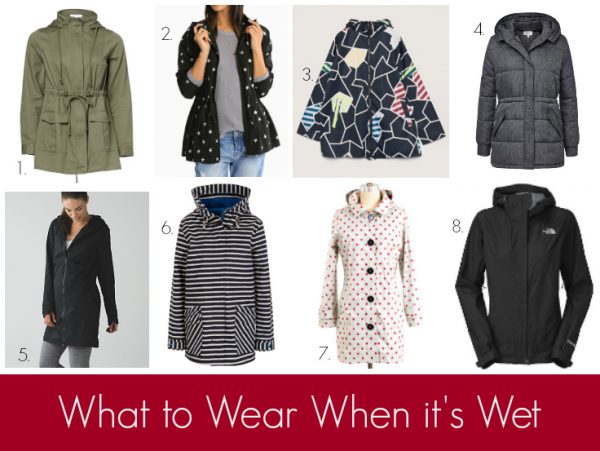 ABOVE: 1. Lily Loves Anorak, $49 from Target; 2. Lucy Raincoat from Miss Shop, $50 from Myer; 3. Broken Rain Raincoat, $99 from Gorman; 4. Utility Parka, $179.95 from Seed Heritage; 5. Definitely Raining Jacket, $229 from Lululemon; 6. Hatley Striped Rain Jacket, $249 from Birdsnest; 7. Brody Raincoat, $289.99 from Pipduck; 8.Women's Dryzzle Jacket, $330 from The North Face.
Above, I've included an anorak (1) and a parka (4) which will certainly protect you from the wind and cold and might be enough if there's a shower and you have a brolly at hand.
If the rain is really coming down though, you'll need something designed to withstand rain.
I've included a range of rain coats and jackets above, and as you can see, there are a variety of styles from smart casual (2, 3, 6 and 7) and sportier styles for running or camping, such as (5) and (8), across a variety of price points.
I tend to buy mine from  UK brand Boden – their Rainy Day Macs are fab – as I figure anything that's designed to withstand a British winter is more than adequate for Australian suburbia. They sell them year round although the winter versions have a fleece lining which is perfect for winter in the southern states.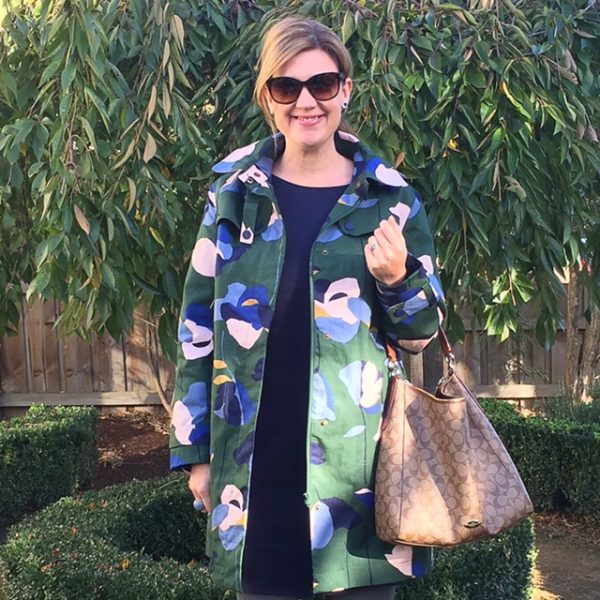 I'm wearing The Mac in Wellington Green Print from Boden (sizes limited).
Joules, another English brand, also does a great range of 100% waterproof rain gear which you can check out here.
Back back to Aus.
If you're out and about, a brolly is essential and I'm loving that there are so many fab styles from classic monochrome through to colourful prints.
I like a nice broad golf umbrella (like this IKEA umbrella which is an unbelievable $5.99) when I'm walking the kids to school but I also have a smaller, compact brolly which fits in my hand bag for those in between days.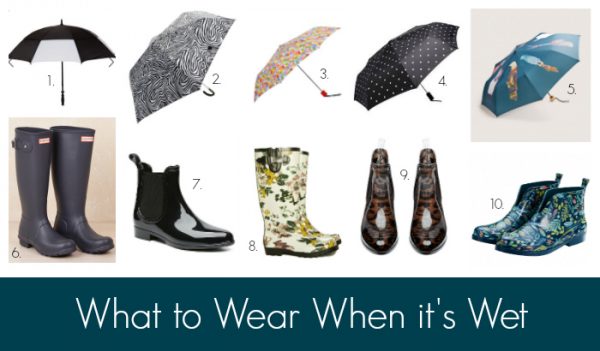 ABOVE: 1. Golf Umbrella, $14 from Big W; 2. Zebra Manual Umbrella, $19 from Target; 3. Shelta Mini Maxi Prints, $24.95 from David Jones; 4. Compact Umbrella, $29.95 from Seed Heritage; 5. Endangered Umbrella, $49 from Gorman; 6. Original Tall Rain boots by Hunter, $189 from Birdsnest; 7. Chelsea Rain boot, $39.95 from Witchery; 8. Princess Bird Tall Gumboots, $149.99 from Pipduck; 9. Riley Jellyboots, $59.95 from Seed Heritage; 10. Odette Gumboots, $49.99 from MOZI.
As you can see above, gumboots have had a makeover again – these fab new jelly boots (7) and (9) combine practicality and style with their glossy hi shine finish.
If you're more of a traditionalist, it's hard to go past the classic Hunters (6) or the pretty printed gumboots (8 and 10) above.
This post contains some affiliate links. You don't pay any extra and I earn a small commission. Read more in my Disclosure Policy here.
What are your wet weather winners? Where have you found great rain gear?