You know that thing where it's officially one season but the weather isn't playing along?
In Melbourne, we know this phenomenon very well.
Around here, we're used to the very considerable lag between the calendar and reality.
And it's happening again this Autumn.
With temperatures consistently in the high '20s and low '30s for weeks now, many of us were caught by surprise when a cool change, complete with torrential rain and high winds, came to town last Friday.
And set in for some of the weekend. (Thankfully, yesterday was a picture perfect Autumn day with a clear cool morning and a lovely sunny arvo).
All of a sudden, my every day uniform of frock and sandals was shelved and it was time to rediscover those pieces that always help me transition from one season to the next. I just couldn't work out what they were. Or where I'd put them.
Eventually, I put on jeans (that was weird) and layers. It felt a bit strange, not too mention a bit tight.
Hashtag woops.
It also got me thinking about those essential and hard working pieces that aren't exactly the most exciting pieces going around but they're useful and practical pieces for these in between times. And not just for the transition from summer to autumn but on the other side, from winter to spring.
So I've listed my five trans-seasonal heroes below. I've also included some new season options if you're looking for an update.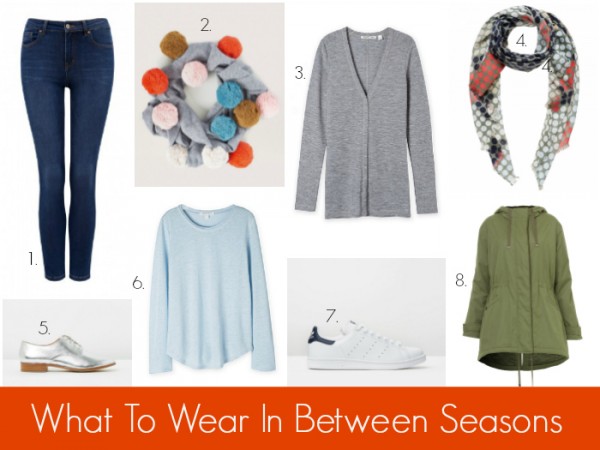 ABOVE: 1. Mid Rise Poppy Ankle Grazers, $89.99 from Forever New; 2. Pom Pom Scarf, $129 from Gorman; 3. Baby wool slim cardigan, from $44.96 from Country Road; 4. Colour Block Pom Pom Scarf, $19.98 from Sussan; 5. Holland Brogues, $169.95 from The Iconic; 6. Long sleeved linen tee, $69.95 from Trenery; 7. Stan Smith trainers, $120 from The Iconic; 8. Weekend Parka, $169.95 from Sportsgirl.
1. Jeans – from black jeans to indigo jeans, cropped to full length, skinnies through to flares, there really is a pair of jeans for everyone. If you haven't found your faves, now is a good time to shop as most brands have their new ranges of denim in store.
I decided to try a couple of new styles this year (after my well documented and enduring love affair with Country Road mid rise jeggings) which I must tell you about.
The first pair are similar to the CR jeggings – the Mid Rise Poppy Ankle Grazers, $89.99 from Forever New, pictured above. They are mid to high waisted, with a good amount of stretch and a nice cropped length which are perfect with ballet flats. I was in between a size 12 and a 14 but went for the 14 instead for comfort. They are slightly more jeans than jeggings but only just.
The second pair are from Rockmans – not a brand I've really shopped at before but I was sent a $50 voucher recently, so I thought I'd go and check it out. I do love a bit of research, as you know. I also don't mind a bargain!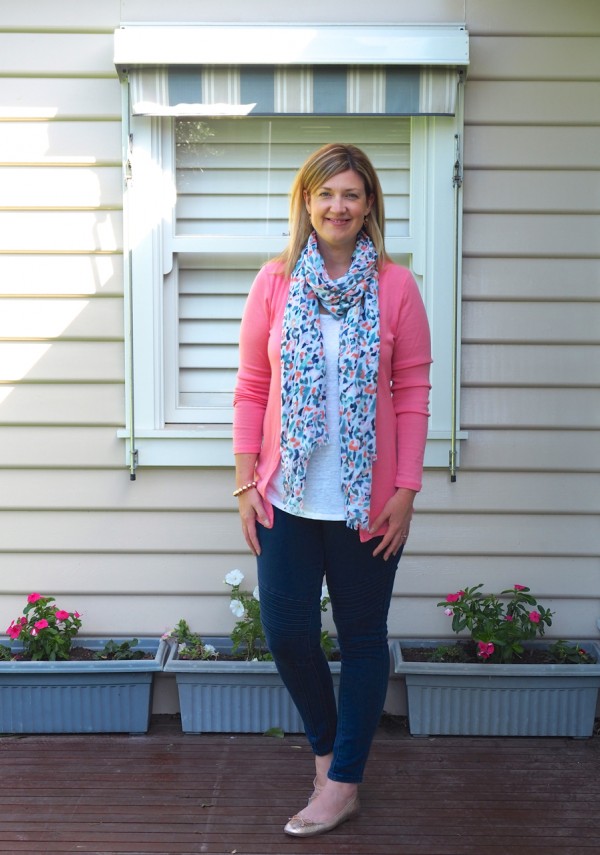 Above, I'm wearing Indigo Biker Jeggings, $49.95 from Rockmans in size 12, which I bought with a voucher given to me; cardigan and linen singlet top from Country Road and scarf from Sussan (all from seasons past) and my brand new rose gold Colla flats from Wittner.
I found these cool biker style jeggings which are comfortable and flattering. If you like a bit of tough pretty detailing without the bulk, an elasticised waist and the stretch of jeggings, this could be the pair for you. Coming in under $50, they are excellent value too.
2. Long sleeved tops and cardigans – lightweight cardys are gold at this time of year. Throw them on over your outfit in the cool morning or when you go out at night for an extra layer.
I'm a big fan of the longline knit cardys from Country Road and this Portmans number I featured recently.
Similarly, replace your every day tee with a long sleeved option for a bit of extra warmth. I love the linen tees (I've got the short and long sleeved styles) from Trenery as they wash and wear well, hang nicely (they aren't as clingy as tees) and can be dressed up or down.
3. Lightweight Jacket – I got rained on pretty much all day on Friday as I got in and out of the car for pick ups, drop offs and errands. I'm generally not walking far enough to warrant the use of an umbrella so I was glad to have a lightweight raincoat with a hoody on hand.
I've got a Gorman spotty raincoat from a couple of years back which is now sold out. Don't worry though you haven't missed out – there'll be more raincoats arriving at Gorman over the next few months in some cool prints, including this long line black and rose gold number here.
An anorak is another good option if you're after something lightweight that offers some warmth as well as wind and rain protection. There's a good selection at Target, Forever New and Sportsgirl.
4. Scarf – like a cardy, a scarf gives just that extra bit of warmth and protection against the elements.
Warmer fabrications with wool are worth investing in too.
If it's really blowing a cold gale, I've been known to improvise and wack my snood over my head too, semi balaclava style.
For more styles, check out this recent post on scarves and snoods here.
5. Closed Toe Shoes – as the weather begins to cool down, I've been reacquainting myself with my ballet flats, trainers and brogues/derbys. I love a great pair of flats with a pair of skinny jeans and a simple tee for easy, every day style, as I've worn above.
If you love leopard print, check out the shoes in this recent post.
If you're wondering how to transition to Autumn work wise, similar principles apply – replace your dresses or skirts with pants and knits to cope with variable temperatures in and outside the office. Or, simply wear your summer favourites and add a scarf and light trench coat if it's still relatively mild.
This post contains some affiliate links. You don't pay any extra and I earn a small commission. Read more in my Disclosure Policy here.
Have you mentally made the transition to your Autumn wardrobe? Is the weather co-operating where you live?