Victoria is well known for it's four seasons in one day tendencies All Year Round.
And while it can be VERY frustrating around here at times, on the bright side, choosing what to wear everyday becomes a Choose Your Own Adventure of sorts.
For example, I'd be bold if I put my Winter boots away for Summer in October.
Likewise, it would not be unwarranted to throw in a pair of jeans and jacket when packing for a holiday on the Victorian coast in January as it can be 30 plus one day and 18 degrees the next.
Even in February which was consistently warm, there were days I wore not only jeans but also a jacket – even if it was just at night.
This being the case, as a Victorian, I always buy clothes for the coming season early on in the season as I know, without fail, I'll have an opportunity to wear them a lot sooner than I might think. Often, it's a lot sooner that I'd like to!
So as usual, I've invested in a few key pieces that I'm getting wear out of already and I thought I'd share them with you below if you too are looking for a handful of pieces that will get you through the changing of the seasons. If you live in a warmer climate, they may well take you well into Winter. I've also included some pics of me wearing said items too.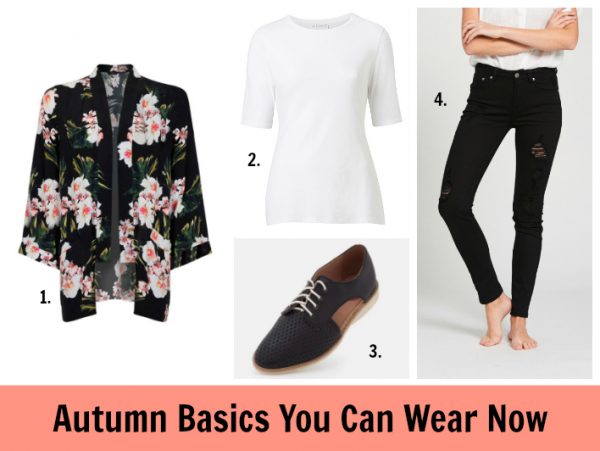 ABOVE: 1. Liliana Kimono Jacket, $89.95 from Decjuba;
2. Elbow Sleeve Tee, $29.95 from Witchery;
3. Side Cut Derbys, $169.95 from Rollie Nation;
4. Distressed Black Jeans, $149 from Bohemian Traders.
1. The Elbow Length Tee or Knit – this is a great basic to pair with your favourite skirt, printed pants or under your favourite jacket as the weather cools. I love that they provide that extra bit of coverage but are also still flattering – especially if, like me, you like a little arm coverage.
I've bought my elbow length tees from Witchery – see the collage above for the top I'm wearing here in black – which I'm loving with all my busy printed skirts and pants from Gorman.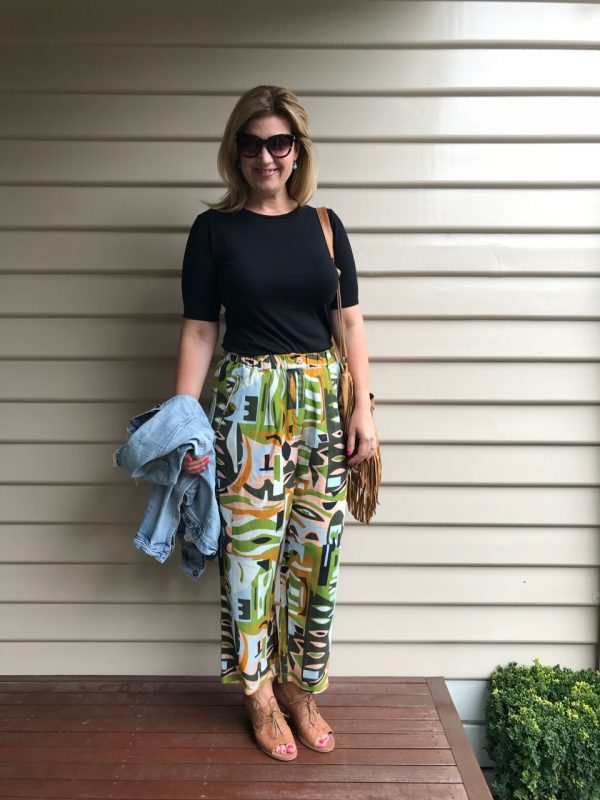 I've also hunted down two other cooler weather versions to take me well into Autumn –  this brand new organic cotton/wool blend turtleneck version from Gorman and this elbow length roll neck knit from Country Road.
2. A Lightweight Jacket – if you're looking for a smart but relaxed way to add a layer on crisp mornings or cool evenings, one of my favourite looks right now is a lightweight jacket thrown over a tee or cami. Add your favourite shorts, jeans or pants and BAM – you've got a great look.
There are loads of styles of trans-seasonal jacket around right now, some of which might also take you through Winter if you live in warmer climes.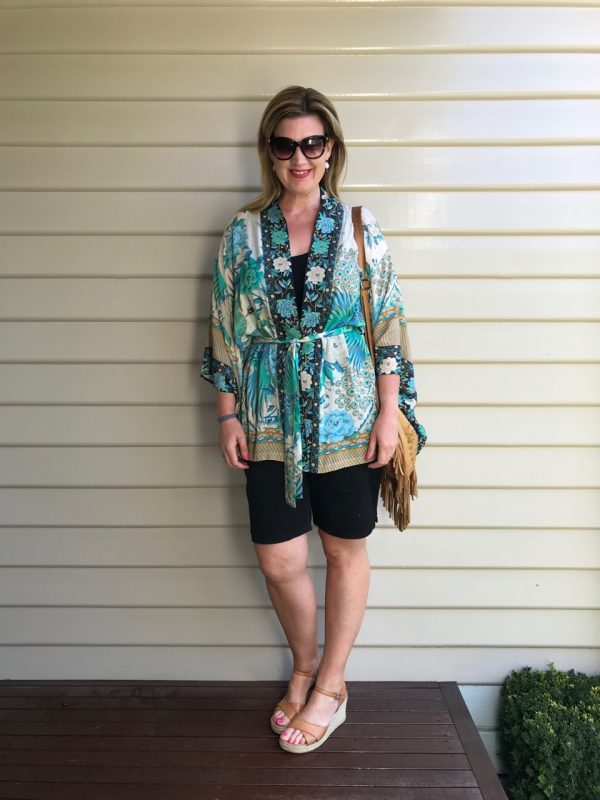 Styles include the floral blazer, longer or shorter kimonos, bomber jackets or the dressier ponte blazer.
I always find my denim and leather jackets get a good work out at this time of year too.
Above I'm wearing a (now sold out – sorry) kimono from Spell Designs. You'll find great options at other boho fashion retailers (detailed in this post) or more budget friendly floral versions at Decjuba, such as the one I've included in the photo collage at the start of this post.
For work or dressier options, I can also recommend the Mi Amour Blazer, $89.95 from Portmans (pictured below). It's an unlined, lightweight and, with it's bunched sleeve, a more relaxed style of blazer. I picked up a black one in a 25% off promotion which I was pretty happy with. I have visions of wearing mine over a cami and with jeans or pants along these lines …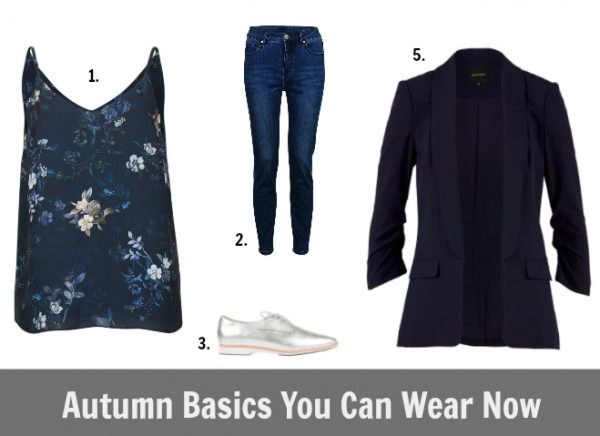 ABOVE: 1. Corinne Core Cami in Blue Floral, $49.95 from Decjuba;
2. Hi Rise Skinny Jeans, $99.95 from Decjuba;
3. BETH derbys, $229.95 from Frankie 4 Footwear;
4. Mi Amour Blazer, $89.95 from Portmans.
The ponte blazers from Boden are also great for work and beautifully made – hello polka dot lining – and well worth a look. Check them out here.
3. Autumn Florals – the arrival of Autumn florals makes this fashion fan go all weak at the knees – I adore the muted colour palettes which usually reflects the changing of the leaves – browns, golds, greens, peaches, pinks and red.
From a floral cami, through to dresses, blazers and pants, there are loads of beautiful Autumn florals doing the rounds right now. Decjuba in particular has a great range and I'm also loving the 'Kalamata' print by Witchery – a navy/black floral which I'm wearing below – too.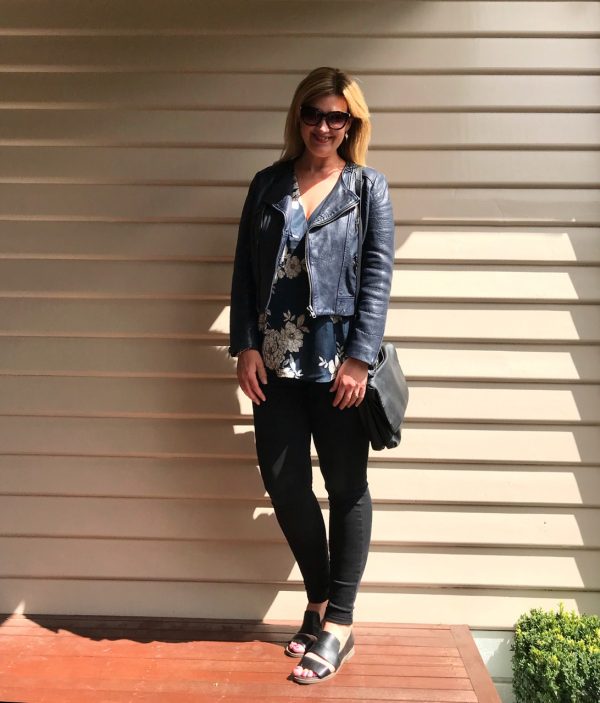 4. The Derby – if you're looking for a closed toe option but you're not quite ready for boots or need a dressier option than trainers, a pair of derbys is a great option in between seasons.
I love to wear mine with jeans and a top for everyday style, or, for a more preppy look, paired with a dress or with jeans, a tee and a blazer.
5. New Season Jeans – I have MANY pairs of jeans but somehow, over the long Summer months, my shape seems to change every year and a new style – or, gulp, sometimes size – of jeans are required.
This year I'm loving classic indigo skinny jeans all over again, distressed jeans of all colours and I've already found two new everyday styles that fit like a dream and are super comfortable to wear – the Country Road latest incarnation of the Soft Touch Jeggings (I wear a 12 in this style) and Decjuba's Hi Rise Skinny Jeans pictured above (I wear a 12 in this style). I've also invested in another pair of this classic distressed style from Bohemian Traders.
You might prefer to try a new shape to mix things up, such as a wide leg, flared or cropped style or something with hardware or other detailing.
The only other thing I'd add to this list is scarves but I'll save my round up of Autumn scarves for a later post – stay tuned for that!
This post contains affiliate links. You don't pay any extra and I earn a small commission. Read more in my Disclosure Policy here. 
Which pieces in your wardrobe are your 'key' trans-seasonal work horses?