The weather sure keeps you guessing, doesn't it?
It's been hot and humid in the northern states of late, but here in Victoria, the calendar might say February but the weather says "Hello Autumn".
Over the last couple of weeks, we've barely hit 25 degrees (and once or twice at that), a stark contrast to last summer and seemingly, a world away from our northern sisters presently sweltering away and rotating between the pool and anywhere with aircon.
While many of us lament the summer that never happened, I'm sure fashion retailers are secretly thrilled.
After all, a cooler summer means more people will be looking to autumn fashion sooner.
I've certainly been more prepared to think about it. Last Friday, I finally spent some quality time at my local Westfield (how I've missed you so) to do a little autumn fashion reconnaissance. The trends that struck me (and I loved) were the pared back, timeless classics: soft shades of grey, textured neutrals and modern monochrome.
It inspired me to work back these new season looks with three wardrobe basics that will pretty much serve you year round if you live in a mild climate and from Spring through to Autumn in the cooler climes.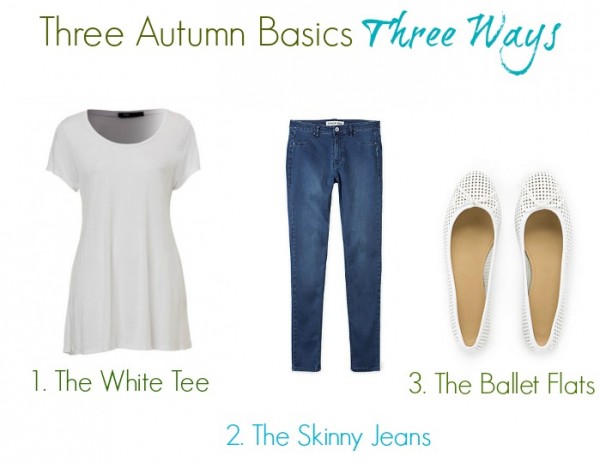 The three basics I'm working with are:
1. A basic white tee. You've probably got one in your wardrobe already. If you are looking for a freshie, check out the great range of casual tees at Sportgirl. Above, I've gone with The Swing Tee, $29.95 (from Sportsgirl) as this style has a bit of length, is loose but flattering with it's scoop neckline.
2. A quality pair of jeans that are comfortable and flattering. Last year I bought three pairs of Country Road's jeggings. With elastane and a higher waisted style, I found this style worked well for me and prevented unsightly muffin and "tradesman's smile" iss-shoes.
This style was so popular last year, they sold out several times so it's great to see them back again and in four colours: indigo, vintage wash, black and charcoal.
Here I've included their Mid Rise Jeggings in vintage wash, $99.95 (from Country Road), a washed and worn looking vintage blue. (Oh, if you can hold off, I suspect there will be a Spend and Save promotion shortly and you can pick these up for less).
3. A comfortable pair of flats. For every day in mild weather, I generally opt for a sandal, trainers of ballet flats. While I never say no to a coloured shoe, I do find that any of these styles in white provide endless outfitting options. I also love a white shoe against denim.
Above, I've included these white Perforated Ballet Flats, $99.95 from Country Road. The perforation is ideal for mild (but not wet) weather. They also come in blush pink.
Below, I've worked these basics with some new season pieces to create some different looks.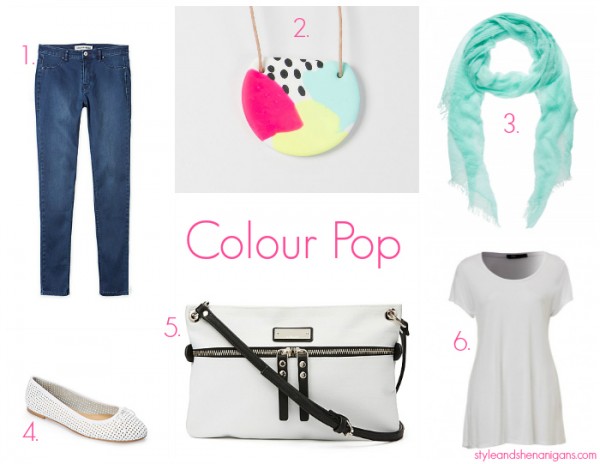 1. Jeans (as above); 2. Memphis Clay Necklace, $49 from Dear Mabel Handmade; 3. Lagoon Solid Scarf, $19.95 from Sussan; 4. Ballet Flats (as above); 5. Finn Sling Bag, $79.95 from Witchery; 6. White tee, as above.
If you've been anywhere near your local Westfield lately, you'll know it's monochrome central in shops at the moment. It's no surprise really: it's classic, practical and forms the base of many a corporate and work wardrobe.
Above, I've included monochrome elements but freshened it up with a pop of colour with some fun accessories.
This outfit would work well for Casual Friday or perhaps a Parent/Teacher Interview.
The bag and scarf are smart and versatile enough to work across both work and casual wardrobes too. The pendant would also breathe new life into a basic black dress.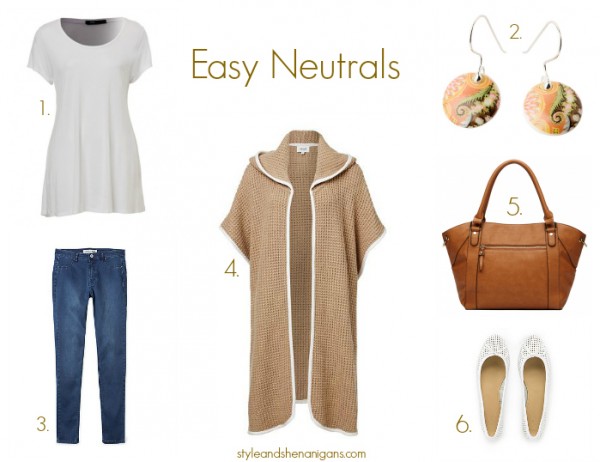 1. T-shirt (as above); 2. Amber Drop Earrings, $60 from Angus and Celeste; 3. Jeans (as above); 4. Cape Knit, $149.95 from Seed Heritage; 5. Alison Tote, $69.95 from Sussan; 6. Ballet Flats (as above).
One of my favourite autumn trends is definitely the welcome return of soft camel, nude and tan tones. They never go out of style and look relaxed yet chic, particularly against denim and white.
This cape, part of the fab new collection at Seed Heritage, above, is perfect for crisp autumn mornings (which for me involve the school run) but is also smart enough to take you through to appointments, errands and anything else you might have on during the day.
If you live in warmer climes, no doubt the sight of such a cape will send you in to a hot sweat and is unthinkable right now. However, come June/July, a short sleeved cape can be a mild winter winner.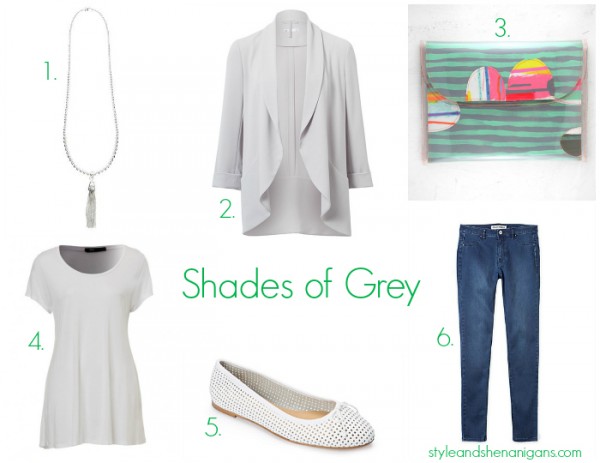 1. Tassel Necklace, $39 from Seed Heritage; 2. Relaxed Jacket in Grey, $49 from Target; 3. Elephant Clutch, $99 by Tiff Manuell + 1 + 3 + 2 above.
Some days call for a slightly dressier variation on casual: a birthday lunch for a girlfriend; a family dinner on the weekend or even date night. The above outfit would cover those scenarios and more.
Grey is one of my favourite "neutrals". It's works with black, bold jewel tones and denim in winter and works equally well in between seasons with softer tones and colours.
This well priced jacket from Target is a great find: it's light, drapey and can be dressed up or down. It would also work well with a black top and pants for work. A simple changing up of the bag or pendant would totally change this whole look too.
A girlfriend of mine recently put me on to these super cool Tiff Manuell clutches and I'm officially crushing on these big time. This cool clutch is a great statement piece and injects a bit of fabulousness into an otherwise classic but understated outfit.
Have you had much of a summer? What are your autumn basics? What, of the above, takes your fancy?