Welcome to this month's edition of What to Wear.
With the arrival of the first month of Winter, I've really dialled things up a notch in the warmth and layering department. It's been a matter of necessity around these parts – there's been no soft entry this year.
And while Winter might not be my favourite season, it's hard to deny that Winter is a fashion lover's dream, providing so many options in the wardrobe department. From the variety of beautiful textures – velvet, suede and faux fur to name but a few – through to the different layers and practical accessories we need to actually stay warm, there are so many looks and styles to play with in the cooler months.
And while comfort and practical are always priorities for me when I get dressed every morning, I love that there are still plenty of opportunities to have fun with colour and print. Living in grey old Melbs, this is very important!
So, without further ado, here are this month's three styled outfits. As I've said before, the idea with these posts is to give you some fresh inspo for how to wear pieces you already have or give you some ideas of what might work with what you've already got if you're looking for something new.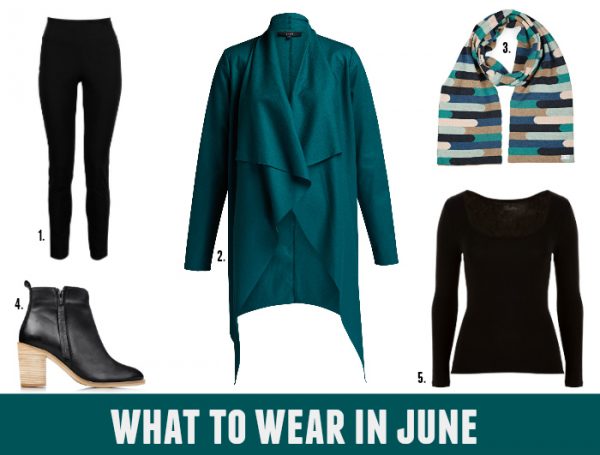 ABOVE:  1. Bengaline Full Length Pants, $109.95 from Decjuba; 2. Karlie Knit Cardigan, $149 from SABA; 3. Pablo Scarf, $110 from UIMI Knitwear; 4. Betty Basics Madonna Long Sleeved Scoop Top, $24.95 from Birdsnest; 5. Notable Casual Ankle Boots, $269.95 from Jo Mercer.
Now this first outfit is one of those versatile smart casual options that can be worn to a variety of different occasions: a school/kinder parents dinner; family/friends birthday dinner or lunch; movies with the girls or even date night if you're not at home watching Netflix and chillin'. Other scenarios could be work (depending on the formality of your workplace) and conferences.
I adore this rich teal colour, which looks especially striking if you have blue eyes (it comes in other colours though if you're not a fan). Paired with some black basics – you could easily substitute the pants for black jeans or ponte pants – and a beautiful and colourful knit scarf, this is a put together look that ticks the style and comfort boxes.
I've included a scoop neck, long sleeved tee here but in Melbourne at this time of year, I'd wear a fine merino knit like this one instead for extra warmth.
Depending on how much walking/standing is involved, I'd also swap these heeled boots for my favourite patent ankle boots.
This second outfit below is a dressier look again …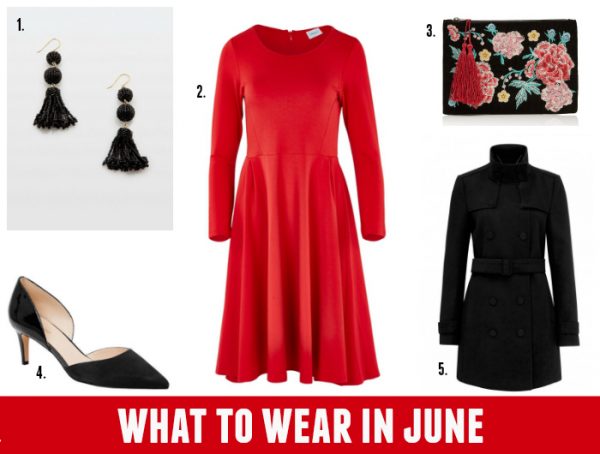 ABOVE:  1. Mini Bead Earrings, $49.95 from Country Road; 2. Fit and Flare Dress, $129 from Birdsnest; 3. Velvet Floral Clutch, $39.95 from Sportsgirl; 4. Solis Suede/Patent Heels, $149.95 from Nine West; Funnel Collar Coat, $149.95 from The Iconic.
The hero of this outfit is this striking red fit and flare dress. It's a simple but flattering shape, while the long sleeves keep you warm. Block coloured dresses like these are the perfect canvas for some fabulous statement accessories, and one of the first places I'd look for such things is Sportsgirl. How fab is this embroidered velvet clutch?
I've carried the texture theme through to these chic heels with their patent and suede detailing and on trend point and the pretty beaded earrings. A funnel neck coat looks super stylish while providing much needed coverage – there's no need for a scarf here.
I've deliberately chosen a more budget friendly and not super dressy option here for the dress, trying to find a style that can be worn to work as well, to extend it's versatility.  (I'd wear this dress with a denim jacket, scarf, opaque tights and ankle boots as well as with heels). If you're looking for a dressier red dress, try this style at Veronika Maine.
For a more corporate but equally fabulous look incorporating animal print, you might like these Cut Out Round Toe Heels from Boden paired with these pretty earrings from Elke.
This final outfit is an easy wearing casual option. As well as relaxed weekends and those of us working from home, I was also thinking of all the dedicated folks out there standing by the sidelines while the kids play sport, outside or in draughty stadiums and studios, as well as the school run on frosty mornings.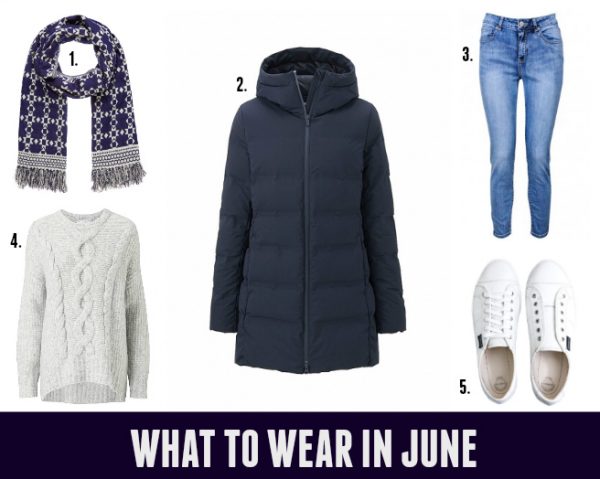 ABOVE: 1. Reverse Jacquard Scarf, $49.95 from Seed Heritage; 2. Seamless  Down Short Jacket, $199 from UNIQLO; 3. Luxe High Rise Skinny Jeans, $99.95 from Decjuba; 4. Relaxed Cable Knit, $169.95 from Witchery; 5. Nat Sneakers, $229.95 from Frankie4Footwear.
I really love a grey/navy/denim combo for everyday. It's a simple, fresh and stylish colour combo that's an alternative to the ubiquitous black/grey combos. If you're feeling cheeky, add a bold pink lip.
I love a chunky knit to wear with jeans but it can be hard to find coats that fit over the top of them, so if you're looking for a new coat, make sure you wear one of your favourite knits when you try it on.
A chunky scarf and a puffer that covers my derriere – those cold benches are a killer – are other practical options.
Finally, I tried on a pair of these awesome Nat Sneakers at the Frankie4Footwear pop up recently and was lucky enough to receive a gifted pair. I can't believe how much support they provide and how comfortable they are. If spend most of your day on your feet, these are definitely worth the investment.
This post contains some affiliate links. You don't pay any extra and I earn a small commission. Read more in my Disclosure Policy here.
So what's on high rotation in your wardrobe now Winter has arrived? Which of the above outfits if your fave?