Well, there's no doubt that we're smack bang in the middle of Winter around these parts.
Even when the glorious Winter sun is shining, it's been cold enough here in Victoria lately to be eye watering, digit freezing and ankle chilling.
But instead of lamenting the weather, I'm trying REALLY hard to embrace all things Winter on the fashion front. That means pulling out some of my oldest knits, favourite Winter coats and mixing them up with some new shoes or a scarf.
I've also been wearing lots of grey, black, camel and denim with bright pops of pink, red and green.
I'm playing with layers, upping my Pants Game and always looking for ways to add some variety and colour into my everyday.
I'm throwing on some statement earrings, adding a bold lip and clashing prints.
I've approached this month's What to Wear post in the same vein, with some key priorities in mind.
Plenty of colour.
A print or three.
Warm, practical layers that will keep you feeling warm but looking the goods this Winter.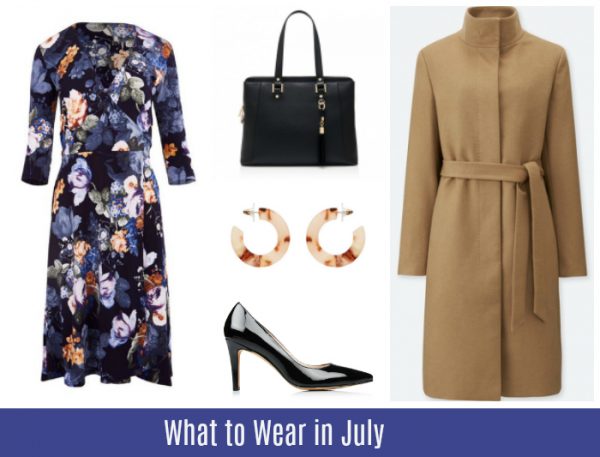 ABOVE, CLOCKWISE FROM TOP LEFT: 
Stacey Wrap Dress by Rebecca Ruby, $109.95 from Birdsnest; 
Laptop bag, $89.99 from Forever New; 
Cashmere Blend Coat, $249.90 from Uniqlo; 
Nigella Pumps, $159.95 from Jo Mercer; 
Earrings, $19.95 from Sportsgirl.
This first outfit is one I'd wear to work (in a corporate environment) or other dressy weekend do.
The heroine of the outfit is this pretty floral wrap dress that is a long way from frou frou. By incorporating blacks, dark blues and greens and light browns, it's a great piece to work back with all those Winter neutrals.
I've picked up the brown tones with this contrasting high collar coat – a great option for warmth, especially if you're wearing a V neckline – and added some classic patent pumps and a practical tote in the accessories departments.
Jewellery wise, I'd pick some simple pieces in any of gold, silver or rose gold, as all tones are picked in this versatile print. If you want to add something unexpected, add tortoiseshell or textured earrings, as I've done above.
If you're not a fan of the wrap dress, looking for more coverage or prefer a shift style, you might like to check out this lovely Elm dress, $139.95 from Birdsnest.
Depending on your workplace, you might also be able to wear this outfit to work or on the weekends to a party, dressy dinner or other soiree.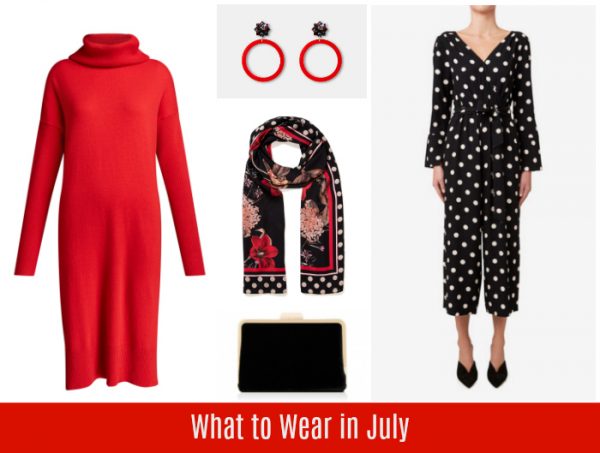 ABOVE, CLOCKWISE FROM TOP LEFT:
Knit dress, $249 from SABA; 
Soul Star Earrings, $59 from The Iconic;
Spotty Jumpsuit, $169.99 from Seed Heritage; 
Clutch, $39.99 from Forever New;
Crimson Spot Garden Scarf, $34.95 from Portmans.
I really am rather partial to a long sleeved jumpsuit in Winter – I love all that coverage – and am loving this spotty offering from Seed. Given the culotte length and the fabric is a little on the light side, I thought I'd also add in a warmer option – this fabulous knit dress – as well.
Whichever way you roll, red, white and black is a great combo any time of year and an easy palette to mix and match.
A striking printed scarf, the addition of some gold hardware or a pair of awesome earrings can elevate those wintery basics into much more interesting territory. Add your favourite black boots or heels to either look and a bright red lip and you're in business.
If the thought of going out in Winter makes you tired, this next look is for you – an every day, casual approach that includes lots of warm layers and some muted pops of colour if that's more your thing.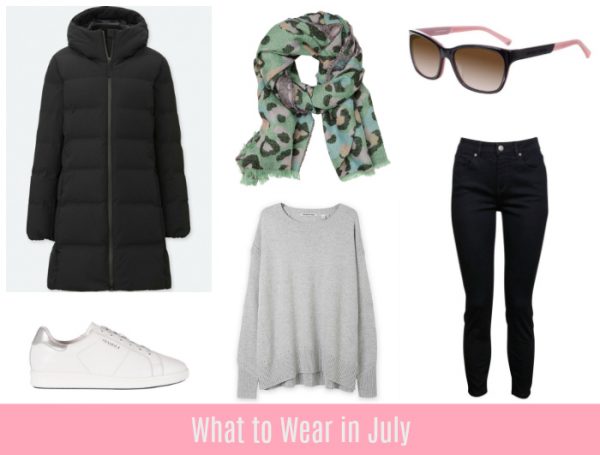 ABOVE, CLOCKWISE FROM TOP LEFT:
Seamless Short Down Coat, $199 from Uniqlo;
Bright Animal Scarf, $39.95 from Sportsgirl; 
Armani Sunnies, $190 from The Iconic;
Skinny Jeans, $99.95 from Decjuba;
Boat Neck Curve Knit, $119 from Country Road;
JACKiE white/silver, $229.95 from FRANKiE4 Footwear.
I've got a couple of old puffers (from Boden) that I'm wearing on high rotation but if you're in the market for a new one, check out the extensive range at Uniqlo. There are plenty of lengths, weights and colours to choose from.
I'm also obsessed with this Boat Neck Curve Knit from Country Road – it's a great option for every day paired with jeans and trainers. I've got the red (now sold out – soz) and the navy but there are several colours still available.
Simply add a chunky knit scarf – either block coloured or a print – and you're sorted. This animal print scarf is a ripper.
I won't bang on about the JACKiE trainers here again but if you are interested to hear more about them (fit/style etc.), check out this recent post on Winter shoes.
Finally, If you're covered in the block colour knit department, check out this fun and Ernie inspired Stripe knit, $129.95 from Marcs.
This post contains affiliate links. You don't pay any extra and I earn a small commission. Read more in my Disclosure Policy here.
So over to you, which outfit is your pick? What's your July uniform?