Welcome to this month's edition of What to Wear, a monthly post designed to provide us all with some outfit inspo for the coming month.
This month – being July, the middle month of Winter – is always a tricky one.
On the upside, most retailers' high Winter fashion is currently on sale, so if you're lucky enough to find what you're looking for, chances are you won't have to pay full price. Got to love that.
The Debbie Downer can be that there are slim pickings, with many styles, colours and sizes sold out.
The challenge for me this month has been to find cold weather options that are warm enough for this chilly time of year that are also still available in a broad range of sizes (bonus points for colour options). Thankfully, I've managed to track down a fab selection of great high Winter options, some of which are on sale.
BINGO.
As you'll see below, instead of three outfits, I've created three mini mix and match wardrobe capsules to cover a range of scenarios – work, weekend, parties and other social do's – which include accessories, shoes and clothing that all work back with each other. At this time of year, when warmth and practicality go hand in hand, it's easy to dress up or down most things to suit the occasion.
You can see at a glance what works together – and what you might already have.
If you're looking for a new basic, statement frock, skirt, top or accessory to get you through Winter, you'll find something fabulous to fill the gap. I've also included those all important layering pieces – scarves, coats and jackets – as well as some versatile knits and Winter dresses that can easily be dressed up or down.
Here's the first collection – a smart casual capsule wardrobe in warm neutral tones with accents of rose gold and copper, ideal for work and dressy occasions.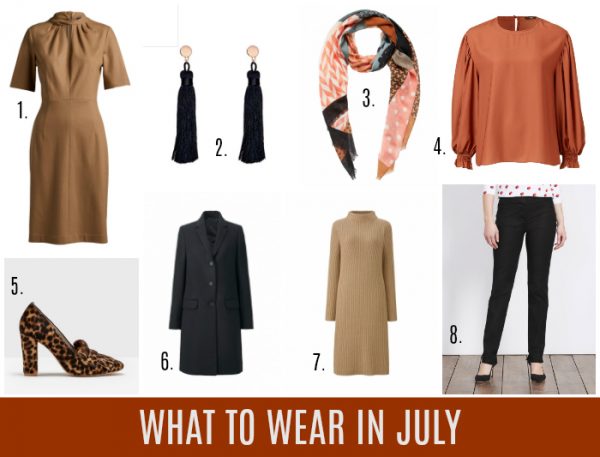 ABOVE:  1. Karlie Keyhole Dress, $269 from SABA; 2. Circle Tassel Studs, $19.95 from Portmans;  3. Patchwork Print Scarf, $29.95 from Sussan; 4. Shirred Cuff Blouse, $79.95 from Sportsgirl; 5. Fringed Heels, $108 (on sale) from Boden; 6. Wool Cashmere Coat, $199.00 (on sale) from Uniqlo; 7. Knit Dress, $29.90 (on sale) from Uniqlo; 8. Richmond Trousers, $130 from Boden.
This simple yet tasteful colour palette works back beautifully with camels, beiges and blacks – staples in many of our Winter wardrobes.
The addition of a statement scarf (3) or a pair of leopard print heeled loafers (5) elevate these practical basics to more interesting territory, while the rose gold tassel earrings (2) add texture to a chic LBD – whether the 'B" denotes black or beige.
I'm also loving the luxe look of this copper blouse (4). It's a change up from the usual neutrals while still keeping things chic and stylish.
If you're look for a rose gold messenger bag to complete the look, I'm also loving this dressy but functional rose Marley Cross Body Bag, $49.95 from Portmans.
If you love colour, this next capsule is for you …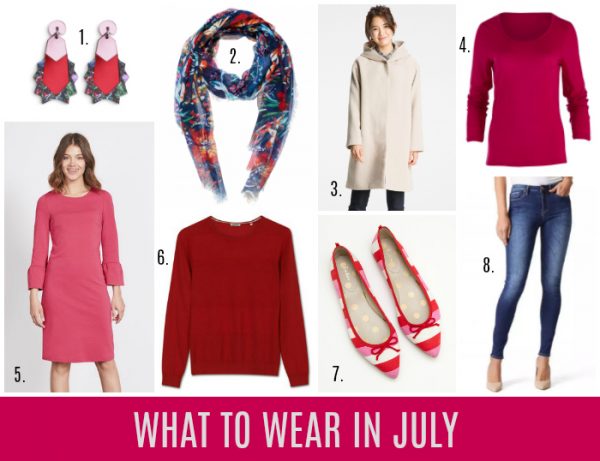 ABOVE: 1. Kapow Earrings, $55 from Martha Jean; 2. Painted Floral Scarf, $29.95 from Sussan; 3.  Wool Blend Coat, $99.90 (on sale) from Uniqlo; 4. Merino Scoop Tee, $64.95 (on sale) from Birdsnest; 5. Iris Dress, $150 from Boden; 6. Elsa Jumper, $99.95 from Marcs; 7. Pointed Ballerinas, $95 from Boden; 8. Indi Knit Denim Super Skinny Jeans, $99.95 from Jeans West.
I'm a big fan of red and pink – together or separately, I'm not fussy – but paired with warm Winter whites and denim, this is a look that always pops and warms the cockles of my cold Winter heart.
If you're not sure where to start, a printed scarf (2), a gorgeous pair of shoes (7) or a fab pair of statement earrings (1) are all it takes to bring this colour palette together. If you can't contemplate exposing your feet in ballet flats until Spring, a pair of white trainers or tan boots or block heels (check out the excellent options here) would also work.
A hooded coat is always a Winter winner too, especially for the inevitable rain at school pick up or home time.
Coloured knits, such as (4) and (6) are great wardrobe basics too. I have a rainbow of knits and wear mine from late Autumn through to Spring, loving how they work back with denim, printed skirts and under denim pinafores or dresses.
Finally, this pretty pink Boden frock (5) comes in several other colours too. The statement sleeves creates interest while this warm hue will add colour and warmth to the greyest of days.
If you're after a more relaxed pair of jeans, I can highly recommend the Luxe Lounge Slim Boyfriend Jeans, $99 from Jeans West. I wear mine with derbys or trainers.
If you love this colour palette and are looking ahead for some Spring options in the top department, check out this Basic Pocket Longsleeve Tee, $34.95 from Sportsgirl and Double Layered Cami, $19 from Target.
Now on to our final capsule, which I would loosely term Winter boho luxe …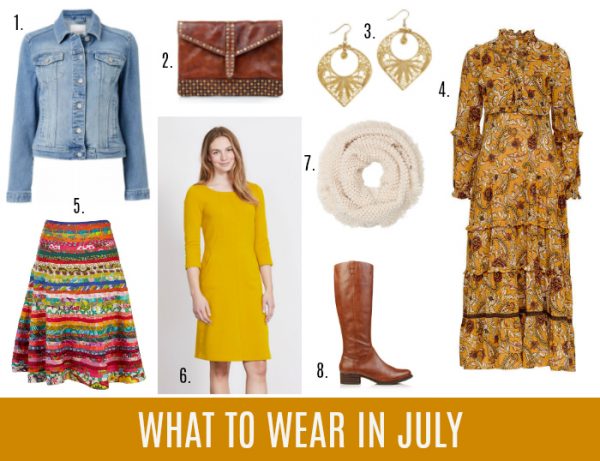 ABOVE: 1. Tessy Denim Jacket, $99.95 from Jeans West; 2.Rohan Cross Body Bag, $199.95 from Jo Mercer; 3. Isle and Tribe earrings, $39.95 from Birdsnest; 4. Etienne Dress in Siena, $299 from Spell Designs;  5. Cleo Skirt, $129 from Birdsnest; Hannah dress, $130 from Boden;  7. Oatmeal Fringe Snood, $29.95 from Sportsgirl;  8. Roney Leather Boots, $249.95 (on sale) from Jo Mercer.
There's a lot I love about these pieces and a quick squizz in my wardrobe would reveal many of these pieces or something very similar.
One of my favourite cool weather outfits is a maxi dresses, denim jacket, neutral snood, tights and boots and it's an outfit I wear for a range of occasions from kids' birthday parties through to family lunches and dinner with the girls.
A variation on the same theme is to sub out the dress for a printed skirt (I have several Cleo skirts!) and a coloured merino knit. It's a timeless look and one in which I feel great as well as comfortable.
As I mentioned last week, I'm LOVING the new range from Spell Designs and the print of this maxi (4) is a bit retro as well as boho. What's not to love?
I'm also loving the rich cognac leather of these boots (8) and bag (2) – both big ticket items, no doubt, but long term investments if you're looking for those timeless styles to serve you well over future Winters. They pair perfectly with all things boho and denim as well as looking striking against black.
This post contains some affiliate links. You don't pay any extra and I earn a small commission. Read more in my Disclosure Policy here.
What's your July "uniform"? What of the above, takes your fancy?