Things might not be normal here in Melbs right now, but I still love fashion and even in #ISO, we all need to get dressed (well, on some days).
Being an optimist and a dry shampoo devotee, I also know there will be a day in the hopefully not too distant future on which we can actually go out again, have cause to wash our hair and put the glad rags on as we did in the golden olden days pre CoVid 19 Lockdown 1.0 and 2.0.
So yes, I'm pushing ahead with this month's What to Wear post, although you will see the outfits I've put together this month cover both #ISO (or weekends and casual days); ZOOM meetings and working from home (or lunch with the girls); and date night whether you can actually leave the house (lucky you) or you're tired of wearing soft pants at home or, like me, dreaming of the day – and the outfit – when you can resume some semblance of normal socialising.
I've also included some of the pieces that I've been wearing on high rotation this Winter, as well as the usual comfortable, practical, colourful options and both investment and budget friendly options.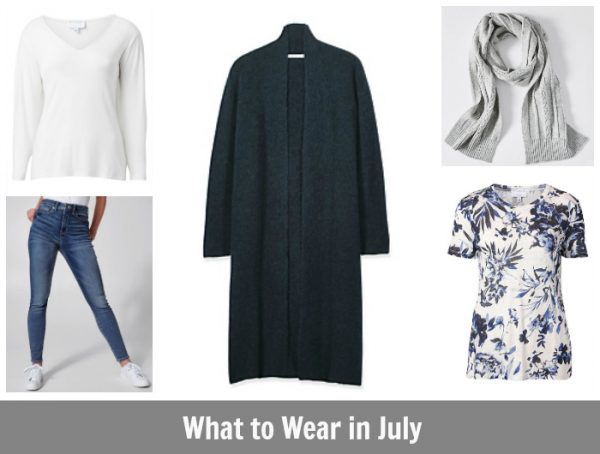 ABOVE, CLOCKWISE FROM TOP LEFT:
Sleeve Detail Top, $69.95 from Witchery;
 Alpaca cardigan, $199 from Trenery;
Scarf, $20 from Target;
Linen tee, $69.95 from Witchery;  
Jeans, $49 from Target; 
So this first outfit is my current Go To. I've been LIVING in these Target jeans and have them in both blue washes and love that they are simultaneously soft and firm enough, and that they sit at a good (high) height on my waist. The price point is unbeatable too.
I'm also currently obsessed by long knit cardigans and have purchased several over #ISO. This Trenery Alpaca cardigan is soft, warm and easy to wear and comes in six colours. I've already picked up two colour ways in previous knitwear/store promotions (the oatmeal marle which is a nice light neutral and the dark forest which is a beautiful teal), and I'll be happy to add to my stable as soon as they are marked down again. I love that long knits like these provide warmth and leg coverage and that they show off a tee or print underneath to break things up.
I've included two Witchery tops above as they work back with the navy cardy and provide both a block colour and print option. Both provide a smart casual look if you are working from home or if you're out and about. Finally, add a scarf for chilly mornings (or home offices) and your favourite white trainers or brogues and you're good to go. Even if, like me, that means you're only taking the dog for a walk to get your morning takeaway coffee.
If you're on Team Stripes, you might like to check out this newbie at Witchery.
This next outfit includes a few options, depending on your colour and style preferences. The hero is, of course, this fabulous print dress from Mister Zimi's brand new drop 'Bloom', which launched earlier this week.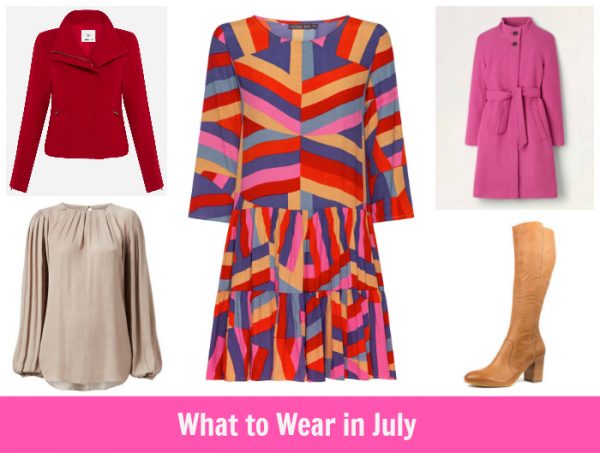 ABOVE, CLOCKWISE FROM TOP LEFT:
Wool Felted Jacket, $199.95 from MARCS;
Arabella Mini Dress in Harlequin, $159 from Mister Zimi;
Coat, $350 from Boden;
Boots, $348 from Midas;
Blouse, $99.95 from Witchery.
First of all, don't be alarmed that I have included a mini dress. I have this dress in another print, and in my size (14) it hits me, at 175cm, just above the knee, a length that I am happy to wear with wedges or heels in milder weather, but also tights and boots in Winter.
This dress also comes in a longer midi length in this print, as well as other dress styles, tops and even a skirt. Check them all out HERE. I love this print worked back with a long heeled boot now but I can equally see it working perfectly with tan wedges come Spring. If you can cope with bare legs now (not currently an option here in Pariah Ville slash Melbourne), tan ankle boots would also look great.
I've included two Winter coats – a more cropped style and a longer, belted option. As you may already know, bold, colourful Winter coats are few and far between at this time of year (being the end of the Winter fashion season from a retail perspective). In good news, UK brand Boden's Spring range has just dropped, bringing with it a new range of colourful and warm coats. (If the price point is out of reach, sign up to their email list to be notified of their regular promotions and end of season sales). Locally, I reckon MARCS is your best bet for a brightly coloured coat, and, to a lesser extent,  Portmans and Forever New.
For a more subdued option, I've included this sophisticated champagne coloured blouse, which would also work back beautifully with either coat, tan ankle or long boots and your favourite denim jeans. This blouse is also totes ZOOM worthy.
Turning now to our final outfit, which is all about soft pant comfort and monochrome basics.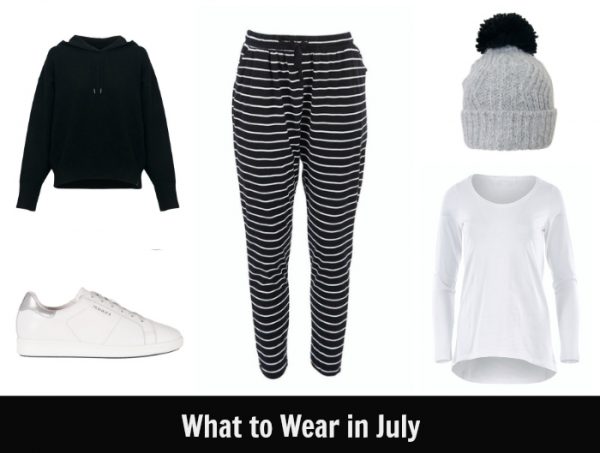 CLOCKWISE FROM TOP LEFT:
Hoodie, $99.95 from Decjuba;
Jade joggers, $39.95 from Birdsnest;  
Beanie, $29.95 from Decjuba;
Long sleeved tee, $29.95 from Birdsnest;
JACKiE trainers, $239.95 from FRANKiE4 Footwear.
It's hard to get motivated in #ISO some days, but last time 'round, I did feel motivated to source a number of soft pant options so I'd have something to wear when my leggings and pjs were in the wash. #TRUTHBOMB In all seriousness, a great pair of soft pants is always a priority, but even more so in 2020. This pair is a change from the usual plain black suspects but still works back with block coloured basics, some of which I've included here.
On the shoe front, I have been LIVING in my JACKiE trainers. They are a great, super comfortable every day shoe and work back with all my soft pants and jeans. They're definitely an investment but I've had mine for two years and they are still going strong.
For an extra layer, I'm totally digging this white Crop Puffer, $139.95 from Decjuba.
For more Winter basics
You might like to check out the following:
For more #ISO friendly and comfy clothes for home, you might like to check out this post on my favourite #ISO fashion.
So over to you, which outfit is your pick? And how are you coping with CoVid19?
This post contains some affiliate links. You don't pay any extra and I earn a small commission. Read more in my Disclosure Policy here.