Around here at the moment, it's either cold or very, VERY cold.
There's been plenty of rain about too.
And there's absolutely no escaping the fact that we're approaching the middle of winter already.
The thing is though, even though it's July and technically high winter i.e. the middle of the season, fashion retailers are already introducing early spring ranges in store.
It's seriously crazytown but the nature of the retail cycle.
In practical terms though, it means that the weather appropriate clothes we need now are on the way out, or on the sales racks.
I've looked far and wide to find options for pieces in this post that are not only warm enough for July but still available in a range of sizes (online, anyway).
So if you haven't yet sorted your cold weather wardrobe, check out these options below as well as the sales racks of your favourite stores stat. Once we're in to August, stores will be full of spring clothing.
So onto this first outfit – it's a classic yet versatile black tunic and ponte pants combo. The weight of the wool blend tunic and the density of a good pair of ponte pants make this a warm and practical option for high winter too.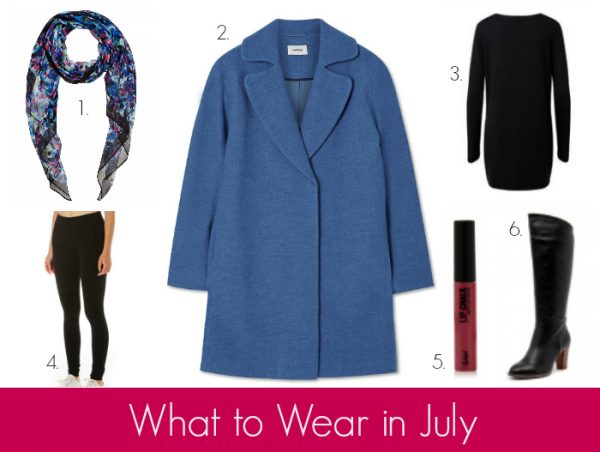 ABOVE: 1. Abstract Floral Scarf, $39.95 from Sussan; 2. Felted Cocoon Coat, $279 from Marcs; 3. Longline V Neck Tunic, $129.95 from Seed Heritage; 4. Classic Ponte Pants, $39.99 from Glassons; 5. Lip Chalk in Berrylicious, $9.95 from Sportsgirl; 6. Valeria Grossi boots, $249.95 from Style Tread.
I've paired these three great black basics – ponte pants, tunic and boots – with some beautiful accessories – this statement coat and complimentary floral scarf. Replace the scarf with some bling for date night or other dressy do.
This stunning wool coat in cornflower blue (2) is obviously an investment (but currently $100 off) but has plenty of outfitting potential in a wardrobe dominated with block colours.
It would also translate well to a stylish but relaxed weekend look, say with a cream knit, distressed denim and tan accessories. This slightly oversized cocoon shape is bang on trend this winter too.
A bright lip is always a good idea and this well priced lip chalk (5), picks up the pink in the scarf and adds some colour to a grey day.
While I'm a fan of ankle boots, I do love a long boot over ponte pants. They sit perfectly over ponte pants without exposing skin to the elements and create a flattering, streamlined look. Heeled boots, like (6) above, provide that extra flattering lengthening too.
Now onto the second outfit, a smart casual outfit which would work for casual Friday at work, lunch with the girls or a family do on the weekend.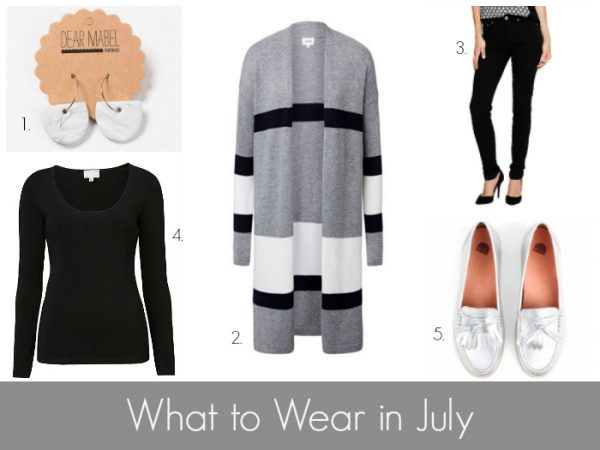 ABOVE: 1. Marble Dangly earrings, $29.95 from Dear Mabel Handmade at Etsy; 2. Colourblock cardigan, $149.95 from Seed Heritage;  3. Shape Your Body Skinny Jeans, $49 from Target; 4. Longsleeve Scoop tee, $39.95 from Witchery; 5. Budgie Loafers, $249 from Bared Footwear.
Here, I've picked up the lighter silver and grey to offset the darker black jeans and top.
Metallic accents continue to be a popular trend across fashion and home wares and that's a very good thing. I love the way a small metallic detail can elevate a simple, casual piece into something dressier and more interesting without compromising on comfort.
These amazing loafers by Bared Footwear (5) are a case in point (as is the knit in the outfit below). I'm seriously crushing on this pair above. If you're after an alternative to boots, a loafer or brogue is a great option.
I'm also loving this colour block cardigan (2)  – it's makes a statement while still being super versatile working back with the denim, greys and whites that feature in many of our winter wardrobes.
These tones have also been picked up in these fab earrings (1) from Mabel Handmade.
There are plenty of long sleeved tees around the traps if you're looking, but not many left online. Check out Glassons or Target for affordable options. I like the Witchery style, above (4),  (I've bought several over the years) as they wash and wear well and have a decent amount of stretch. They are also great to wear under cardigans and chunky knits.
If you're after a warmer option, check out the range of fine merino knits at Glassons here. You'll find more merino options here.
Our final outfit is a tonal weekend look – I might be channelling a tiny bit of Kim K here – that is comfortable for running around but still comes up with the goods in the style department.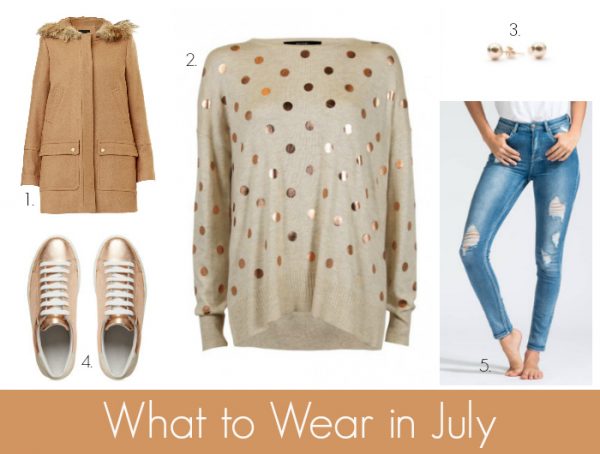 ABOVE: 1. Duffle Coat, $169.95 from Sportsgirl; 2. Eloise Fine Knit, $99.95 from Decjuba; 3. Rose Gold Plated Studs, $35 from Blush & Co.; 4. Georgina Sneakers, $129.95 from Seed Heritage; 5. Distressed Skinny Jeans, $129 from Bohemian Traders.
I'm a big fan of the metallic spot and this Decjuba knit (there's also a silver version) is fun and chic all at once. It's a lighter knit so perfect if you spend a lot of time inside and have a decent coat for when you leave the house.
These cool metallic kicks  (4) are great for every day and this substantial, warm duffle coat (1) keeps things cosy, warm and fabulous.
A simple pair of rose gold studs (3) finish things off nicely and these mid rise denim jeans from Bohemian Traders, with their mid rise and distressed detail are a great addition to any casual wardrobe.
This post contains some affiliate links. You don't pay any extra and I earn a small commission. Read more in my Disclosure Policy here.
Have you sorted your winter wardrobe? Which of the above outfits would work for you?