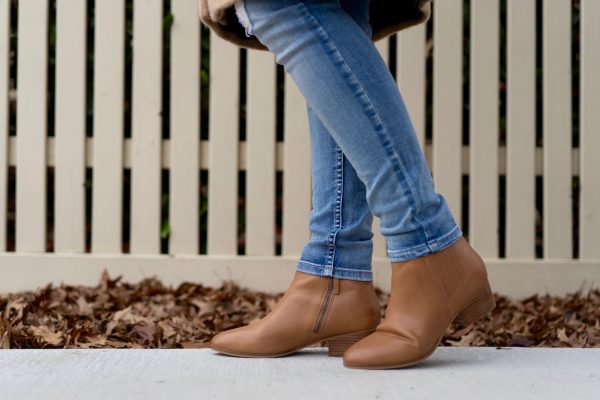 Sponsored by FRANKiE 4 Footwear
I take my shoe situation pretty seriously all year round.
As many of you know, I do love a beautiful shoe and am a big believer in how the perfect shoe can complete an outfit – or completely elevate a simple outfit – like nothing else can.
Historically speaking, my shoe radar has been predominantly tuned to the style, colour and height of said shoe.
These days?
I'm definitely still on the Style Wagon but the way my feet actually feel is now a much bigger priority for me.
I'm on my feet A LOT every day whether it's running errands, going to appointments, conducting a presentation or ferrying the kids to and fro school as well as their after school and weekend activities.
And I'm just not prepared to put up with sore feet or uncomfortable shoes for the sake of fashion anymore which is why I'm such a raving fan of FRANKiE 4 Footwear, as they manage to strike that elusive balance between style and comfort.
A little while ago, the FRANKiE 4 Footwear team invited me to choose four pairs of their shoes for Autumn/Winter – lucky much – and in today's post, I'm wearing the four styles I picked and giving YOU the Larry Lowdown on how they look and feel, and their styling potential.
As you'll see below, I chose four styles that cover a variety of weekly scenarios for me across work (both working from home and in the office) and weekends (relaxed hangs and dressy do's). If you follow me over on Instagram, you'll know how much wear I've had from all of these styles already and it's only the beginning of June.
Just before I start, in terms of it's fit, all of these styles are true to size – I'm a 40/9 in all FRANKiE 4 Footwear  styles and it's my usual size across other brands too. Also, what sets FRANKiE 4 Footwear apart from other footwear brands is their amazingly supportive and comfortable forefoot and heel cushioning and arch support. It's a total game changer.
1. JACKiE Trainers
I am officially obsessed with FRANKiE 4 trainers. I still get loads of wear out of my NATS from last year but I was certainly happy to add to my casual stable with this year's new arrival.
Hello JACKiE!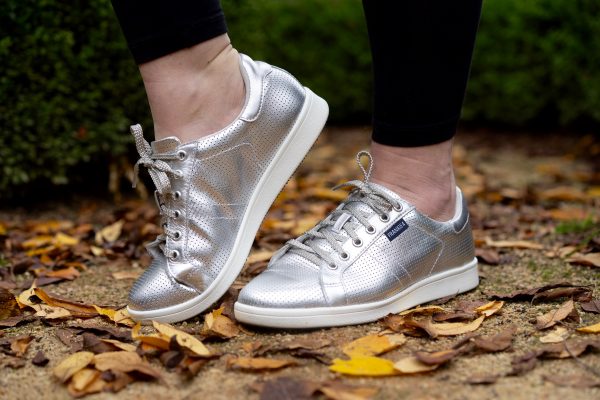 There's a lot to love about JACKiE besides her good looks.
I've been loving her supportive, cushioned footbed which feels fabulous when you're running around all day. My feet feel so good, even at the end of the day, instead of the usual ache, I can hardly believe it.
I also love her perforated metallic leather, which elevate a super casual jeans/knit or denim dress and leggings situation into much more interesting – and comfortable – territory.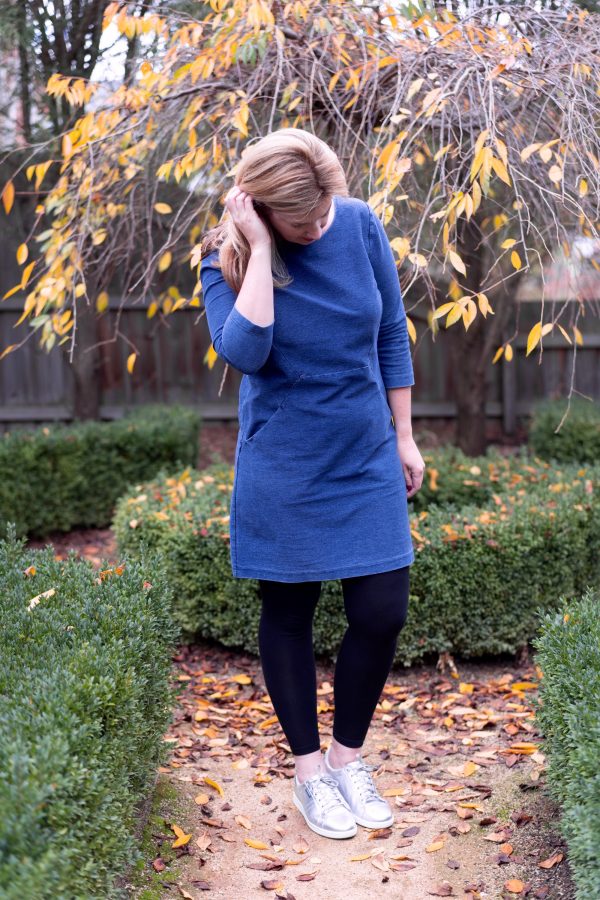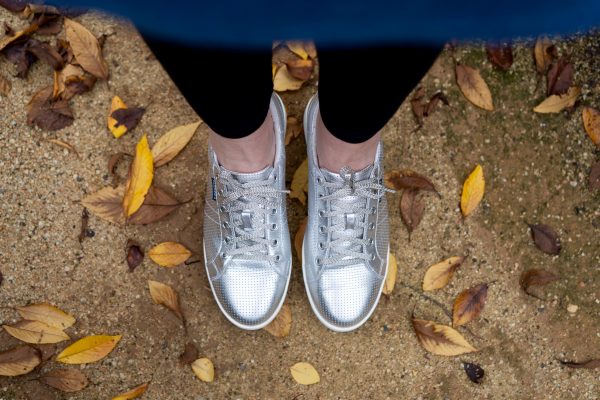 I do love the perforated silver but JACKiE also comes in blush/metallic blush and white/black. She is a great addition to any shoe drobe, particularly if you are looking for a new pair of every day trainers.
2. iZZY Ankle Boots in Black
In the boot department, let's start with the versatile iZZY ankle boots in black. Having become acquainted with her tan sister last Winter, it was an immediate add to cart situation here.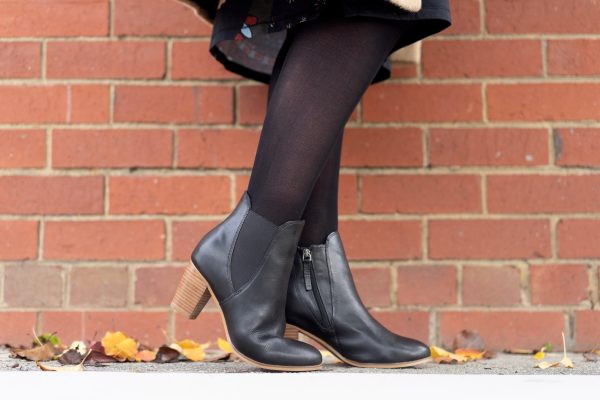 From a style perspective, this is an almond toe shaped mid heeled ankle boot with a lovely contrasting tan 70mm stacked heel. It's a great all purpose dressy heel which works well with dresses, skirts, pants and jeans.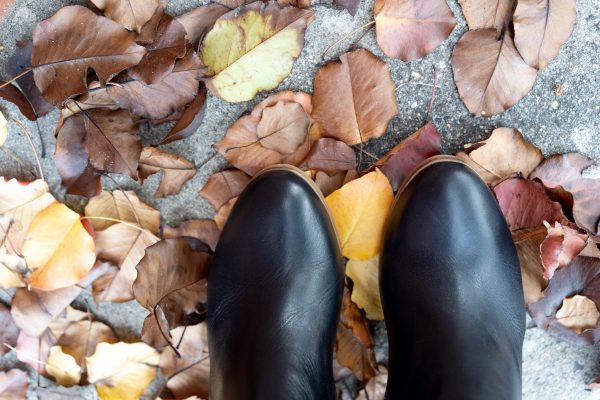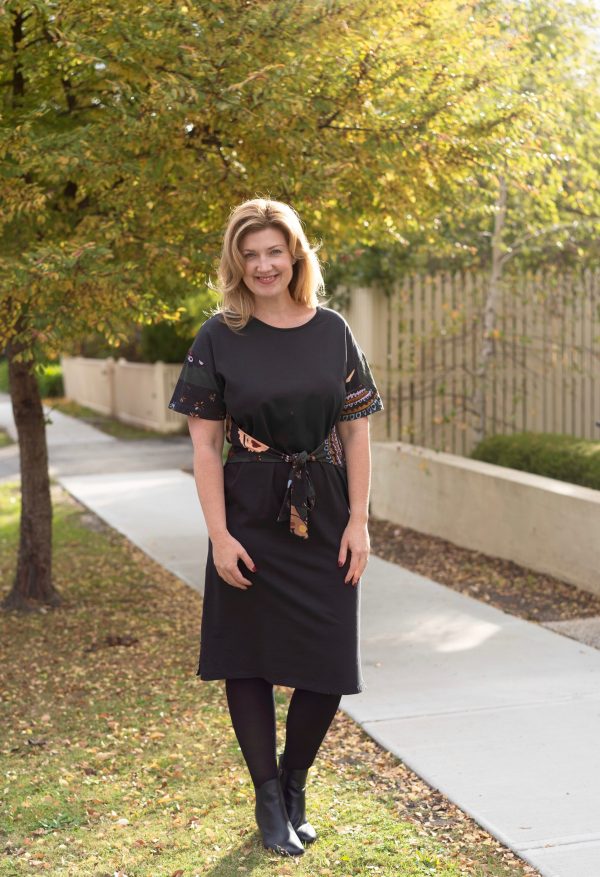 As well as all the usual fabulously supportive cushioning, iZZy's elasticised gusset also gives some room to move.
If you've already covered the black heeled ankle boot, you might like to know that iZZY also comes in wheat, tan and gunmetal.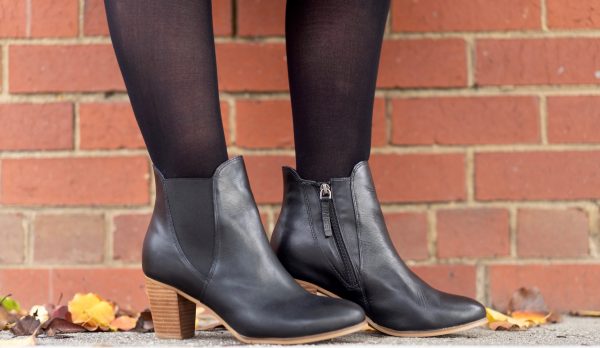 3. MiA Ankle Boots in Tan
One of the most versatile styles going around has to be the MiA ankle boots. While MiA is also available in black and gunmetal, I was looking for an every day tan style to wear with jeans and dresses, and MiA certainly does all that and more.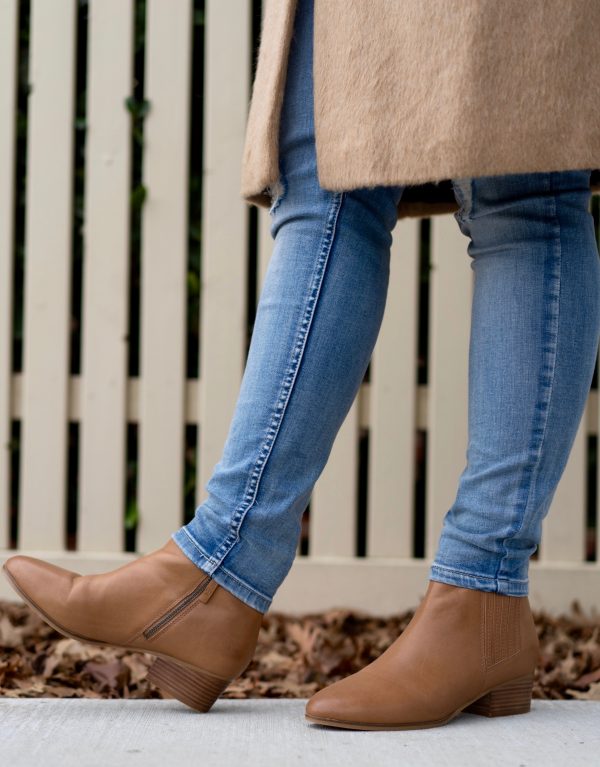 Above you can see MiA in detail. She has a 45mm stacked heel – a great height for every day – and a side zip for comfort. Style wise, MiA is a classic yet modern almond toe shape.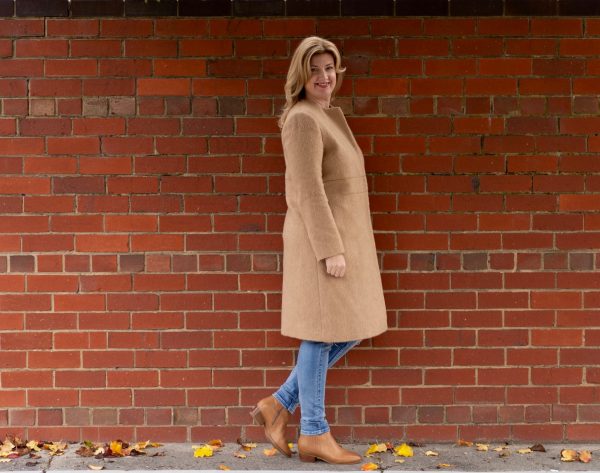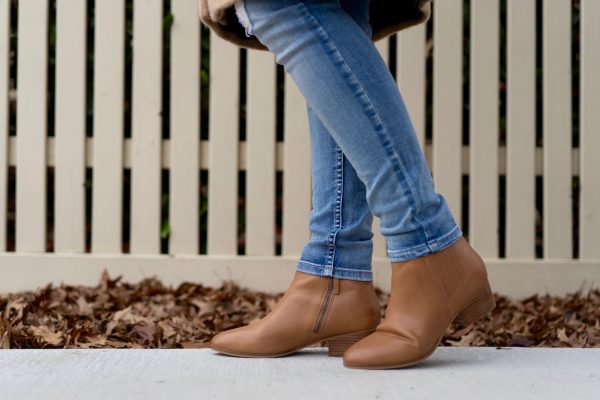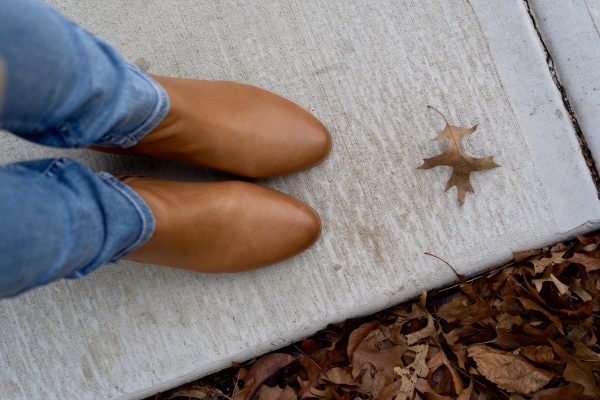 Below I'm wearing MiA with distressed skinnies and a knit which is a Winter staple for me but I also love wearing my MiAs with cord dresses and tights for a polished but comfortable smart casual approach. If you follow me over on Insta, you'll know I am getting so much wear out of these boots already.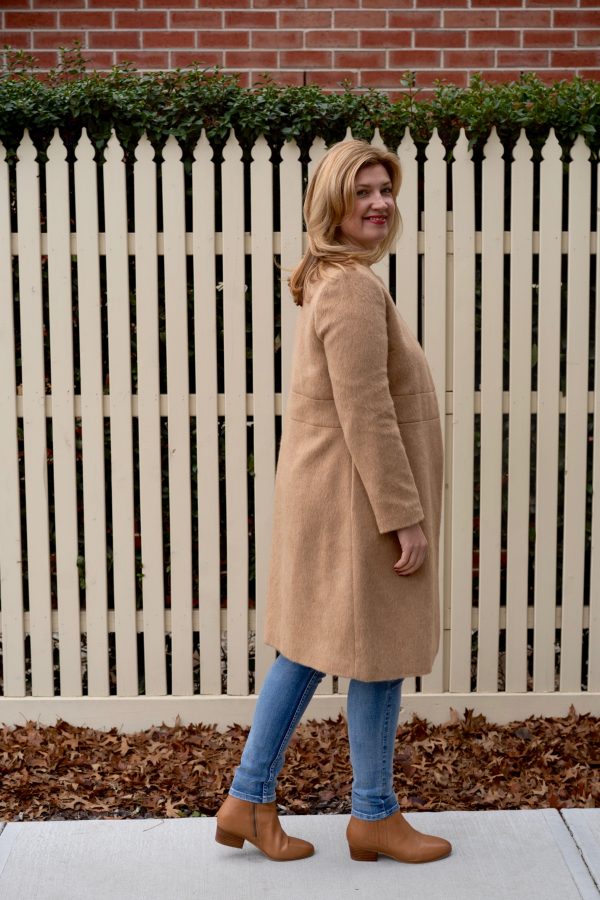 4. LAURA Ankle Boots in Black
One of the newbies to the FRANKiE 4 family, LAURA immediately caught my eye. She's a bit different. She has some 'tude.
The team at FRANKiE 4 describe her as a bootie with a touch of spunk.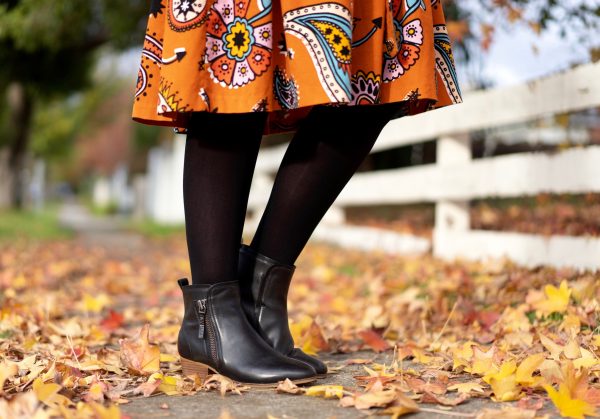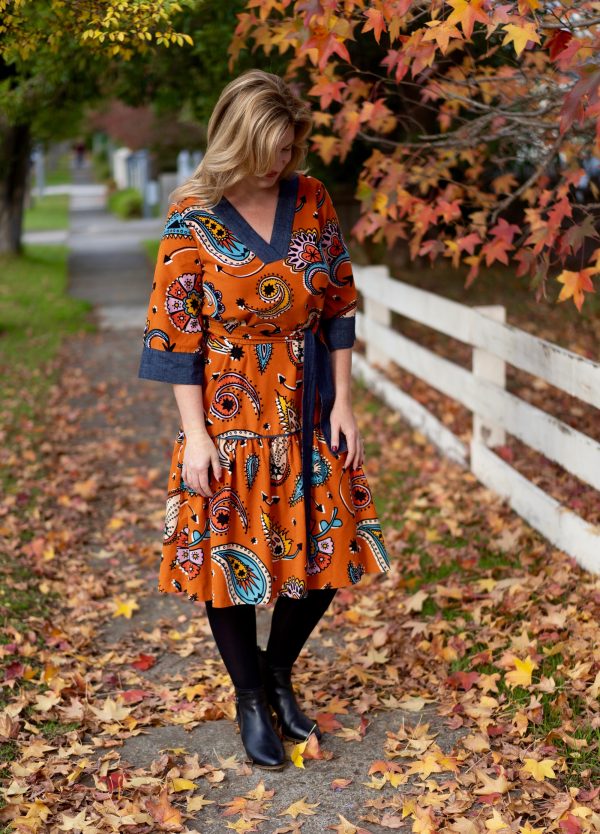 As you can see, LAURA features a mid-heel, soft leather, with a striking zip and leather detailing. LAURA is a really great smart casual option which works beautifully with clothing that show off all her features.
I also love her contrasting tan stacked heel which works back beautifully with the black leather.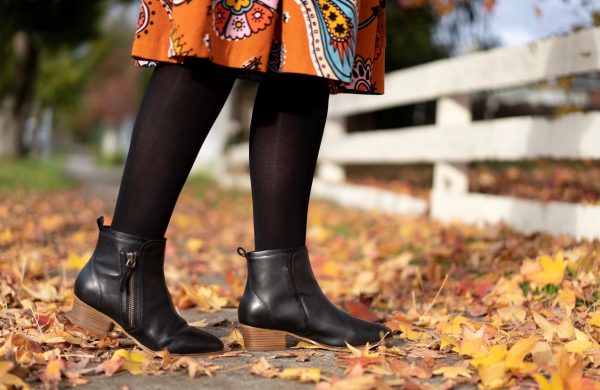 From a styling perspective, LAURA works with all your Winter basics but I especially love her paired with cord and boho dresses.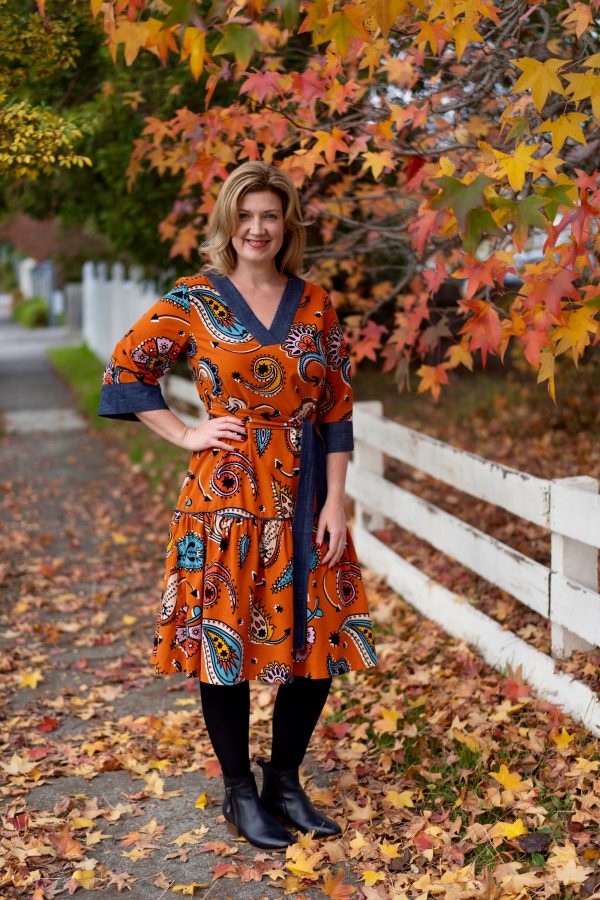 In terms of fit, I've found that LAURA is a bit narrower on me than MiA and iZZY so I wear mine without any additional footbeds/cushions. The great thing is that each pair of FRANKiE 4 shoes comes with a Custom Fit pack which contains three insoles – a full length footbed, a half length foot bed and a forefoot cushioning, so you can work out what feels best for you.
You can shop all these styles and loads more out at FRANKiE 4 Footwear's online store or, if you live in Melbourne, head along to their Melbourne Pop Up store THIS WEEKEND. Details below.
MELBOURNE POP UP
The FRANKiE 4 Footwear customer service team is awesome, and you can always ask any questions before you order online or over the phone, but if you're keen to try on your FRANKiE's first, you can do so this weekend in Melbs AND get 20% off. Can I hear a YAY?
FRANKiE 4 Footwear will be setting up shop at Collingwood Town Hall from tomorrow – Friday 15th until Monday 18th June.
If it's your first time visiting, here's what you can expect:
1. There may be a line when you arrive. Pop your name down at the door, and they will call you when your fit expert is free.
2. While you wait, grab a coffee or glass of bubbles, and browse the range.
3. When you meet your fit expert, they'll help you find your sole mates. Any questions you may have about your feet or FRANKiE 4 footwear, they'll do their best to help.
4. Place your order with the friendly FRANKiE 4 Footwear team. Your footwear will be sent to you with free shipping, and a sweet 20% OFF!
For more details, head here.
This post contains affiliate links. You don't pay any extra and I earn a small commission. Read more in my Disclosure Policy here.
So over to you, which style is has your name all over it?