Come summer, my wardrobe definitely projects a boho vibe.
Floaty dresses, beaded bags with tassels and leather sandals all get a regular work out in my warm weather wardrobe.
As it cools down though, I find it can take me a while to find my Winter boho mojo.
How's your Winter boho mojo?
The good news is that now, more than ever, there are loads of Winter boho options around. In fact, in researching this post, I found loads of great options around, and here is but a small selection …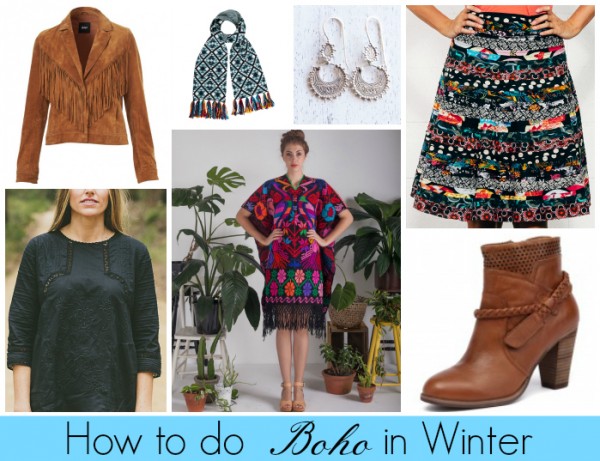 Top Row, L-R: Fringed Suede Jacket, $299.95 from Sportsgirl; Amande Scarf, $99.95 from Tigerlily; Etched Crescent Hoop Earring, $45 from The Tree of Life; Cleo Skirt in Black, $129 from Boom Shankar;
Bottom Row, L-R: Elamante Poncho in Black, $179 from Little Tienda; Lucy Lace Blouse in Black, $159 from Bohemian Traders; Gex Tan Ankle Boot by Django & Juliette, $229.95 from Style Tread.
Here are a few simple ways to keep that boho vibe going over the cooler months:
1. You can still wear that floaty dress or skirt, just add a textured outer layer such as a suede jacket, faux fur vest, poncho, distressed denim jacket or a chunky knit and ankle boots, as I've done here;
2. Following on from 1, look for and mix up textures – suede, lace, leather, fringing and braiding can all add a point of interest and create a luxe boho look when one or two are layered together.
3. Look for pieces with a darker colour palette – they'll work well with black or coloured jeans/tights;
4. Think accessories – a beaded or fringed bag, scarf or a great pair of boots (like the Django and Juliette boots with the plaited strap above) can easily boho-ify an outfit;
5. Look for long sleeved versions of dresses and tops for extra warmth. Add a layer underneath for warmth;
6. Mix worn denim, vintage or thrifted finds and new mixed pieces to create your own whimsical, bespoke Boho style;
7. Don't forget tights and hats – they'll keep you warm and can also finish off your outfit. Beanies with pom poms, floppy felted hats and coloured or textured tights are your boho friends.
Finally, while the essence of boho dressing is the unique mixing and matching of pieces to create your own look, I've found some great places to shop for boho pieces if you're looking for some inspiration:
– markets and independent designers. I never leave the Finders Keepers  market empty handed and make a bee-line for fun frocks and interesting jewellery to complement my more mainstream/high street purchases;
– Bohemian Traders – an independent, one stop Boho shop;
– Sportsgirl – you'll find capes, chunky knits, beanies, fringed bags and check tunics here;
– Boom Shankar – their new Autumn range is fab but be warned, popular styles sell out quickly. Boom Shankar is also sold at Birdsnest;
– Tree of Life – for sterling silver jewellery, bags and maxi dresses;
– Little Tienda – for ponchos, embroidered tops and dresses handmade in Mexico;
– Tigerlily – check out their drapey capes, tunics and great accessories;
– Birdsnest – start with their Boho Bird range or search their 'Bohemian range';
– Your local thrift/op shop – you'll find interesting pieces here to add to your overall look and create a boho look that is uniquely you.
If you love Nina Proudman's modern take on Boho, check out these fab posts over at Styling You.
* This post contains affiliate links. You don't pay any extra and I earn a small commission.
Do you love a little boho here and there? Do wear it all year round or mainly in summer? How do you translate this look to Winter? Favourite places to shop?