If you're finding the mornings a bit chilly of late, you're not alone.
With Winter only a couple of weeks away, it's been #ChillyTown here in Victoria, with some rather fresh starts to the day, and again, in the early evening.
As some semblance of normal life begins to return over the coming weeks and months, we'll be exposed to this even more as we gradually go back to the way things were: the work commute, school drop off, and even, at some stage, maybe even spending the weekend on the sporting sidelines again.
As a result, like me, you might be pondering your outerwear situation and thinking about what you may need for Winter 2020.
Generally speaking, I tend to reach for a puffer to wear over casual outfits for the school run and the kids' extra curricular practices, rehearsals and games during the week and weekend. They're cosy, warm and the equivalent of a doona you can wear outside. I wear mine over knits and jeans or over activewear.
For work and smart casual situations, I opt for a Winter coat, preferably with a wool blend and in a bright or bold tone to chase away the Winter blues, although a neutral alternative (black, camel, navy or grey) is always a safe bet too and an excellent starting point.
So, if you're currently in Reconnaissance Land for a new puffer and/or Winter coat, I hope you find somewhere to start in the selection below. I've done the research and come up with loads of options, from a range of online retailers and at a variety of price points.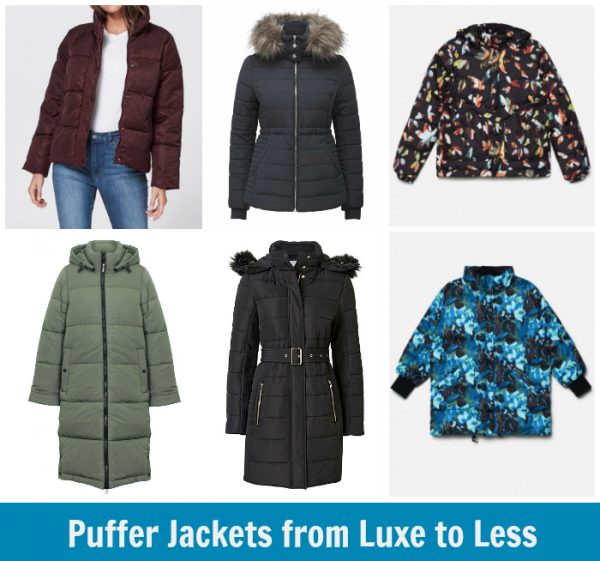 ABOVE, CLOCKWISE FROM TOP LEFT:
Padded Puffer Jacket, $59 from Target;
Lisa Short Puffer, $149 from Forever New;
Rebekah Puffer Jacket, $179.40 (on sale) from Gorman;
Longline Puffer, $169.95 from Decjuba;
Longline Puffer, $199 from Witchery;
Silver Lining Puffer, $279.90 from Gorman.
I'm a puffer jacket fan from way back. I've got a black puffer jacket from Boden which I bought years ago which I still reach for. A printed version is a great option too, particularly if you'd like to introduce some colour or interest in to a predominantly block coloured Winter wardrobe. I recently purchased the Silver Lining Puffer pictured above on sale, as it's super toasty, a nice mid length and I am totally obsessed with this print (I have the dress in this print too. Also, FYI, this coat is a very generous cut. I'm usually a size 12-14 in Gorman and I opted for the 10 which was still roomy on me). Being tall, I tend to gravitate to longer styles but if you're shorter, you might find a shorter, boxier fit more flattering as it's less likely to swamp you.
As I was researching this post, I also came across this awesome range of budget friendly range of puffers at Cotton On – they have loads of colours but not all are available online. I also have friends who rave about Uniqlo's range (check out the Light Down Jacket, $109.90 from Uniqlo). I rate the puffer coats made by UK brand Boden, and have a couple of jackets I bought on sale years ago that are still going strong. As the UK is heading into summer, Boden don't have many left in their Winter sale, although you can check out this longer style puffer coat, $144 (on sale) here.
At the other end of the price spectrum, if you're after a higher end puffer jacket, check out the range at The North Face here.
Moving on now to coats. Again, I gravitate to colour and print – no surprises there – but I've also included some neutral styles if you're looking for a versatile all rounder. While a coat is generally an investment and a more expensive purchase, most of the retailers included below run regular promotions including storewide, spend and save and three for the price of two promotions, so once you've found a style you love, you can begin the price watch.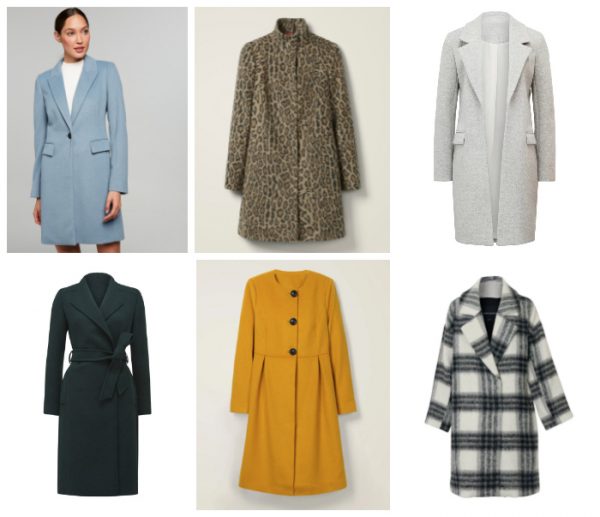 ABOVE, CLOCKWISE FROM TOP LEFT:
Crombie Coat $118.96 (on sale) from Portmans;
Hengrave Coat, $148 (on sale) from Boden;
Emma Coatigan, $149 from Forever New;
Heather Wrap Coat, $179.99 from Forever New;
Collarless Coat, $180 (on sale) from Boden;
Rani Check Car Coat, $189.95 from Decjuba.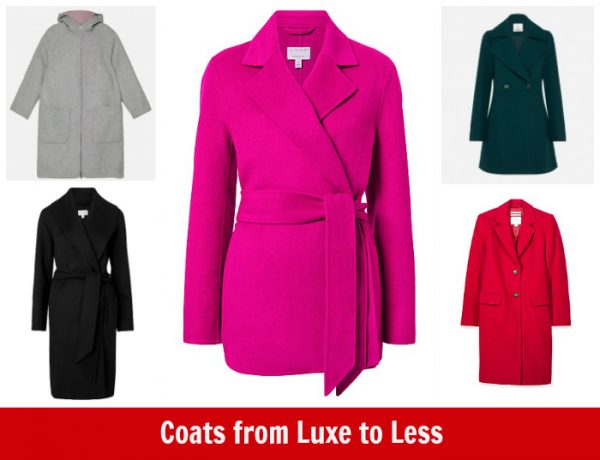 ABOVE, CLOCKWISE FROM TOP LEFT:
Hooded Reversible Coat, $239.40 (on sale) from Gorman;
Winter Wrap Coat, $329.95 from Witchery;
Felted Wool Coat, $279.79 (on sale) from Marcs,
Wool Blend Car Coat, $399 from Trenery;
Shawl Coat, $399 from Witchery.
So what to look for in a Winter coat? 
Here are my tips:
How cold is it where you are? Do you need a coat made from wool or will a wool or other blend suffice? If you're looking for a transitional option or live in a milder climate, would a quilted coat, wool wrap or a poncho suffice?
Do you tend to wear a scarf? Consider a collarless coat so your scarf can fit on top of your coat.
How much coverage do you like? Are you happy with a Crombie or wrap style coat that exposes part of your chest or do you prefer a style that fastens up higher or has a high collar?
Do you prefer a fixed style (that buttons or zips up) or a more flexible and adjustable wrap or unbuttoned style?
If you're considering what colour, do a quick audit of your work and casual wardrobes, including shoes and accessories like scarves. What colours do you wear most? Is there a neutral that will work with everything? Or will a pop of your favourite colour introduce some interest and fun in to your everyday outfits? You might even find that a reversible style (with a different colour/print on either side) will give you the best bang for your buck. I love the great range of reversible quilted coats from Gorman which you can check out here.
When trying on prospective coats or jackets, if possible, try them on over your favourite Winter knits, tops and dresses to make sure you have adequate arm room, it's the right sleeve length and it's a flattering shape and style.
This post contains some affiliate links. You don't pay any extra and I earn a small commission. Read more in my Disclosure Policy here.
So over to you – what do you look for in a Winter coat? Do you spot a new favourite here?