Well, we are officially at the tail end of Winter – we're already two weeks in to August  – but some of us, particularly our Sunshine State sisters – have already had a serious glimpse of Spring.
Twenty seven degrees in August is totes inconceivable for a born and bred Victorian like me but judging from what I've seen on Insta, you Brissie gals are embracing the unseasonal warmth with style. Lucky ducks.
Meanwhile, back at the Melbs ranch, we've had the usual August rain/cold/grey shenanigans although we have been promised a couple of mild 19 degree days this week, which almost constitutes a heatwave at this time of year. Naturally my first response to this sort of good news was plan for some good old fashioned line drying. Hashtag INeedToGetOutMore.
Given the typically all over the shop trans-seasonal mix of weather around these parts, and – fingers crossed – more mild Spring weather on the very near horizon, I've approached this month's What to Wear with the aim of trying to cover all bases.
I've tried to incorporate fresh new Spring looks alongside some practical and warmer layers, to cater for all seasons and  occasions. I've also tried to incorporate some alternatives for the serious variations in temperature at this time of year.
I should also say before we launch in that trying to find in stock and weather appropriate clothes right now can be tricky as the stores are full on their new Spring ranges. In this post, I've tried hard to find clothes you can wear now but – disclaimer – the budget friendly options are relatively few and far between – apologies for that. That said, many of the brands I've featured offer discounts on new season stock. For example, Boden regularly have 10 – 15% off and Australian brands such as Country Road and Witchery, have regular Spend and Saves.
Finally, as I've said before, UK brand Boden is a great place to shop if you're looking for current warm, cold weather options or if you are looking to stock up for a trip to the northern hemisphere over the Australian summer as they are heading into the European Autumn and have plenty of new season knitwear and Winter coats.
OK, so here's the first look. This is an outfit designed to take you from the office to Friday night drinks. If you work from home or are caring for little ones, this might be more of a dressy date night or party look.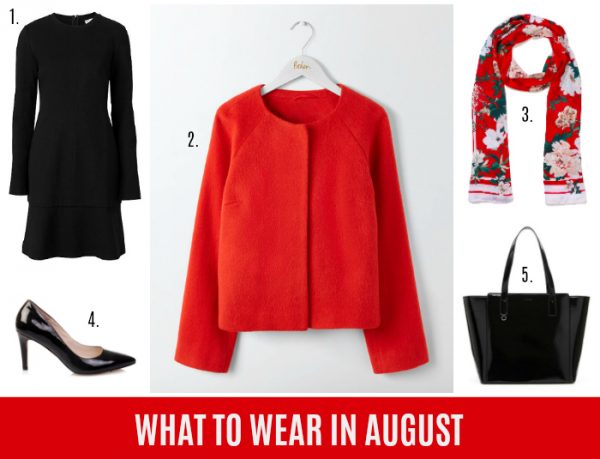 ABOVE: 1. Ponte Swing Dress, $129.95 from Witchery; 2. Cropped Sienna Jacket, $280 from Boden; 3. The Secret Garden Scarf, $34.95 from Portmans; 4. Nigella Pumps, $149.905 from Jo Mercer; 5. Luka Patent Tote, $99.95 from Witchery.
August might be a mixed bag in the southern states but one thing you can be relatively confident about is that the morning work commute will be chilly, well into Spring.
With this in mind, I've included this long sleeve ponte dress above – it provides coverage and warmth as well as being an excellent Winter LBD for all kinds of outfitting potential. Here I've paired it with a great pair of pumps and a practical yet stylish tote and to add interest, a cropped wool jacket and beautiful statement scarf in bold tones of red.
The cropped jacket still offers warmth but is a more trans-seasonal look than a full length coat and can be surprisingly versatile in those in between times. You can also dress it right down – I'd wear this jacket and scarf with denim for lunch with the girls or date night.
To transition this look to Spring or if you live somewhere where it's warmer, I'd sub out the long sleeved dress for a sleeveless shift or a cream or black cami – see the great range of woven camis at Sussan here – and black pants or a pencil skirt like this one.
Now on to a casual, relaxed weekend look. Working from home and looking after three boys under 11, this is my go to outfit. I have many variations of this outfit on high rotation. Depending on the weather, I tend to alternate between a chunky rollneck knit, merino or cotton knit or a long sleeved tee under the coat.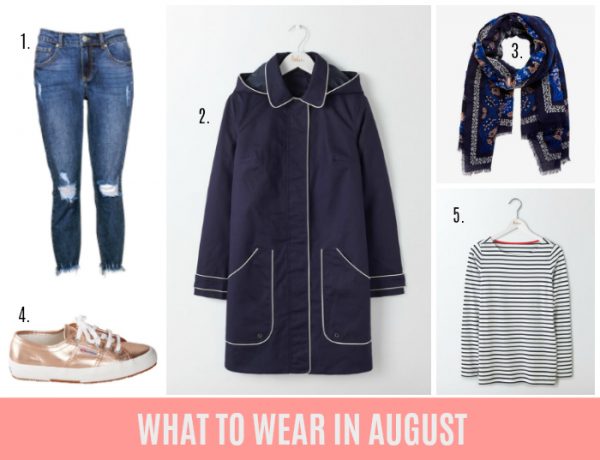 ABOVE: 1. Brodie Mullet Hem Jeans, $109.95 from Decjuba; 2. Waterproof Mac, $260 from Boden; 3. Paisley Cut Out Scarf, $59.95 from Seed Heritage; 4. Superga Metallic Trainers, $119.95 from Birdsnest; 5. Long sleeve Breton, $50 from Boden.
I do love a stripes and denim combo for every day. It's classic yet always stylish and is a ready made canvas upon which you can introduce different prints and other details like metallics to mix things up. I'm loving this paisley scarf as it's substantial enough to offer some warmth as well as introducing some other colours to play with. It also works back nicely with the stripes.
As I've written many times before, I LIVE in my Boden Rainy Day Macs for school/kinder pick ups and drop offs. They're warm (the Winter versions have a fleece lining), showerproof and the hood is handy for that inevitable downpour at the end of the school or kinder day when you need your hands to hold onto the kids, their artwork, instruments and so on.
If you need a warmer option in the top department, a navy, grey, cream or camel wool or cotton knit would also work well. This Drop Shoulder Knit, $99.95 from Witchery is a good current option.
I would usually wear my NAT trainers for an outfit like this but above I've included some metallic trainers to inject a bit of bling and interest. If you're looking for a budget friendly white trainer option, check out these Taylor Lace Ups, $59.95 from Seed Heritage.
To change up this look again, I'd add navy derbys.
This final look is a variation of an outfit I wore recently to the Problogger Evolve conference, featuring this fun jelly print from Gorman. It's playful, fun, bold and bright when all worn together, but you might prefer to pick out or two pieces on their own if you're more understated!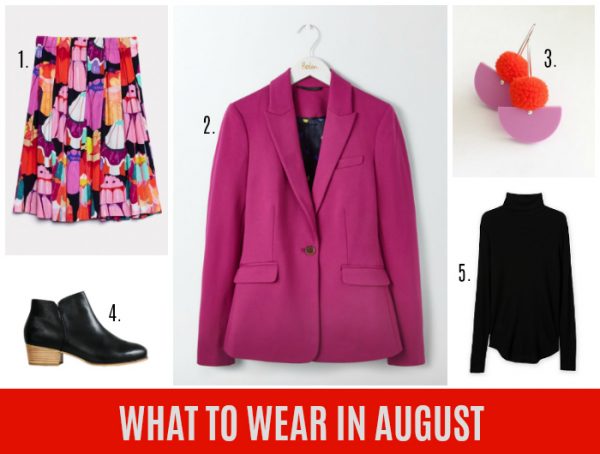 ABOVE: 1. Jelly Skirt, $199 from Gorman; 2.  Nairnshire Blazer, $180 from Boden; 3. Pom Pom Scallop Earrings, $40 from Each to Own; 4. Sally Boots in Black, $289.95 from Frankie4 Footwear; 5. Baby Wool Rollneck, $99 from Country Road.
If you have a lot of black or neutrals in your wardrobe, a coloured jacket or coat can add a great pop of colour as can a printed skirt or fun pair of earrings. You might not be ready to wear all three at once but one or two combined are an easy way to start.
If you're looking for some block coloured basics to get you through the rest of Winter and beyond, I can highly recommend these boots and the baby wool knits from Country Road.
This post contains some affiliate links. You don't pay any extra and I earn a small commission. Read more in my Disclosure Policy here.
What are your picks from the outfits above? Is there any signs of Spring at your place?