This last weekend in Melbs, we had a sneaky peek of spring with a glorious, sunny 17 degree day.
The neighbourhood was buzzing with people walking dogs, gardening, pottering outside generally making the most of the unseasonal weather.
Alas, things returned to normal on Monday with very wet, cold and unpleasant conditions.
Winter was back with a vengeance.
There was some consolation though: the first day of August signals the beginning of the home strait out of winter.
We are nearly there people!
Twenty eight days in fact, if you're counting.
Like maybe I am.
In the meantime though, it's likely we'll face a blast of artic weather in the near future.
Mid August in the southern states can be brutal.
So in this post, our regularly monthly What to Wear post, I've tried to put together three winter worthy outfits to see you through the next few weeks and beyond.
As I mentioned last month, there's not a lot of high winter stock still in store, as spring ranges gradually drop. Still, I've managed to find some great options in amongst all the chambray, off the shoulder and open toed shoes.
Let's start with a dressy outfit that would cover many work and evening scenarios …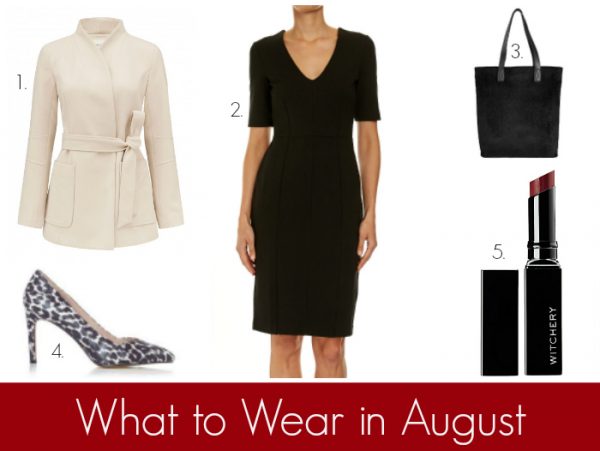 ABOVE: 1. Lucy Wrap Coat, $109.99 from Forever New; 2. Taylor dress, $199 from Saba; 3. Animal Faux Fur Tote, $29 from Target; 4. Leather Leopard Pumps, $199 from Marcs; 5. Matte Lipstick in Crimson, $16.95 from Witchery.
I've been featuring dresses from Saba regularly in these posts as they strike that elusive balance between style and practicality.
This LBD above, is no exception.
Made from a viscose blend, this smart dress is machine washable and low maintenance. With it's flattering elbow and knee length properties, it's work appropriate as well as flattering.
It's also the perfect canvas on which to wear printed and coloured scarves, knits and coats.
Here, I've paired it with a chic wrap coat, leopard print heels and a dark red lip for a modern but chic look.
On the weekend, this coat would look the biz with distressed denim and tan boots while the dress could also be worn with pointed flats and a cropped cardy on milder days.
Oh, and if you like these pumps, you might also like to know there's a matching bag  – the Leopard Drawstring Bucket Bag.
Our second outfit is a smart casual look with on trend metallic accents and textural detailing.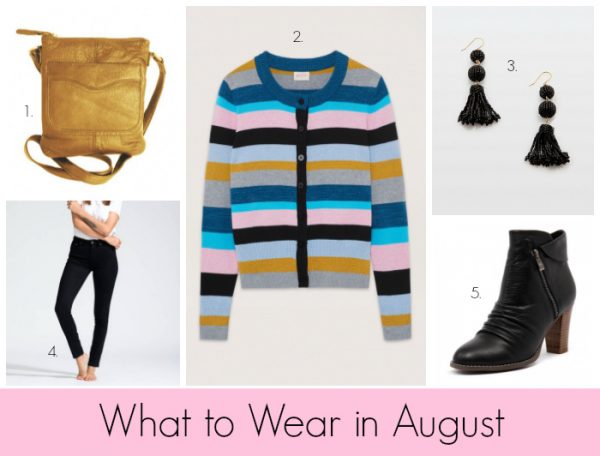 ABOVE: 1. Tan Zoe Sling Bag, $99 from Blue Bungalow; 2. I Can Sing a Rainbow Cardy, $169 from Gorman;  3. Mini Bead Earrings, $49.95 from Country Road; 4. Black Skinny Jeans, $129 from Bohemian Traders;  5. Valeria Grossi ankle boots, $199 from Style Tread.
As I may have mentioned once or twice, I am LOVING Gorman's new spring range. From fun prints to new shapes, there's something for everyone.
The new knitwear is fab too and able to be worn immediately. I tried this striped cardy above in store and it is Just Gorgeous.
Made from cotton lurex, it can easily be dressed up with it's stunning gold and teal metallic accents. I've paired it with this fab boho-esque bag and these fun tassel earrings from Country Road's latest jewellery range.
Heeled ankle boots and black skinny jeans complete the look but could be easily substituted for black trousers or an LBD and heels for a dressier do.
For a more budget friendly striped knit option, I'm also loving this Sweet Tooth Stripe Jumper, $49.95 from Dotti.
Our final look is a colourful but casual combo, perfect for weekends, working from home and and casual Friday.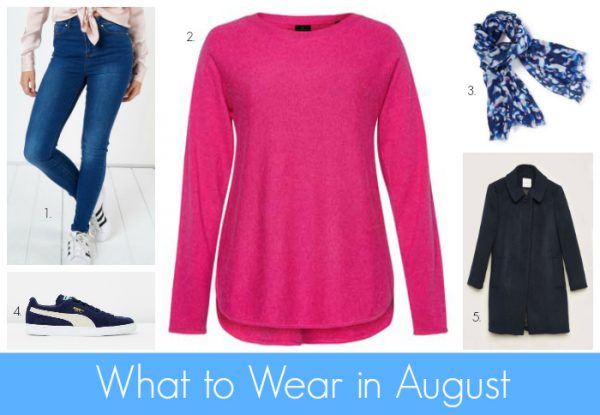 ABOVE: 1. Super Skinny Jeans, $39.99 from Glassons; 2. Curved Hem Jumper, $159 from David Lawrence; 3. Blurred Animal Print Scarf, $89 from Marcs; 4. Puma Trainers, $100 from The Iconic; 5. Vienna Coat, $199 (on sale) from Gorman.
These fab Glassons jeans are my latest jeans discovery. They are very high waisted, which for me is comfortable and means much less hiking up required. They are a decent weight too and more jeans than jeggings while still having some stretch.
I also like that they are not too long and sit neatly around my ankle without being cropped.
Coming in under $40, they're great value too.
They also come in black.
Size wise, I tried the size 12 and 14, but took home the firmer fitting 12. This was definitely a good call as they are comfortable to wear but still firm despite the fact they have given a bit.
I have this pink curved hem knit and it's been a winter winner for me although I picked it up on a recent storewide sale. (That said, there aren't many bright pink wool blend knits around, so if you love it, best not to hold off). I wear mine with black jeans and trainers or indigo jeans and leopard print Rollies, as you can see here and here.
This Marcs silk and cashmere knit is a lighter and less expensive alternative.
I also heart hot pink and navy big time and managed to find some lovely co-ordinating pieces here including this navy Gorman coat which is heavily reduced. These fab suede trainers are a great everyday option too, especially when you're running errands or kid wrangling.
This post contains some affiliate links. You don't pay any extra and I earn a small commission. Read more in my Disclosure Policy here.
What are you wearing this August? Are you over winter already? Which of the above outfit would work for you?