Can you believe it's the final month of Winter already?
Can you hear me cheering from here?
I do love Winter fash but I confess I'm ready for a change and some serious simplification in the dressing department.
I'm over the layers and washing – it NEVER ends – but those chilly mornings and evenings here in Melbs won't been going anywhere for a while, so I've decided to suck it up and try to make the most of what's left of Winter.
So, if you, like me, are looking for some wardrobe inspo to see you out of Winter, you've come to the right place.
And in this month's What to Wear post, I've also opted for outfits that will work well in to Spring – just lose the coat or tights and you've got a milder weather outfit.
This first outfit is a fresh take on the Winter floral dress, freshened up with some rose gold accessories and some pretty pointed heels. The floral is a nod to Spring, while the black base works back with all those black basics and accessories.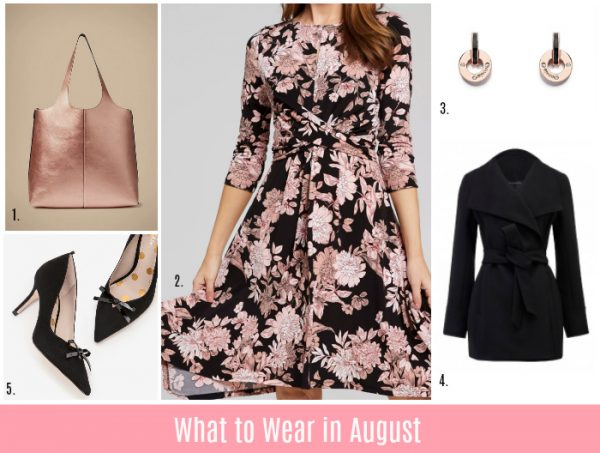 ABOVE: 1. Lily Reversible Tote, $99.95 from Witchery;
2. Jersey Dress, $99.95 from Portmans;  
3. Safe Harbour Studs, $59.95 from Mimco; 
 4. Wrap Coat, $129.99 from Forever New;
5. Eleanor Court Shoes, $180 from Boden.
This Portmans Jersey Dress is one of those fabulously versatile work to weekend frocks. It can be "work-ified" by adding a block heel, tights and a jacket and then, come the weekend, pop on some fab statement earrings and a cape for a party/dinner/date night.
All of the accessories I've included here will work back with the dressy or work end of any wardrobe too.
If your daily uniform is more casual, this next look will have you feeling warm but looking the goods.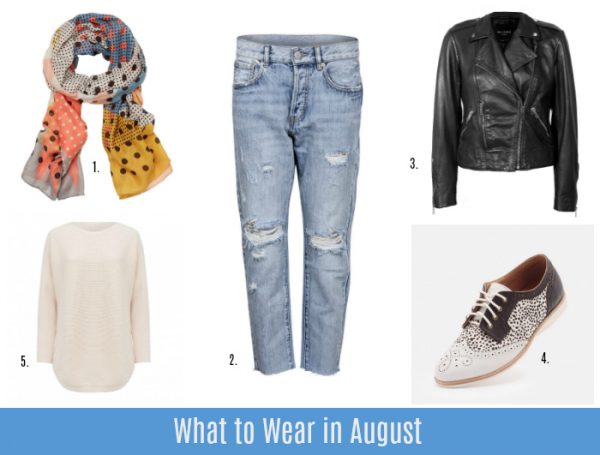 ABOVE: 1. Spliced Spot Scarf, $29.95 from Sportsgirl;
2. Hudson Distressed Jeans, $119 from Decjuba;
3. Leather Biker Jacket, $449.95 from Decjuba;
4. Brogues, $189.95 from Rollie Nation;
5. Batwing Jumper, $49.99 (on sale) from Forever New.
Distressed jeans, a slouchy knit and a scarf have been my casual uniform this Winter, although I do interchange my flats with trainers, brogues and boots (as you can see in this post) and introduce different colours with coats, knits and scarves.
Sportsgirl always have great scarves at a budget friendly price point and I'm loving the spots and colours of this Spliced Spot Scarf. Also check out the latest range over at Sussan.
A black leather jacket is on high my list and I've got my eye on this investment piece the next time Decjuba has a storewide sale. I also like the look of the Rizzo Leather Jacket, $329 (on sale) over at Gorman.
If you're still on the look out for fine merino knits that work with everything, make sure you check out these Merino Knits from Uniqlo which are currently on sale at $29.90.
Finally, if you have an occasion coming up, here are a couple of combos that involve some of my favourite Winter tones in Spring styles – metallic copper and animal print, paired with black and gold. What's not to love? Throw on a warm jacket and tights now and later, as it warms up, try an open wedge or strappy sandals.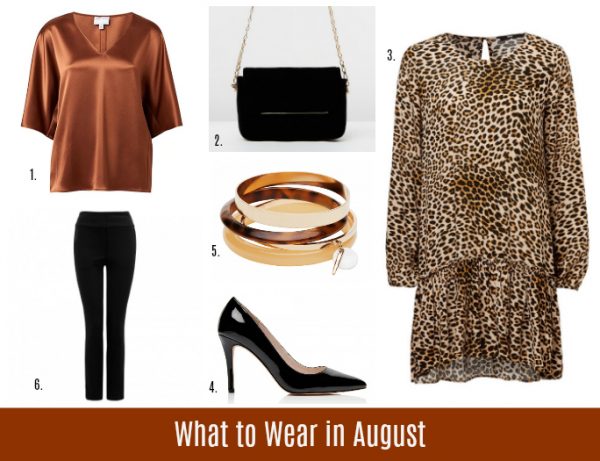 ABOVE: 1. V Neck Satin Tee, $149.95 from Witchery;
2. Olga Berg Clutch, $64 (on sale) from The Iconic;
3. Leopard Print Mini Dress, $89.99 from Sportsgirl;
4. Heels, $69.99 from Forever New;
5. Bangle Set, $19.95 from Sussan;
6. Georgia High Waist Pants, $89.99 from Forever New.
If you're looking for an animal print clutch to wear with this metallic tee and black pant combo, check out this clutch, $49.99 from Forever New.
I bought myself a pair of these Forever New pants as well – they fit well, sit nice and high and are a great option to wear with statement tops or coloured knits.
This post contains affiliate links. You don't pay any extra and I earn a small commission. Read more in my Disclosure Policy here.
So over to you, what's your August looking like? Is it warming up or are you bracing yourself for a final Artic blast?