Welcome to this month's What to Wear post.
If you're a newbie around these parts – hello and a very warm welcome to you – here's a bit of an overview of why I started writing these posts in the first place.
The idea has never been to tell anyone what they should wear.
My aim has always been to provide some outfit ideas and inspo for those looking for some fresh ways to wear old favourites or for those looking for a new season update or two that will work back with what they've already got.
It's about creating outfits that feature a range of brands at different price points to come up with a more distinctive, less generic outfit.
And while I often include high street retailers, it's also about discovering new labels that will complement mainstream faves.
I also want to cover a range of different scenarios, so if you're finding a particular occasion/look trickier to nail than others, you'll find some new season options to work with here.
So let's begin with this dressy outfit, which I reckon would be ideal for a wedding, party or other fabulous soiree. How stunning is this emerald frock?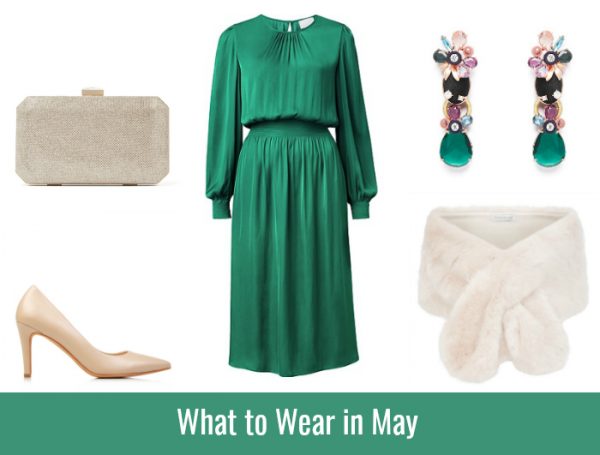 ABOVE, CLOCKWISE FROM TOP LEFT:
Gold clutch, $49.99 from Forever New;
Shirred Midi dress, $159.99 from Witchery;
Eden drop earrings, $149 from Mimco;
Faux Fur Wrap, $59.99 from Forever New;
Nude Pumps, $159.99 from Jo Mercer.
This outfit really is all about this beautiful dress. I adore green at the best of times but I particularly love emerald in the cooler months. It's just such a striking colour.
But there's much more to this dress than the colour.
This simple shirred waisted style still incorporates details such as the pleated neckline and gathered sleeve. I keep coming back to this style – it's one Witchery bring out regularly in various incarnations – as it's flattering for tall, curvy girls like me but I reckon it's a style that will suit most.
In terms of styling, I've paired it with statement jewelled earrings and gold/nude accessories, but it could just as easily be worn with your favourite metallic (rose gold or silver) shoes and jewellery.
Another totally different look could include patent black peep toes and a beaded clutch.
This next outfit below combines some of my favourite Autumn basics – a comfortable and flattering pair of black pants with a boucle jacket and complementary accessories. Changing up the jacket completely changes this outfit.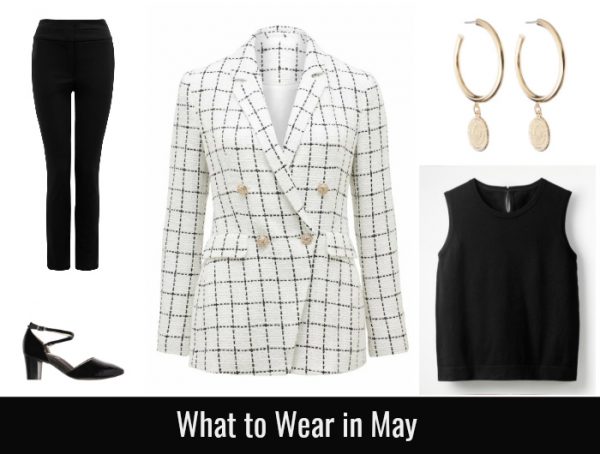 ABOVE, CLOCKWISE FROM TOP LEFT:
High waisted pants, $89.99 from Forever New;
Boucle blazer, $129.99 from Forever New;
Coin earrings, $16.95 from Portmans;
Knitted tank, $85 from Boden;
Patent heels, $219.99 from FRANKiE4 Footwear.
If you're not on Team Boucle like me, a check, floral or coloured jacket are great alternatives. I love the selection at both Forever New and Boden.
If you're wondering about the versatility of said Boucle jacket, they look the biz draped over an LBD or with a cami and distressed denim on the weekend.
I've included a sleeveless knit above, which provides some warmth and coverage while still providing some ventilation. If you live in warmer climes or in a warm office, you might find a black cami is a better bet.
If you're from Melbourne or similar, a long sleeve knit is probably a very good idea and this Merino knit, $39.99 from Uniqlo is a budget friendly option.
Speaking of cold Melbourne weather, this next outfit is a great option – and pretty much my casual uniform – for cold mornings on the sporting sidelines, weekends and the school run.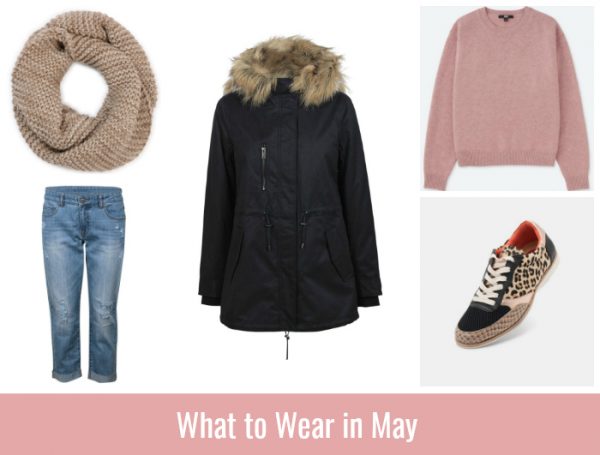 ABOVE, CLOCKWISE FROM TOP LEFT:
Merino snood, $119 from Uimi Knitwear;
Faux Fur Parka, $199 from Decjuba;
Lambswool Knit, $49.90 from Uniqlo;
Trainers, $199.95 from Rollie Nation;
Jackson Boyfriend jeans, $109 from Decjuba.
A slouchy pair of jeans, trainers and a knit are great basics for casual days and those all important layers – woollen snoods and scarves and warm parkas – can be easily thrown on for those inside/outside/inside/outside days.
As the weather cools, my merino and lambswool knits are daily fixtures and over the years I've cultivated a decent stable of coloured snoods for variety, so I basically wear different versions of the same outfit most days.
These fun trainers are a recent acquisition – I love the blinged up rose gold paired with the leopard print – and another way to inject some interest into an otherwise casual outfit. I love them paired with blush pink, camel, black and caramel tops/knits and black or distressed denim.
This post contains some affiliate links. You don't pay any extra and I earn a small commission. Read more in my Disclosure Policy here.
So over to you, what are you wearing at this time of year? What's your go to outfit?