This post is sponsored by Myer
Last Thursday I was invited to the Media Launch of the new Myer MYKIDS Emporium in Melbourne.
If you are wondering (like I was), the new Emporium is situated in between Lonsdale and Little Bourke Streets, behind David Jones' flagship Bourke St mall store and directly across the road from Melbourne Central.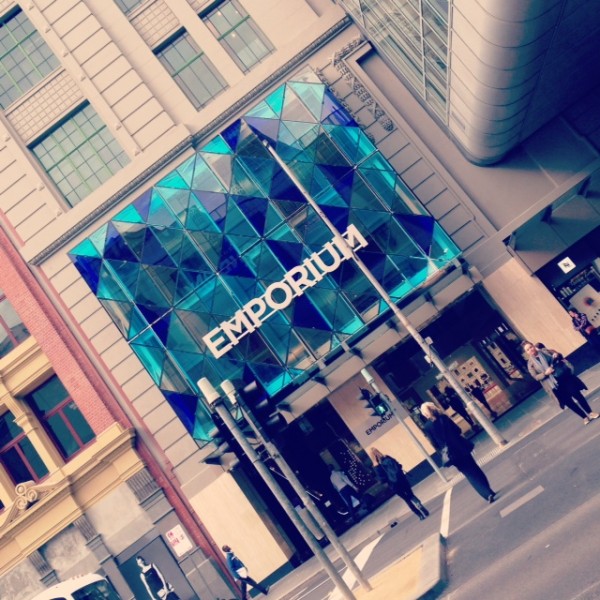 It was super cool! I love an opening (envelopes need not apply) and the opportunity to get dressed up and have a bit of a day out.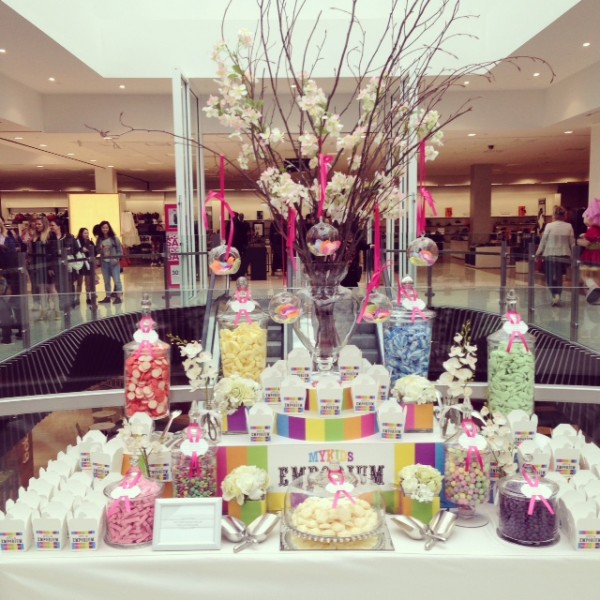 The MYKIDS Emporium launch did not disappoint. But more of that in a tick. First, let's talk outfits.
What does one wear to such a do? There was no particular dress code and really, anything goes but I wanted to crack out a couple of newish purchases for their debut wear.
Given I'd be walking around the city and dropping off the boys en route, I planned my outfit around wearing flats. But not just any flats would do. A statement flat was required. I couldn't go past these Witchery leopard ballet flats which I picked up on promotion a month or so ago. I am so glad I bought them. They are now sold out although the word on the street (i.e. from Witchery employees) is that more stock is on the way, so if you're a fan, keep an eye out. In the meantime, shop this similar style at Nine West here.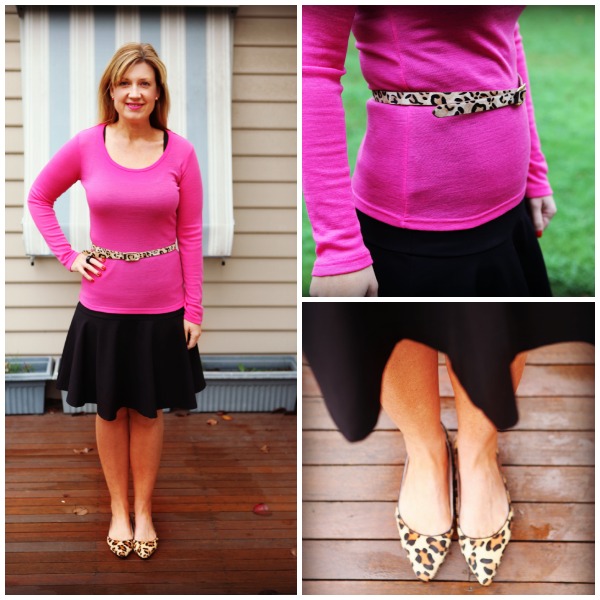 I also picked up this Longline Ruffle skirt from Country Road recently. It is still available and you can shop it here. I love its thick ponte like fabric (with elastane) and the fun flare. It's a different style for me and one that can easily move between work and play wardrobes.
Just a heads up on the sizes though – I'm usually a 12 at Country Road but in this skirt, I was in between a Small and Medium. In the end I opted for the Small as there was a bit of excess fabric around my hips which I could do without. As the Small is quite firm, just between you and me, I opted for support wear underneath to keep things smooth, sucked in and streamlined. If you know what I mean. In cooler weather, hosiery should do the trick instead.
My skinny leopard print belt is from Seed Heritage and is still available. You can shop it here. One of the many great things about all the animal print around at the moment is that you can mix and match between stores to put a look together that works for you.
My knit is one of the Glassons merino scoop knits which you can shop here. These knits are winter must haves – 100% merino wool and only $39.99, you seriously can't go wrong. I picked up the pink a couple of months ago, but other colours are available including a gorgeous red which would work back nicely with leopard print as well.
Underneath it, I'm wearing a seamless tank from Zara. They sell these all year round in a variety of colours. They are inexpensive (under $25) and provide a nice smooth finish under knits.
Finally, I've added some small rose gold earrings – the Block Metal Earrings – from Witchery which pick up the rose gold in the belt. With so much going on with colour and print, I've kept my jewellery to a minimum.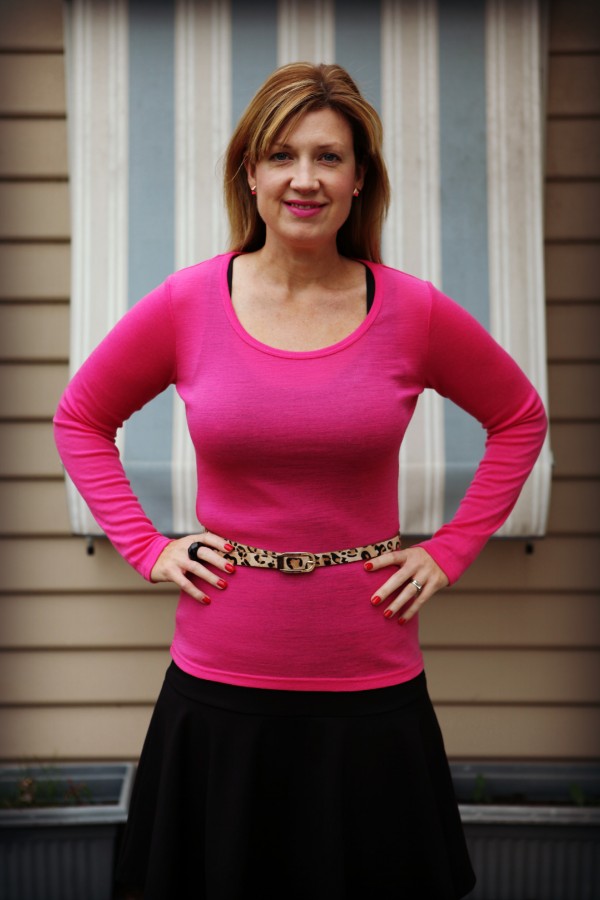 So, back to the Emporium.
Well, its all pretty fabulous.
At the very top of the Emporium, on level 4 is the new MYKIDS Emporium space dedicated to toys and childrenswear. Kids will absolutely love it. If you can manage to sneak in there on your own, it's also a great place to buy gifts as there is a huge range of toys to choose from and plenty of space. I sometimes find toy shops are jam packed from floor to ceiling to the point of toy claustrophobia which can be a tad overwhelming.
In the MYKIDS space, Myer has partnered with brands including LEGO, Mattel, Hasbro and Headstart to create one of a kind, world class concept areas.
They include:
– The Lego concept area which is expected to become the highest selling LEGO outlet in the Southern Hemisphere. There was a great range of Lego and even a spot to sit and play. The Duplo is housed in a cool truck (and the kids can even sit in the front seat).
I was after some of The Lego Movie sets which weren't displayed but a friendly sales assistant looked out the back. She came back holding pretty much everything. As someone who has spent the last few weeks trawling my local Big W and Target for these sets for my boys' upcoming birthdays, this was quite the coup;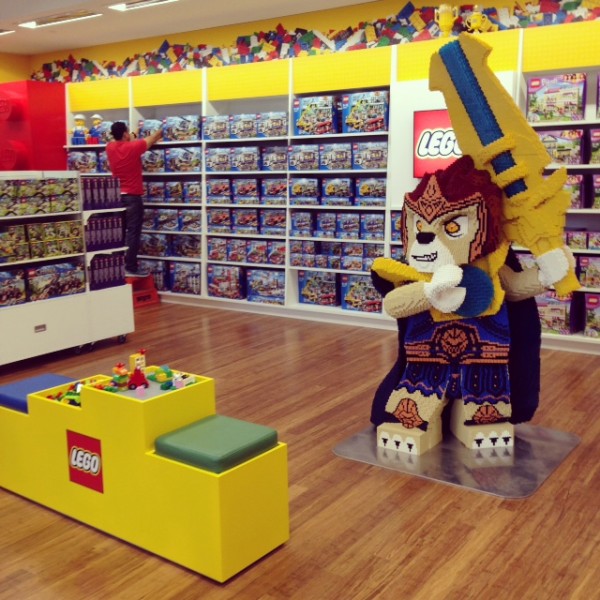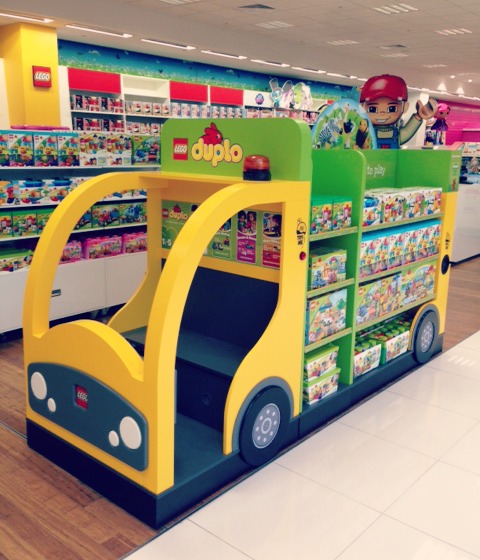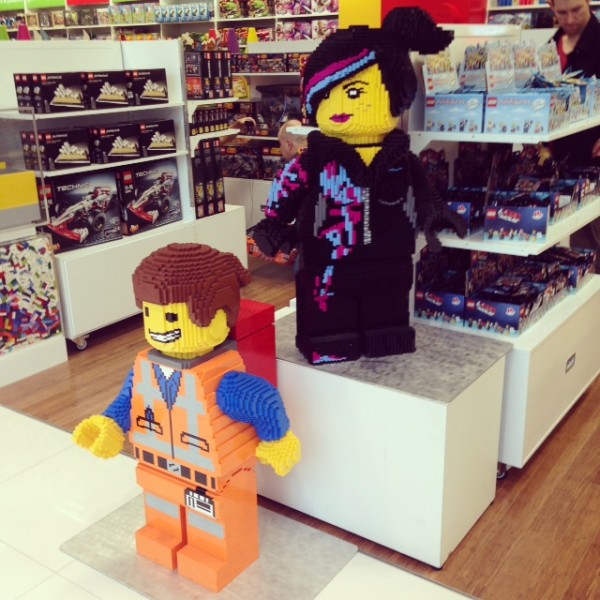 – The Barbie Boutique which is Australia's largest Barbie retail and play space;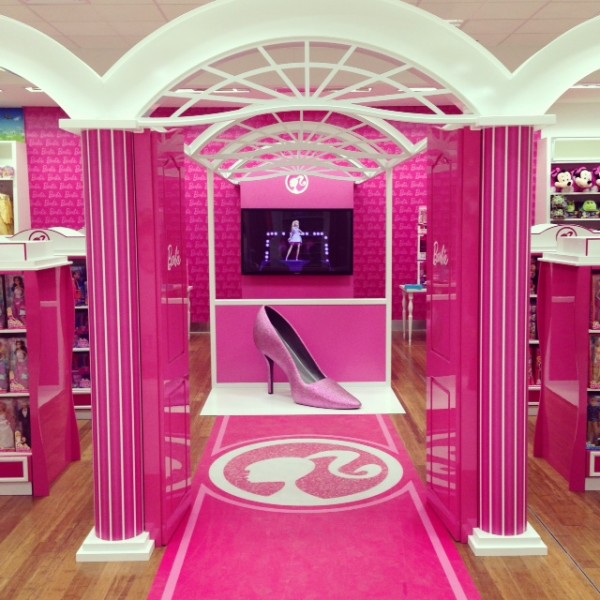 – Thomas The Tank Engine Train Station for pre school children with a play area complete with a front train cab where the kids can pretend to drive a train;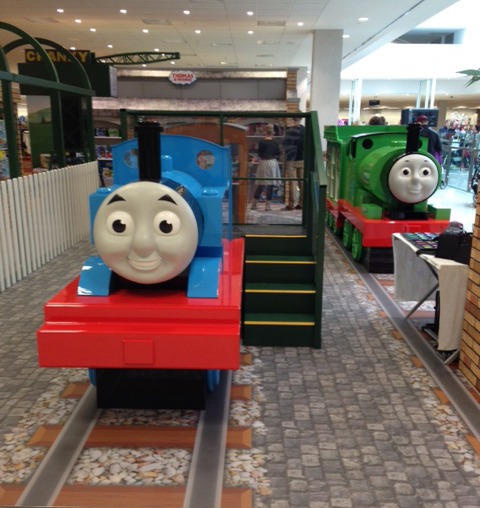 – The Little Tikes Driving Track where kids can test drive Little Tikes cars on the painted track;
– Action Heroes area which includes a huge Transformers area and areas dedicated to Marvel heroes and Star Wars.
I also loved the great range of Seedling and Melissa & Doug products. Along with Lego, products from these brands tend to be my go to gifts for pre-schoolers and early primary school aged kids.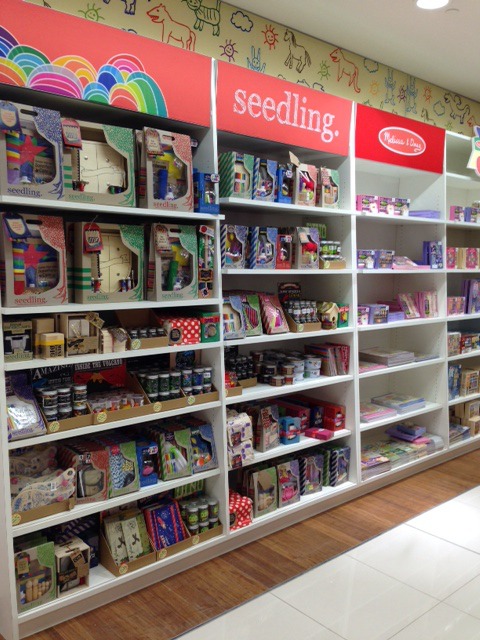 The kids will love visiting the MYKIDS Emporium space any old time but in addition, throughout the year, you'll find demonstrations and activities running. If you are in town on the weekend of 14 and 15 June, there will be a range of activities coinciding with the launch of the Myer Midyear Toy Sale. The highlight of the weekend will be a live acoustic performance by The Wiggles on Saturday 14th June.
Once you've checked out the MYKIDS space, make sure you leave time to check out the rest of the Emporium space. You'll find a great range of Australian designers (Gorman, Alannah Hill, Camilla, Zimmerman, Jac + Jack, Willow, Sass & Bide, Scanlan Theodore and the other usual suspects) plus international brands including Uniqlo and Muji. Kate Spade and Top Shop are set to open in the coming months too. For the full list of stores, check here.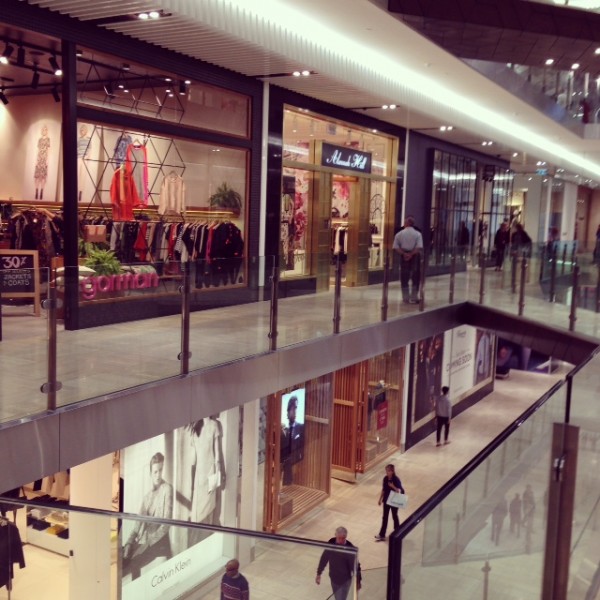 There are great places for a refreshment pit stop too.
Have you checked out the new Emporium yet? What's your current go to outfit for daytime do's?