Just a few days ago, I returned from the balmy brilliantness of the GC where I spent a most excellent weekend at PBEVENT 2016, a blogging conference run by Mr SnS AKA Problogger.
As well as all the ace stuff we learn and the excellent people we meet, it's a fab opportunity for me to wear some of my new Spring and some much loved older pieces.
Why?
Because Melbourne.
It's not a fashion parade of course, but I confess that I do get just a little bit excited about the prospect of weather that actually matches the fashion season.
It's a bit of a novelty around these parts.
So, I like to make hay while the Gold Coast sun shines and have as much fun as possible.  It's also a good chance for me to wear several pieces I've featured here on the blog recently.
Luckily, there are plenty of events over the weekend and with them, many outfit opportunities.
So in this post, I'm rounding up all seven of my outfits – yes seven – over the event. They add up quickly because as well as travels days and the conference at night, I had three awesome evening functions to attend.
Below, I've linked to all new season and currently available pieces. If I haven't linked, they are from previous seasons.
Outfit #1: Travelling from Melbourne to the Gold Coast/Welcome Drinks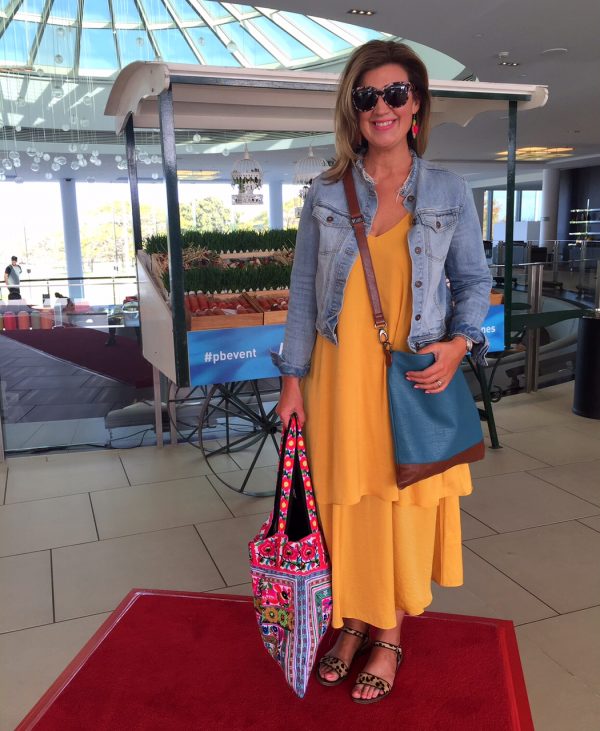 Above, I'm wearing the Saffron Layer Maxi from Seed Heritage (I'm wearing size 12), a gorgeous and easy wearing maxi that is all sunshine and fabulousness. This made me feel all GC before I even landed!
I've paired it with Windsor Smith leopard print sandals, Boden denim jacket, earrings from Adrift, a messenger bag from Elk Accessories, Gorman sunnies and a travelling bag from the market in Phuket Town, Thailand.
Outfit #2: VIP Olympus Dinner in the Penthouse at RACV Royal Pines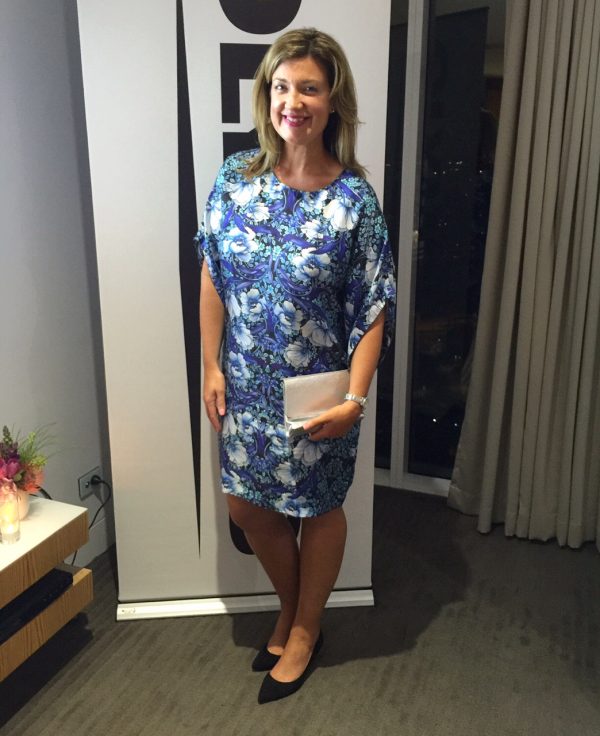 For this intimate dinner with the most amazing floral arrangements and food I've experienced for some time, I wore a Thurley dress from last summer and Country Road heels.
This silver clutch is actually an Olympus camera bag and part of their new accessories range – how cool is that!
Outfit #3: Day 1 of #PBEVENT 2016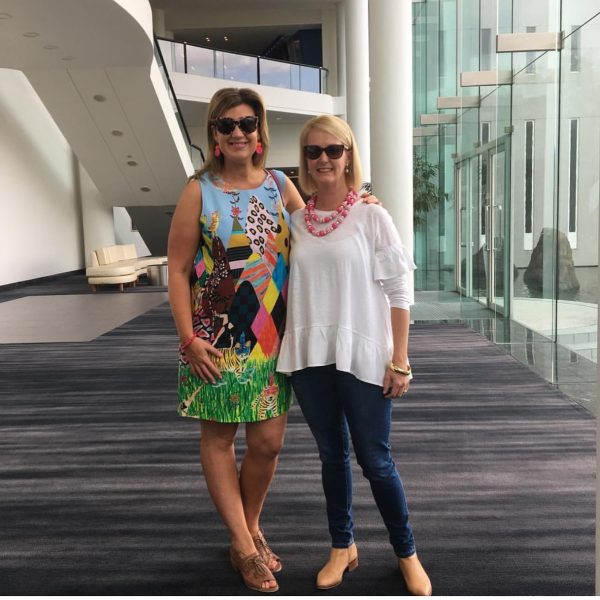 Above, I'm wearing Le Grande Shift from Gorman (in size 12), Django and Juliette Heels from Style Tread and Each to Own earrings from Etsy.
This shift was a little chilly for the air con so next time I'd wear something with sleeves but it was perfect for lunch outside in the sunshine.
Oh and that good looking lass on my right is the ever fabulous Miss Chardy.
Outfit #4: #PBEVENT Evening Networking Event with the Theme: Stars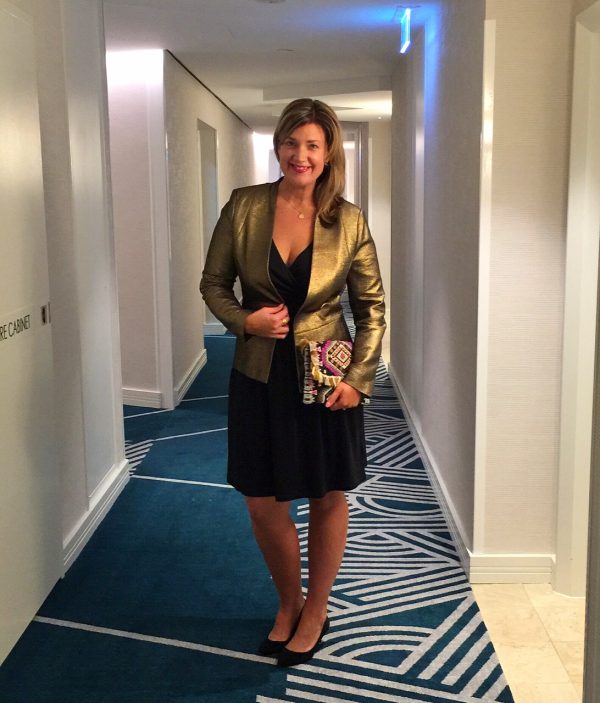 For the Friday night networking function, I wore the Pretty Ruched Wrap Dress from Boden (I'm wearing 14 R and run don't walk, it's on sale), recent but understandably sold out Forever New jacket, Country Road Heels.
In the accessories department, I kept it simple and chic with Kate Spade earrings and necklace then went to town with this fun Beaded Tribal Clutch from Dotti.
Outfit #5: Day 2 of #PBEVENT 2016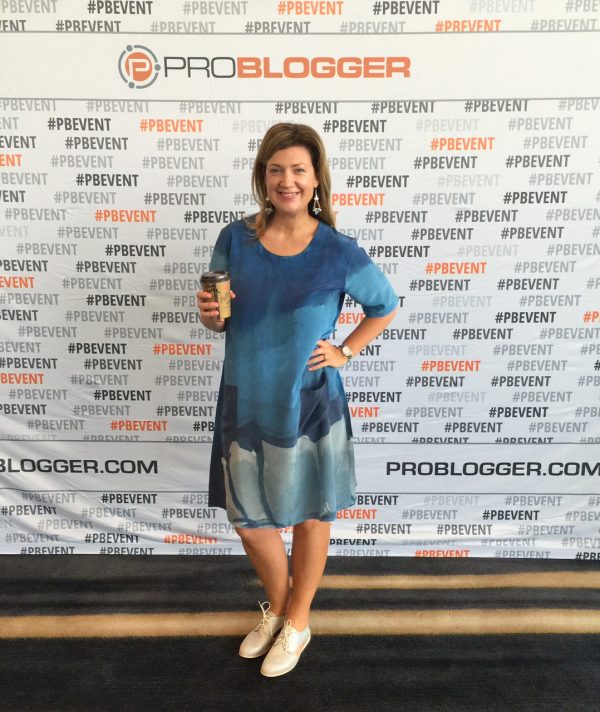 I was feeling a little bit dusty and tired here so I've gone for a relaxed silk Nancy Bird dress (same shape different print here) with Silver Derbys from Rollie Nation at Birdsnest and Oktoberdee earrings.
Hashtag I Need Coffee.
OUTFIT #6: Speakers Dinner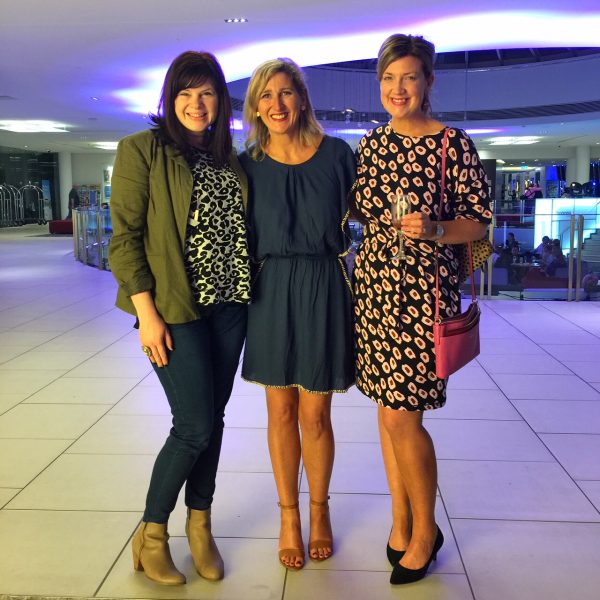 Thankfully, I perked up a bit over the course of the day which is unheard of for Day 2 of a conference.
Above, I'm wearing current and super easy wearing and flattering Wild Side Tie Dress from Gorman, Country Road heels with Dinosaur Designs earrings and a Coach bag.
Those gorgeous girls in this pic are the fabulous Styled By Bec/The Plumbette and The Modern Parent.
OUTFIT #7: Travelling Home Outfit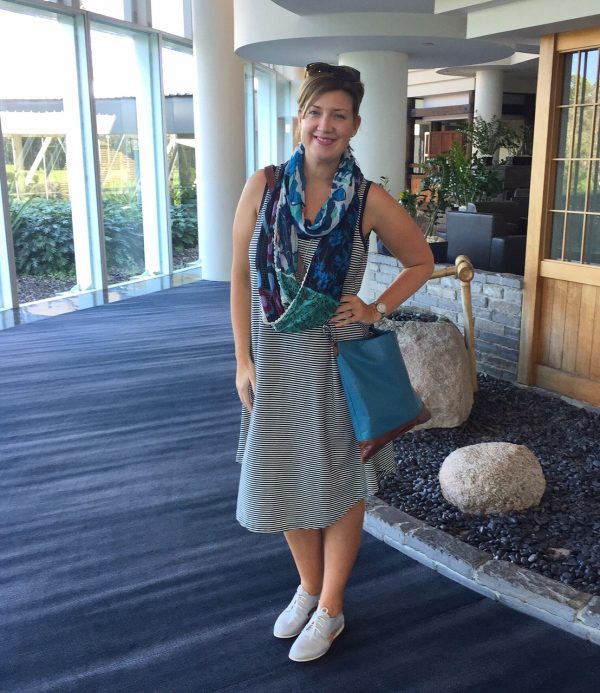 And then it was time to go home!
For my plane trip home, I opted for the very comfortable and easy wearing Striped Singlet Dress from Bohemian Traders (I'm wearing a Large), Anthropologie scarf, Silver Derbys from Rollie Nation at Birdsnest, bag from Elk Accessories and Coach sunnies.
I wanted to layer up for the plane trip and had my Boden denim jacket on hand for the 18 degree temps at my destination aka Real Life.
This post contains some affiliate links. You don't pay any extra and I earn a small commission. Read more in my Disclosure Policy here.
Did you go to #PBEVENT or play along on social media?