Every year I leave #PBEVENT motivated, inspired and with a ginormous To Do List.
Over the course of the 2 day event, I went to fourteen sessions (including all the keynotes) on everything from sponsorship, working with brands, writing a better blog, creating regular and amazing content through to great blog design and understanding how Facebook's organic reach works.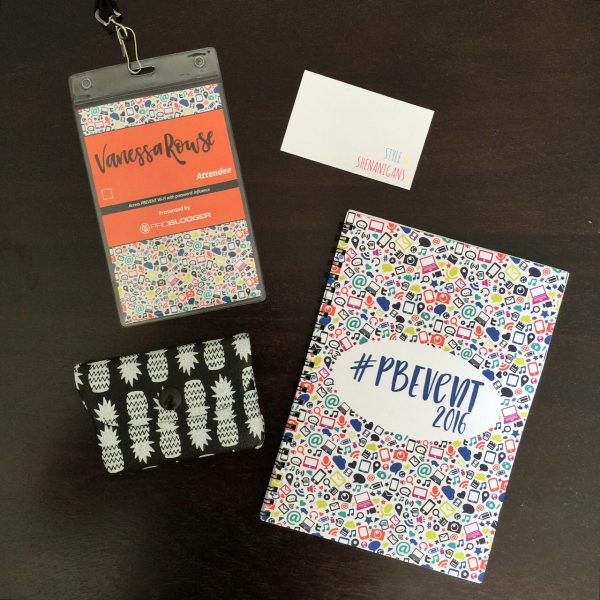 There was so much great teaching and intel, freely and generously shared by all the speakers.
As usual, I had a few light bulb moments but more than that, I feel like I've been given the tools and tips to make things happen. I won't give too much away but I have some exciting things planned on the blog, so watch this space.
In the meantime, though, I wanted to share a few things that really resonated with me that I think perhaps transcend blogging and business. Perhaps you might be able to relate to or consider the following, whatever it is you're doing or thinking right now.
1. The Concept of Being a 'Multipotentialite'
Emilie Wapnick of Puttylike blew my mind with her keynote at the end of the conference which was no easy task at 4pm on Day 2.
She asked the simple question: Have you ever had trouble finding a niche? 
Some people are really clear about their skills and interests, and they happily find their niche and stay there.
Others have lots of – and sometimes diverse – interests and skills and find it difficult to work out what to do, career or business wise.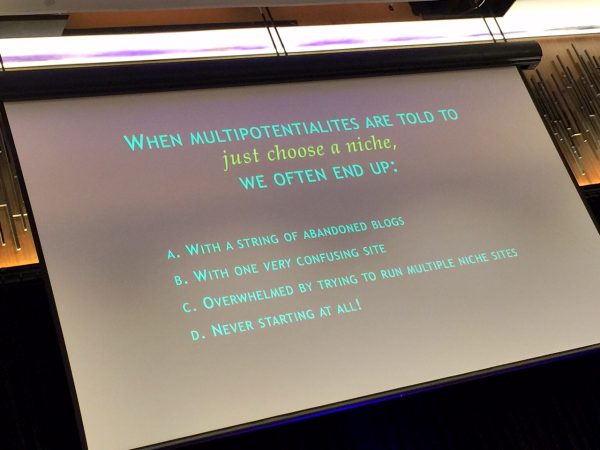 This idea certainly resonated with me as I try to reconcile my former corporate life in the law with the creative and flexible world of fashion and blogging.
For many of us who find it hard to choose what to focus on, given our broad range of interests and dare I say it, skills, I think her response to this question is potentially life changing.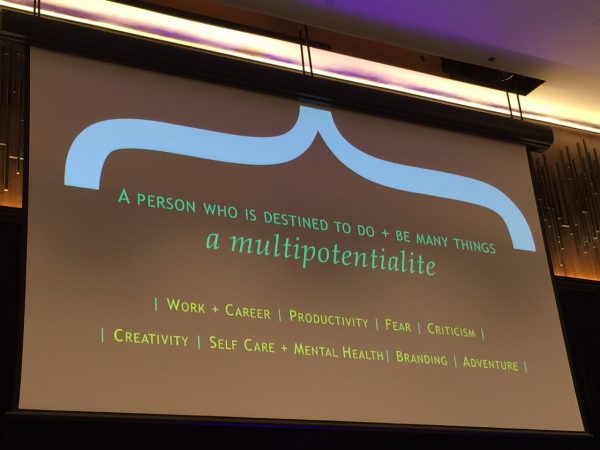 According to Emilie, if this description fits you, then you could be a multipotentialite.
When you're a multi-potentialite, Emilie suggested there are a few ways you can approach the 'what to do' question:
Emilie suggested you can do this by:
1. Crafting an overarching theme by finding a common thread in what you love.
Ask not what you love but why you love it. Write a master list of what you love. Underline items that excite you now and in the past. Are there patterns? Threads?
or
2. Blend two things you love e.g. Marketing for Hippies; Nerd Fitness; Food Mood (nutrition meets mental health) and ask the question, would this interest A translate to this audience B?
or
3. Use a lens or a medium or identity through which you explore multiple topics e.g. Designer Daddy, Freakconomics.
When it comes to combining your many passions in one blog, it's a question of mastering the relationships between things and trying to  bring a unique perspective.
I really hope that's what I'm achieving here on the blog with my seemingly disparate interests from fashion to books.
Check out Emilie's Ted Talk here for more info.
2. Thankyou Everything
Our last keynote on Day 1 was from Daniel Flynn, co founder of Thankyou products, which you might recall, began with a crazy idea of selling bottled water with all profits going to communities around the world who need water, sanitisation, food and hygiene solutions.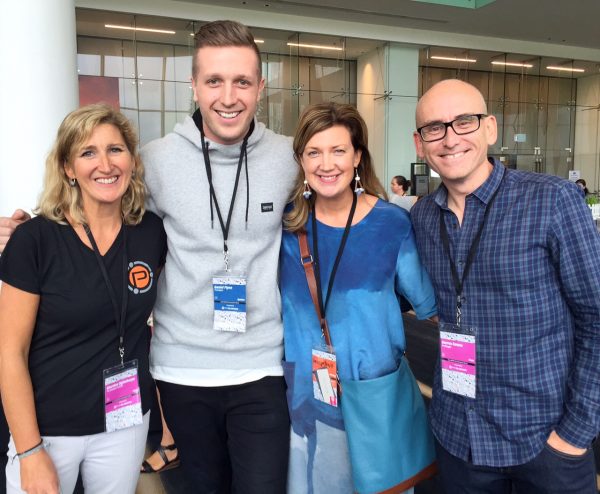 The Modern Parent, Daniel Flynn, moi and Mr SnS/Problogger
I won't go in to the detail of their story – buy their book Chapter One, pictured below, for all the details – but what struck me was how they just started without knowing everything (or anything according to Dan), how they kept going, how resilient they were in the face of much adversity and how creatively they've approached everything.
And look where they are now!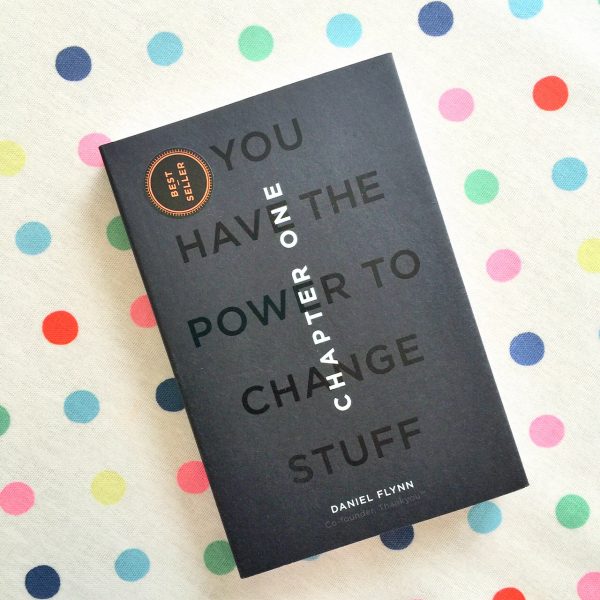 For me, Thankyou team's journey is one of boldness, tenacity, persistence and outrageous optimism.
I felt challenged to dream big, work hard and above all, persist.
If you'd like to see Thankyou's latest news and launch, check out this awesome one take vid here.
3. Little Things Make A Big Difference
This was a theme that came through again and again to me, through various speakers and sessions and while a lot of it is common sense, it's also good to be reminded and to think critically about the tasks at hand. I came away with some great tools and tips that I'll be using too.
In terms of productivity, it's about being organised, planning, scheduling and recognising when we work best.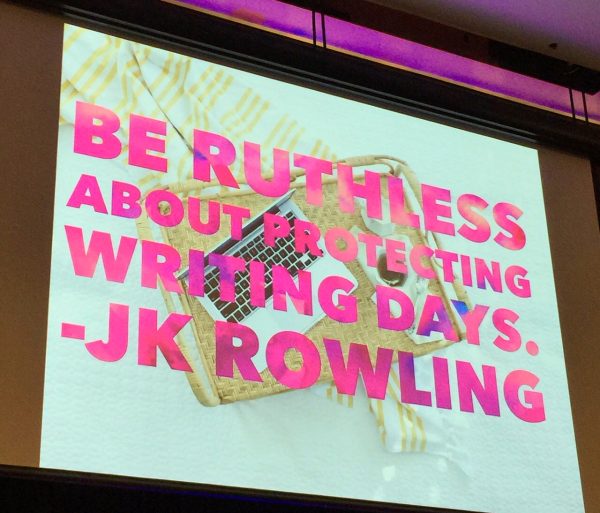 Sometimes, it's just a matter of a little tweak or refinement here, a new approach or another attempt there.
We need to be playing to our strengths, digging deeper, valuing quality over quantity, telling stories and being generous.
With a lot of things, we're actually on the right track, we just need to be looking for ways to improve and adapt where we can.
I could relate much of this to parenting as well as blogging too.
Big thanks to all the speakers, the #PBEVENT team for a great conference and the many people I met and great conversations I shared. 
Did you go to #PBEVENT? What were your main take home messages? If you didn't go, do any of these ideas resonate with you?