(Note: You can read my Christmas 2016 Kris Kringle post – 25 Kris Kringle Ideas under $25 here).
Have you tackled the office or family Kris Kringle yet? This can be the gift that we put off, or buy several versions of, until we find the perfect something for that someone we don't know very well. No wonder it is hard work!
Below are 9 Kris Kringle gift ideas that are a collection of hits from previous Christmases through to some new favourites. All of them come in under $15.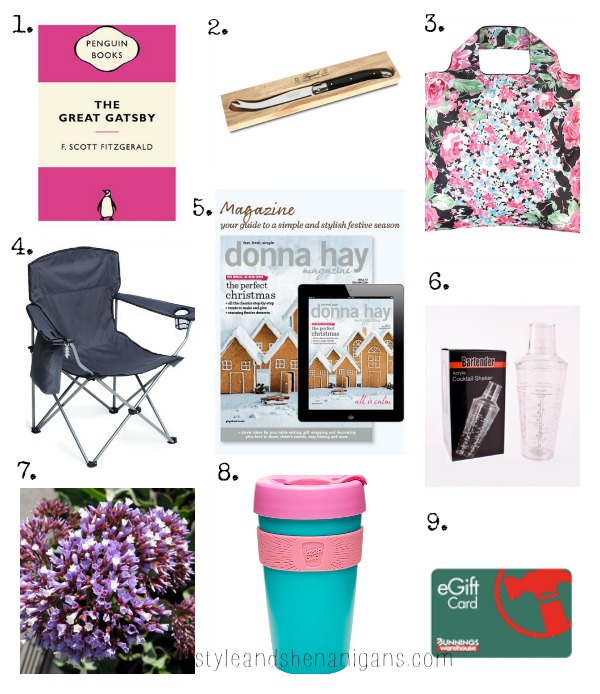 1. Book – Books are great gifts for people who enjoy reading and Penguin classics come in well under budget. The Great Gatsby is $6.46 from Big W. Perhaps add a block of gourmet chocolate with the change;
2. Cheese Knife – I eat more cheese in December than I eat in the remaining 11 months of the year, which is saying something. Who couldn't do with another cheese knife? This Laguiole Debutante Black Boxed Cheese Knife is $11 from Peter's of Kensington. You could pair a small block of cheese with it;
3. Envirosax – I can always do with another Envirosax. They are handy, come in lots of great designs and are $11.50 from Envirosax;
4. Camping Chair – Who doesn't need an extra chair for camping, picnics or summer entertaining? This was the most coveted Kris Kringle in my workplace of over 60 people a few years ago. This Camping Chair with Cooler arm is $15 from Kmart;
5. Magazine – Donna Hay magazine, the Christmas edition. I have given this before and it was a hit. It is a great option for foodies and entertainers and can be found at your local newsagent for $7.99. Perhaps a couple of seasonal ingredients from one of the recipes could complete the gift, depending on the KK price limit;
6. Cocktail Shaker – This is a fun gift for someone who likes to entertain, party or starts the congo line at Friday night drinks. This D.Line 750ml Acrylic Cocktail Shaker is $9.99 from House;
7. Plant – Plants make lovely gifts and you can find a herb, cactus or some potted colour for under $10 from your local supermarket or Bunnings. This Sea Lavender pot plant is $9.90 from Chris & Marie's Plant Farms. A vintage pot plant holder from your local Salvos could be the perfect vessel for it;
8. KeepCup – If all you know or can find out about your colleague/relative is that they like a takeaway coffee every day, this might be a safe option.  They start at $12.95 from KeepCup. You could also shout them their first coffee in it or add some Fair Trade coffee or T2 tea;
9. Gift Voucher – A gift voucher for $10 or $15 from Bunnings, David Jones, Westfield or the Coles Myer group isn't the world's most imaginative gift but it is likely to be well received at this time of year. I confess I once made a bee-line for a $10 David Jones voucher one year as I wanted to put it towards a Christmas Day dress!
What's your tradition?
In my previous workplace, we each bought a gift, with no idea of the potential recipient as everyone would draw a number and then either take a gift from the middle or an already unwrapped gift. This long, funny game also revealed pretty quickly which were the most popular gifts.
In my current workplace, for Kris Kringle this year, we all drew a name out of a hat, so we were buying for a specific someone. This can make it a lot easier as you can do some secret reconnaissance. I bought the lovely Lisa the gorgeous travel paper placemats I featured previously here.
I personally love Kris Kringle and the challenge of buying the perfect gift within the KK guidelines. This year, we had the choice of buying, recycling or making a gift. At our lovely morning tea over champagne and home made Christmas pudding, we unwrapped everything from homemade marmalade, a basil plant in a gorgeous second hand pot holder, a game of UNO through to a vintage entertaining magazine from 1982 paired with a new set of cheese knives.
More Ideas
Other ideas include a bottle of sparking wine (I am a fan of Brown Brothers' Zibibbo which is $11.50 at Dan Murphy) or a $4.99 Gingerbread House construction kit from IKEA.
A less expensive option may be a  handmade gift such as jam or some baked goods.
I also love the idea of these gifts in a jar.
If you have a favourite or signature recipe, this can be the base for a great gift idea as well. One year I printed out my favourite home made Lemonade with Orange Blossom recipe and wrapped it with a bottle of Orange Blossom water and some home grown lemons.
The possibilities are endless! For more ideas, check out the SnS Facebook page as I'll be adding new ideas as I see them.
Do you like buying Kris Kringle gifts? Why or why not? Can you share any Kris Kringle hits or misses?  What is the best Kris Kringle you have given or received?
Thank you for your comments. I love to hear from you!