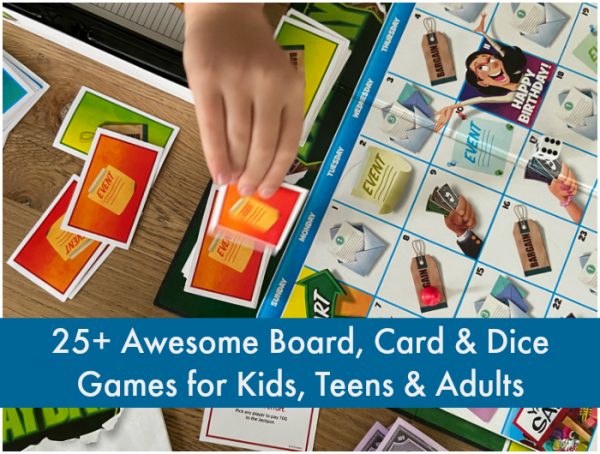 I've always loved playing board games.
One of my favourite childhood memories is playing the Game of Life with my brother and sister on family holidays at my cousins' Ventnor holiday house back in the '80s. I loved that plastic car, the pink and blue pegs, the play money and the idea that I could get a job, go to Uni, get married and go on holidays, all from the comfort of that orange and brown living room.
Later, as a young adult, my friends and I spent many amusing hours playing Taboo on weekends away and at the end of an already fun night. We used to cry with laughter as we played and marvel at the creative and funny ways we could all describe a word without saying the forbidden word clues. Having so much history together no doubt helped.
In the nearly noughties when I met Mr SnS, and subsequently my now in-laws, I was delighted when a game would come out after a family dinner and we'd all have a laugh and have fun as we played and got to know each together. It sounds a bit cheesy, but it was actually a really good way to get to know each other. It didn't take long to discover they were all awesome at games and super competitive!
Fast forward to now and five grandchildren and another brother in law later, playing games is a feature of nearly all our extended family catch ups and weekends away, usually after we've shared in birthday cake.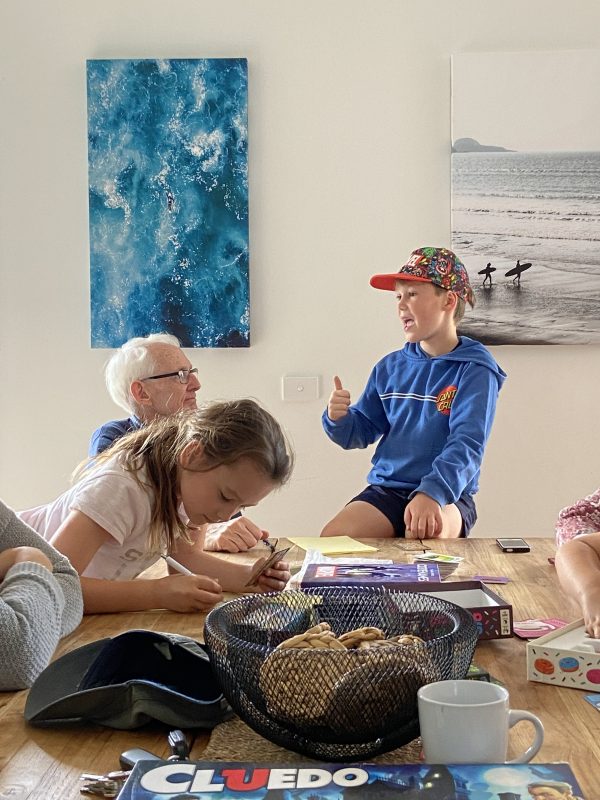 On a family weekend away, with everyone playing games up and down the table
Unsurprisingly perhaps, our three boys have always loved playing board games, either with their extended family, us or each other, and over the years we've accumulated a reasonable stash of options.
Games are also often my present Go To for friends and family too, as I know I'm giving a gift that will keep giving and hopefully provide hours of fun and entertainment.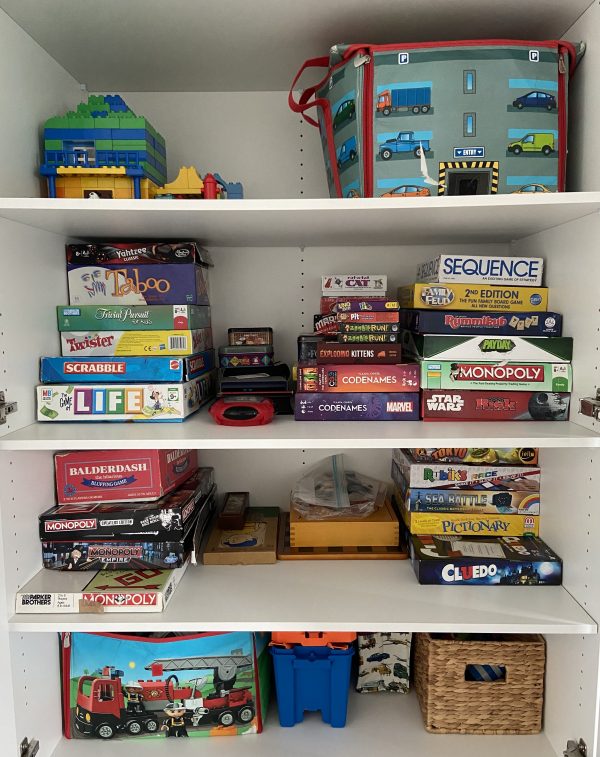 Our well stocked games cupboard
Thanks to a recent reader request, in this post, I've put together a list of all our faves over the years, including the best multi age games (ideal for when you've got a variety of ages and skill levels) as well as the games we're enjoying now. By way of context, our boys are now aged 9, 12 and 14.
Best Boardgames
Preschoolers
When our boys were little, we had a few games they enjoyed but I found they didn't particularly maintain their attention. I can't say I loved the noise and mess some of them generated and the Plastic Fantastic factor too – I'm looking at you Hungry Hungry Hippos, Operation and Kerplunk!
I much preferred to give and see my boys playing puzzles at this age. My eldest in particular devoured puzzles from when he was a toddler and as a very active child, this was happy news for us both! The reduced noise factor was also a bonus. Generally speaking, our favourite board games at this stage were those that introduced counting, such as Snakes and Ladders, while Connect Four was also a winner and a gentle introduction to strategy. The Shopping List was a fun one too.
Multi-age
With three boys, our youngest son, who is now 9, has been playing most of these games for several years. They are good introductions to board games, although to begin with at least, they do require some sort of parental involvement. All of our boys still play and enjoy these games, so they make great gifts too.
1. Monopoly – we have the original version as well as many variations – Empire, Cheaters Edition, Bankers. My guys play the original generally.
2. Payday – we bought this for our boys a few Christmases ago and they played it non-stop on our January beach holiday that year. We recently rediscovered it and it's been on high rotation since. A normal game is playing two calendar months and navigating things like paying bills, life events, trading and selling items and so on.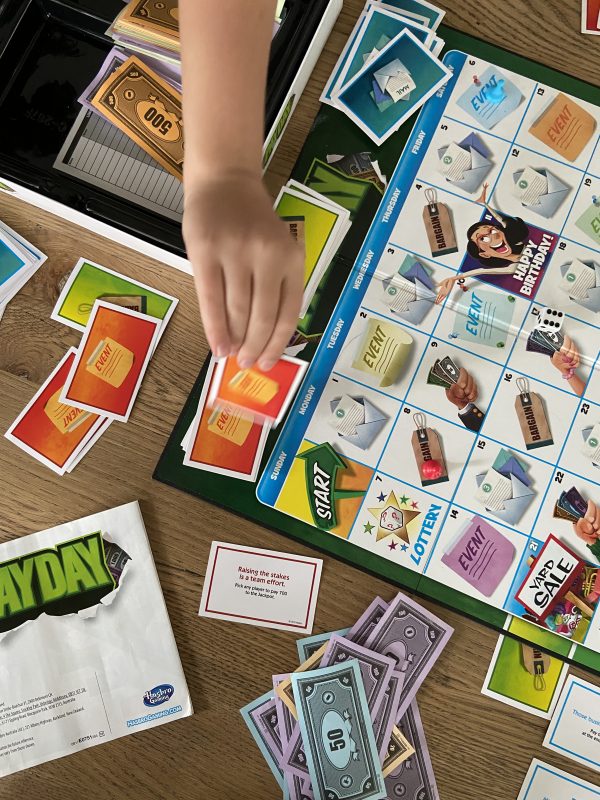 Payday
3. The Game of Life – this is an oldie but a goodie although some of the modern iterations include things like cosmetic surgery!
4. Pictionary – a great multi age game which always guarantees a laugh. Gifted artists have an advantage here but even rudimentary illustrations are effective – and hilarious – too.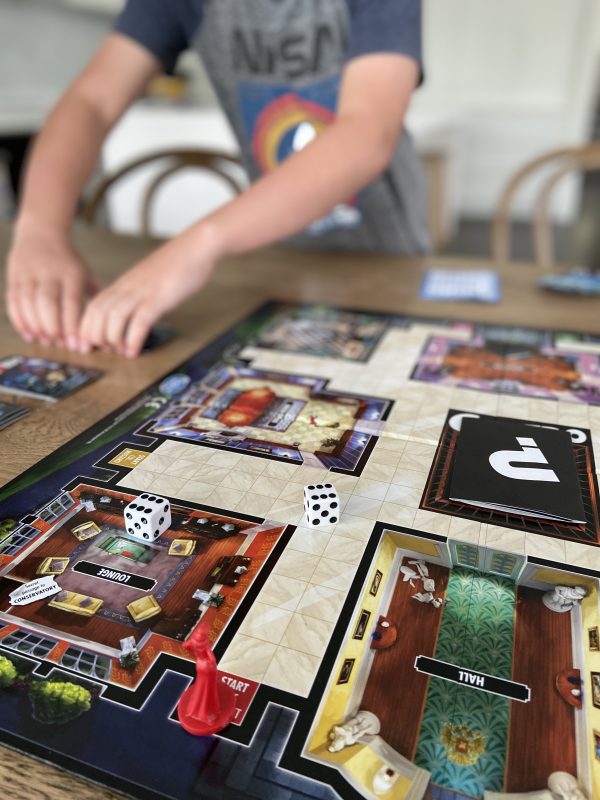 Cluedo
5. Cluedo – this is a who dunnit game, with players competing to guess who the killer is, where the murder took place and which instrument was used.
6. King of Tokyo – I learned to play this game this week, as one of our boys chose it as this week's family game. It involves strategy and luck – I won my first ever game!
Upper Primary Plus
These are the games my older boys have been playing for the last few years. Initially, our youngest began playing them on a team with an adult (Grandma/Grandpa or Mr SnS or I), before learning the ropes and playing in his own right.
Most of these games require either a higher level of vocabulary (such as Codenames, Boggle, Scattergories and Scrabble), general knowledge (Codenames and Trivial Pursuit) or strategy (Sequence, Rummikub, Risk and Chess).
Forbidden Island is a game about team work, with players working together.
7. Codenames – I love this game. It is played in teams, with clues given to identify the team's words while avoiding the other teams words and the dreaded assassin! I love that it involves lateral and creative thinking for both the giving and deciphering of clues.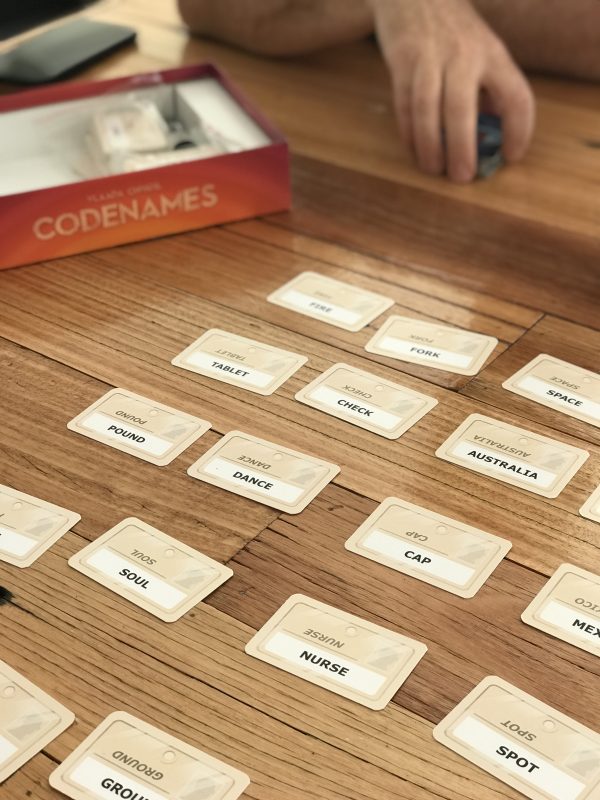 Codenames
8. Sequence – this is a firm favourite of ours and can be played by two people or in two or three teams of two. It's like an adult version of Connect Four in that the aim is to place tokens in lines of five (in any direction) while not communicating directly with your team mate, so it involves strategy and is a fun team game.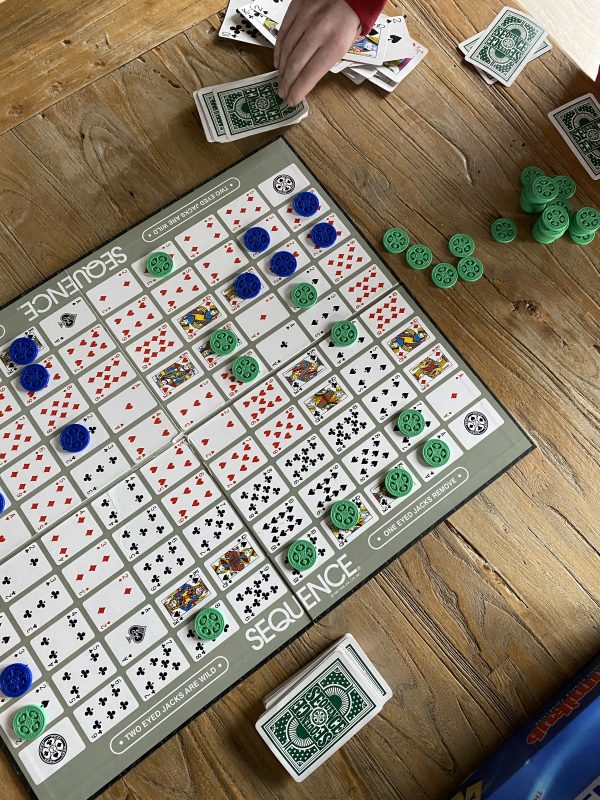 Sequence
9. Rummikub – I played this as a kid but started playing it again when we found a game at a holiday house we stayed in before Lockdown. It involves grouping numbered tiles by colour and in number runs, with the aim to place all your tiles down first.
10. Scrabble – I love Scrabble and am always playing Words With Friends on my phone. It's a great game for kids (as soon as they can spell) and adults alike.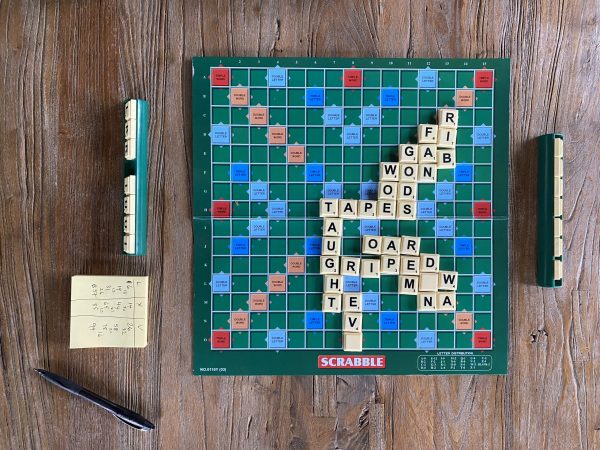 Scrabble
11. Risk – the kids play this on their own and love it. There are different versions but we have the Star Wars version which they really enjoy.
12. Forbidden Island – I like that this game is not competitive – everyone is on the same team which may provide some relief in households with super competitive kids i.e. most!
13. Trivial Pursuit – As long as you stick with the appropriate version – kids or adults – this can be a fun game. My boys use Harry Potter trivia cards when they play sometimes too.
14. Chess – All of our boys learned to play chess in early primary school and continue to play from time to time. There are loads of You Tube tutorials too if they want to take things up a notch in the strategy stakes with set plays. Our Mr 12 can now beat all us adults!
15. Boggle – a good portable word game that everyone can play.
16. Scattergories – this is a fun, simple and accessible game for adults and kids, and great for extended families or weekends away with friends.
Best Card/Dice Games
I love the portability of card and dice games, especially for holidays. They take up no space, can fit in someone's back pack and provide hours of entertainment by the pool or on a wet or super hot day. Or if you're stranded in Denpasar airport overnight.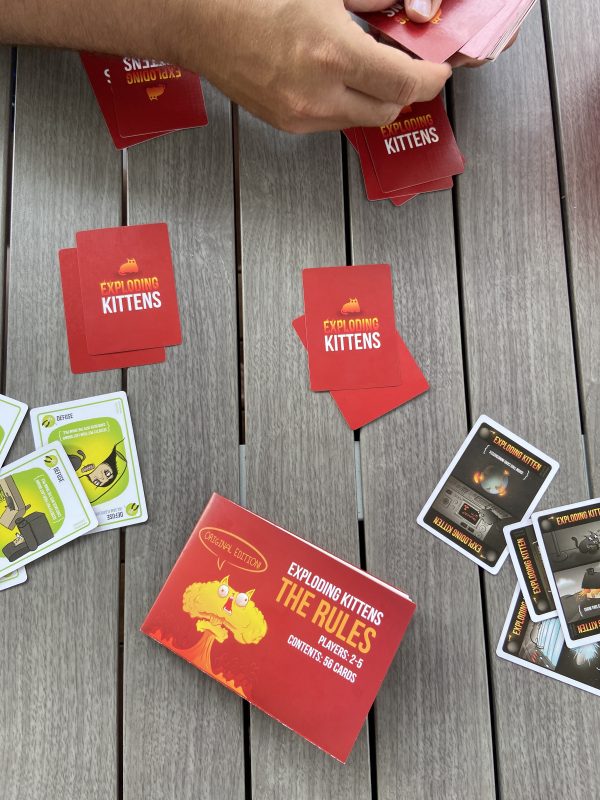 Exploding Kittens
We've even been known to take card games to restaurants for a before or after dinner game or for the kids to play while we chat.
Here are our favourites:
1. Uno/Uno Flip – go the old school version or introduce a new take with UNO Flip.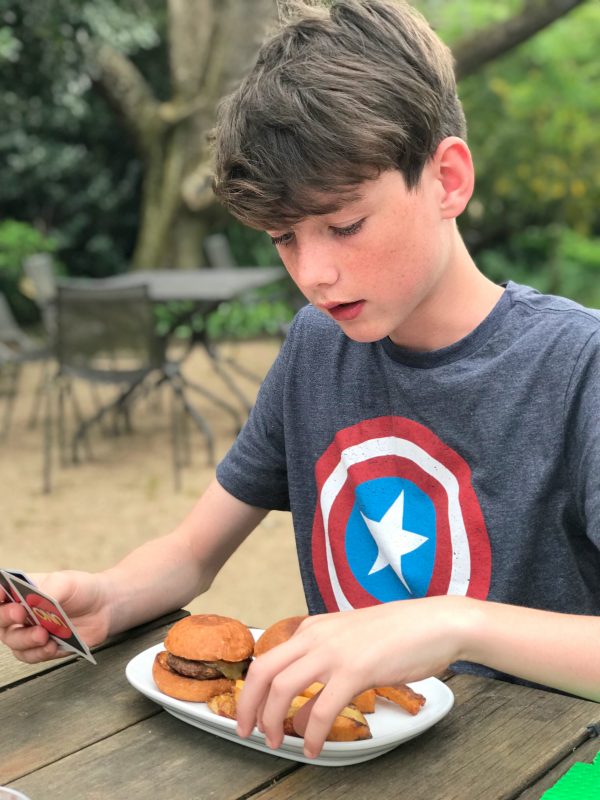 UNO over dinner
2. Exploding Kittens – this is such a funny, fun game which we play often. The kids have taught my Mum how to play and now she has a deck at her place for when they visit (pre and post Lockdown obvs).
3. Quiddler – this is one of my faves – a fun, strategic word game which involves making words with cards with bonuses for the longest word or most words. The game is played in rounds, beginning with three cards each and finishing with ten cards each.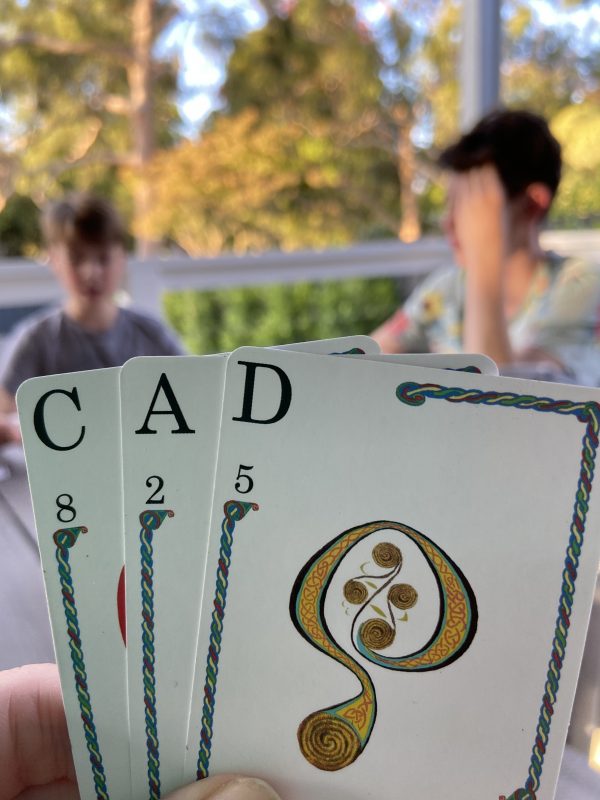 Quiddler
4. Happy Salmon – this is a very amusing, fun and fast game whereby players stand up and try to match cards with each other by doing the action, not saying the words. It's a ripper.
5. Knock Poker – a family friend taught our boys this and it's a fun game with a deck of cards and nothing else.
6. Phase 10 – Mr 9 describes it as 'fun but frustrating'. The aim is to be the person with the least points by getting rid of all your cards in different phases.
7. Zombie Run – an old fave of ours, good for younger kids.
8. Sushi Go – another easy, fave, good for all ages.
9. Yahtzee (uses dice) – I love this game as it involves counting, multiplication and strategy. It's basically a fun maths game.
10. Tenzies (uses dice) – this is a competitive and repetitive game according to Mr 9. The aim is to roll the pre-arranged target, which varies from round to round.
11. Taboo – this is one of my faves too. A great multi-age game played in teams. The aim being to guess the word, without the clue giver using any of the forbidden word clues.
The Top Fives @ Shenanigans Central
I did some market research here at Shenanigans HQ and asked my three boys to list their top 5 faves right now. I also included the adults' faves as let's face it, we'll often be playing along too. I should also say that the funniest game to watch is Happy Salmon.
Mr 14's favourites 
King of Tokyo
Yahtzee
Exploding Kittens
Codenames
Knock Poker.
Mr 12's favourites
Exploding Kittens
Monopoly
Payday
Game of Life
Codenames.
Mr 9's favourites 
Monopoly
Payday
Rummikub
Phase 10
Cluedo.
My favourites
Codenames
Quiddler
Sequence
Rummikub
Taboo
Mr SnS's favourites
Quiddler
Sequence
Phase 10
Rummikub
King of Tokyo
Lastly …
Just a couple of final things.
I think Catan might be our next board game. It definitely won't be Pandemic!
I'd also love to re-introduce the kids to backgammon, a game I played and loved as a kid.
Also, lots of friends have a broader card game repertoire, which includes Sleeping Queens, Spit and Solitaire. Grandparents may also have lots of great inspo to share.
In terms of where to shop, we buy our games from discount department stores as much as possible (which supply most) or speciality games stores like Games World (King of Tokyo, Happy Salmon, Quiddler etc). There are also plenty of online options, such as Yellow Octopus.
So over to you, what are the favourite games at your place? What would you add to my list?