How did you find this month's book, The Rosie Project by Graeme Simsion?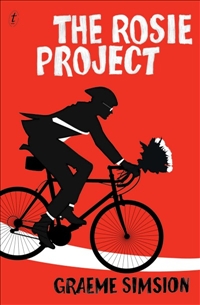 Had you heard much about it before you read it?
I hadn't heard anything specific about this book before I read it, other than it was set in Melbourne (fabulous). My friends who had read The Rosie Project had loved it and told me I would love it too.  One friend even said she put it aside towards the end as she didn't want it to end. That's what I call a recommendation!
So I started the book with fairly high but unspecific expectations. Thankfully, the book lived up to the hype for me.
WARNING: I overuse the word "hilarious" in the post that follows. It was hilarious or LOL so I went with hilarious.
The Characters
I loved the protagonist, Dr Don Tillman and thought he was an endearing central character.
I was pleased that he was not portrayed as a caricature of a person with Asperger's Syndrome, although he clearly exhibited some stereotypical characteristics. Overall, his was a three dimensional character that was fleshed out.
I loved Don's meticulous routines, calculations and set menus (and am considering employing them at my place to reduce my endless decision making), and I was touched, really touched, by his gentle friendship with his neighbour Daphne.
I particularly enjoyed reading of his dates with women, the highlight of which had to be The Apricot Ice Cream Disaster. In fairness to Don, we all have deal breakers on dates. I guess they are just different for everyone!
I also thought his growing friendship with Rosie was well written. It wasn't linear (even though it was ultimately predictable) and felt believable. Their time in New York together was gorgeous and I loved reading about his new friend Dave and their adventures trying to extract DNA from likely father candidates. I could almost visualise a movie starring the hilariously awkward Ben Stiller!
The most interesting character for me besides Don was Gene. What a cretin. It took me a while to understand their friendship and the extent of Gene's deceptions and manipulations. No surpises then that I did a virtual fist pump in the scene at the end where Don tells Gene a few home truths.
Rosie was an interesting character as well and those early scenes at The Marquesse of Queensberry and the night of the Jacket Incident were pretty hilarious. I found their interest and attraction to one another believable and ultimately led to a satisfying ending.
What did you think of the characters? Who did you love, loathe or feel indifferent towards?
The Plot/Favourite Scenes
For a summary of the plot, click here.
Below is a bit of a highlights package.
My favourite scene, and there were many, would have to be the Night of Cocktails. I thought it was hilarious.
The scene at the dinner dance was up there too. What was your favourite scene?
I also loved the opening chapters and the very amusing scene where Don gives a talk about Asperger's Syndrome and his interaction with the woman who was clearly hitting on him.
There were so many great, laugh out loud lines. One of my favourites was when Don was commenting about his new friend Dave, whom he and Rosie met in NYC:
"At Yankee Stadium we got beer and hot dogs. A man in a cap, estimated age thirty-five, estimated BMI forty (i.e. dangerously fat), sat beside me. He had three hot dogs! The source of his obesity was obvious".  (p.232 in my copy).
The Ending
I loved how Don took Rosie and Phil to Disneyland. I didn't see it coming and I thought it was gorgeous.
I gathered at the very end that Phil was in fact Rosie's dad – is that right? I re-read the ending a few times and have spoken to others to confirm my thoughts. This was because it was not explicitly stated, just inferred.
In my defence, if I got this wrong and Geoffrey Case was the father, I gave up science in Year 10.
Did you like the ending? Did you find it satisfying?
In a nutshell
I loved this book. It was hilarious, had interesting, three dimensional characters and although it was a romantic comedy of sorts, it was not cliched or trite.
I also loved that it was set in Melbourne and I could visualise where things were happening. I hope it is made into a movie!
What did you think of the book? Did you enjoy it? Would you recommend it to someone else?
I've asked a few questions during this post too and I'd love to hear your thoughts about any/all of them.