So we have some exciting news!
Last weekend, we welcomed the newest member of our family … Roxy Rowse.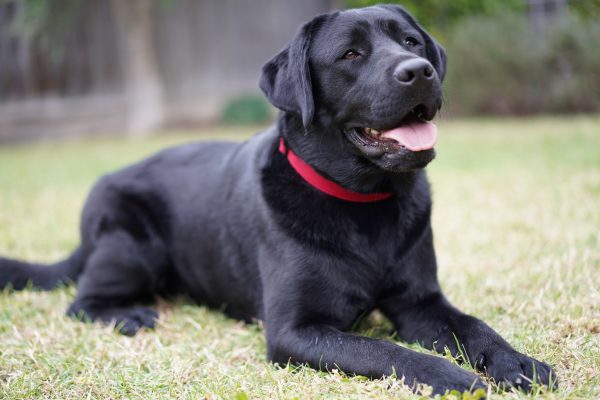 Isn't she beautiful?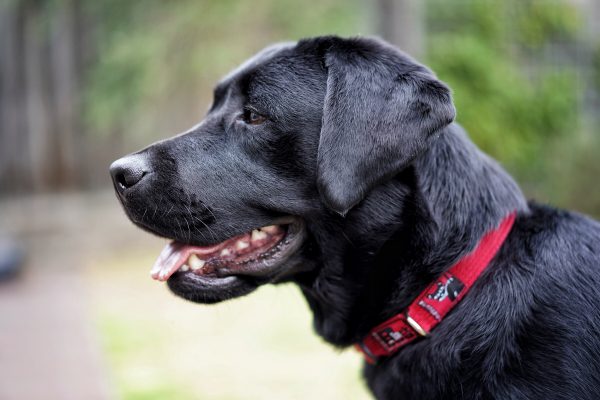 If you didn't know we were on the cusp of getting a dog, you weren't alone.
Neither did I!
While it has been a topic of ongoing conversation here for some time, I wasn't over the line.
Sure I've been doing plenty of reconnaissance and talking to people about their canine experiences, but still, I was pretty apprehensive about The Dog Thing.
Having not grown up with a dog, I didn't really know what to expect other than there would be a lot of work involved and I was also worried that, despite the kids' initial enthusiasm and promises, the responsibility would fall predominantly to Mr SnS and I. And I've already been feeling under the pump lately.
I was also worried about what we'd do with a dog when we go away – which we do a lot – and the logistics and the cost around that. Dealing with dog poo and possible garden and lawn destruction were also concerns, particularly as we prepare to sell our house next year.
But.
There were things about getting a dog that also appealed.
We wanted our boys to experience what we hadn't growing up – a dog as part of the family – and all the love, affection and responsibility that it brings.
I liked the idea of having a companion to walk with and a reason to walk on days I didn't feel like it.
I also felt we were at a stage, with all three of our boys at primary school, where we finally had the capacity and headspace for a new member of the family.
But I wasn't super keen on having a puppy and going through the puppy stage, even though the cute factor is obviously sky high and the idea of bringing up our own dog – with our rules and expectations – appealed on some levels.
I also really liked the idea of getting a rescue dog – a dog that really needed a home. I've got a soft spot for the unloved and neglected. Even with our sponsor kids, I always ask for the oldest child or the one who has been waiting the longest.
Of course, I knew finding the right rescue dog for us would be a challenge given we're Dog Newbies. Despite looking at lots of sites over the last few months, we hadn't found a dog that was a good fit for us, mostly taking into account that we aren't experienced and those we did see didn't have the ideal temperament or behaviours for our young family.
While these conversations were ongoing, Mr SnS stumbled upon the idea of adopting a dog from Vision Australia. Vision Australia regularly seek homes for dogs that don't pass their demanding guide dog training, and advertise currently released dogs here. We saw that the dogs released for adoption had the benefits of being trained, well socialised and were out of the new puppy stage but still young enough. It seemed like it could be a good fit for us.
After scouring the site for a few weeks and applying for one dog and not hearing back, last Tuesday Mr SnS sent me a link to a dog that had just hit the site – Naomi.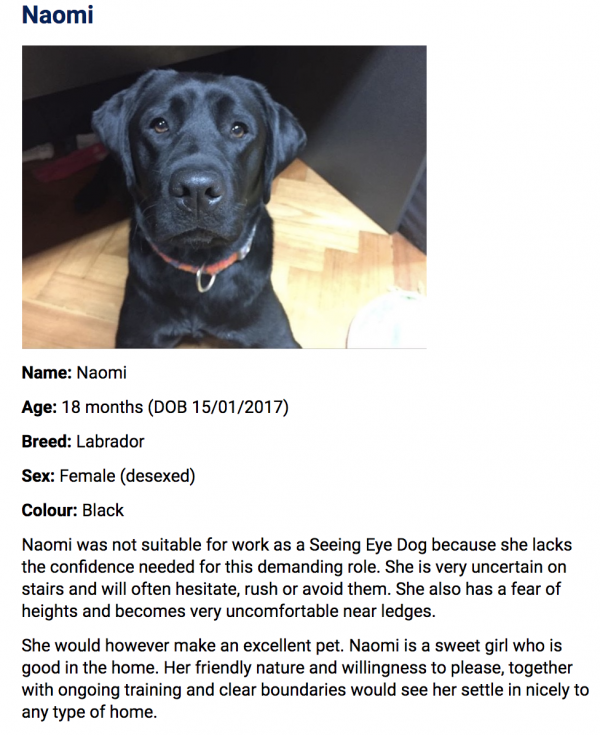 Despite my general reservations – see above – I said yes immediately. Based on the description of her, Naomi really did seem like the perfect fit for us and as far as personal failures go, a fear of heights certainly wasn't a deal breaker around here.
So Mr SnS carefully filled out the online application last Tuesday, fully disclosing the fact that we'd never had a dog before and telling them all about us, including the fact that we both work from home and have three boys who love to play, have lots of energy and are desperate for a dog. Later that day, her photo was taken down and we were left to wonder what had happened. Did we have a chance? Were they inundated with applications? What would happen next?
Forty eight hours later they contacted us to invite us to come and meet Naomi on Sunday.
Sunday! That seemed … really soon.
It was a lot to get our heads around and from a practical level, we urgently repaired our side gate and spent Saturday shopping for all the dog necessities and getting very excited. We chose leads, dog toys and a dog bed. We even bought a doggie Christmas stocking!
On Sunday, after I spent all day at the Round She Goes Market while Mr SnS dog proofed our house, we drove to Kensington late in the arvo to meet Naomi. The idea was that we meet each other and decide if we should go ahead.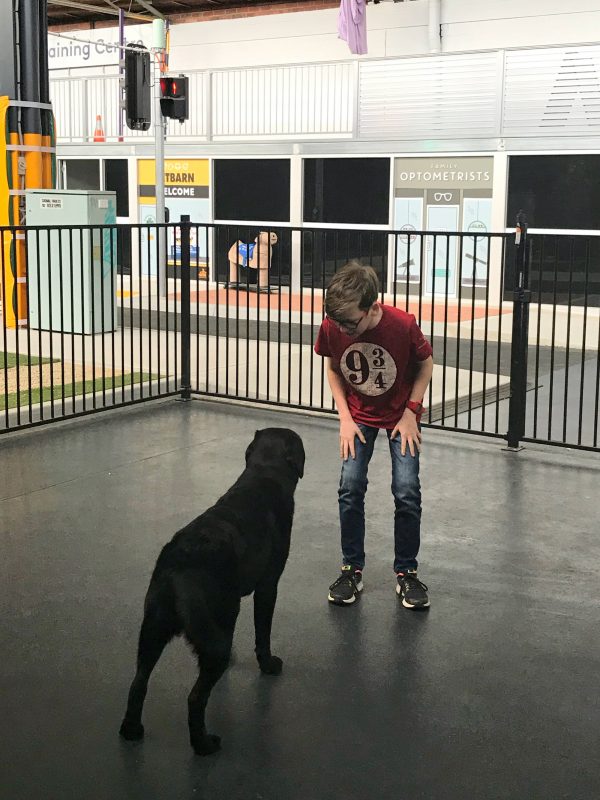 Naomi slash Roxy (we were prepared to keep her name but were told it was fine to change her name and it would only take a couple of days for her to get used to it) impressed us right away with her friendliness, playful nature and astonishing good looks. Her size – she's full grown – was also a relief, as she was smaller than I had anticipated. (We had seen a massive black dog in the kennels while we looked around but it turned out to not be Roxy). I've subsequently discovered that female dogs are usually smaller than the males. Who knew?
So after we all said yes on Sunday, and filled out the relevant paperwork and paid, Naomi – now named Roxy Naomi Jennifer Lorraine McFly Rowse – came home with us. And yes, we have some serious Back to the Future fans here at Shenanigans HQ!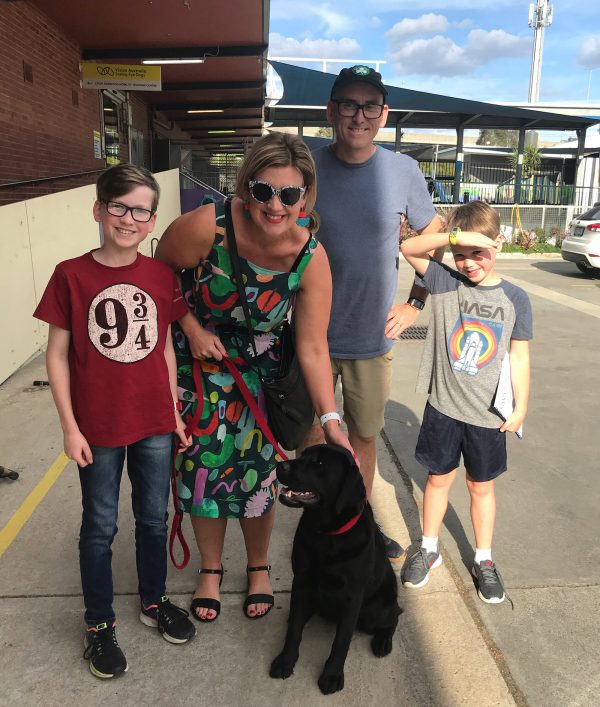 We could see straight away that she was trained – she responds to commands – and that she was in an excellent routine. Roxy is fully house trained, and is used to sleeping from 7pm until 7am, with prompts for toilet breaks at 7am, 11am, 2pm and 5pm as well as just before bedtime. She eats her meals at 7am and 5pm.
I was amazed and thrilled to hear this and can happily report that after 5 days, she hasn't had any accidents inside, hasn't wrecked a single thing besides a rubber bone that lasted ten seconds and goes to the toilet when asked. Frankly, for this dog newbie, it's unbelievable and the perfect soft entry for us into Dog World.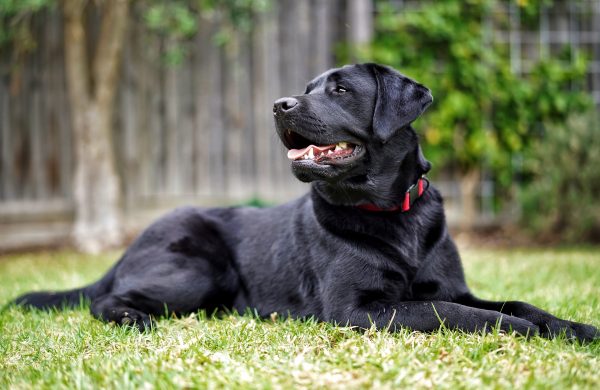 Roxy had also been crate trained, so we've since bought her a crate which sits in our laundry and she is happy to sleep in there as well as popping in from time to time during the day. Mostly though, she prefers to stay close and snooze in between walks and playing outside.
It's been a whirlwind this week but I can already say that Roxy is the most wonderful addition to our family though we all still finding our groove. She's getting used to us and we're getting used to her.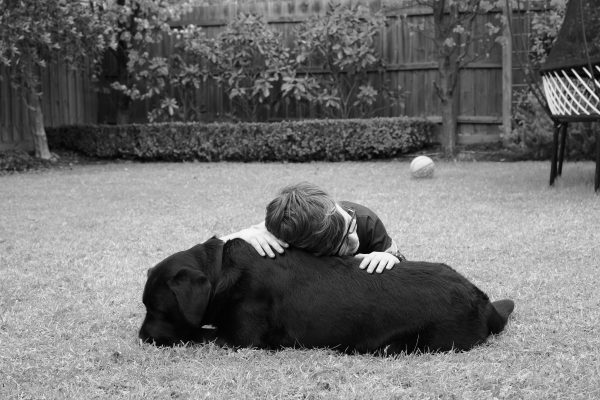 Already we can see that she is a loving, affectionate dog who loves nothing more than playing, lying close – preferably on us as opposed to near us – and going for a walk around the neighbourhood.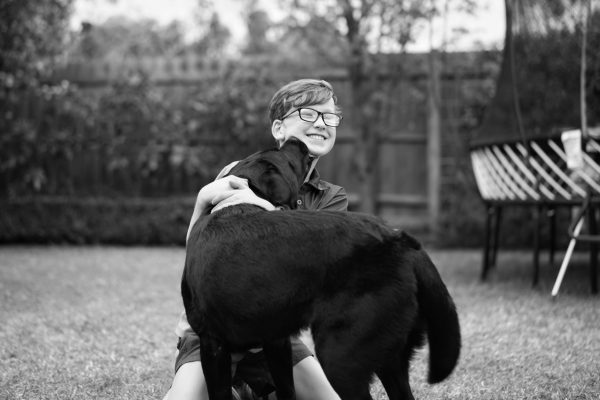 I still have loads of questions, am getting my head around the state of our floors (feral after a wet week) and the fur situation, but in the meantime, I'd love to hear from you about your dogs and any advice you might have.
Specifically:
Do you have a dog – what is his/her breed, age and personality like? How does he/she compare to other dogs you've had?
Where did you find your dog?
Do you have any intel about Labradors?
Is your dog an inside or outside dog? How do you manage this?
What's the best/worst thing about having a dog?
What advice would you give to newbies i.e. me?
Also, if you'd like to keep up with our canine shenanigans, you can follow @roxyrowse on Insta.