Welcome to the latest edition of Everyday Style here at Shenanigans Central.
It's a bumper edition today too too because I'm featuring three frocks I enthusiastically bought for Spring when we had one mild day in August.
Yep, in retrospect, launching in to a full Spring wardrobe at that time may have been just a little bit optimistic.
Perhaps even unrealistic for us born and bred Victorians!
Luckily for me, they each have features that make them wearable for now – they can be worn under a jacket or they have some sleeve action which provides that extra bit of much needed coverage in this crazy trans-seasonal non-Spring weather we're having around these parts.
And once it warms up, expect to see a lot more of these lovelies in my Insta feed.
Fingers and toes crossed.
The first frock is the Dakota dress from Adrift, $89.99.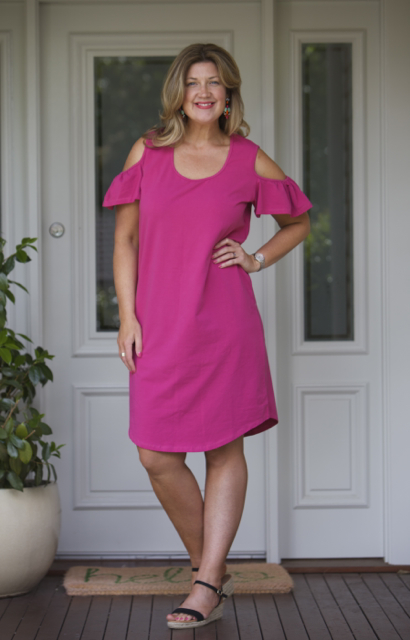 I fell in love with this dress because of this gorgeous pink – it's not a colour I've seen much of this summer, particularly in a block colour. I adore pink in summer – OK, pretty  much anytime – and love pairing it with statement accessories and all sorts of metallics. With a spray tan, the colour pops even more.
Colour aside, I love that this dress is one of those easy dresses that can be dressed up or down. It's definitely in the smart casual end of my wardrobe but as it's made from 90% cotton/10 % spandex, the give in the fabric makes it wearable for all the things an ordinary day can throw at you too, like bending over to stack the dishwasher, getting in and out of the car and so on. I do love a bit of give in my every day frockery.
It also gives a nod to the Shoulders Are Everything trend but you can still wear your usual bra with this one.
If you like this style but pink is not your thing, you'll be pleased to hear this fab dress also comes in black, cream, grey and blue in sizes XS through to XL. Some colours are also available as part of the Plus Size range. Check out the full range here.
Size wise, it's on the generous side. I'm wearing a Medium and I'd normally be a 12/14. I picked this frock up on a promotion too, so be sure to sign up to Adrift's email so you score first dibs next time.
The next frock is the lovely Ruthie dress from Bohemian Traders, which I'm wearing in navy. It's was part of last summer's range and is now reduced to $109.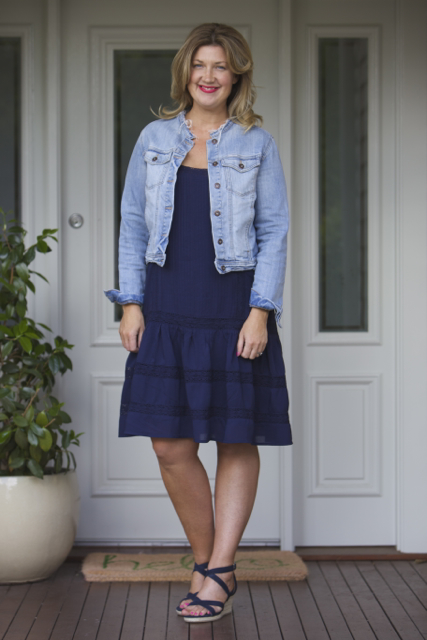 I do love a navy frock for summer and this square necked frock ticks the high summer boxes for me. It's light, breathable and falls to the knee but the lace and pin tuck detailing elevate this casual dress into something a little more interesting.
I'm wearing a Large and it's on the neat side. (If you find sizing at Bohemian Traders tricky, I've also bought the new season Poet Dress – another navy dress – but I had to exchange my Large for a Medium, so I'd suggest you size down in that style).
It hasn't been warm enough to wear this frock on it's own, so I've worn an old denim jacket with it for those chilly mornings. Above, I'm wearing my new Albatross espadrilles from Bared Footwear but I'd just as easily pair this with thongs or tan sandals for a more casual look.
My final frock is a gorgeous boho style maxi from Spell Designs – The Folk Town Boho Maxi. The full length sleeves make this dress ideal for those in between days or mild nights when you don't want to wear jeans.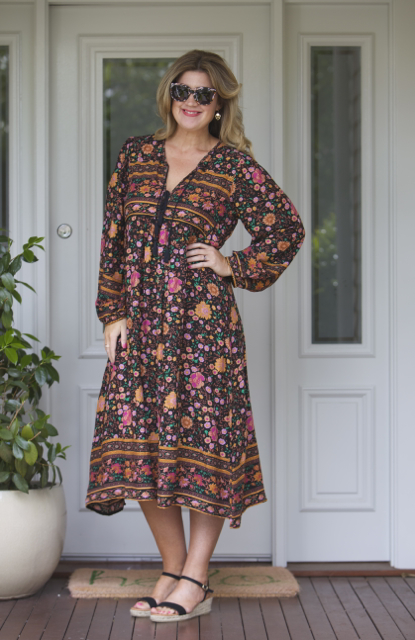 I absolutely love this print and the drapey fabric. It's beautiful to wear and drapes so flatteringly.
I'm wearing a Large and it's roomy, but that's also the style of this slightly oversized dress, so I'd say to go with your usual size.
Simply add an espadrille (I'm wearing these super comfy Sofia Cruz espadrilles from Styletread, which were gifted) or thongs for relaxed boho vibes.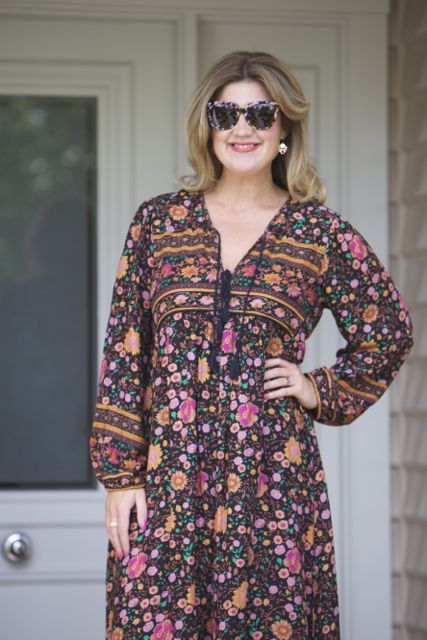 You can check out the great range of summer frocks at Spell here.
This post contains some affiliate links. You don't pay any extra and I earn a small commission. Read more in my Disclosure Policy here.
Have you had a chance to wear your new Spring purchases? How has this crazy Spring weather affected you?