The Red Hill Community Market, an hour or so from Melbourne, is one of my favourite markets.  I had a great morning there recently and spent many hours in the sunshine and country air in the company of two dear friends, wandering from stall to stall, stopping every so often for refreshments – a hot coffee, a scone and billy tea to support the local Scout group and a delicious egg and bacon roll for lunch. Having visited last January (one of the busiest markets of the year), it was less crowded and more relaxed this time around, being the first market since the Winter break.
It was only because we were on a girls' weekend that we could afford to take our time, which felt a little unusual and indulgent. It is not possible at times to enjoy such a morning, so I wanted to bring the best of the market to the people, so you can see what is on offer from home and perhaps find space in the diary to go in the next few months and enjoy all the market has to offer yourself.
I have included some of my favourite stalls from the September market below, many of which have an online presence or shop.
1. JenMade 
We loved the colourful jewellery, art work and tea towels made by Anita and the girls at Jen Made. I picked up a gorgeous neon pink tea towel for $10 (pictured above) and was tempted by their bright clay and wooden necklaces.
You can visit the JenMade Etsy shop here. Having had a little look at their online store, most of their products appear to be less expensive at the market.

2. Retrobub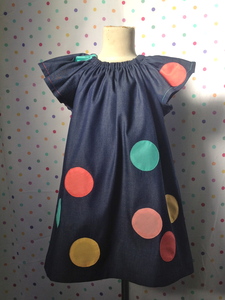 If you have young daughters or are looking for a gift for a special little girl in your life, you can't go past Retrobub. There were some seriously gorgeous, special occasion dresses for girls from babies to mid primary school at this stall.
My friend bought this gorgeous spot dress (pictured above) for her 3 year old and we agreed it would look perfect with a pair of patent yellow sandals for Christmas Day. At $42, these are special occasion dresses or dresses that need to be worn a lot! If you can't get to the market anytime soon, you can also shop at Retrobub's online store.
3. Balls for Your Mind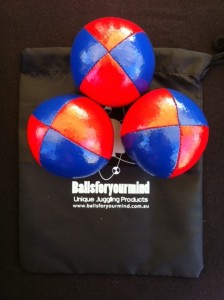 I am trying to think outside the square for Christmas gifts this year. I thought this juggling set from Ballsforyourmind was original and fun so Santa bought one for my 7 year old for Christmas.
There are two different sizes of juggling balls for children, depending on their age. The kit for children up to 10 years old is $20.  It comes with instructions and a felt bag.
4. Quirkie Su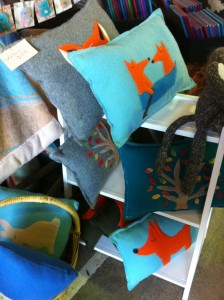 The Quirkie Su stall, inside one of the sheds, was full of gorgeous upcycled wares including cosy cushions, soft toys and children's clothing. Our collective pick was the tree cushion on the second shelf although I do love those cheeky little foxes!
The cushions cost $29. Quirkie Su doesn't have an online store but you can visit their Facebook page to keep up to date.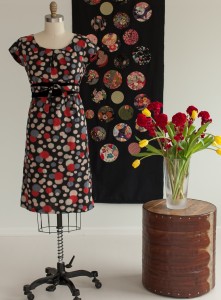 Handmade in Melbourne, Michele Taylor makes beautiful dresses and skirts using gorgeous fabrics and flattering designs. I bought two of her designs in January and love them. They are well made and one of a kinds.
You can also find Harper & Edie at various markets around Melbourne including the Skirt & Shirt market at the Abbotsford Convent.
6. Skimming Stones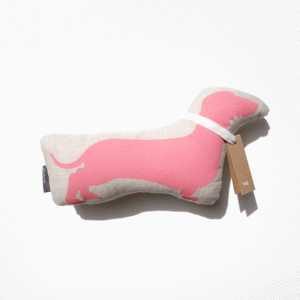 I really liked the simple, clean lines of the Skimming Stones range of screen printed tea towels, cushions, cards, prints and bunting. They are made in Melbourne using natural handmade materials. This pink daschund cushion is $45.
The Red Hill Market is held on the first Saturday of every month from September until May. The next market dates are Saturday 5th October, 2nd November and 7th December, so put those dates in the diary and I might see you there.
What is your favourite market or favourite stall holder?