It's no secret around here that I love a spot of summer entertaining, especially over January.
With no swimming lessons, sport and fewer birthday parties, it's been nice to have our whole weekends to ourselves for a change.
It's actually kind of fabulous.
It also creates some space and the opportunity to have friends over.
And as I've said before, I do love having friends over for breakfast in summer.
This year, I decided to make it a fraction later and do brunch. Our youngest is a bit more flexible these days and happy to go down for his sleep later (he can make it til 2pm give or take) which gives us a bigger window.
A later start also means we have a bit more time to get sorted in the morning.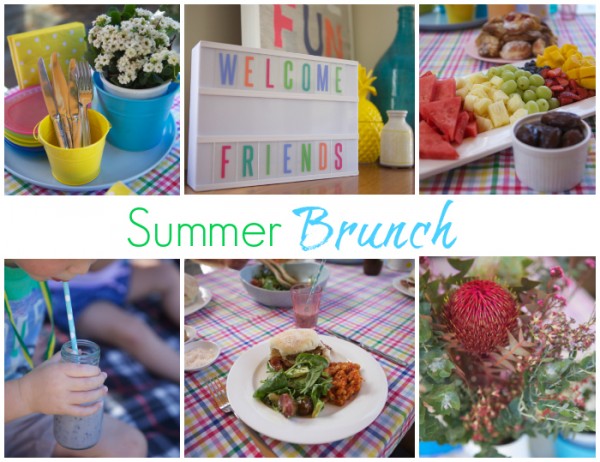 The Australia Day long weekend was the obvious opportunity, so on Saturday morning, our fab friends came over and we spent a lovely time catching up while our six children got along like a house on fire – a paper plane competition, a game of AFL and a dance off being among their many and varied activities.
I even managed to stay calm when my blender went on the blink with ingredients for ten drinks in it (my food processor blew up last month – another sign it might be Thermo time). I improvised and got out my hand held mixer and we were all good. It was a good reminder that entertaining is not about perfection, it's about hospitality. And seeing how your hostess deals with untimely appliance malfunctions!
So what was on the menu?
Banana & Blueberry smoothies
Bacon + Egg Rolls with Smokey BBQ Sauce
Salad of Avocado + Rocket + Mixed Gourmet Cherry Tomatoes + Chives drizzled with Garlic Aioli
 Store Bought Pastries (Nutella Donuts, Almond Croissants and Fruit Danishes)
Fruit Platter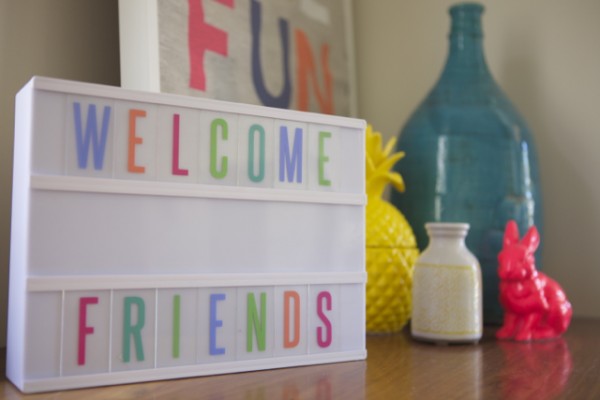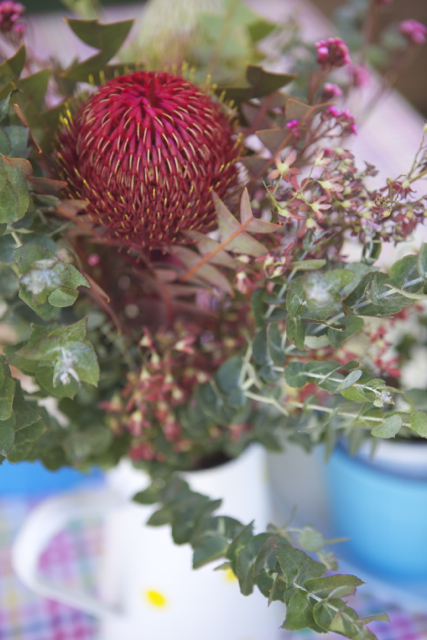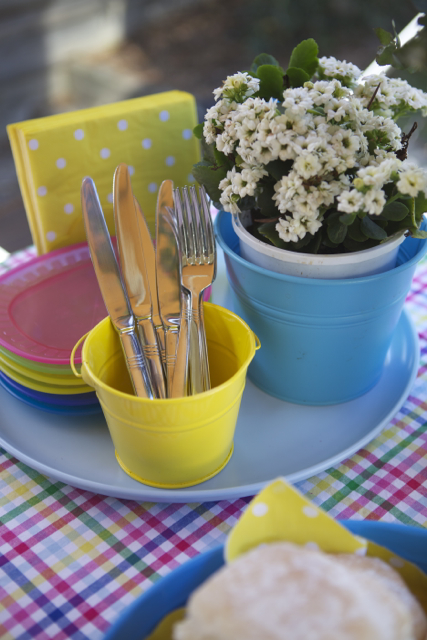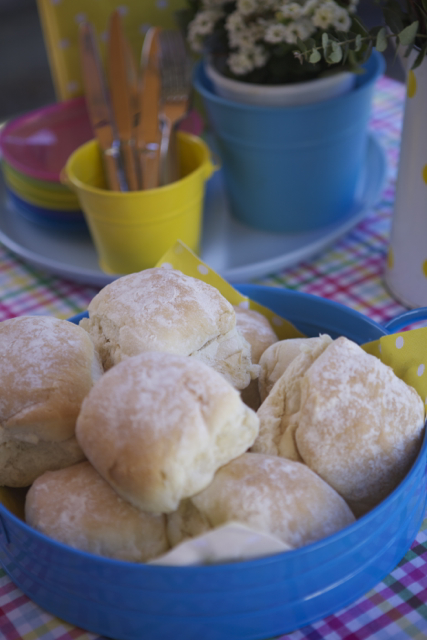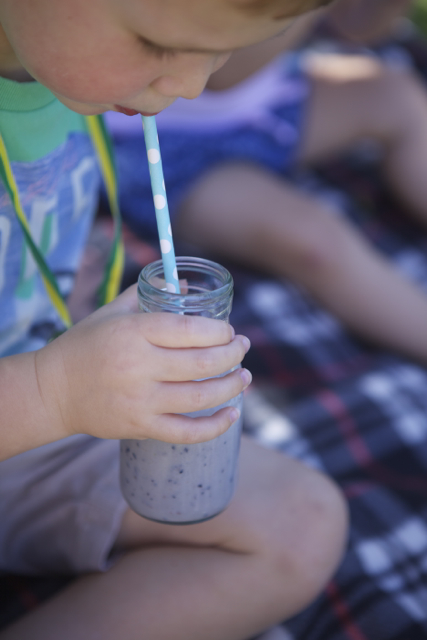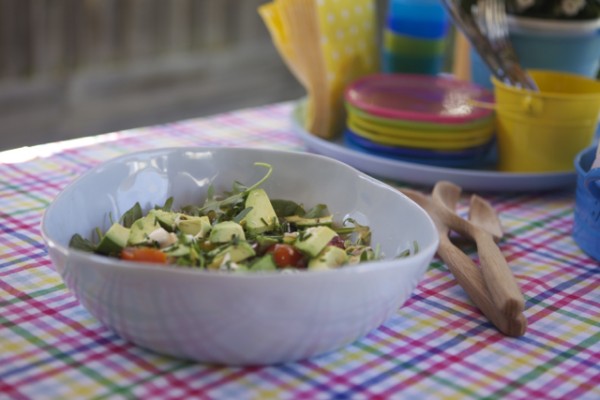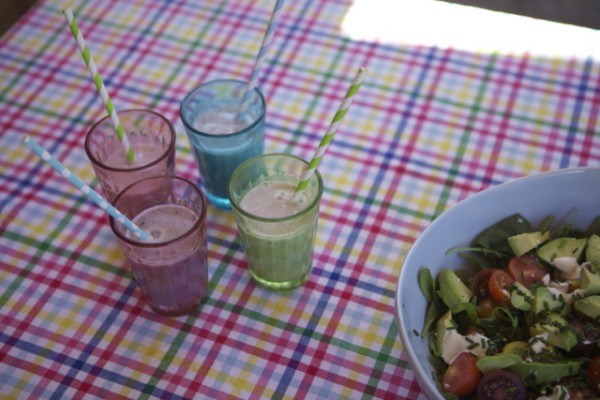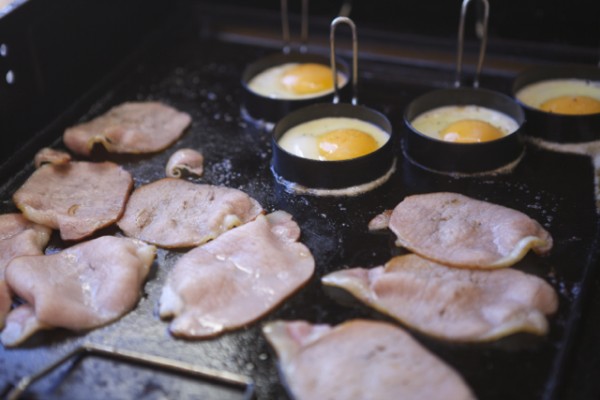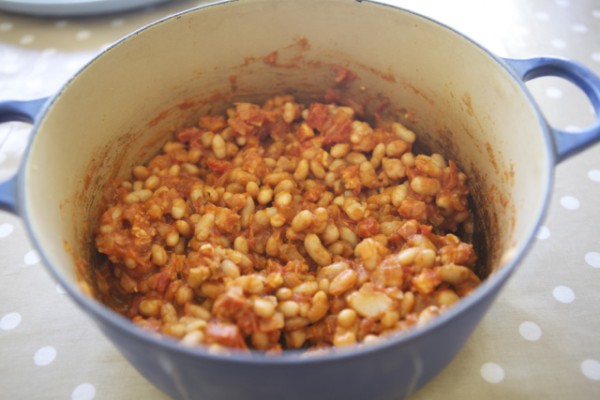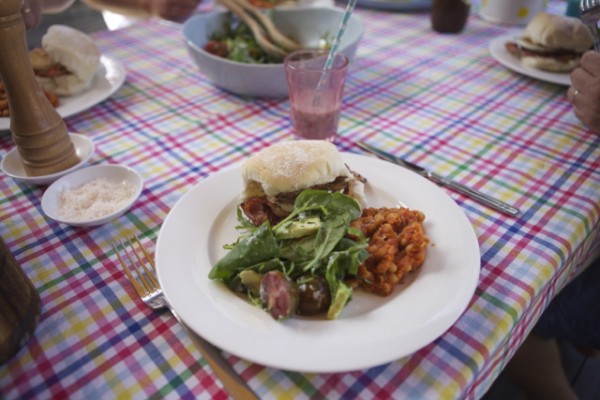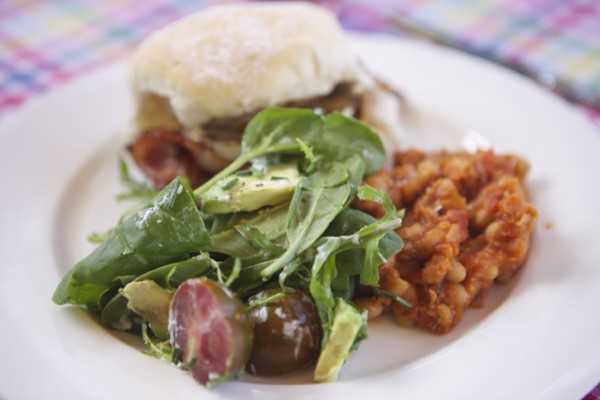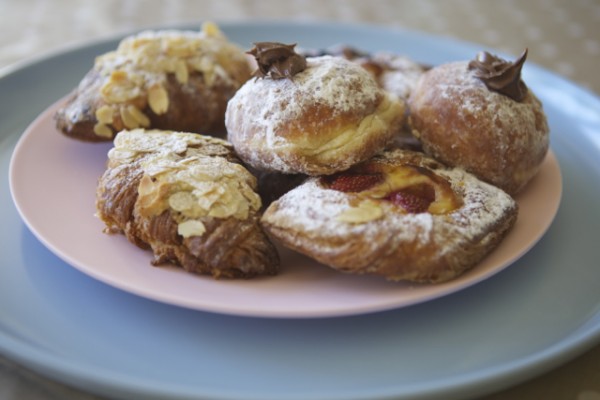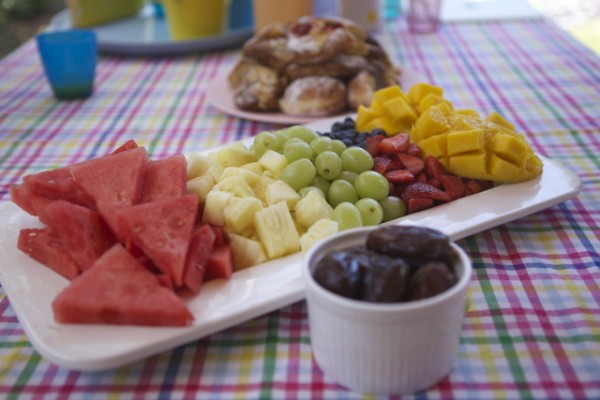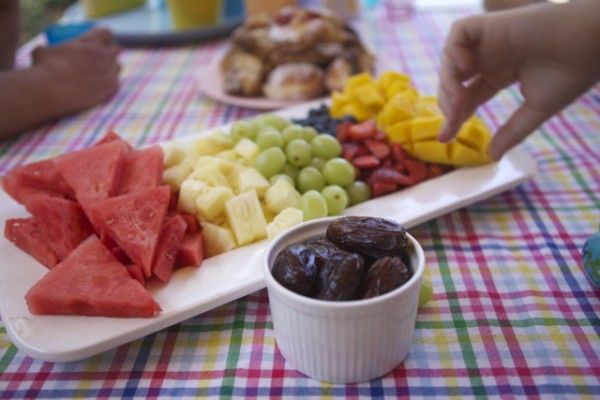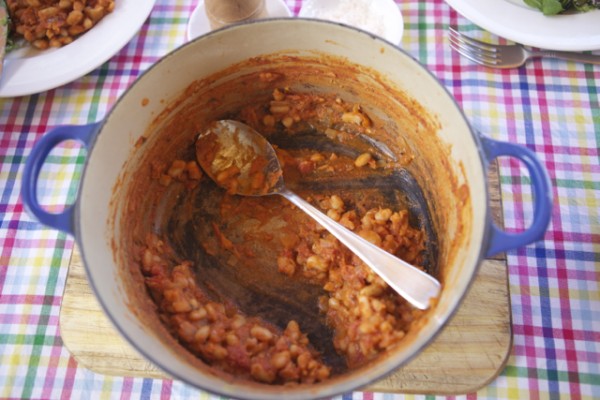 Styling Notes: tablecloth, plant holder, napkin holder, kids' plates and cups from IKEA; Le Creusset dutch oven from David Jones; duck egg blue salad bowl from Freedom; salad servers from Country Road; coloured glasses from and napkins from Cath Kidston; yellow tin bucket from The Party Parlour; pink plate (for pastries) from Country Road; round blue tray from Jamie Oliver at Target; cornflower drinks tray with rolls in it from The General Trader; kid's milk bottles  from Kmart.
In terms of the menu, I kept things pretty simple.
I made Bill Granger's Baked Beans the night before and reheated them on the morning. This is such a simple but tasty recipe. I cooked mine on the stove top instead of baking them.
I made a quick dash to the bakery in the morning to pick up some delicious pastries as my plans to bake were thwarted the day before when I discovered our oven is no longer working following our recent power outage. If the oven was working, I'd planned to make pineapple and coconut muffins.
I threw the salad together just before the guests arrived, inspired by this Breakfast BLT salad, minus the bacon.
Mr SnS barbequed the bacon and eggs and we all put together the rolls for the kids and adults. Bap rolls and only bap rolls would do of course. Tomato or smokey BBQ sauce finished the job.
The kids ate on a rug on the grass eating their rolls and then went off to play. When they eventually returned, we divvied up the pastries and shared the delicious fruit platter put together by my friend Ing (the side of dates was a stroke of genius). Orange juice, tea and coffee followed. It was all a bit civilised but pretty simple and tasty. Overall, a great way to spend the morning.
Are you a fan of the weekend brunch? What do you like to cook or even better, eat?