I totally loved my fab friend and blogging pal Colour Me Anna's #jansaladaday challenge over January.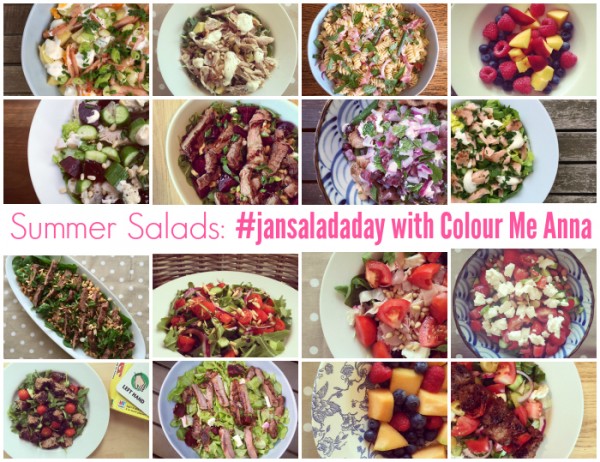 Like a lot of other folks, I always make an effort to increase my salad consumption over January, harnessed by the strong winds of my new year's resolutions.
Been there?
However, this January, I surprised myself.
Some days I had one if not two salads a day.
I know.
I'm no dietician but I reckon it's been good for me and also balanced out my increased ice-cream, fish and chip and Pinot Grigio consumption.
By consistently preparing and eating salads over the holidays, when I had some time up my sleeve (relatively speaking), I hope I've cultivated a habit and developed a repertoire of recipe ideas that will keep me going now I've returned to my "real life" aka the school routine.
Some salads have been inspired by recipes I've collected over the years while others have literally been the sum of the contents of my fridge, particularly during our week's holiday on the coast.
Others have been simple combinations of seasonal fruit for a light afternoon tea.
I've had a few requests to compile my recipes so here they are. As you'll see, I've linked to recipes when I've used one. Otherwise, I've just combined the ingredients listed.
Have you been on board the salad train this summer?
Salads for Dinner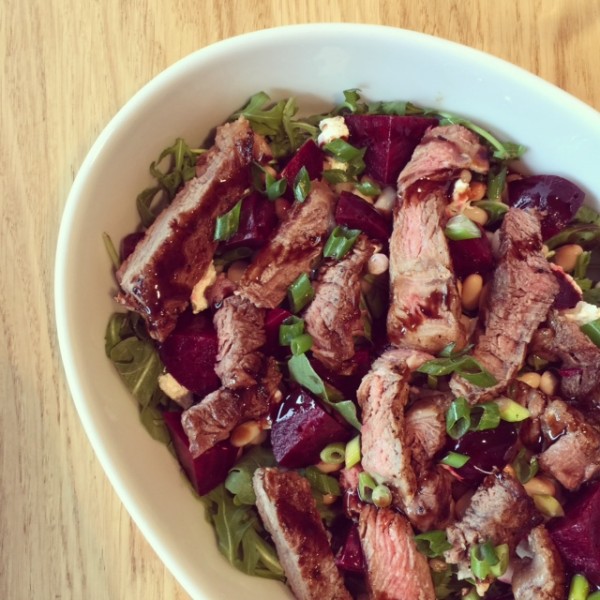 Above & Below: Barbeque steak salad with beetroot and lentils (recipe here) made above with cannellini beans and rocket; below with lentils and butter lettuce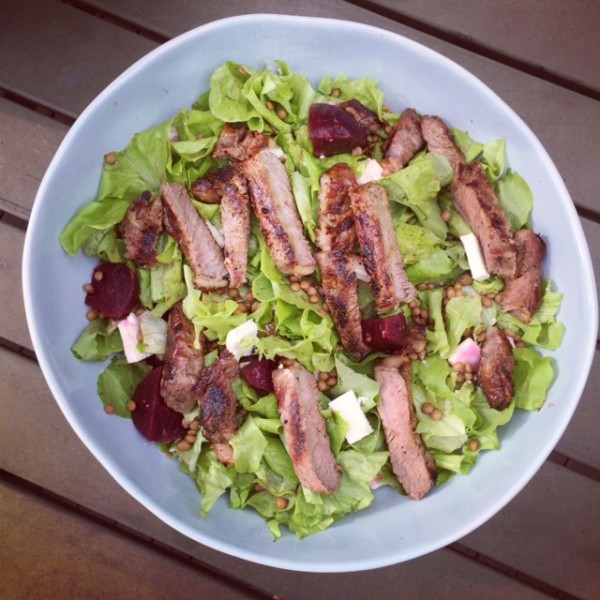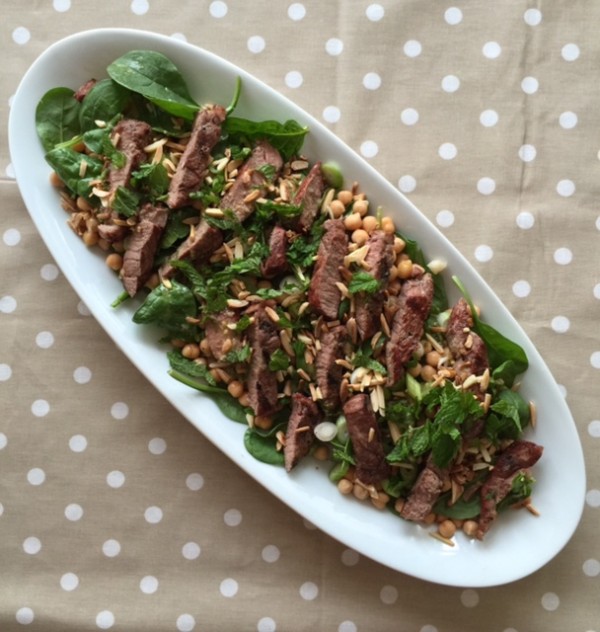 Above: Lamb, spinach and ginger salad, recipe here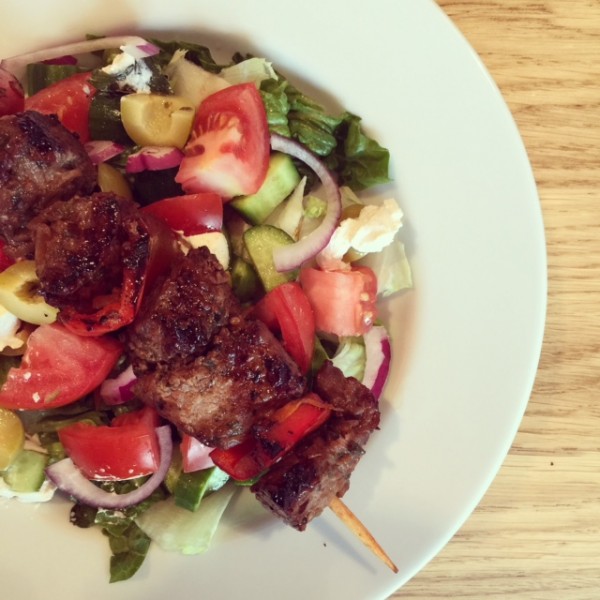 Above: My Greek salad: cos lettuce + split green olives + red onion + tomatoes+ qukes + feta topped with a BBQ-ed Greek style shashlick.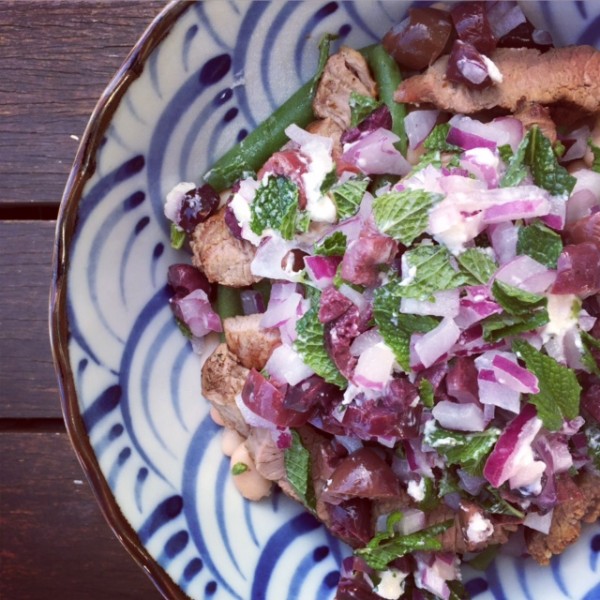 Above: Minted lamb and beans. The recipe is below and from an old Notebook Magazine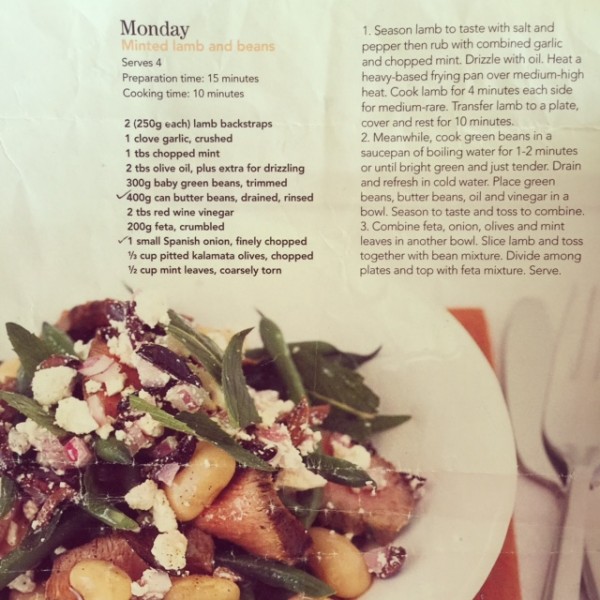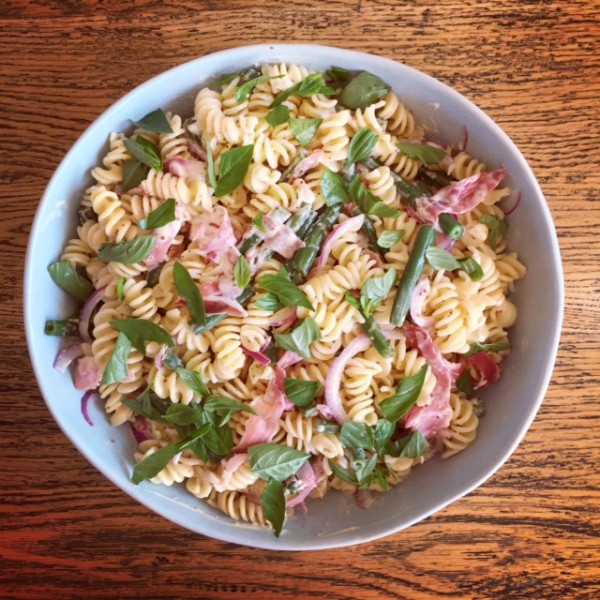 Above: Summer Italian Pasta Salad, recipe here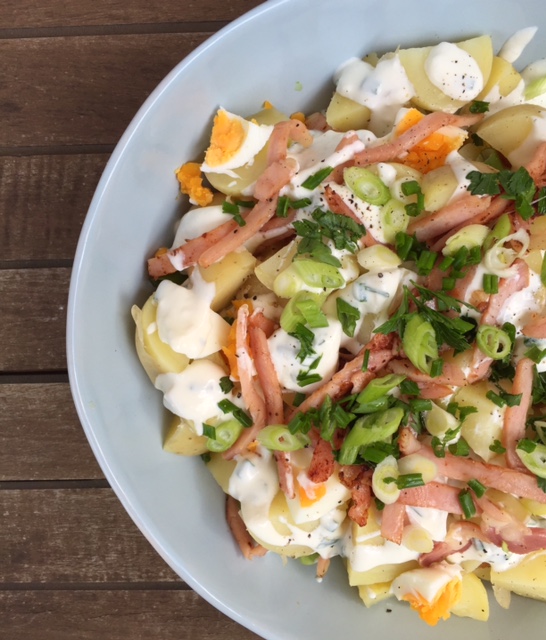 Above: Potato salad with bacon + egg, recipe here
Lunch Salads
I don't usually follow a recipe for my every day lunch salads. The ingredients I use are generally in the fridge, pantry or fruit bowl, easy to prepare and only require five minutes of prep to put together.
They often include mini veggies too – qukes and mini Roma or cherry tomatoes in particular – which I find endlessly versatile. I include them in the kids' lunch boxes, in their after school snack and I often eat a few as I cook dinner too.
I've also been buying loads of roast chooks this summer too and the small amount of left overs are perfect for a salad for one the following day.
In my lunch salads, I try to include:
– a protein (ham, chicken, smoked salmon or trout, leftover meat, chickpeas, cannellini, 4 bean mix or some other beans);
– something leafy (spinach, rocket, cos or butter lettuce);
– fresh veggies (any variety of tomato, beetroot, qukes, spring or red onion) and/or avocado;
– nuts of some description, toasted if possible as it adds a delicious crunch (pine nuts, slivered almonds, hazelnuts and so on);
– fetta or feta (depending on it's origin apparently) or Meredith goat's cheese but parmesan, bocconcini and soft cheese would work too;
– fresh herbs such as chives, coriander, basil, mint or dill.
For me, it's the inclusion of cheese, herbs and nuts that transform my salad from what I should eat into what I want to eat. I sometimes dress my salad, although I find when I use feta or goat's cheese, I often don't need one.
When I do dress my salad, I use balsamic glaze or a few dollops of my fave new free range garlic aioli (I love the brand Zoosh which is available at my local Safeway and Coles online). I also always keep a bottle of caramelised onion jam in the fridge which I love with snags, cold leftovers and even in toasted sangas.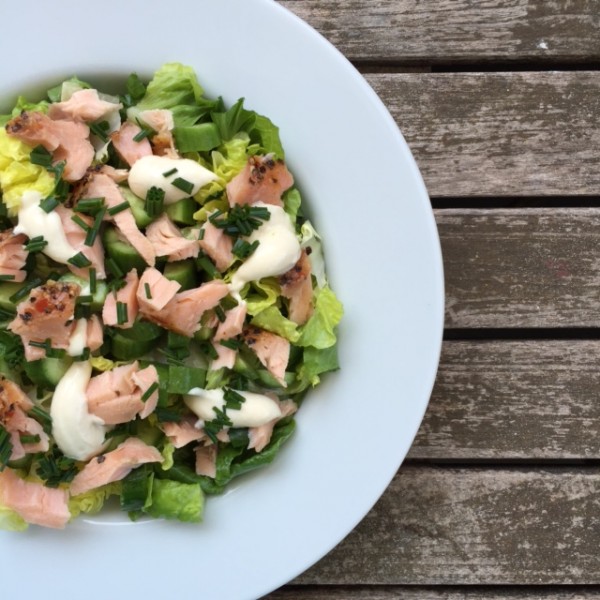 Hot Smoked Salmon Salad: hot smoked salmon + cos lettuce + cucumber + chives and a few dollops of garlic aioli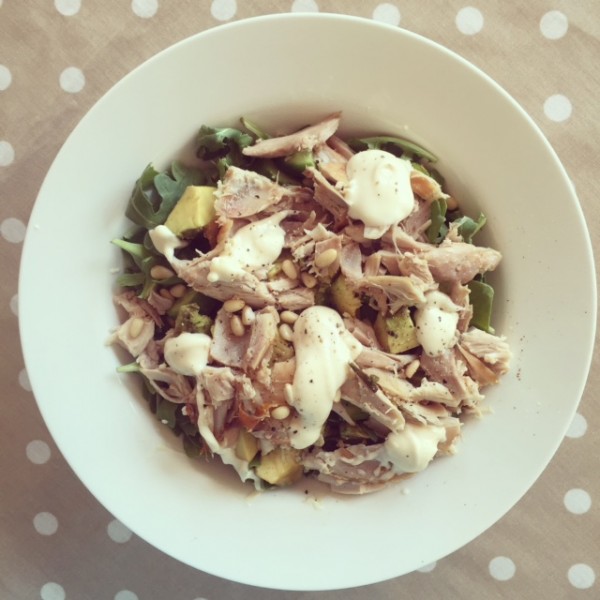 Roast Chook Salad: leftover roast chook + rocket + avocado + cucumber + toasted pine nuts + chives topped with garlic aioli and plenty of pepper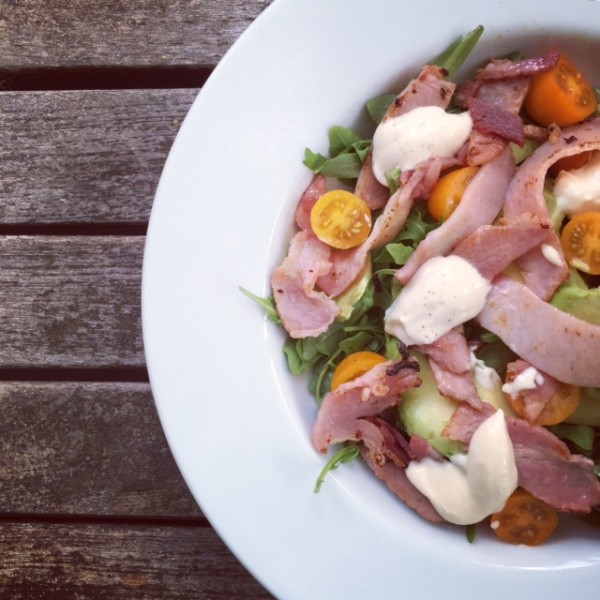 BLAT Salad: Rocket + avocado + gold perino tomatoes + fried bacon with a dollop or three of garlic aioli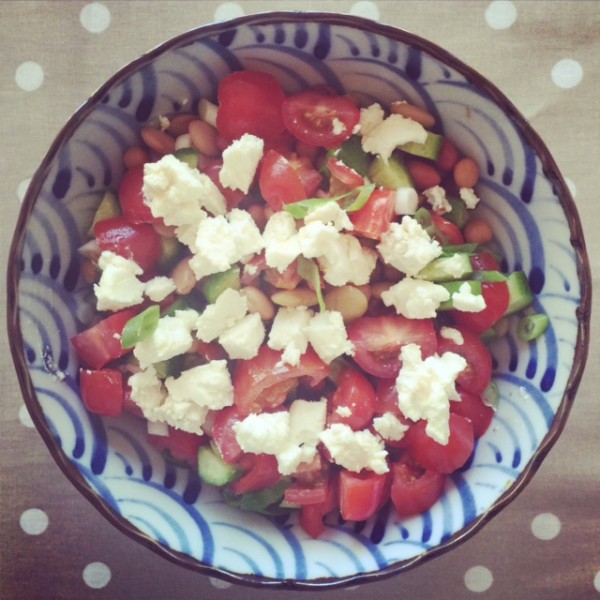 Bean Salad: Four bean mix + mini Roma tomatoes + qukes + spring onion + Meredith goats cheese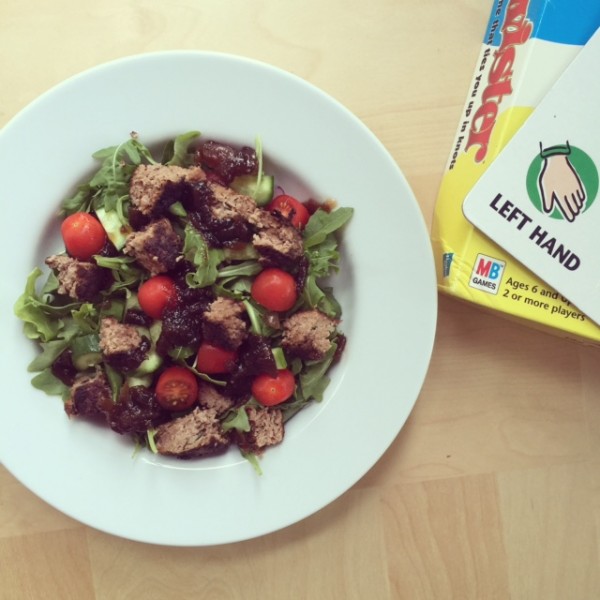 Leftover Salad: left over lamb burger patty +  rocket + qukes + mini Roma tomatoes topped with caramelised onion relish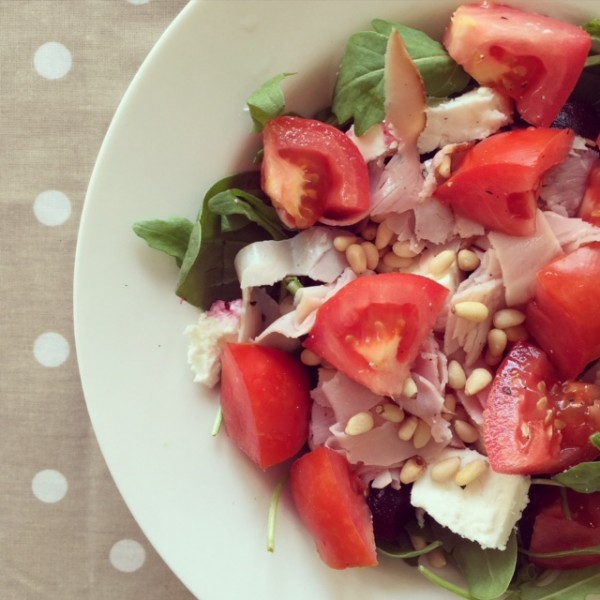 What's in the Fridge Salad: torn ham + rocket + baby spinach leaves + tomato + beetroot + Greek feta + toasted pine nuts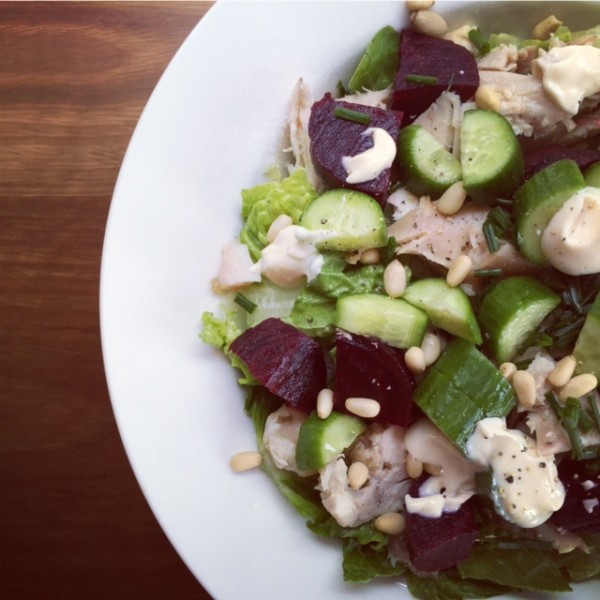 Another Roast Chook Salad: left over roast chook + qukes + baby beetroot + toasted pine nuts + chives + a dollop of three of garlic aioli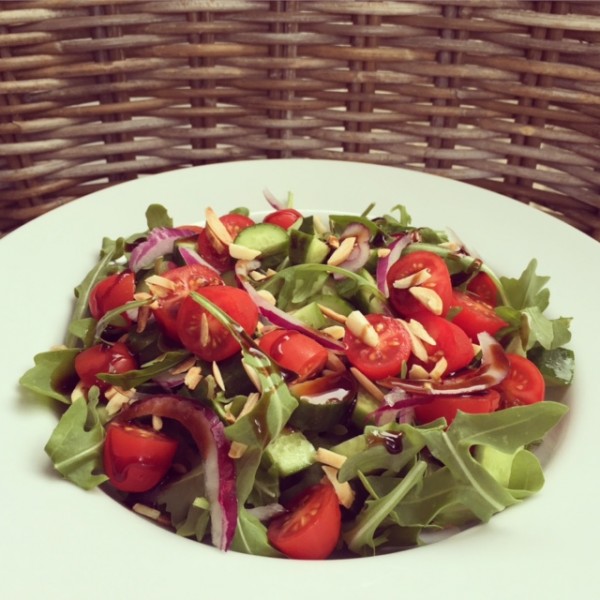 Basic Salad to accompany BBQ-ed meat: rocket + qukes + mini Roma tomatoes + red onion + toasted slivered almonds with a drizzle of balsamic glaze
 Snack/Dessert Salad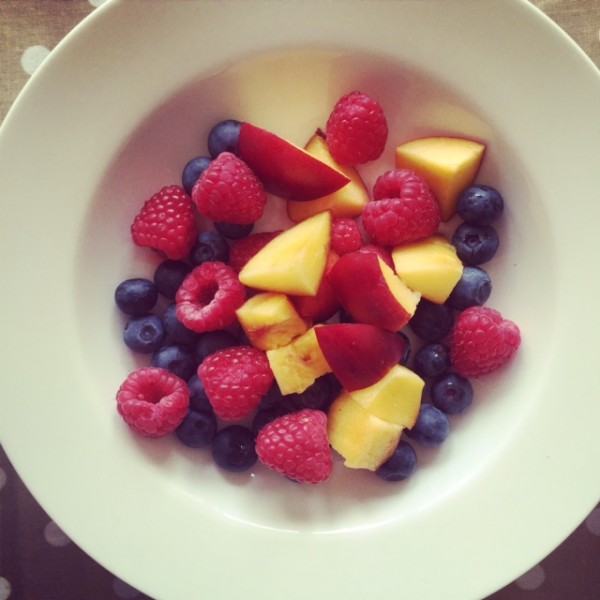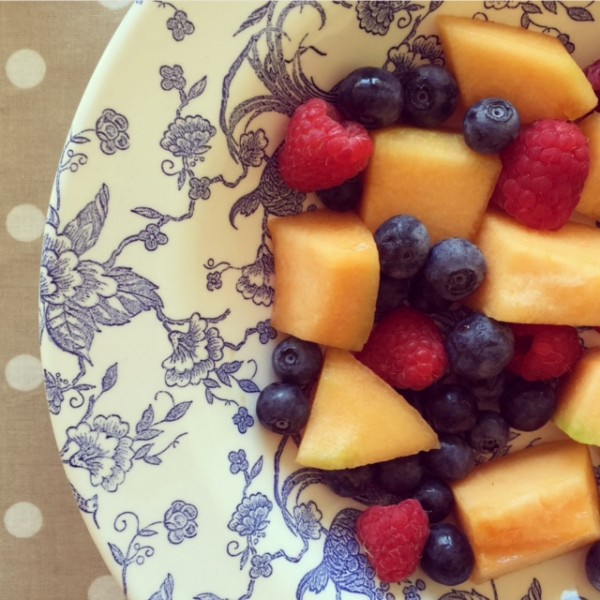 I've also had some great salads out and above which have inspired me such as this amazeballs Israeli cous cous, chicken, cranberry and radish salad from A Mini Kitchen in Rye, below.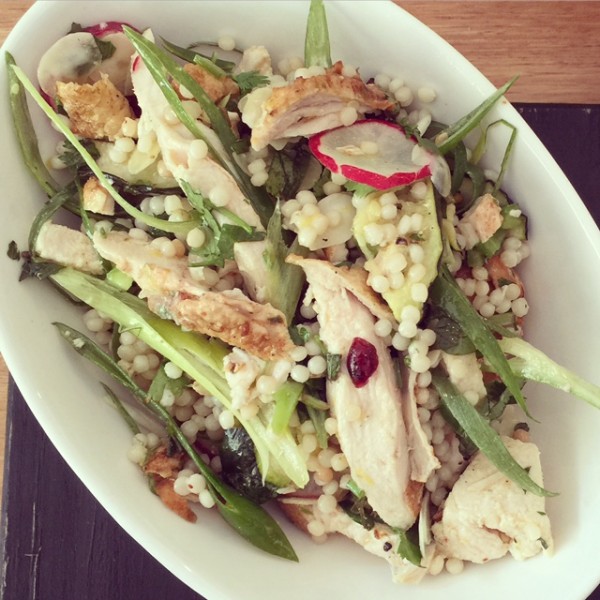 You'll also find recipes for a delicious nectarine + almond salad, Cypriot grain salad and mixed pea, bacon and pine nut salad in this post and a breakfast BLT salad in this post.
For more salad inspo, check out the incredible and delicious salads Colour Me Anna has made and compiled. There are also hundreds of contributions on Instagram which you can find by searching the #jansaladaday hashtag. You can also find great recipes over at taste.com (where I've found many of the above), in Delicious and Donna Hay magazines.
What are your fave salad ingredients? What's been your salad of the season? What of the above would you like to try or add to your repertoire?