As regular readers of this blog will know, we moved into our new home in December, which was exciting and a long time coming.
And, with the silly slash festive season already underway, we knew we'd be spending the Summer having friends and family over.
After twelve months of minimal entertaining – thanks to building, selling and moving twice – it was a huge relief and pleasure to be able to relax and enjoy our new home and welcome our family and friends in to see our new digs.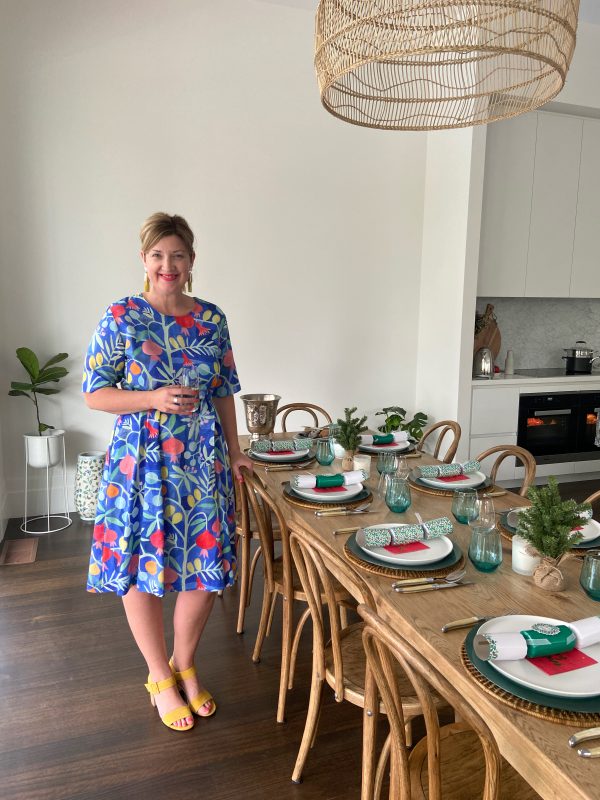 We kicked off the Summer by hosting a spontaneous gathering of 40 or so on my birthday, two family Christmas dinners and then enjoyed lots of smaller catch ups post Christmas. Sometimes we just had a friend dropping in for a drink, a family over for a BBQ through to lunches for twenty, made up of both adults and kids.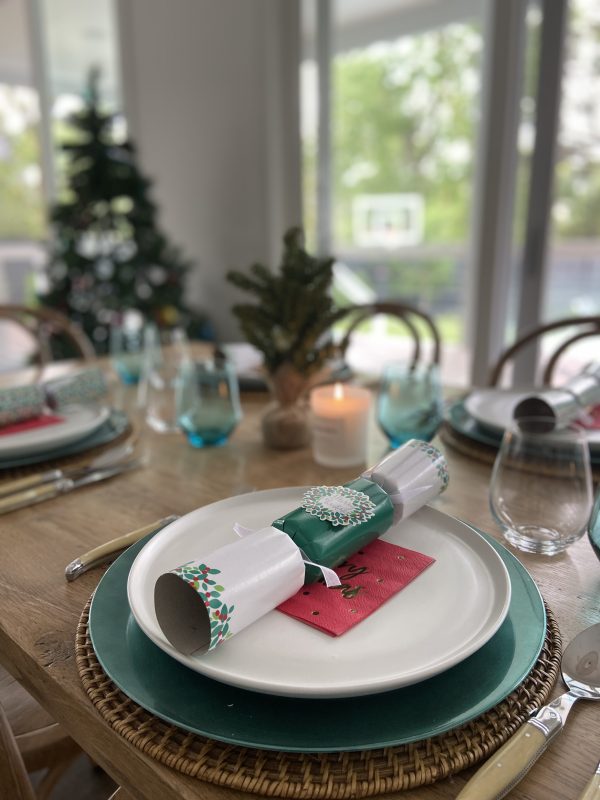 As a result, I've tried a bunch of new recipes as well as trotted out some old favourites, and in today's post you'll find my round up of what I've been serving up this Summer.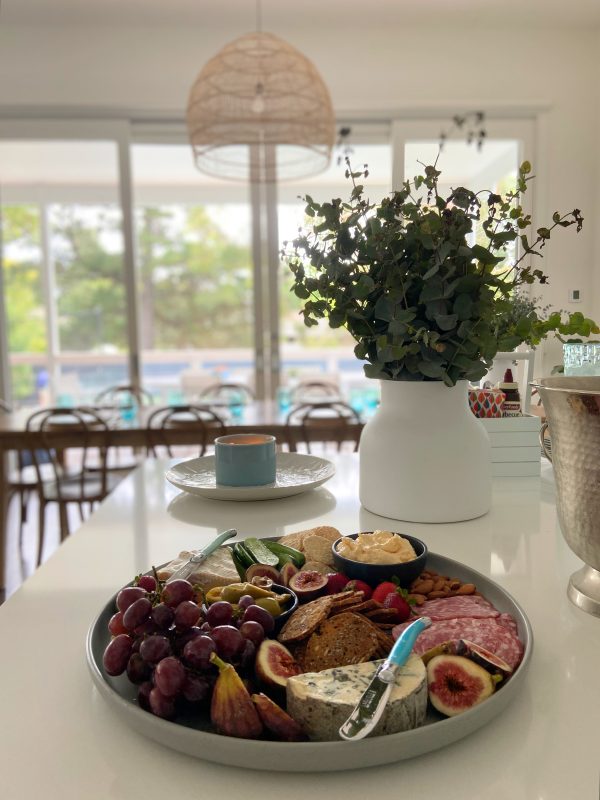 Nibbles
I'm a fan of a platter and like to keep a stash of bits and pieces in the fridge and pantry so I can throw one together at a moment's notice. Whether it's a girlfriend popping in for a late arvo G&T or a couple of families coming for a BBQ, I like to think I have my platter bases covered every time.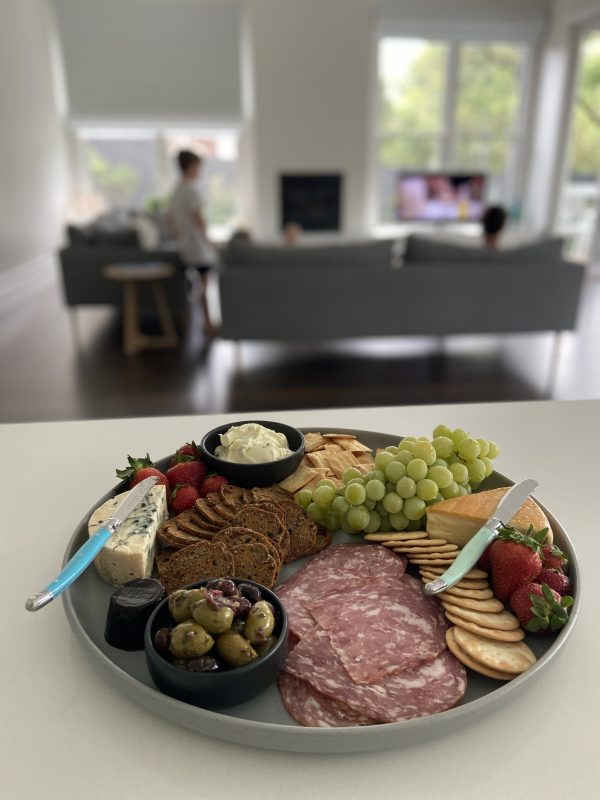 As you might expect, I do modify the elements and number of offerings according to the number and dietary requirements of my guests. I would, however, usually include the following as a starting point:
Seasonal fruit – over summer this has usually involved red or green grapes and berries but more recently I've used figs. Pears are another seasonal option for Autumn and beyond;
Small goods – my favourite of late has been a salami with fennel which I found at my local Woollies. It's delicious and I am obsessed with all things fennel as you might notice as you read on! Plain salami, cabana or mortadella are other faves of mine.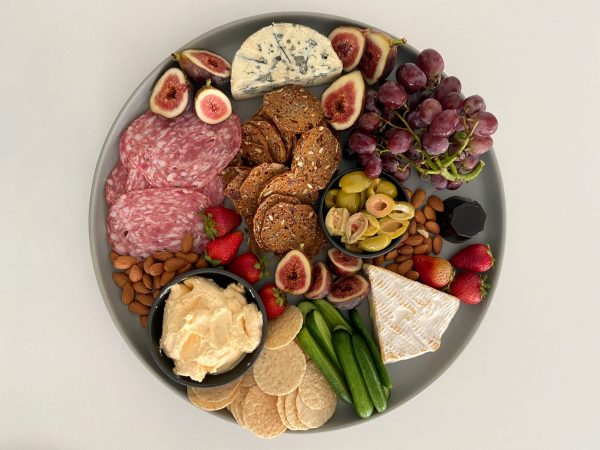 Cheese – I've cut down a bit on the cheese component for my platters in high Summer, as it doesn't fare well in the heat. For four or us, I've been only using one block, but for groups of 6 or more, I've used two or three varieties, again, depending on the heat and where we're sitting (inside in air con or outside). D'Affinois is my favourite but I'm also a fan of all the Castellos (blue, white, truffle and black) along with washed rind cheeses (we recently discovered the deliciousness of Gippsland Cheese), as well as a cheddar or edam. Aldi do a great range of budget friendly versions of these styles too. Marinated fetta or goats cheese are good options too.
Cherry, quince or pear paste – I love a hit of sweet tartness with my cheese and crackers.
Olives – I love olives and use a variety of olives on my platters from simple kalamatas, mixed olives, split green olives with chilli through to buttery Sicilian olives. Remember to have a small dish for pips handy if you serve unpitted varieties.
Crackers – I usually use at least two types of crackers – some for cheese (I like the fig/cranberry/date/apricot etc varieties) as well as a gluten free option such as rice crackers for dip. I also like lavosh crackers and sea salt varieties.
Dip – I'm only using one dip these days as again, they tend not to do well in the heat and I find people prefer other elements more.
Qukes and/or cherry tomatoes– I love to add some veggies to my platters as they're a healthy alternative, they add a nice pop of green or red and all my friends with allergies can eat them. The kids love them too.
Nuts/dates/apricots – I usually add a couple of handfuls of raw almonds or cashews if none of my guests have a nut allergy. Fresh or dried dates or other dried fruit are an alternative to nuts.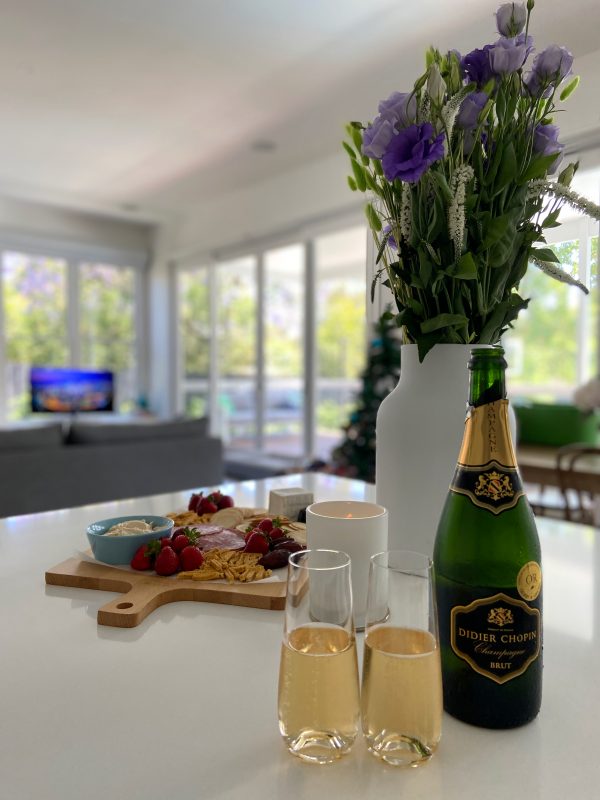 Salads
I've been right into salads this Summer, mostly thanks to Hetty McKinnon's awesome recipe book Community which I've had for a while but haven't had the time to really look at. It is a fantastic resource if you want to mix up your salad game and find some new faves. (As well as those mentioned below, there is a mixed mushroom with farro, feta and almonds salad (on p.105) I'm dying to try – I just need to find some mushroom loving friends. Please let me know if that is you!)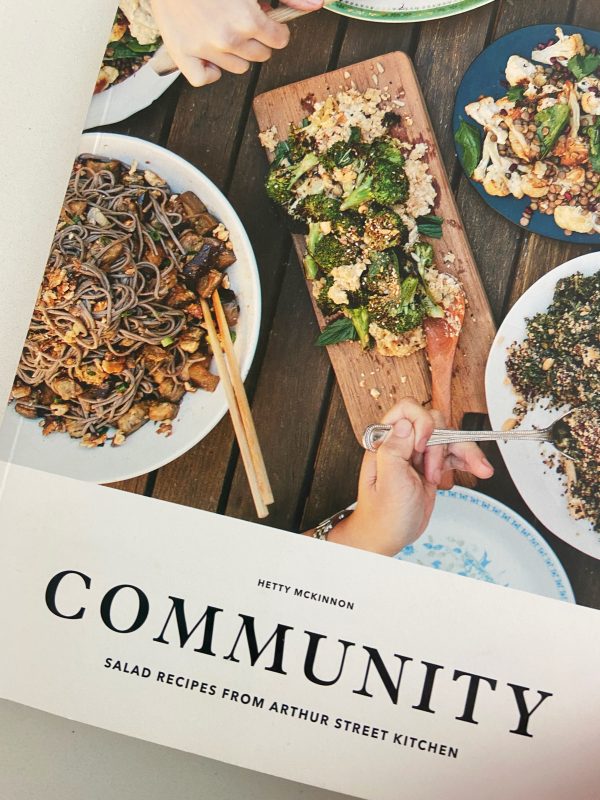 Below are my five favourite salads for summer entertaining. I've been making the first couple on high rotation lately but I've also included some of my longer term faves as well.
1. Panzanella Salad with Heirloom Tomatoes by Hetty McKinnon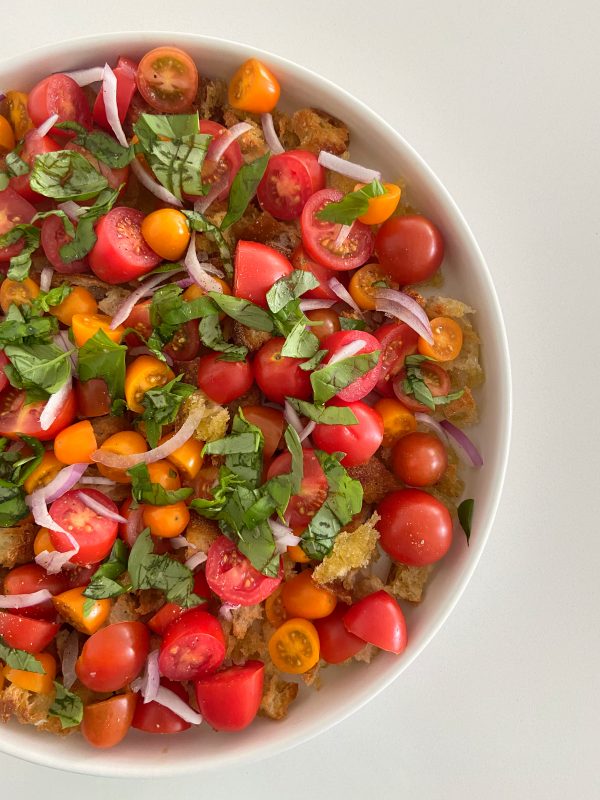 I am completely obsessed with this recipe and have made it at least six times this Summer. It's simple and understated but the flavours are second to none. You can check out the recipe here.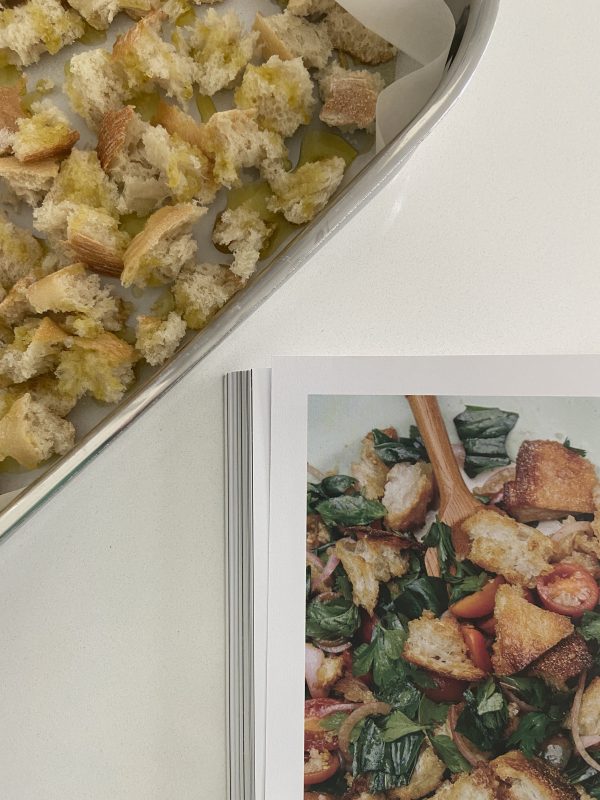 After making it a few times, I've modified this recipe. Lately I've been using garlic infused olive oil when baking the bread (but olive oil is perfectly fine) and I am now omitting the parsley and parmesan because I love the simplicity of the remaining ingredients together. I don't actually think they need anything else.
For the bread, I use a ciabatta or a sourdough loaf that's a day or two old. I think any crusty bread would do.
I also use Balsamic Glaze for the dressing which is sweet, sticky and delicious.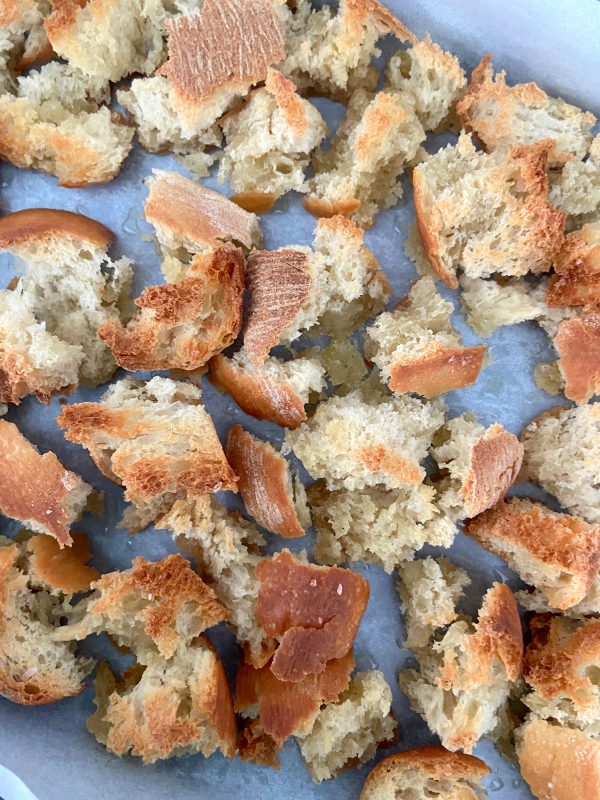 In terms of the tomatoes, I either use two packets of mixed heirloom tomatoes from the supermarket, or a few different varieties (baby cherry, roma, kumatos and orange romas) and mix them together. I also make sure they sit out of the fridge for a good couple of hours or so before I begin prepping as tomatoes are much more flavoursome at room temperature.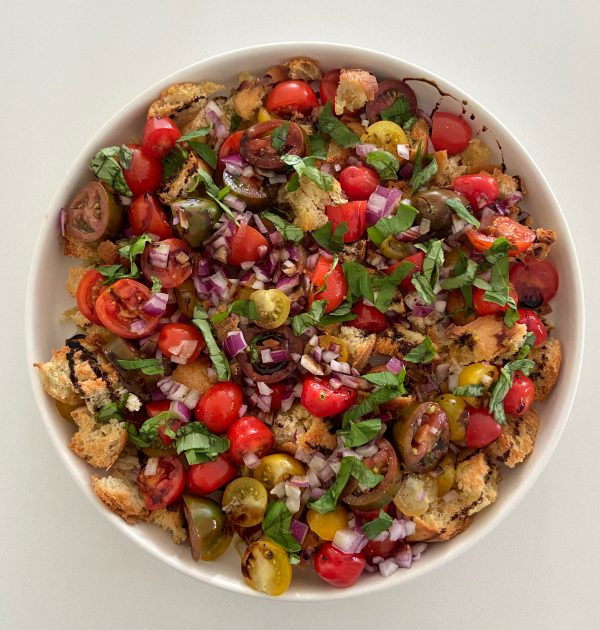 Find more Hetty McKinnon recipes, head here.
2. Roasted Cauliflower & Fennel Salad
I initially made this salad as a veggie side for both Christmas dinners held out our place last year but have made it many times since, even just for me for dinner (with leftovers of course!). The flavours are fresh and surprising, thanks to the chilli, fennel seeds and maple syrup which add sweetness, spice and depth of flavour.
I also love this salad because it's pretty easy to make because after you've roasted the cauli, shallots and fennel, all you need to do is add cooked peas (I microwave mine if I'm short on time), a few dobs of goats cheese and a splash of sherry vinegar before serving. I usually roast the veggies and cook the peas before the guests arrive and add the goats cheese and a splash of vinegar just before I serve up.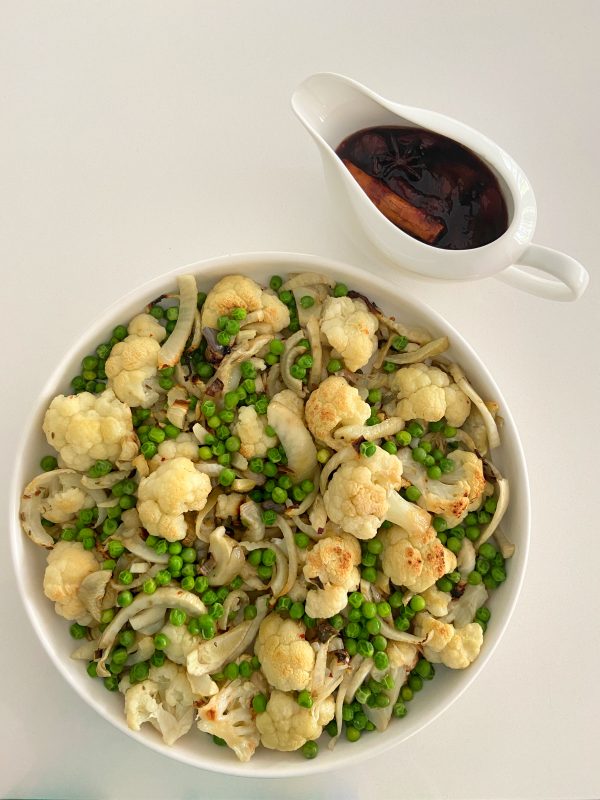 By the way, that sauce in the photo above is Donna Hay's spiced plum sauce which I make every Christmas to serve with roast pork – it's absolutely YUM.
I've reproduced the recipe here as I can't find a link to it. It's from an old issue of Inside Out magazine.
Roasted Cauliflower & Fennel Salad
Serves 6-8 and takes 10 minutes to prep and 30 minutes to cook.
1 small cauliflower, cut into large florets
2 baby fennel bulbs, sliced, fronds reserved
4 small French shallots, sliced
80ml (1/3 cup) of olive oil
2 tbsp maple syrup
1/2 tsp of fennel seeds
1/4 tsp of chilli flakes
1 cup of cooked peas
100g (1/2 cup) marinated goat's cheese
Extra virgin olive oil and sherry vinegar to serve
Preheat oven to 180 degrees (fan forced). Line a baking tray with baking paper.
Place the cauliflower, fennel and shallots on prepared tray and spoon over olive oil, maple syrup, seeds and chilli. Toss to combine and roast for 30 minutes or until golden.
Transfer to a serving platter. Top with peas, goat's cheese and reserved fronds. Season and drizzle with olive oil and vinegar.
Enjoy and receive all of the compliments (OK, I added that last step).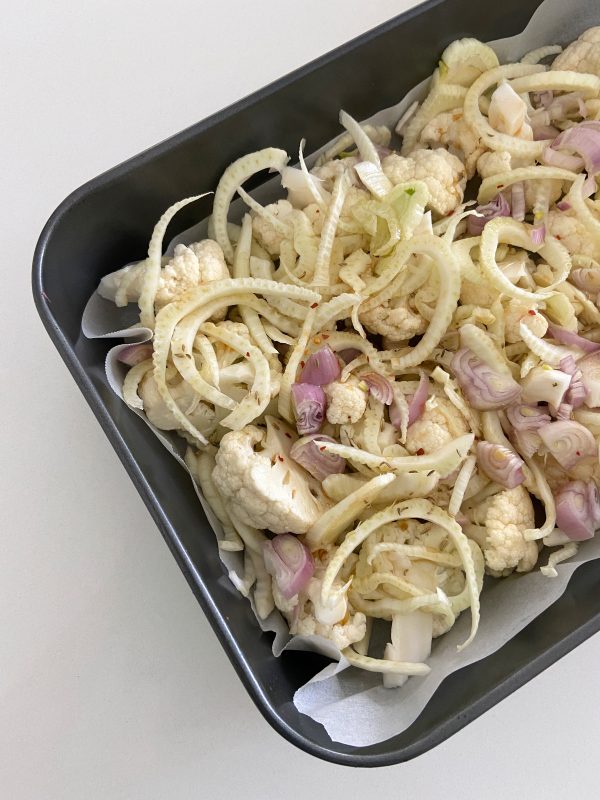 3. Baby Mac's Pea, Mint and Fetta Salad
A girlfriend put me on to this salad only last week, telling me it was her Salad of the Summer, because it was easy to throw together as she usually has the ingredients to hand.
You can find the recipe here on Baby Mac's blog along with a delish pumpkin side.
I modified the recipe somewhat, using only one bag of baby rocket/spinach leaves, 1/4 of a red onion (as we had fructose free guests) and around a half a tub of Persian fetta. I also halved the ingredients for the dressing. While we had 8 adults, we had 4 salads, so if we had fewer salads or more people, the elements could easily be increased to have a greater volume.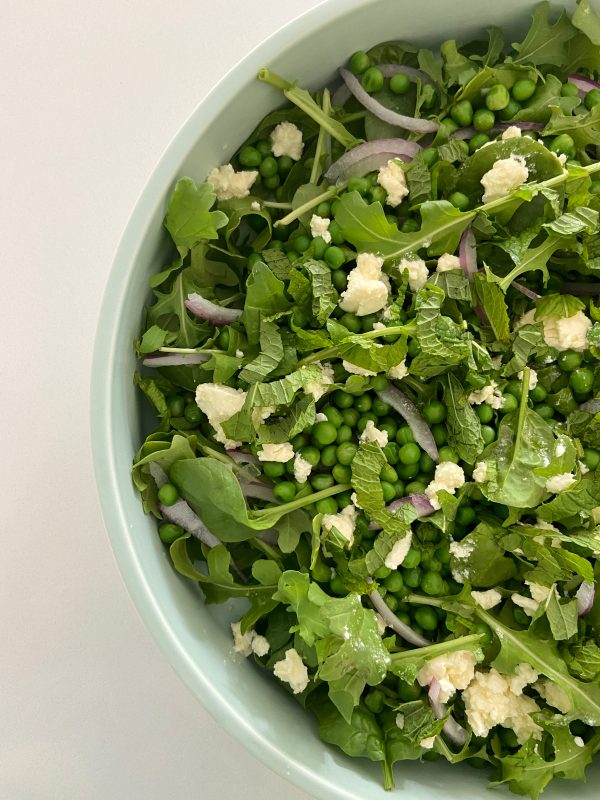 I really loved the freshness and greenery of this salad and the contrasting but complementary flavours of fetta, red onion and peas. As Beth said in her post too, I think you could use this recipe as a base for loads of seasonal variations.
4. Potato Salad Winners
I've been making Matt Wilkinson's Fossie's charred corn and potato salad for a few years now and I absolutely love it because of the smokiness of the charred corn and heat and flavour of the chipotle mayo.
It's especially brilliant paired with BBQ steak, marinated ribs or snags, particularly beef or pork and really anything with a South American bent.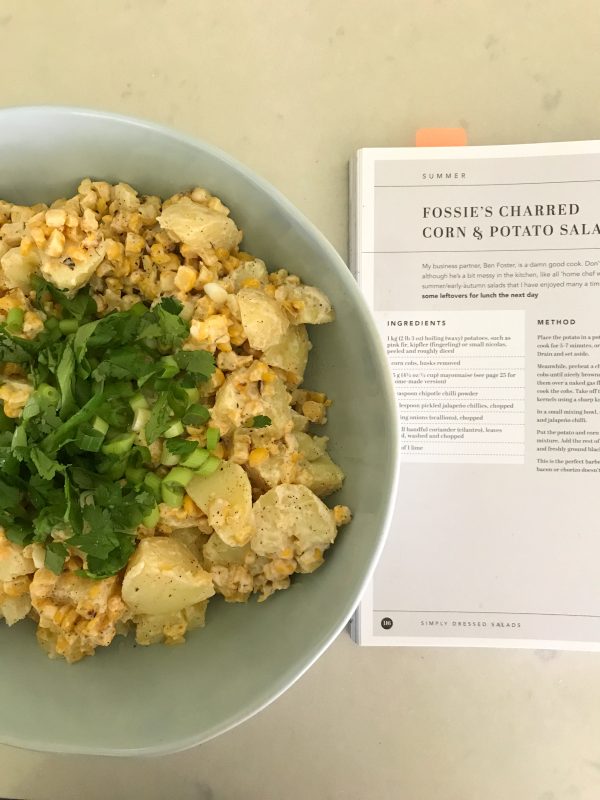 It can also be made the day before (I add the spring onions and coriander just before serving though) and is easily doubled, so it's great for a crowd. I buy my chipotle chilli powder from our local Colonial Fresh (specialty grocer) as I haven't seen it at my local supermarket.
For an excellent low carb alternative, Sam Wood's No Potato Salad is a ripper. It involves roasted cauliflower and steamed broccoli and is a little bit fiddly, but it's absolutely delicious and well worth the effort. It can also be made the day before, is easily doubled and is perfect as a side to roast lamb, cutlets or chops.
5. Slaw Two Ways
I'm not a massive fan of traditional coleslaw as I find it very rich and mayonnaisey (which is probably not a word and also what people like about it!), so I'm always on the look out for lighter, more interesting variations.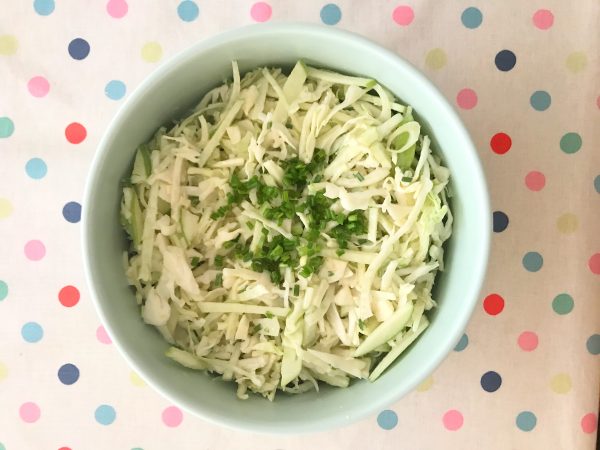 I really like Donna Hay's apple and fennel slaw, pictured above, as it has a tangy, lighter buttermilk dressing. With it's crisp and fresh flavours, it's a great accompaniment to spicy meat (like pulled pork or marinated meat or ribs) or veggie dishes.
I also tried Hetty McKinnon's salad of cabbage and fennel with peas, mint, parmesan and lemon (from her cookbook Community, p.93 – reproduced online here) this Summer which I really liked for it's fresh flavours, although according to our guests, it was a runner up to her Panzanella Salad pictured above.
Meat/Main Course
With our new Weber BBQ, we've been looking for any excuse to BBQ this Summer. When guests come over, it's an easy way to divvy up the prep too, as I finalise the salads and serving situation inside, while Mr SnS cooks the meat to perfection outside.
Lately, because I've been in Salad Land, I've been keeping the meat part of our meal pretty simple, throwing either seasoned porterhouse or scotch fillet steaks on the BBQ for the adults, then providing a bunch of condiments and seasonings on the table (mustard, relishes and onion jam, BBQ and tomato sauces plus salt flakes and freshly ground pepper).
For the kids, I've generally served chicken skewers (honey soy are always popular), snags and homemade burgers or a combination of the above.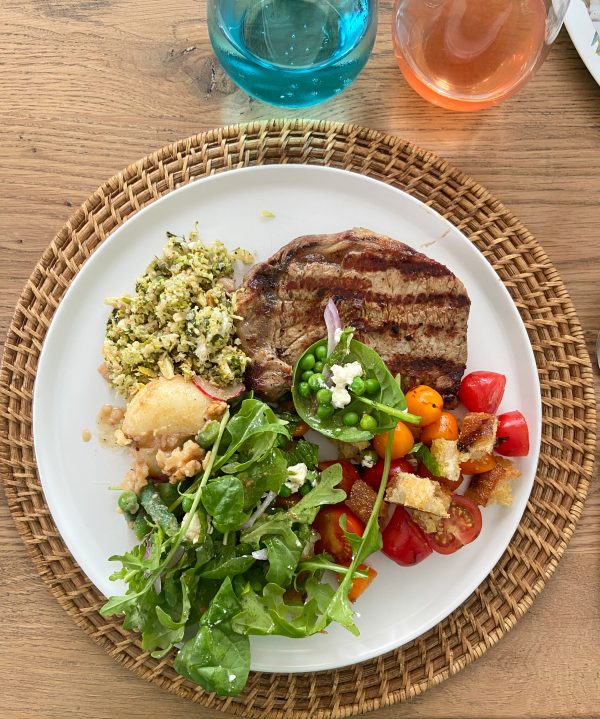 If it's a mild day – and the thought of using the oven doesn't make me break out into a sweat – I find a slow roasted meat can be an easy and budget friendly option too.
My new favourite slow roasted lamb dish is this delicious Donna Hay slow cooked lamb with honey and pistachio dressing. Slow cooked with tangy orange and garlic, and served with the sweet, flavoursome honey and pistachio dressing, this is absolutely delish. I find it serves four adults comfortably with some leftovers (YAY).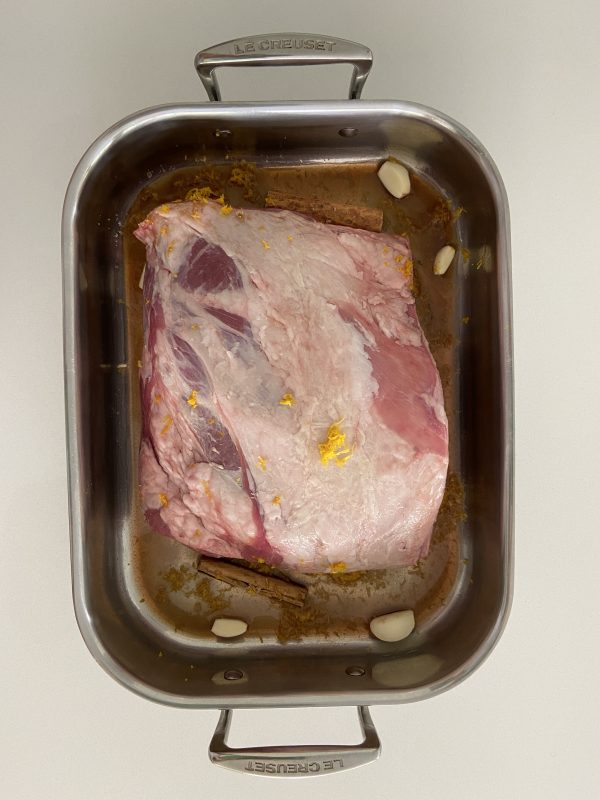 Dessert
I've taken a pretty relaxed approach to dessert these holidays. This is a bit new for me, but I've learned that I can't do everything and I don't want to go nuts every time people come over. I'm also in Savoury Land more these days and would rather eat entrees and main course.
As a result, I've either outsourced dessert to a guest (who has offered to bring something), or used a ready made pav together with a variety of other sweet treats. Friends have picked up delicious treats like a cheesecake or a semi freddo which are things I wouldn't normally make anyway.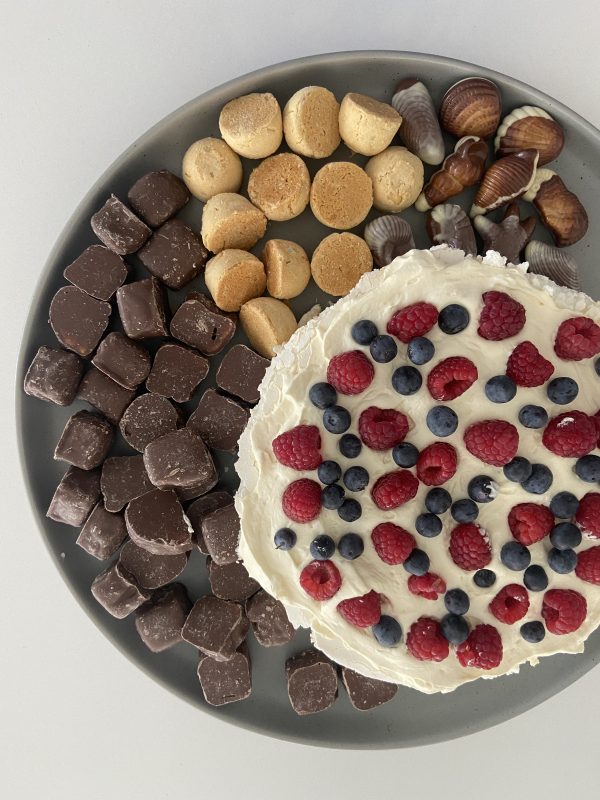 For the kids, I've tended to buy a box of icy poles or ice creams, served alongside a fruit platter. How can you say no to a Frosty Fruit on a scorcher?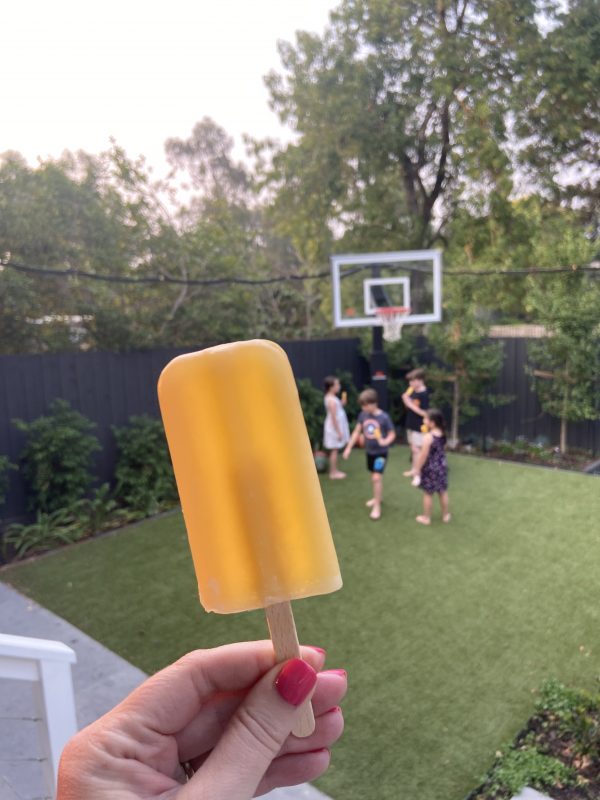 Drinks
In the weeks leading up to and including Christmas, bubbles (a crisp Prosecco, local sparkling or a French champagne) is my go to bev for entertaining.
I did mix things up a bit these holidays by introducing this apple and elderflower fizz (which is a gin based cocktail), as well as my erstwhile fave, Aperol Spritz. (I also went back to Campari and soda as an alternative but found it too bitter).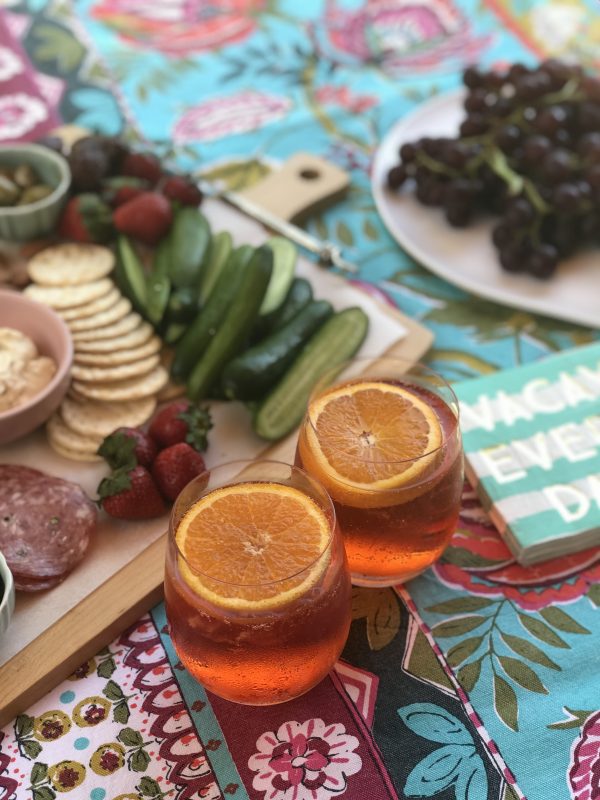 My other beverage of the summer has been an old school G&T.
We tried (and finished!) several bottles of gin over the break, with favourites including:
My preferred tonic is Fever Tree (Mediterranean) which I can now buy in a 700ml bottle (as well as the usual four pack) from our local Coles. I add either a sprig of rosemary or slice of lemon for flavour/garnish.
Looking for more ideas?
You might to check out the following posts:
You can find all my entertaining posts here.
This post contains an affiliate link. You don't pay any extra and I earn a small commission. Read more in my Disclosure Policy here.
So do tell, what have you been cooking over the summer and do you have an awesome salad (or other) recipe you'd like to share?