When it comes to summer entertaining, it's hard to beat a BBQ.
The alfresco factor, fresh salads and fewer dishes are the major draw cards for me.
So NYE was as good an excuse as any to have some friends around and enjoy a chillaxed barbie, some cool tunes and some great food, not to mention fab company. Oh and to use some of the fab home wares I received for my birthday and that I've picked up in the stocktake sales.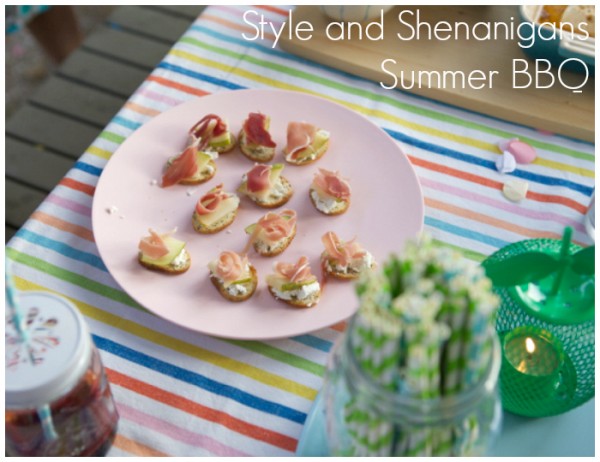 To keep things manageable after the busy-ness of Christmas, I asked the guests to bring a salad each (so there were fewer fiddly dishes that I needed to prepare on the day), did a quick grocery and fish shop and defrosted some bulk Costco meat I'd bought in the lead up to Christmas.
For a nod to NYE, I sprinkled some colourful confetti and placed some party poppers on the table to create some celebratory ambience.
Below is our menu for our party of 6 adults. Several of the dishes I made are old favourites which are easy to make but still pack a punch (the baked fetta and the mixed pea salad). I also made the sorbet a couple of weeks ago which helped as well. The only new recipe I tried was the Sangria. This involved making a sugar syrup which I made well before the guests arrived.
The only things that needed doing once the guests arrived was to make the little pear, prosciutto and goats cheese bagelettes, for which I enlisted the help of my friend Charlotte, and dress the salads which we did just before we sat down to eat.
As for the kids, they all had a quick play and hit the sack by 8pm in various rooms in the house leaving the grown ups to a relaxed catch up.
To Start
Olives, cornichons, eggplant dip, roasted almonds & crackers
Baked fetta (similar recipe here) & Turkish bread
Mini garlic and poppyseed bagelettes with goats cheese, pear & proscuitto (recipe on the side of the Waterthins bagelette box)
Sangria (recipe in Marie Claire's Food + Drink p.68)
Mains
Lamb Cutlets marinated in lemon, olive oil and orgeano
Pork Sausages with mint, lemongrass and coriander (from Costco)
Prawns marinated with garlic, lemon, olive oil, chilli and coriander
Andrea's Potato Salad
Andrea's Nectarine, Cucumber and Almond Salad
Charlotte's Cypriot Grain Salad
Mixed Pea, Bacon & Pine Nut Salad
Dessert
Donna Hay's elderflower and raspberry sorbet
Charlotte's chocolate eclairs
Dessert platter with Redskins, Happy Lab salted caramel popcorn, almond bread, Lindt balls and Snakes.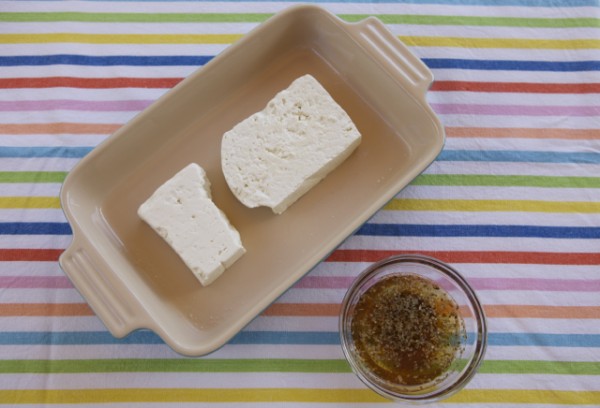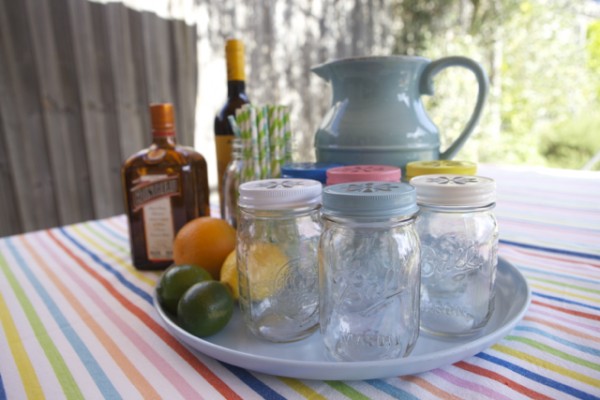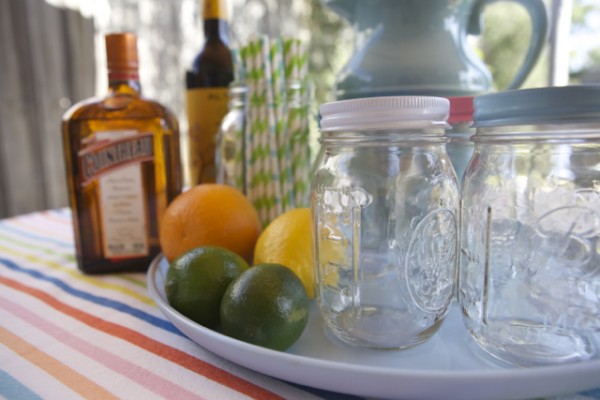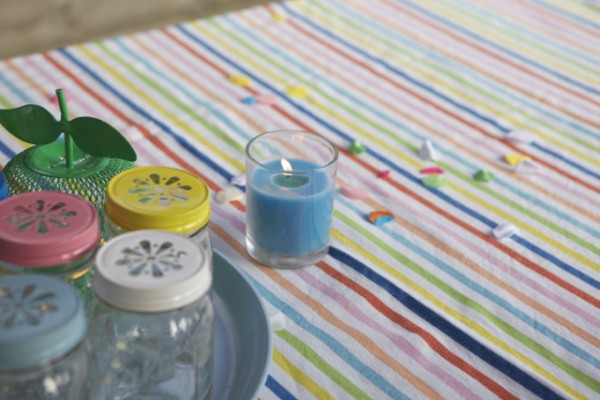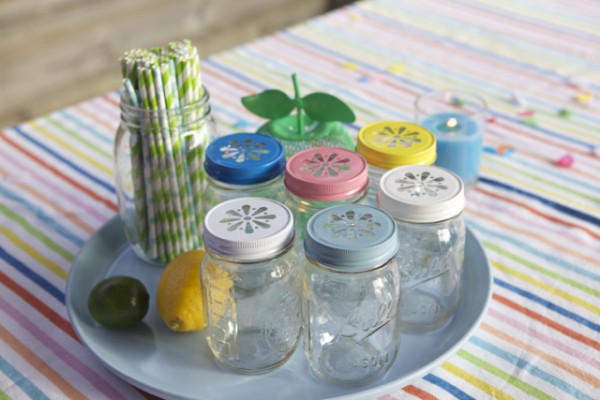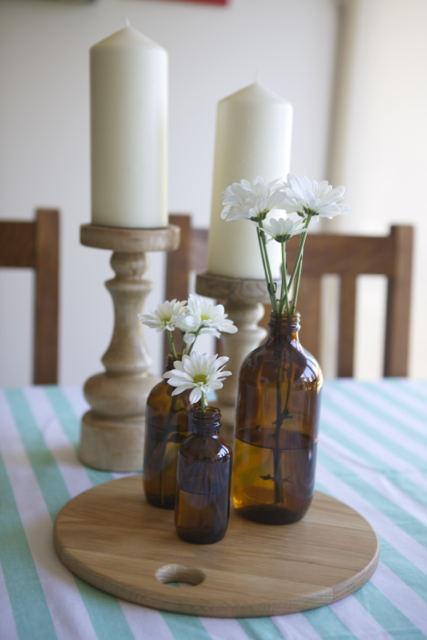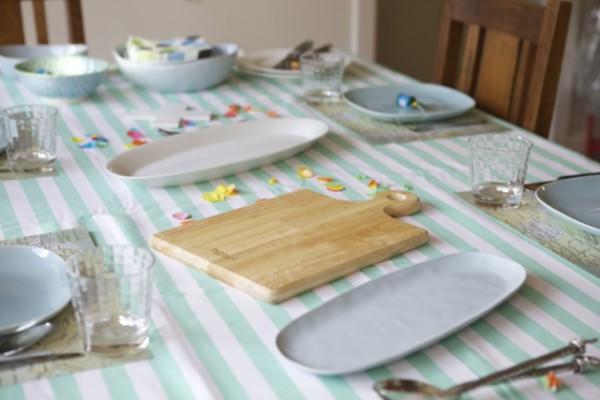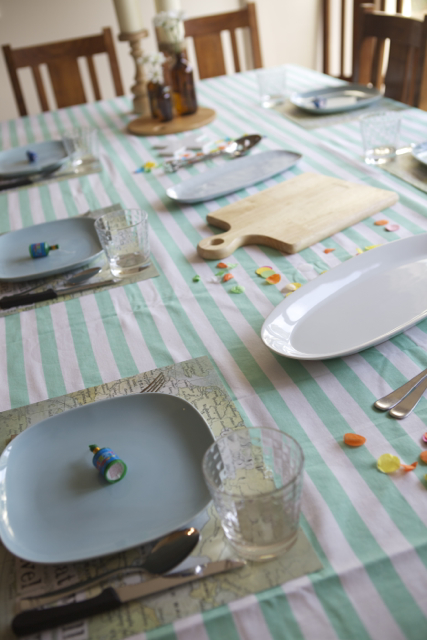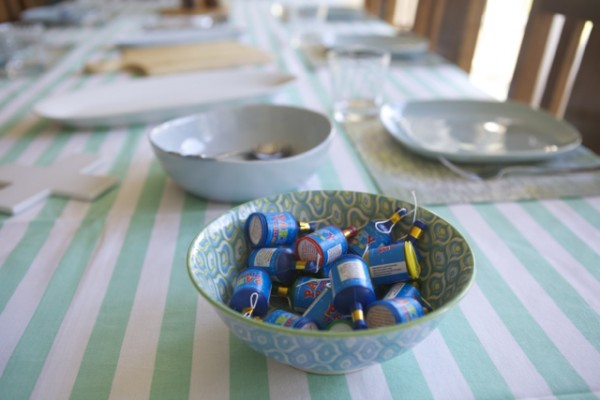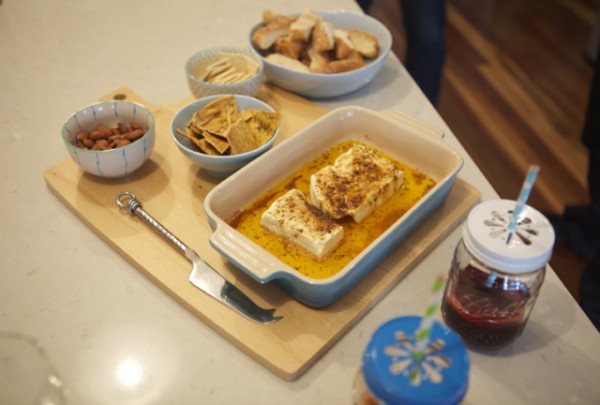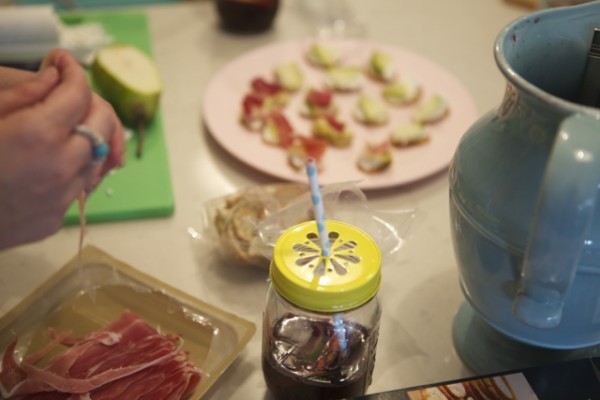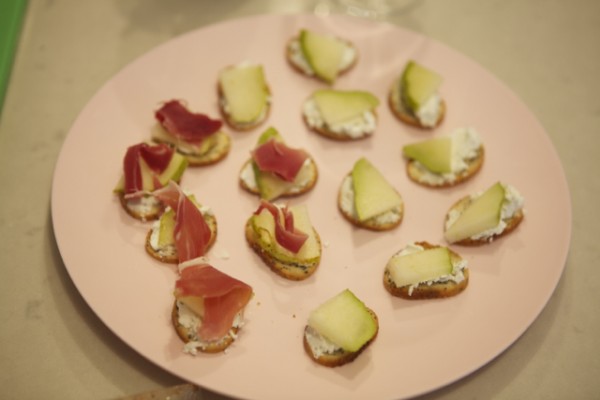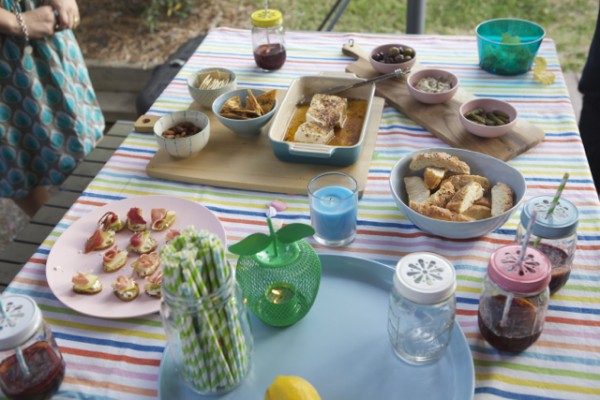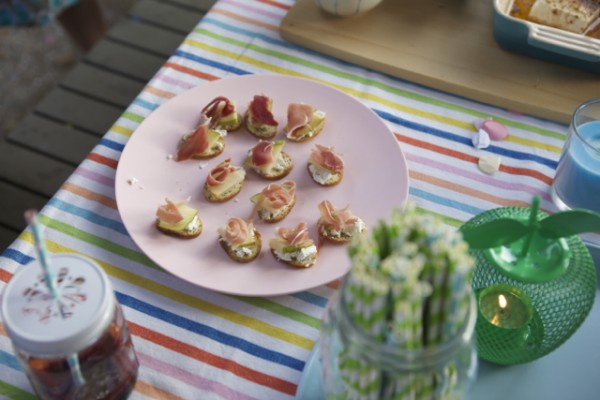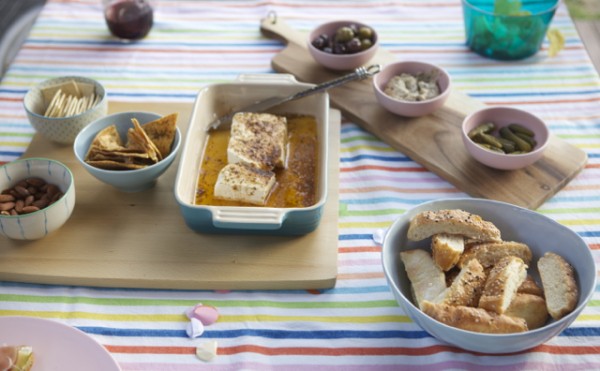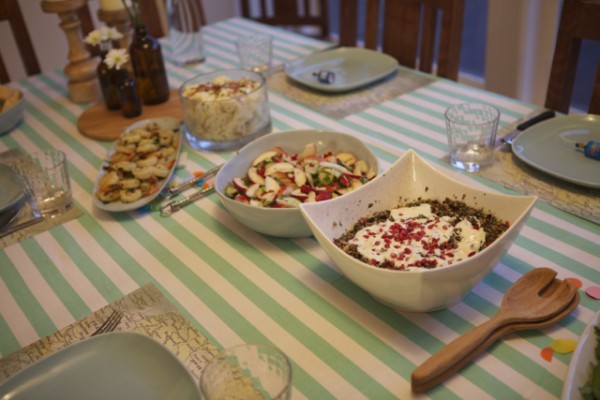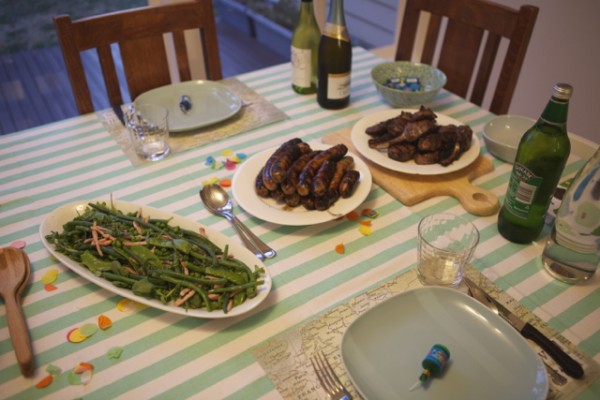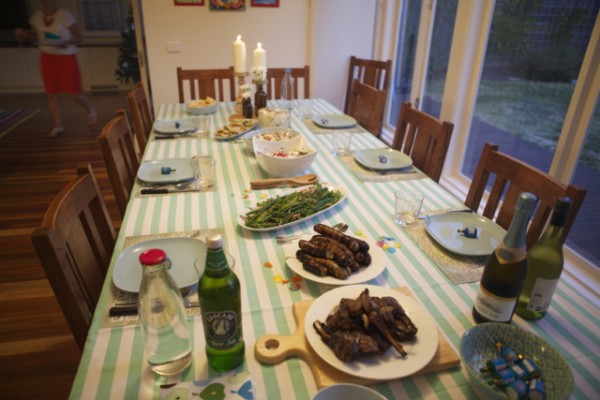 Styling Notes: Tablecloth from Freedom (currently on sale); paper placemats from Provincial Home Living; candle holders from Super A-Mart (details in this post); flower bottles from The Melbourne International Flower Show; apple tea light holder from Mozi; blue citronella candle from Woolworths; plates from IKEA; wooden cheese/serving boards from Donna Hay, Provincial Home Living, Country Road and Wheel & Barrow; mason jars from Rainy Sunday; serving bowls, platters and plates from Freedom, IKEA and Country Road; baked fetta served in Le Creuset baking dish; paper straws from the $2 shop and Woolworths; bowl with party poppers in it from The Tangerine Tree; Knot and Bow confetti from Freedom.
Love a BBQ? Here are my tips for a casual but fab summer BBQ:
1. Delegate: When your guests ask what to bring, give them a couple of things to bring each – something they can make and something they can easily pick up i.e. salad and a bread stick/wine/drinks. This lessens the load on you from both a time and financial perspective.
When we have BBQs at our place, I prefer to supply the meat and outsource the salads. To keep the cost down, I always defrost a few things from the freezer and include a more affordable meat option such as sausages or home made hamburgers. For this BBQ, I had a bulk tray of lamb cutlets and gourmet sausages in the freezer already to which I added half a kilo of fresh prawns.
2. Keep Things Easy: It's OK to try some new recipes but try to keep some things easy and familiar. Entertaining is fun but the hours in the lead up can be busy and a bit stressful particularly with kids around. Take some of the stress out of entertaining by making some tried and tested recipes as well as one or two newbies. If you want to experiment beforehand, use the family as the guinea pigs!
3. Try to make a couple of things before hand: Frozen or cold desserts such as sorbets, semifreddos, pannacotta, pavlova and meringues can be prepared the day before. I always marinate the meat in the morning or the night before as well to get ahead.
4. Don't take any chances with seafood: I always buy seafood on the day if I am serving it to friends. I can't imagine anything worse than giving my guests a dose of food poisoning.
5. Remember it's your night too: It's OK for you to relax, have a drink and enjoy yourself too.  I had to be reminded that 8.30pm was a good time to start thinking about our main course which was a sign I was relaxed and in the moment! Things don't need to look or taste perfect either – your guests are just happy to have a night out and off duty. Some of my food faux pas have become highly amusing folklore.
6. Accept offers to help with the prep and clean up: Our friends kindly offered to help make the canapes and to do a quick clean up of the table before they left. We didn't expect them to of course but several people working for five minutes can really lighten the load. I also know I am more than happy to do this when someone has been kind enough to host me.
Do you love a summer BBQ? What do you love to make/eat? Have you been picking up some home wares in the sales like I have?