I had a moment last week when I was standing in the supermarket and drew a complete blank.
What do we eat again?
What did we have last week?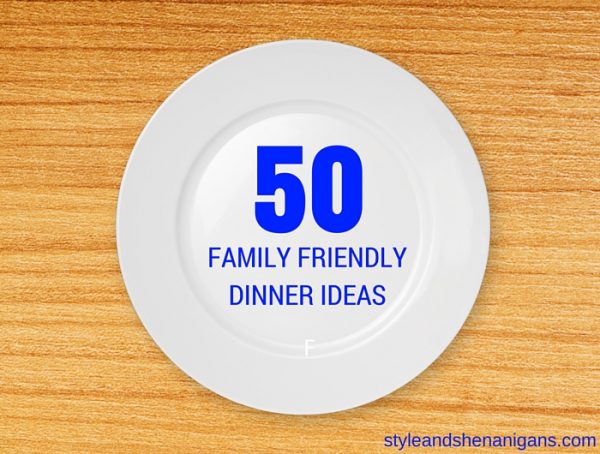 I know that meal planning solves some, if not all of these questions, but for many of us, some weeks are more organised than others and I know for me, sometimes most of my meal planning goes on in my head between the supermarket car park and the check out.
Or, on good weeks, I'll happily plan for the first three or four nights of the week and then I'll draw a complete blank for the weekend.
As someone who generally enjoys cooking, loves food and is happy to try new things, the whole cooking for a family thing has turned out to be much harder than I expected too.
I also often have an internal struggle about what I'd like to cook and eat and what I know the kids will or won't like.
If I was cooking for just myself and Mr SnS, my meal plan for the week would involve spices and heat, lots of variety and international dishes, plenty of vegetarian options from salads to veggies, seafood and not a lot of carbs.
The reality, however, is that we're raising three growing boys who really really like their meat and carbs. So sure, there's some middle ground like our mutual love of roasts but still, often, there's a fair bit of compromise to find meals that suit all of us.
So in this post, I've thought long and hard and put together a list of options to give myself some fresh ideas when I draw a blank next time.
All of what follows is family friendly and most are regular dinners here at Shenanigans Central.
I can't guarantee everyone in your family will like them of course but we've had some level of success here. We take the Meatloaf approach – i.e. that two out of three kids liking a meal ain't bad!
That said, hopefully, this post might give you some new ideas, remind you of some old favourites or give you something to refer to next time you draw a blank in the supermarket.
Traditional
Roasts – We have roasts every Wednesday as it's our only weekday when we're not ferrying the kids around after school. It's also the kids' favourite meal each week and it's become a family tradition of sorts. If I'm short on time, I just buy drumsticks which take 45 mins – 1 hr with some cut up veggies. Our kids particularly like roast chickens and pork (for the crackle) but we also have lamb or whatever's on special. I also use a roasting dish that can go in the dishwasher along with the other saucepans to reduce the clean up.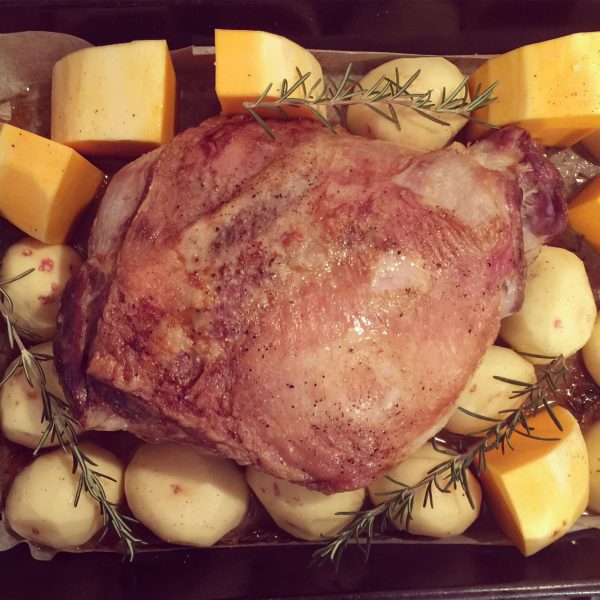 Bangers and mash –  We eat sausages all year round – BBQs in the summer; bangers and mash in the winter. We also try to mix things up in the snag department – our faves are pork and fennel, lamb and rosemary or chicken and mushroom. In winter we serve our bangers with potato/pumpkin/sweet potato mash and steamed veggies or with BBQ-ed corn and salad in summer.
Corned Beef, steamed veggies and white/cheese sauce – This is so easy to make and is great in the slow cooker as well. The leftovers are great for sangas and make for an easy dinner with steamed veggies or salad later in the week.
Shepherd's Pie with steamed greens or just peas. We make this version with sweet potato mash and cannellini beans and it is absolutely delicious.
Beef Stroganoff – this is hearty winter fare but depends on your kids' tolerance to visible mushrooms.
Spag bolognese – a winner in most households. Change up the pasta for something different. I find the kids take some time to master spaghetti. I always make this in bulk too.
Minestrone – this carb and vegie filled soup always packs a punch and usually satisfies soup sceptics. I'm a fan of this chorizo minestrone for something different too.
Osso Bucco – this is easy to do in the slow cooker, just keep the gremolata for the grown ups.
Meat and veggies – it's not revolutionary but there are endless variations. Our favourites include salmon (the kids have baked chicken instead), lamb cutlets (on special) which we sometimes coat in panko crumbs for extra crunch and pork loin steaks. Change up the veggies and you've got at least two meals for the week, especially if you use leftover roast meat or corned beef. For more variation and flavour, make a marinade or experiment with new cuts of meats.
Schnitzels and Parmies – DIY or buy pre made versions and serve with veggies or salad.
Pasta Carbonara – I've been making a low fat version using evaporated milk for fifteen years and as I always have bacon in the fridge or freezer, it's a quick, easy weeknight dinner.
Pie – From fish pie to other homemade or store bought pies with veggies or salad. If you find a good bakery, put a couple of pies in the freezer for a rainy day. (If you drive to and fro Gippsland regularly, I can highly recommend the pies at Yarragon Bakery). I recently made these Donna Hay chicken pot pies with miso and they were delicious – the filling could easily be served with steamed rice if you don't have the time for the pastry or make it in bulk and do both.
Tuna anything – patties with salad, mornay and pasta – I can't stomach tinned tuna (I wish I could) but plenty of people love it and find it a great, affordable pantry staple. Mr SnS often makes his famous tuna rice when I'm out for dinner.
Lasagne – from the traditional to vegetarian or chicken variations, this is always a winner. I love a Greek moussaka too.
Fried Rice – this is an easy, delicious meal and uses up loads of veggies or you can bulk this out with frozen peas and corn. I reckon chicken thighs work best.
Chilli Con Carne – this protein packed meal is substantial and tasty. Make extra to freeze for an easy dinner of baked potatoes.
Greek lemon, rice and chicken soup – this traditional soup is one of my most favourite winter dishes ever. Ask a Greek friend for their family recipe and you'll never look back. This variation with  meatballs looks delicious too.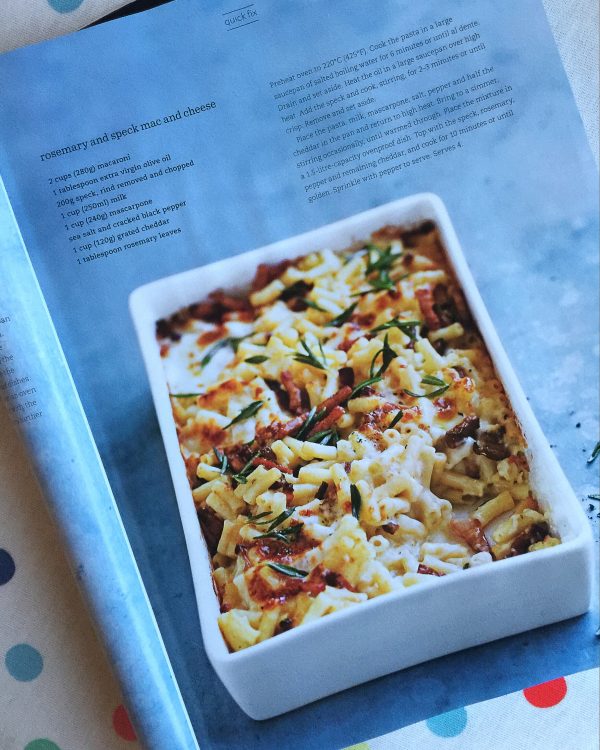 Quiche/Frittata – with or without pastry, home made or store bought, for kids who like eggs, you can't go wrong. The leftovers make a nice lunch option too.
Modern but Family Friendly
Tray Bakes – just add meat (chicken pieces on the bone like marylands, thighs and drumsticks are a safe bet) and quick cooking veggies (tomato, asparagus, olives etc) to a tray, add some stock, wine and olive oil and you're set. This Bill Granger Quick Roast Chicken with Wine and Shallots recipe , pictured below, is easy but also packs a flavour punch for the adults.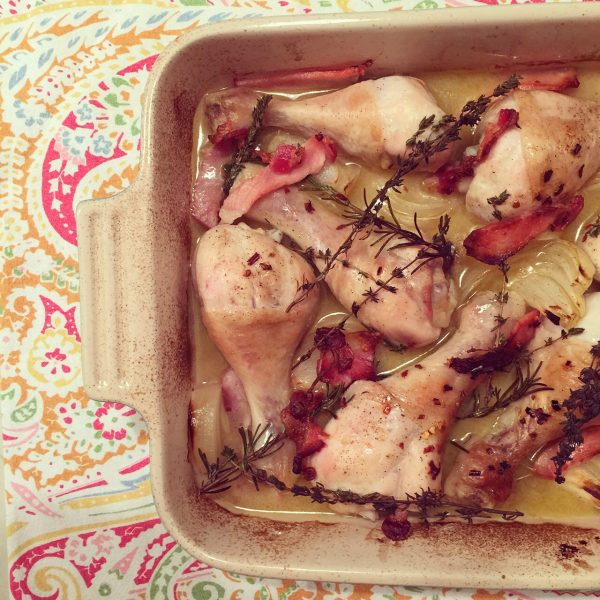 Stir Fries – there are loads of variations if you change up the meat (chicken, lamb, beef, pork and prawns), the veggies and the carbs (rice, brown rice, egg or rice noodles etc). I also like to add some toasted cashews or fresh coriander.
San Choy Bau – served in lettuce cups, this is always tasty and fun to eat and a tasty no carb option. Check out this recipe.
Fritters with salad – I love a corn and zucchini fritter and anything involving haloumi served with a side of bacon and salad.
Easy and fun options
Homemade pizza – use pita breads or make your own dough. Our favourite toppings include Aussie (ham and egg), potato, rosemary and caramelised onion (we use leftover roast potatoes and store bought caramelised onion relish) for the kids and pumpkin, rocket and fetta or pork and fennel sausage for Mr SnS and I.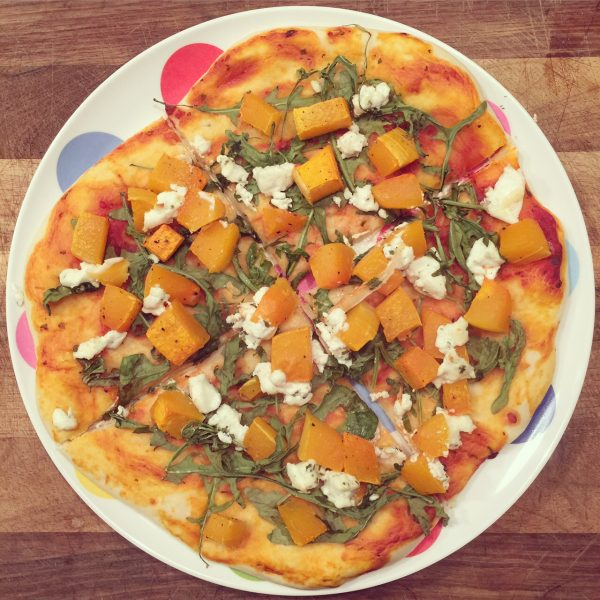 Tacos, Burritos and anything DIY Mexican – add plenty of salad, a side of corn or other veggies and let the kids serve themselves.
Souvlakis and Wraps – just fry or BBQ some meat (or on super hot nights try smoked chicken or ham) and provide plenty of salad and let everyone serve themselves. I've just discovered that Aldi do a peking duck wrap kit too if you're after something a bit different.
Spaghetti and Meatballs – try chicken meatballs or chop up sausages (discard skins and roll into balls) for a variation.
Anything on a stick – our kids inhale koftas, shaslicks and skewers  – anything they can pick up and eat off a stick is always well received.
Homemade burgers – mix things up by using chicken, lamb or pork mince instead of beef or try a chickpea or veggie patty instead. My friend Lou swears by these Jamie Oliver (vegetarian) Happy Cow Burgers with Old School Coleslaw.  If we're going for a traditional beef or lamb patty, we add bacon and egg while other times we just add cheese, tomato and lettuce. DIY chips or wedges using potato or sweet potato if you've got time or just serve with a side of corn.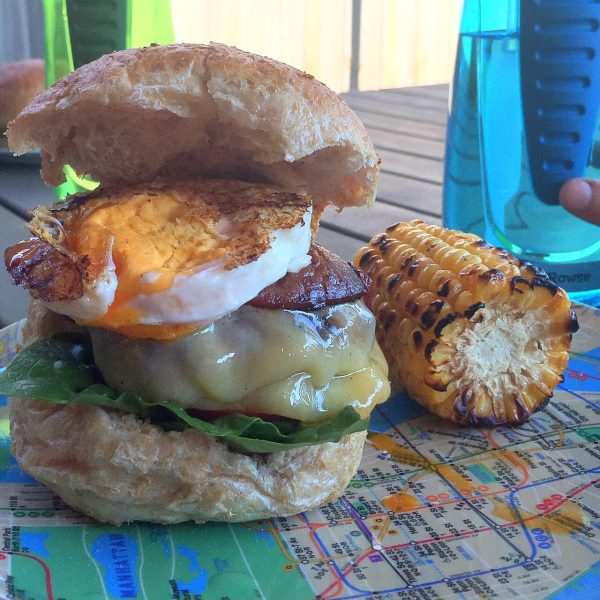 Baked Potatoes – choose your own toppings such as cheese, coleslaw, diced bacon, onion, tomato and sour cream.
Sunday night ideas (also mostly vegetarian ideas)
Baked beans on toast. If you've got time, make your own. We love this easy Bill Granger recipe.
Boiled eggs and toast soldiers.
Ploughman's Supper – cut up a selection of salad, proteins and bread or whatever's in the fridge and let the kids serve themselves. I'd also add salty favourites like gherkin and olives for extra flavour and any leftover nuts or cheese. This is a great no cook option for hot nights or when you've got leftovers in the fridge after entertaining too.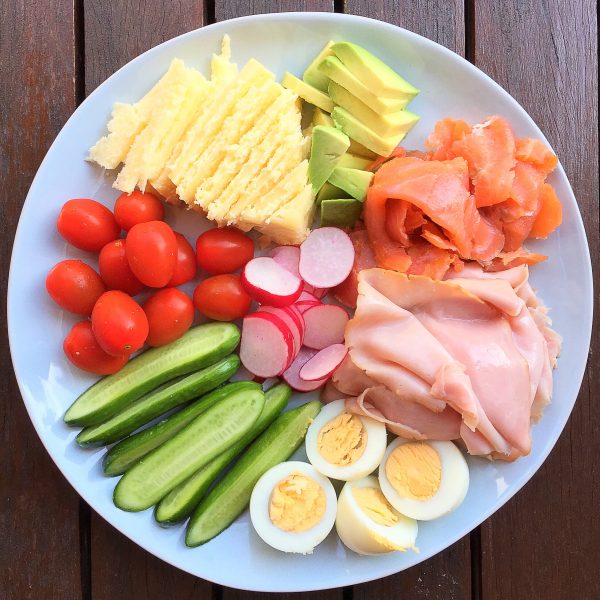 Savoury French Toast – I like mine with a side of bacon but I'd say that about pretty much anything!
Toasted sangas – left over roast meat and cheese is always delicious or try a retro baked beans or spagetti for a variation.
Pumpkin soup or veggie soup made from all the week's leftover veggies. I usually add red lentils and bacon for extra flavour and try and find some yummy bread, like this pumpkin sourdough bread below, to motivate reluctant eaters!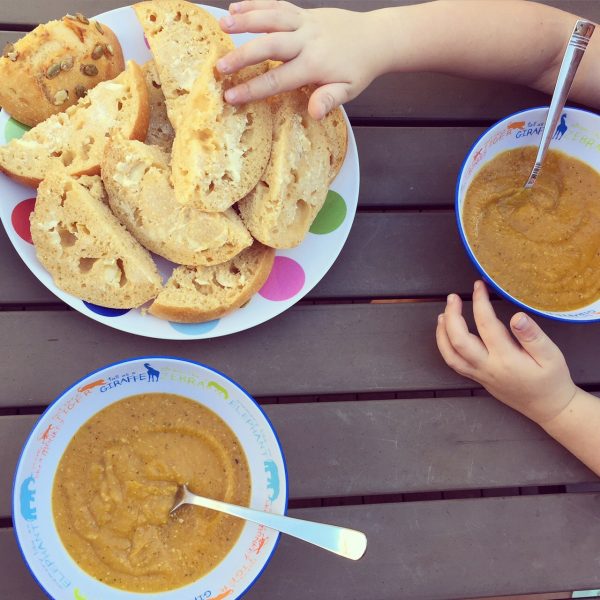 DIY Smashed avo on toast – just mash up an avocado, a few squeezes of lemon juice and a couple of cubes of fetta/goat's cheese and sprinkle with dukka or freshly ground pepper.
Zucchini slice (omit bacon).
Old school fry up with eggs, mushrooms, asparagus and tomato.
Bulk Cooking Ideas
Mild curries – our kids love butter chicken so I make a veggie packed version which I double and freeze.
Stews – ask your Mum, MIL or grandma for their favourite recipe. We use an old CWA ginger beef recipe which has been given to us by friends.
Soups – pea and ham, chicken and corn, sweet potato and lentil are all tasty family friendly options for weeknight dinners and weekend lunches. Serve with warm sourdough or ciabatta or use up old bread.
Anything involving lamb shanks – lamb shanks add a richness of flavour that our kids love. This lamb shank and pumpkin soup is delicious and substantial. Our kids quite like the nutty flavour of chickpeas too.
Tagines are mild in flavour and often sweet thanks to the dates or prunes.
Pasta bakes can be made ahead and feed a crowd.
Pasta sauces that can be frozen and taken out for an easy mid week dinner. As well as bolognese sauce, I make a pork and fennel sausage pasta sauce which we all love. Simply fry up 4 – 6 chopped up sausages and a diced onion in some olive oil (the better quality the snag the better – I love the Nino and Joe snags which are available at Colonial Fruit Co.) and 2 bottles of the organic pasta sauce from Aldi. This makes two meals worth for us. Serve with fresh parmesan. It's absolutely delicious and super easy.
My Essential Pantry Items
Finally, everyone has essential items with which they can whip up a meal at short notice.
Mine would have to include: eggs, bacon, pasta, tinned tomatoes, onions, pumpkin and rice.
I also always have bread and peas in the freezer. Bread for sangas and toast and peas to bulk out anything from risottos, soups and steamed veggies.
For more inspo, check out the following:
What's in your regular weeknight dinner repertoire? What are your family favourites?