Regardless of the weather in your neck of the woods, there's one thing you can't escape at this time of year: Autumn fashion slowly filling up stores.
While I LOVE to see all new season styles coming through, it can be a bit weird contemplating wearing heavy knits, long sleeved tops and dresses and Winter boots when it's Hot as Help Me Rhonda outside.
One approach I often take at transitional times like these is to embrace a new season trend or colour – a little something often adds that end of season variety I'm looking for.
Sometimes I look for a piece I can wear now or other times, for a piece I pull out as soon as the mercury drops, which in Melbourne, is – frankly – anytime, so I take the girl scout approach to always Be Prepared.
The trend that's speaking to me right now is that burnt yellow hue sometimes known as ochre, honey, marigold or mustard. Semantics aside, it's a colour which is everywhere at the moment and is SO striking. Whichever way you call it, a small dose of mustard will make a big impact in your trans-seasonal wardrobe.
Here are some of my favourite new season picks below. Note that some can be worn now while others will come into play as soon as Autumn begins in earnest …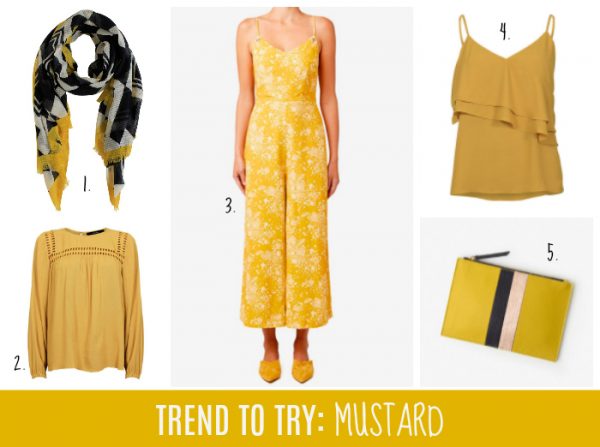 ABOVE: 1. Scarf, $39.95 from Decjuba;
2. Lace Trim Blouse, $99.95 from Decjuba;
3. Eyelet Jumpsuit, $49.95 from Seed Heritage;
4. Ruffle Cami, $59.95 from Decjuba;
5. Keepsake Pouch, $55 from Boden.
If you're looking for pieces you can wear well into Autumn, check out the following …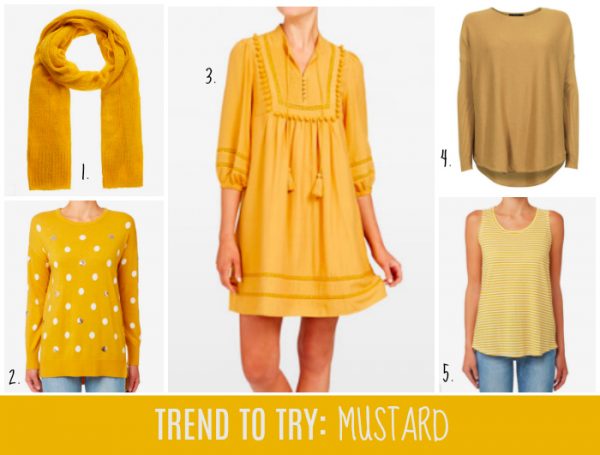 ABOVE: 1. Simple Wrap Scarf, $39.95 from Seed Heritage;
2. Spot Sweater, $129.95 from Seed Heritage;
3. Baby Doll dress, $149.95 from French Connection;
4. Lightweight Pullover, $99.95 from Decjuba;
5. Easy Stripe Tank, $49.95 from Seed Heritage;
So how to wear mustard?
Technically speaking, mustard is not a colour that "suits" me. I still wear it and love it though and receive compliments whenever I wear it. I don't shy away from colours that don't "suit" as I love to have plenty of variety in my wardrobe colour wise, but I've worked out what to pair it with so it flatters. Here are some of the ways I love to wear it.
Paired with distressed and light denim – for example, I'd wear one of the knits above with distressed jeans or the tees/camis. The contrast is fresh and fun – add a bold pink lip to add some contrast;
Wear with white for a fresh look – white trainers, shorts, jeans or a jacket add contrast. Alternatively, choose a white and mustard print such as the striped tee or jumpsuit above;
A little can go a long way – add a pop of mustard with a block coloured or printed scarf if you're just dipping your toe in. Printed pants – like the ones I'm wearing below – or a printed dress with a pop of mustard are another great option too;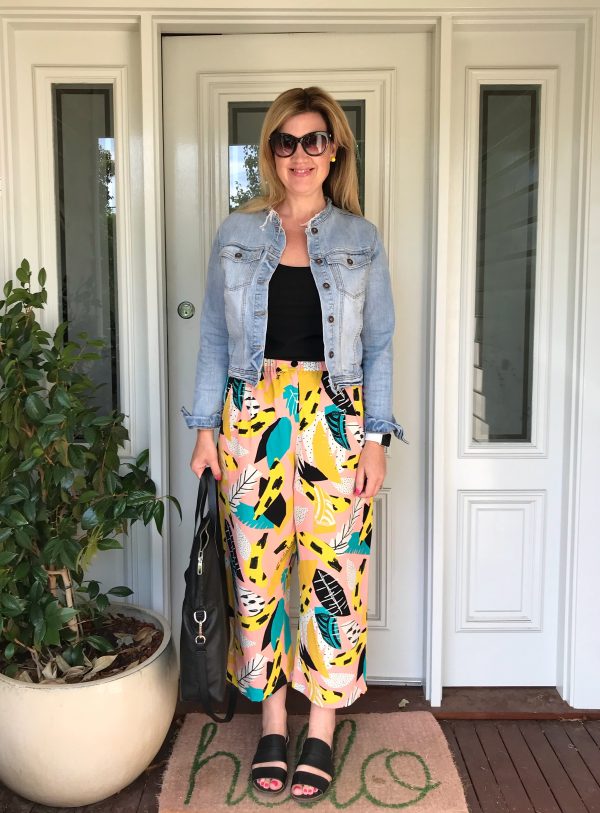 For work, mustard pairs beautifully with anything navy or black – a mustard cami, scarf or knit works beautifully under a black or navy suit or separates;
For a mustard coloured dress, I'd wear tan sandals or boots and my favourite denim jacket, a pair of statement earrings.
A bold pink lip – whenever I wear mustard I wear a bright pink lipstick. The contrast in colour is flattering and lifts my whole look. If I'm wearing mustard close to my face, without the contrast of the blue of my denim jacket or this pop of colour, I can look quite washed out. I tend to opt for a bright candy pink or a deeper shade like magenta which lifts everything.
Looking for more?
For more mild weather options, check out this Printed Scarf and Peplum Tank.
These Ochre pants from Gorman will add a serious pop of colour to your Autumn 'robe.
If you're after some cool weather pieces that'll take you right through, check out these Ankle boots and
Trinity Jersey Dress, both from Boden.
This post contains affiliate links. You don't pay any extra and I earn a small commission. Read more in my Disclosure Policy here. 
So over to you – is there any mustard in your wardrobe? How do you like to wear it?