Spring is a favourite season for many and it's not hard to understand why.
New growth, the sweet scent of buds opening to flower, more daylight, plenty of social occasions and warmer temperatures being high on my list of Things I Love About Spring.
On the fashion front, there's plenty in the way of fresh offerings too as the first of the Spring/Summer 18/19 ranges drop in stores.
If you've been in stores lately, you'll know lighter denim, modern florals and bold colour are key trends across retailers, with many including some stand out statement pieces in amongst their Spring basics ranges of denim, tees and lighter knits.
In this month's What to Wear post, I'm following a similar approach: adding a statement print or bold colour to tried and true favourites such as the LBD, denim jacket and jeans. So whether you're in the market for some fresh basics or a new season statement piece to update your existing wardrobe basics, I think you'll find there's something for everyone.
Also given it's the most unpredictable month of weather – here in Melbourne anyhoo – I've included three different styles of jacket which are ideal for changeable days or crisp Spring mornings and evenings.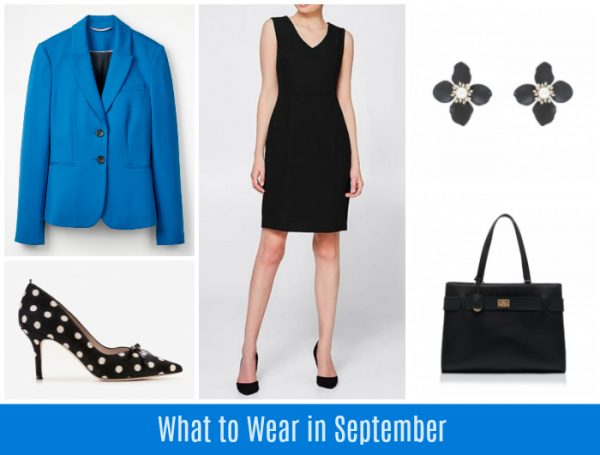 ABOVE, CLOCKWISE FROM TOP LEFT: Ponte Blazer, $180 from Boden;
Classic Everyday Dress, $29 from Target;
Flower studs, $16.99 from Forever New;
 Laptop Bag, $89.99 from Forever New;  
Eleanor Heels, $198 from Boden.
This first outfit is your classic LBD situation with a couple of new season statement pieces elevating this look into fresh territory. I'm a big fan of the coloured blazer and this stunning blue Boden style is a great piece to wear across both work and play wardrobes.
Here, it pops against black basics – how fab and budget friendly is this Target LBD – but it would work equally well with a white tee, denim and trainers on the weekend.
If you'd rather introduce print than colour, this fun spotty heels will add some serious style to any outfit. If you're looking for printed dress with WOW factor, check out this leopard print from
This next outfit features a flattering and versatile wrap dress from the latest brand from Birdsnest's home grown labels – Scandi Bird.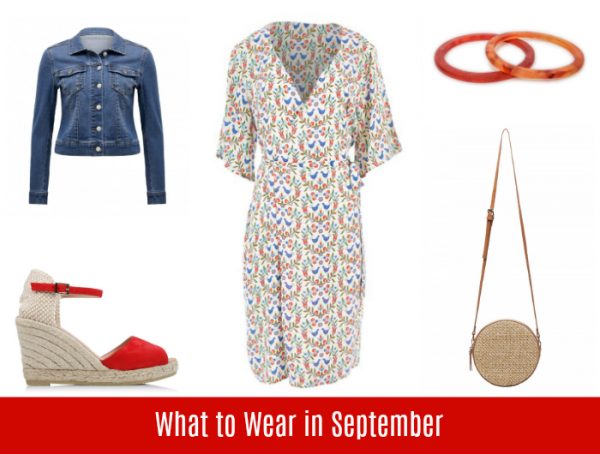 ABOVE, CLOCKWISE FROM TOP LEFT:   
Denim Jacket, $79.99 from Forever New;
Scandi Bird Wrap Dress, $119.95 from Birdsnest;
Bangle Set, $22.50 from Polka Luka;
Textured Cross Body Bag, $59.95 from Sussan;
Espadrille Wedges, $179.95 from Jo Mercer.
How fab is this Scandi inspired print? This pretty print is a bit different to the usual offerings and also introduces plenty of colour to work with in the accessories department. (It's also available in a blue/green colourway which you can check out here).
Above, I've picked up the red with these fab wedge espadrilles and bangles but neutral accessories or the introduction of a pop of cobalt blue or bright green would also work.
Circular bags, particularly woven styles, are key this Spring/Summer too and I'm loving this textured style from Sussan.
If monochrome is more your thing, this next outfit is an updated look for Spring, with a floral bomber jacket creating interest and a point of difference to the usual offerings.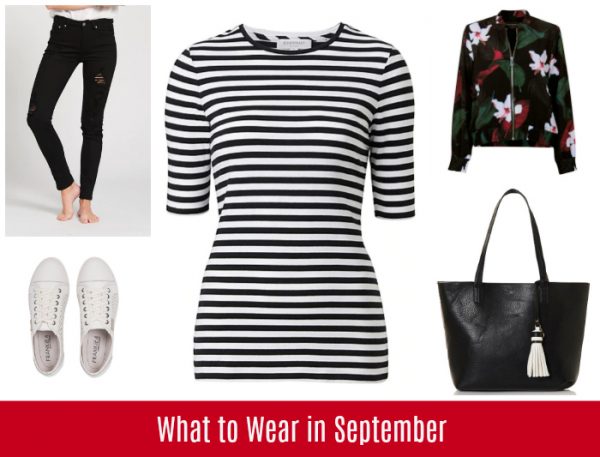 ABOVE, CLOCKWISE FROM TOP LEFT: 
Distressed Jeans, $129 from Bohemian Traders;
Stripe Elbow Tee, $29.95 from Witchery; 
Printed Bomber, $129 from Decjuba; 
Shopper, $129 from Marcs;
 Polly Trainers, $229.95 from Frankie 4 Footwear.
I've been banging on about the elbow sleeve tees from Witchery from a while now and I'm delighted that they've extended their range to now include this striped option as well as navy. They're great for pairing with skirts, jeans and pants and offer that extra bit of coverage and warmth, ideal if the weather is all over the shop – Hello Melbourne – or if you prefer your arms to be partly covered.
You also won't be surprised to see Frankie 4 trainers featured here – I've been living in my NATS and JACKiE's all year round and I'm keen to meet their newest, more streamlined sister POLLY in future.
I've included black denim here but this look would work equally well with white denim or you favourite pair of indigo or distressed jeans.
Finally, if you love your monochrome basics but want to mix things up occasionally, consider introducing a print or two – stripes and florals in the same palette are one of my favourite combos. Just add a bold lip and you'll be cooking with gas.
This post contains affiliate links. You don't pay any extra and I earn a small commission. Read more in my Disclosure Policy here.
So over to you, what's your September style? Which outfit could you see yourself in?