Spring has sprung here in Melbs this week with some unbelievably beautiful days full of glorious sunshine and mild temps.
On the flip side, there have also been plenty of days where it's been windy, cold and cloudy with plenty of rain.
Unsurprisingly, such changeable weather can make choosing what to wear a challenge in first world terms.
At times like these – the changing of the season – I find it tricky sometimes to figure what will suit the day, how I'm feeling, what I've got on and what will feel comfortable and look alright too.
It's often a time I go trawling through the shops or Insta to find some new season inspo too – ways to refresh my basics and/or find a new take on an old fave.
If you find yourself in a similar zone, I hope this month's What to Wear post offers some similar inspo and introduces you to some fresh pieces and looks you can incorporate into your existing wardrobe.
To start off, here's a casual situation that is an easy but fab option for weekends.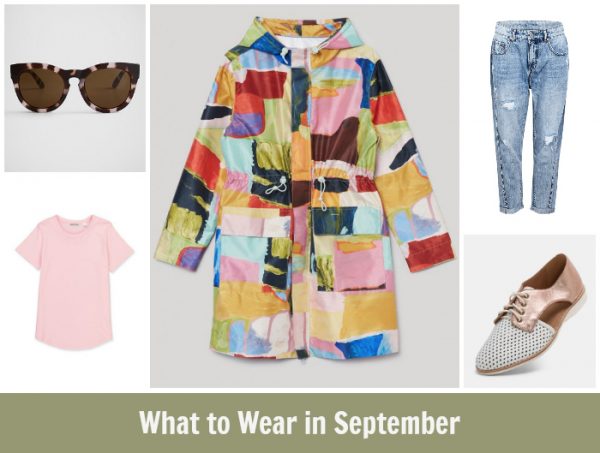 CLOCKWISE FROM TOP LEFT: 
Sunnies, $69.95 from Witchery;
Billabongs Anorak, $129.95 from Gorman; 
Drop crotch jeans, $109.95 from Decjuba;
Sidecut derbies, $179.95 from Rollie Nation; 
T-shirt, $39.99 from Country Road.
Slouchy jeans and derbys are a variation on my usual distressed jeans and runners, and introduce a variation to my casual wardrobe.
A handy water resistant anorak in a statement print is also a fun yet practical way to introduce some colour and print. Paired with sunnies, these are essential items for standing on the sporting sidelines come Spring.
As I shared here recently, I'm LOVING all the pretty pink hues filtering through the Spring ranges and there are plenty of new casual tops and tees to pair with your favourite jeans including the cotton tee pictured above.
If you're after a long sleeved linen tee, check out the great range at Trenery here. I also swear by the linen tees from Country Road, such as this Linen Tee, $59.95.
Turning to work options, I find my corporate wardrobe is generally dominated by quality monochrome pieces, but come Spring, I like to inject some colour and freshen things up a bit, like so.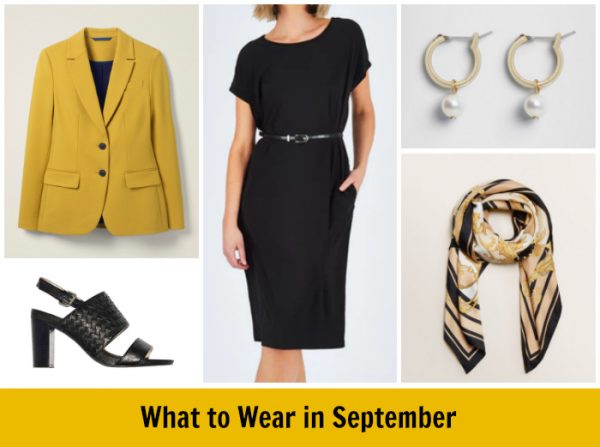 ABOVE, CLOCKWISE FROM TOP LEFT:
Ponte Blazer in Saffron, $180 from Boden;
Belted Midi Dress, $99.95 from Birdsnest; 
Mimi Hoops, $29.95 from Witchery;
Scarf, $29.95 from Seed Heritage;
Jules Heels, $219.95 from FRANKiE4 Footwear.
One easy way to do this is to invest in a coloured or printed blazer to wear over your block covered favourites, as pictured above.
I'm a big fan of Boden's ponte blazers and have a deep pink and azure blue version of the saffron jacket pictured above. I find they instantly freshen up a standard LBD or black/white top with black pants and can set off a great pair of earrings or a statement bag.
I also like the ponte factor because it gives the blazers some give and stretch, making them comfortable to wear in general as well as in the car or sitting down on public transport.
A more budget friendly option is a printed scarf as it does the same job as a blazer – inject some colour and interest – but on a smaller, less expensive level. A great scarf though always packs a punch and is a great way to update outfits as the seasons change.
At this time of year, I'm especially partial to pops of yellow, green and pink – basically anything that is a not so subtle reference to blossoms and anything that might bloom in a Spring garden.
This final outfit has something of the 'wow' factor, and is best suited to a formal or dressy situation, such as a formal, engagement party, cocktail party or the like.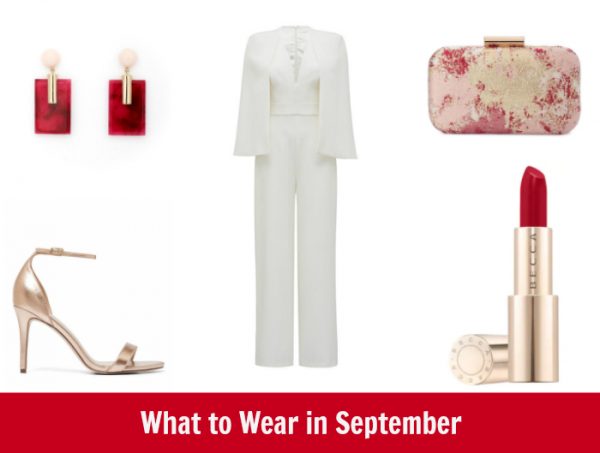 ABOVE, CLOCKWISE FROM TOP LEFT:
Earrings, $118 from Elke Studio;
Yvette Cape Jumpsuit, $159.95 from Forever New;
Clutch, $79.95 from Olga Berg;
Becca Lipstick, $14.50 from Sephora;
Metallic heels, $79.95 from Forever New. 
I absolutely love this all in one cape/jumpsuit from Forever New and couldn't go past it in the white. If white is not your bag though, you might be pleased to hear this gorgeous piece also comes in black. (I also came across this stunning white one sleeved mini dress that would work back with all the pieces above, which you can check out here).
I do love a statement earring at the best of times, and especially love them when worked back with a well cut, block coloured dress or jumpsuit as pictured above. These beautiful earrings from Elke Studio are such a feature and deserve to be in the spotlight. You'll find more budget friendly options at Lovisa, Sportsgirl and Collette Hayman.
A bold lip and a co-ordinating clutch complete this stunning ensemble. Now all I need is an event!
This post contains some affiliate links. You don't pay any extra and I earn a small commission. Read more in my Disclosure Policy here.
So over to you, what are you wearing at this time of year? What's your go to outfit?