Just in case I haven't mentioned it lately, I really really LOVE putting together these What to Wear posts.
In fact, talking, writing, wearing and chatting all things farshun was one of the reasons I started this blog, way back in 2013.
And now more than ever – HELLO SPRING – I am totally here for anything creative, colourful, comfortable and fun, especially as we begin a new season and easing restrictions. Fashion is a happy distraction and creative outlet for me at the best of times, let along in these "unprecedented" times.
So can you expect from this month's What to Wear post?
Well, considering there aren't so many – if any – big social occasions (weddings, parties and other milestone gaths) happening on our collective social calendars in the foreseeable future, I've stuck to outfits that cover working from home, supervising the kids' remote learning, heading out with a girlfriend or a family catch up on the weekend and weekend hangs. And, as always, there's plenty that's playful, fresh and easy to wear and a mixture of every day basics and new season statement prints and styles.
Let's start with this first outfit – a flirty and fabulous look which features this stunning statement print skirt from Gorman.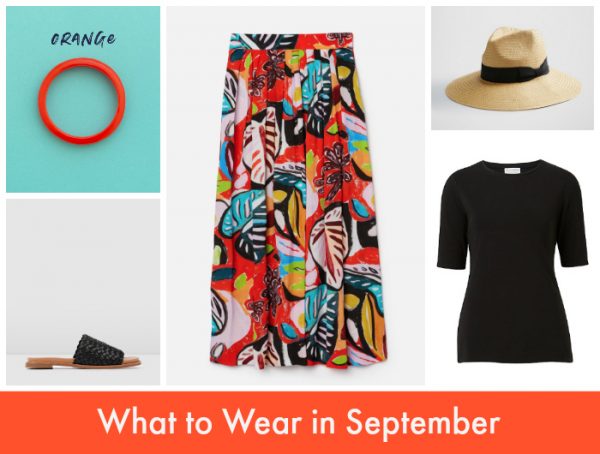 ABOVE, CLOCKWISE FROM TOP LEFT:
Bangle, $22 from Ruby Olive;
Oasis maxi skirt, $183.20 from Gorman;
Fedora, $69.95 from Witchery;
Elbow length tee, $29.95 from Witchery; 
Leather slides, $159.95 from Jo Mercer.
As the days become milder, you might feel tempted to ditch your leggings or jeans and pop on a pretty skirt. This stunning new season printed skirt from Gorman immediately caught my eye, mostly because there is so much to work with colour-wise when it comes to accessorising, as I've done above with the bangle which gives a bright pop of orange. If you're less inclined though, you can tone things down with those tried and true black and white basics, such as tees and trainers.
If you're Victorian and access to beauty therapy is currently a strictly DIY situation, you might not feel ready to get those Winter white pins out. Fear not, a maxi skirt is a practical option until we can book in again for a wax. Pretty please Dan.
A printed maxi skirt is a surprisingly versatile piece too. To dress it down I'd opt for a tee and trainers; for dressier occasions, I'd wear a silk cami and wedges.
Add a statement pair of shades and some sun protection and this is a great outfit for lunch with the girls or a fancy trip to the supermarket.
This next outfit is an everyday smart casual option, with style and comfort in equal measure.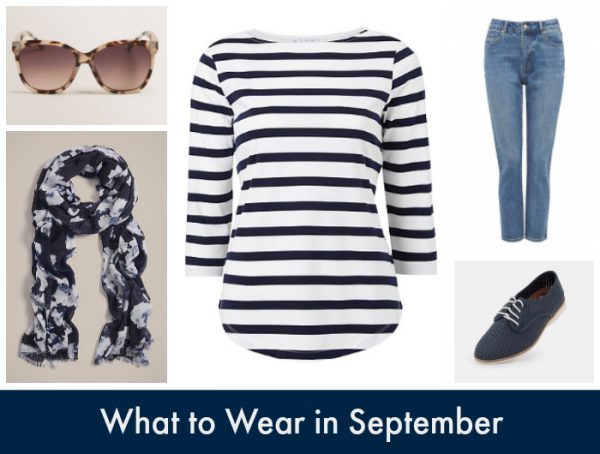 CLOCKWISE FROM TOP LEFT:
Sunnies, $39.95 from Seed Heritage;
Boatneck Top, $59.95 from Witchery;
Jeans, $89.99 from Forever New;  
Derbys, $169.95 from Rollie Nation;
Floral scarf, $59.95 from Witchery.
A classic striped tee, jeans and a pair of derbys is a transitional favourite outfit of mine for good reason – it's a 'put together' look which is also comfortable for every day life. For me right now, this involves dropping groceries to my Mum's, going to the odd medical appointment, a weekly trip to the supermarket, working from home and general domestic activities. On the other side, I hope to add in coffee with girlfriends and running errands.
To create more interest, a floral scarf in similar colours introduces a print clash or simply add a classic pair of tortoiseshell shades.
To dress this up for work or to add an extra layer, check out this navy blazer from Forever New. To sub in dressier pants instead of jeans, these these navy cigarette pants are a good option too.
If you're looking for a budget friendly pair of new season jeans, check out this fab new season pair from Target.
This next outfit is a Spring version of loungewear.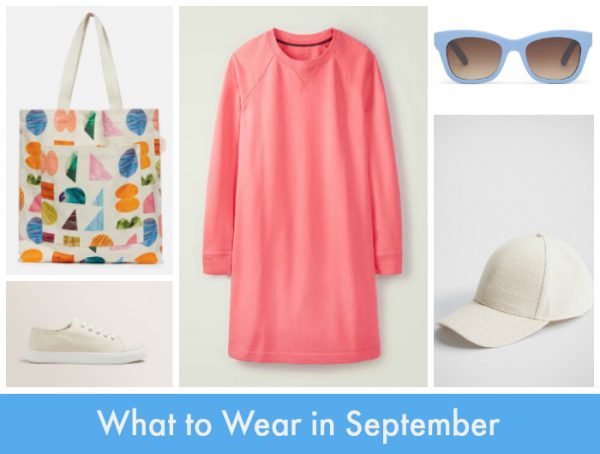 CLOCKWISE FROM TOP LEFT:
Tote bag, $47.20 from Gorman;
Sweatshirt dress, $120 from Boden;
Travel Sunnies, $68.20 from TOMS;
Cap, $39.95 from Witchery;
Sneakers, $59.95 from Seed.
I've always taken my loungewear seriously but 2020 has definitely taken things up a notch or three. UK Brand Boden is clearly attuned to our collective CoVid mood and fashion tendencies and has just launched a seriously awesome range of lounge and active wear. In it, there are several styles and colour ways of joggers, leggings and co-ordinating sweatshirts and tops as well as dresses, tees and shorts. The basics are all covered – grey, navy and black – as well as pretty sorbet shades (like the dress above) and Boden's signature colourful prints. Check out the full range here.
I've kept the accessories neutral here save for a fun pair of sunnies and this cool printed Gorman tote bag. If you dig this print, it also comes in a dress, top and in home wares. (I may have bought the cushions). Check out the full range here.
Still in Loungewear Land?
For more #ISO friendly and comfy clothes for home, you might like to check out this post on my favourite #ISO fashion.
So over to you, which outfit is your pick? Are you mostly in activewear/loungewear land or embracing dresses and other options? Are you reading for Spring fashion?
This post contains some affiliate links. You don't pay any extra and I earn a small commission. Read more in my Disclosure Policy here.