I might be living my best lockdown life right now but I'm still here for fashion.
Australia might be a country divided right now into those of us in lockdown and those who are fortunately not, but the show must go on.
It's not a big ask really though, because it's a great time in Fashion Land with the first of the Spring drops and a shifting of the colour palette away from dark Winter tones and textures to lighter and fresh new season looks. I LOVE this time of year for fashion and a pandemic isn't going to stop me enjoying one of life's many pleasures.
So that said, I'm delighted to bring you my monthly What to Wear post which does include options for anyone and everyone, regardless of CoVid situation or location.
In this post you'll find comfortable and cosy options for days spent at home (i.e. everyday for some of us), some smart casual options for the supermarket shop, working from home or catching up with friends (for those who are allowed to), and a dressier and Zoom-worthy outfit that us Melburnians might even be able to wear come Spring and possible stage 2 restrictions. Yes I'm cautiously optimistic. Fingers and toes crossed.
Also, as an added challenge to myself, and in light of the current national financial and economic situation, EVERY single item in this post is under a hundred bucks. That means there are plenty of budget friendly options. YAY for that.
So whatever your situation or location right now, I hope you'll find some new fashion inspo below.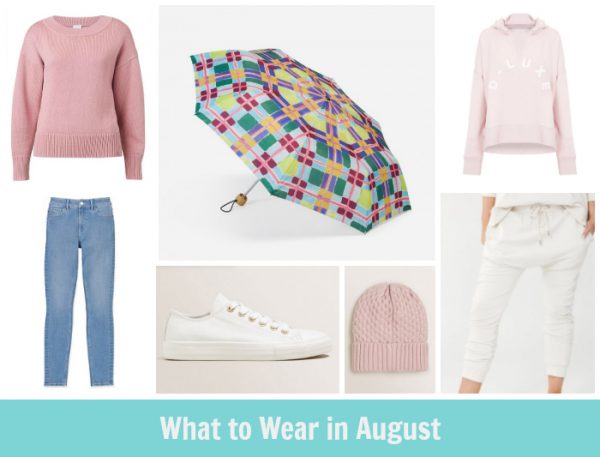 CLOCKWISE FROM TOP LEFT:
Scoop Neck Knit, $99.95 from Witchery;
Umbrella, $39.20 from Gorman;
Hoodie, $79.95 from Decjuba;
Trackies, $59.95 from Decjuba;
Beanie, $29.95 from Seed Heritage;
Leather sneakers, $99.95 from Seed Heritage;
Jeans, $99.95 from Country Road.
This first outfit comprises two very similar looks and colour ways.
On the left, the knit and light wash jean combo is more of a smart casual option, while on the right, the hoody and loungewear is a seasonal update for those of us gravitating to – and living in – loungewear and activewear.
I do love this lighter look too, not just because I'm a fan of all shades of pink, but because the components are still weather-appropriate for this time of year but they conjure up a Spring feel and look. Similarly, if you're sick of your Winter clothes but it's still cold, try swapping out your black or indigo denim or soft pants for a mid wash denim, chambray or light neutral style. It'll totally change up your favourite Winter knitwear and create a lighter, fresher outfit.
A new season accessory, such as this fun umbrella, cute beanie or crisp white kicks can also put a little spring in your step at this time of year, while also providing some practical comfort.
This next look introduces some statement accessories to mix back with wardrobe basics.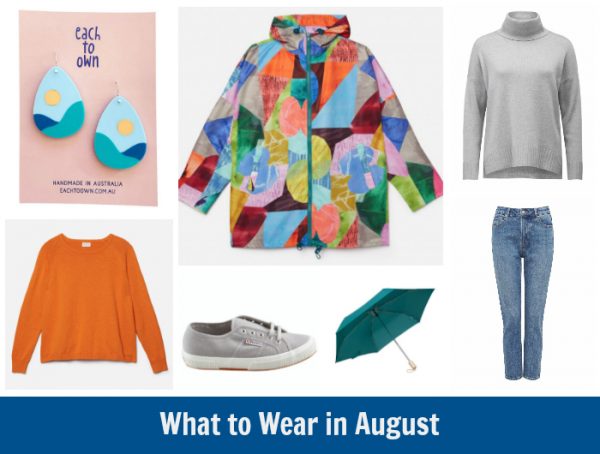 CLOCKWISE FROM TOP LEFT:
Earrings, $62 from Each to Own;
Raincoat, $79.20 from Gorman;
Knit, $79.20 from Forever New;
Jeans, $89.90 from Forever New;
Umbrella, $10 from Kmart;
Superga trainers, $89.95 from Birdsnest;
Stacey Jumper, $79.20 from Gorman.
The hero of this outfit is this fun printed raincoat from Gorman's latest drop – Colour Knowledge – our first peep at their Spring/Summer 20 range. I LOVE this print because it provides a bright pop of colour which can be toned down with neutral basics (like the jeans and grey knit) or dialled up with statement earrings and a bright colour block top or dress (like the orange knit and earrings). Personally I go both ways, depending on the day.
It rains a lot in Melbourne at this time of year, so I've included a colourful umbrella and some comfy trainers. I would totally wear this outfit for the school run, supermarket dash or weekend hangs.
I dream of wearing this next outfit or some approximation of it in my post lockdown life.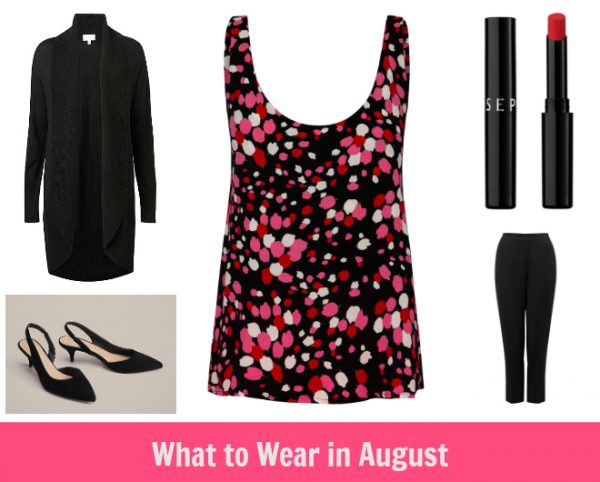 CLOCKWISE FROM TOP LEFT:
Fine Collar Cardigan, $99.95 from Witchery;
Cami, $89 from Mister Zimi;
Lipstick, $19 from Sephora;
Cigarette Pants, $62.99 from Forever New;
Slingback shoes, $59.99 (on sale) from Witchery.
A printed cami is a simple but effective way to spruce up block coloured neutrals and can be handy well into Spring and Summer. They're great for work under blazers and cardys but can also be dressed down for the weekend by changing up black pants for jeans or a denim skirt.
If you're on the look out for new season work or black basics, I've included some great options above. This fine collar cardy is a Witchery staple year in and year out and is ideally suited for trans-seasonal dressing here in Melbs or throughout Winter in warmer climes. I have a couple and tend to wear mine over fine merino knits, long sleeved or printed tees and linen tanks with jeans or pants. They also work well with scarves.
I recently picked up these well priced cigarette Pants and love them, although I did have to go up a size (thanks to #ISO eating). They're an ideal waist height too for top tucking.
These slingback shoes are a bargain too and ideal if you want to channel Rachel Zane chic. Remember her?
If you're in work wear land and after a budget friendly pencil skirt, you might like to check out this option at Target.
Finally, for a budget friendly black dress you can dress up or down, check out this well priced Betty Basics Dress from Birdsnest.
Still in Loungewear Land?
For more #ISO friendly and comfy clothes for home, you might like to check out this post on my favourite #ISO fashion.
So over to you, which outfit is your pick? Are you mostly in activewear/loungewear land or embracing dresses and other options? What's it like on the other side?
This post contains some affiliate links. You don't pay any extra and I earn a small commission. Read more in my Disclosure Policy here.