For the first time in a long time, I was able to put together the outfits in this month's What to Wear post without factoring in lockdown.
HOORAY for that!
And while Zoom meetings will likely continue for the forseeable future, it's also possible for all of us to leave the house for ANY reason. So that means outfits are back on which is especially good news for us Melburnians, whose leisure wear and leggings are threadbare and need a much earned break.
So whether you have a small, CoVid safe soiree coming up, a picnic in the park with your favourite peeps, lunch or dinner out at an actual restaurant or cafe, date night or some other special occasion on the horizon and everything in between, I hope you'll find plenty of new season fashion inspo below.
This first outfit is an everyday look, the components of which can be mixed and matched for a variety of looks.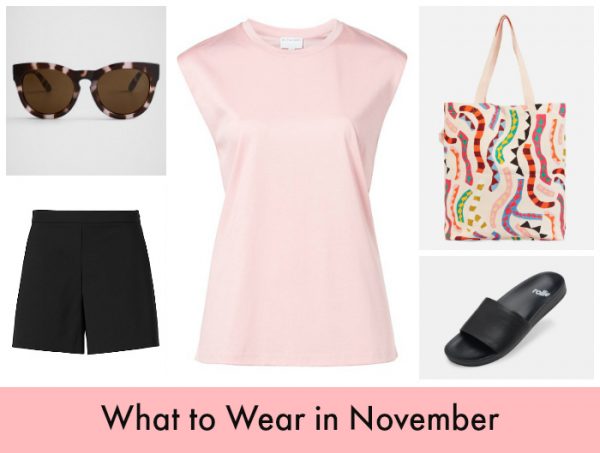 ABOVE, CLOCKWISE FROM TOP LEFT:
Lella sunglasses, $69.95 from Witchery;
Muscle tank, $49.95 from Witchery;
Printed tote, $59.95 from Gorman;
Slides, $129.95 from Rollie Nation;
Structured shorts, $79.95 from Witchery;
For example, by replacing the slides with an espadrille wedge, you've got a dressier look. Alternatively, to dress it down, I'd sub in a pair of distressed jeans or shorts or denim skirt for the structured shorts.
Another option would be to introduce white jeans or shorts.
The shorts I've included above are quite short and high waisted which is great if you like to get out your pins. If you prefer a longer length short, I can recommend these longer shorts, $79.95 from Country Road which sit above the knee and happen to come in several colours.
If you're not a shorts fan, a denim skirt would also work well, and I'm a fan of this budget friendly denim skirt from Target, although I can advise that it is a neat fit.
A printed tote like the one above is a fun way to introduce interest into a block coloured outfit too and gives plenty of colours to work with if you want to change things up. If you love this print, you might like to hear it comes in a dress, skirt and tee, all of which you can shop here.
On the subject of prints, how fab is this stunning printed smock dress from Gorms?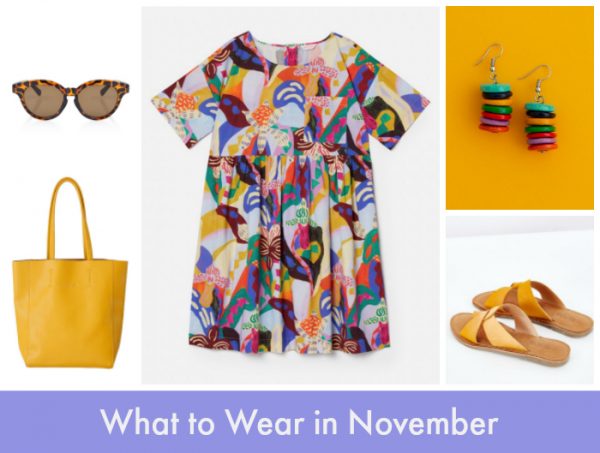 ABOVE, CLOCKWISE FROM TOP LEFT:
Sunnies, $39.95 from Sportsgirl;
Smock dress, $149 (on promotion) from Gorman;
Earrings, $24.95 from Ruby Olive;
Leather slides, $69.95 from Birdsnest; 
Leather tote, $119 from Hoopla.
OK, I get that this outfit is a bit much for some and squarely falls in to the category of 'Very Vanessa'. It can be toned down though with more neutral accessories if you're not a fan of mustard or of wearing All Of The Colour at once.
If you do love colour, definitely check out the range of leather bags at Hoopla, a local Melbourne biz who is doing good things in the bag department at budget friendly price points in a range of colours and styles. Shop their range here.
In terms of sizing, I've already bought this smock dress – no surprises there – and can report that it's very generously sized so I sized down. I'm usually a 14 in Gorms but in this style a Medium was still roomy but comfortable on me. Oh and also re pricing, at the time I wrote this post, this dress was currently part of a "dresses under $149 flash sale" and will shortly – I'm not sure when – revert to it's usual price of $229.
For this next outfit, I've accessorised this dress to dress it up (on the left) and down (on the right) but of course you can mix and match to create your own look.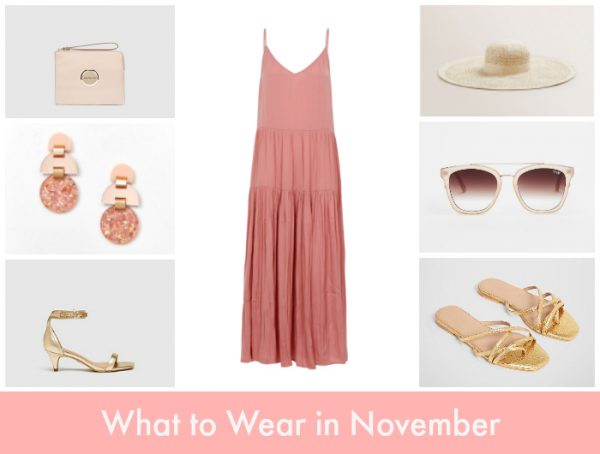 ABOVE, CLOCKWISE FROM TOP LEFT:
Medium pouch, $99.95 from Mimco;
Dress $99.95 from Decjuba;
Sunhat, $49.95 from Seed Heritage;
Quay sunnies, $65 from The Iconic;
Metallic slides, $129.95 from Witchery;
Heels, $99 (on sale) from Mimco;
Earrings, $50 from Martha Jean.
The hero of this outfit is this simple tiered maxi dress which picks up two of Springs big fashion trends: the tiered skirt and this gorgeous peachy pink colour, named here as 'cantaloupe'.
With its silk feel, it's a style that can be easily dressed up or down, as shown above. Any accessories in nude, cream and blush tones and your favourite metallic will complement this summery hue beautifully. I've chosen gold here because of the earrings but rose gold or silver would look equally fabulous.
If you're a fan of the style but not the colour, you might like to know that this dress also comes in black which you can shop here.
Finally, if a layer is in order, for a dressier occasion, this faux wrap, $79.99 from Forever New would work well. For a more casual affair, a denim jacket or a cropped cardy would do the job.
This post contains some affiliate links. You don't pay any extra and I earn a small commission. Read more in my Disclosure Policy here.
So over to you, which outfit is your pick? Are you loving being out of lockdown and Spring fashion as much as I am?