The Spring Carnival is well underway here in Melbs, with race themed events, fascinators and frockery filling up social calendars and fashion retailers.
Personally, I could leave the horse racing part but I do love a long weekend not to mention all the fab fashion at this time of year.
Speaking of which, here's the ensemble I wore to our school Ladies Race Day the other week ….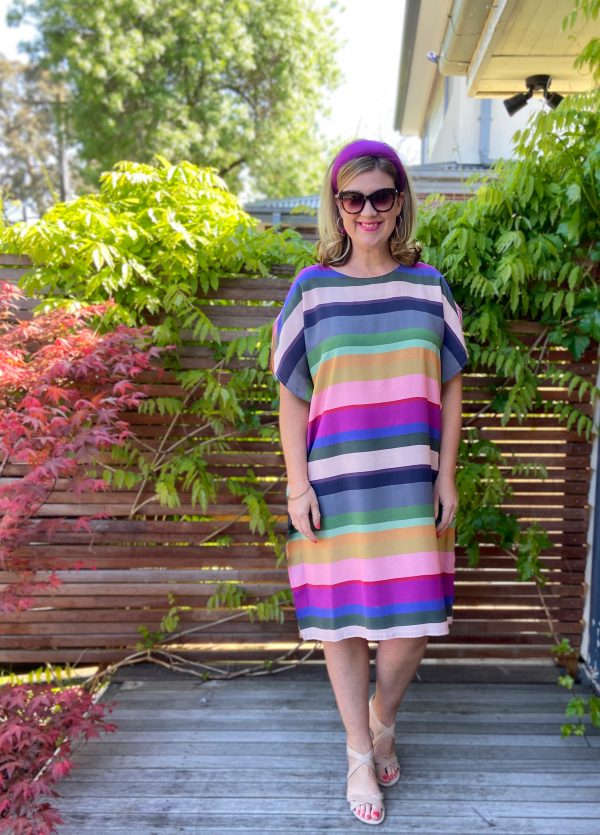 Above I'm wearing the Lysbro dress, available in sizes 6-18, (this is a generous fit, I'm wearing a size 12 which is roomy) and Lerum earrings from ELK; Headband from ZARA and AMiE heels in Sandshell from FRANKiE4 Footwear.
And, with the steady descent into the silly season already underway, now is also a great time to stock up on frocks or outfits for all those end of year do's, Christmas parties, valedictory and graduation functions not to mention Spring weddings and engagement parties.
So whether you're off to a race themed do, or looking for an outfit for a particular occasion, I hope you find this post gives you some inspo.
Just before I launch, if you're looking to mix things up and/or keep things budget friendly this year, perhaps consider the following:
Wear a jumpsuit instead of a dress or a dress/top combo that you can wear to other events;
Think outside the fascinator box and try a variation in headwear such as a turban, headband, metallic or floral crown or a jewelled barrette. (I've embraced the oversized headband as you can see above – check out the great range at ZARA here). These are also often much budget friendlier headwear options too and can come in handy for dress ups and future Book Fun Days;
When it comes to putting an outfit together for an event, I tend to invest in comfortable, quality shoes and look for budget friendly options in the accessories (jewellery, clutch and headwear) department as I tend to get less use from these pieces;
Recycle part of your outfit or swap with a girlfriend who has an event on another day to save cashola.
Derby Day
On Derby Day monochrome rules the school and a classic LBD or LWD comes into its own. Paired with a simple black and white headpiece, this is such a simple yet striking look.
If you prefer a print, stripes, florals and geometric patterns are your friends, although I do find it hard to pass up a spot.
How cute is this brand new Mister Zimi jumpsuit, from the just released 'Disco' mini drop? SWOON.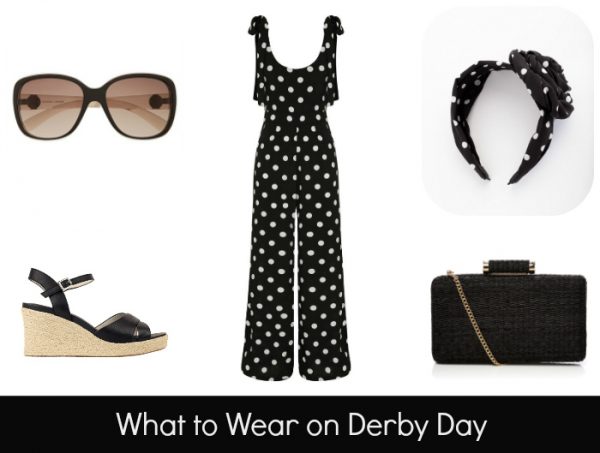 CLOCKWISE FROM TOP LEFT:
Catrina sunglasses, $69.99 from Witchery;
Jumpsuit, $180 from Mister Zimi;
Spotty Headband, $27.99 from Lovisa;
Tully Clutch, $49.99 from Portmans;
ALYCE wedges, $219.99 from FRANKiE4 Footwear.
When it comes to all day events, I don't compromise on my footwear which is why I recommend these ALYCE wedges–  I own several pairs of them – and opt for more budget friendly accessories.
I've teamed this fun jumpsuit with a well priced matching headband although it would look equally fab with a traditional fascinator, boater or turban.
Come high summer and sans headwear, this is a beautiful outfit for a Christmas party, drinks with the girls, date night or an end of year soiree.
Melbourne Cup Day & Stakes Day
Melbourne Cup Day is the pinnacle of the Spring Racing Carnival and is a celebration of bold designs and bright colours and often features statement prints and striking head wear.
Bright citrus hues, fuchsias and tangerines, cobalt and navy blues, emerald and apple greens and post box reds to turn heads are often on show, all of which also translate perfectly to Christmas parties, milestone birthdays, weddings and other soirees if you sub in a great pair of statement earrings for the headwear.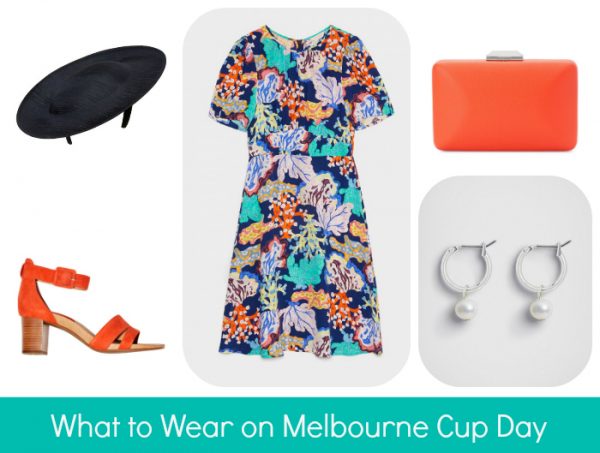 CLOCKWISE FROM TOP LEFT:
Hatinator, $59.99 from Forever New; 
Floral Coral Dress, $329 from Gorman (available in sizes 6-16);
Clutch, $89.95 from Olga Berg; 
Mimi Hoops, $29.95 from Witchery;
GRACiE heels, $219.95 from FRANKiE4 Footwear.
As well as the colourful ELK print I'm wearing above, I am completely obsessed with this floral coral print from Gorman and am waiting for a storewide promotion so I can snap up this fabulous silk blend dress stat. Isn't it fab?
A print like this also offers plenty of options when it comes to picking an accent colour for accessories and headwear. I went with tangerine here, because I adore navy and orange together every day of the week.
A simple hatinator and understated earrings complete this fabulously fun outfit.
If you're a fan of the matchy matchy approach, there is a matching headband for this dress.
After the races are done and dusted, a Melbourne Cup Day worthy dress like this will also be perfect for weddings and other special occasions.
Oaks Day
Oaks Day is Ladies' Day and is traditionally a day on which feminine styling and details are the order of the day. Blush pinks, creams, soft florals and pastels are often popular choices.
I couldn't go past this understated but stunning frock from Forever New (who recently launched their new size inclusive Forever New Curve range), paired with simple, complementary accessories including this statement straw bow headband.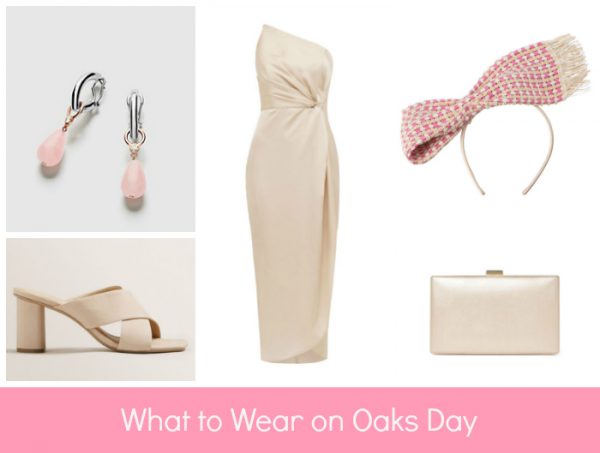 CLOCKWISE FROM TOP LEFT:
Earrings, $89.95 from Mimco;
One Shoulder Dress, $169.99 from Forever New (available in sizes 4 – 18);
Woven straw bow, $69.95 from Olga Berg;
Carrie Clutch, $39.99 from Forever New;
Heels, $179.95 from Seed Heritage.
If you prefer two straps, you might like to check out this understated but flattering blush pink dress, $169.99 from Forever New which goes very nicely with this Floral Headband, $32.99 from Lovisa for a different look.
Oh and hot off the press – check out Witchery's latest drop here for more pretty pastels, cream pleated dresses and soft florals.
Once the racing season is over, an Oaks Day appropriate dress will often be ideal for engagements, lunches and other dressy day time do's.
This post contains affiliate links. You don't pay any extra but I earn a small commission.
Which outfit is your pick?