Welcome to my latest reviews post.
As regular readers around these parts will know, I love writing these monthly reviews because it's a great opportunity to stop and take stock of the incredible offerings out there in Book, TV, Movie and Podcast Lands.
There always seems to be a great new series to watch, an interesting book to read or a gobsmacking story (real or fictional) that captures our collective imaginations and leads us down the rabbit hole.
I have particularly appreciated various forms of media during lockdowns and I know many of you are experiencing or have come out of similar situations recently.  For us here in Victoria, it's a sense of dejavu as we begin Lockdown 5.0. and in amongst the many feels, I'm relieved that we have some form of escape from what feels like endless bad news and relentless doom scrolling.
So make yourself comfortable, grab you beverage of choice and read on. I have truckloads of recommendations for you this month ….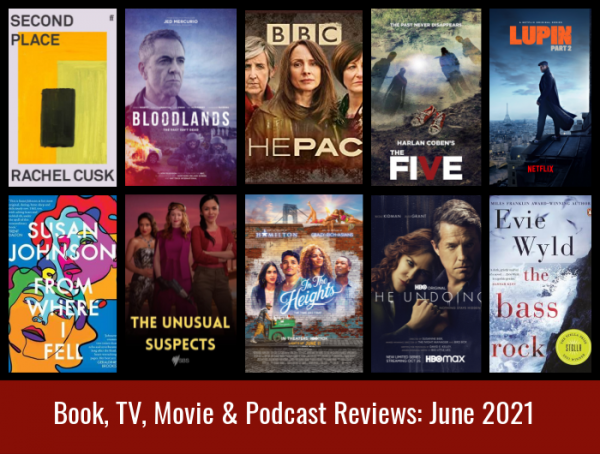 Books
I'm new to the Rachel Cusk fan club but, after living under a rock all these years, I can confirm I'm now a paid up member.
I devoured Second Place, a story that begins with our middle aged narrator (who lives in remote, rural England with her second husband), writing to an artist whose work she has long admired. In their correspondence, she explains to him that his work had a profound impact on her at a key moment of her life, and then she invites him to take up residence and paint at her studio or 'second place'.
I'm not sure everyone will love this book but I certainly did. The characters are few and the dialogue is minimal. Most of the book is a stream of consciousness or an inner monologue and description of events, observations and conversations from the narrator's perspective. In this sense it is not a traditional novel or a linear narrative but I love how Cusk captures the inner anxieties and thoughts of her main (nameless) character who is in her middle age (she has an adult daughter) and feeling increasingly invisible and reflective about her life, her identity and choices to this point.
Upon reflection, I think part of the initial appeal of this book for me was the 'artist in residence' idea which fascinates me enormously.
Also, even though the form of the story is unusual, it still follows a dramatic arc, with tension building and resolution following, even though I didn't expect this as I was reading. I also loved the narrator's husband Tony. He is an extremely well drawn character though he doesn't feature a lot, which is an interesting contrast to the artist himself who features more prominently throughout the novel but who is almost a mirage.
There were so many great lines and insightful observations in this novel. I could have taken to it with a highlighter.
I really loved Second Place but I can also appreciate that it may not appeal to everyone.
VERDICT: *****
Buy it HERE
From Where She Fell by Susan Johnson
I picked up From Where She Fell and bought it without knowing anything about it (besides the front cover endorsements from the fab Trent Dalton and revered Geraldine Brooks) but I'm so glad I did. It's a thoroughly enjoyable, page turning read.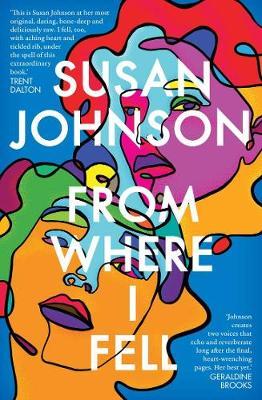 Written as a series of emails between two women living on opposite sides of the world, this is an easy to read story which is easy to dip in and dip out of – not that you'll want to put it down for long.
I loved how the two women – in very different circumstances and with almost opposite personalties – share their daily struggles and deepest thoughts which cover everything from parenting, friendship, grief and family dynamics. It is in parts moving, funny and compelling and I thoroughly enjoyed it. It would make an ideal holiday read or gift to a loved one too.
VERDICT: ****
Buy it HERE
The Stella Prize judges always get it right and this year's winner, The Bass Rock is no exception.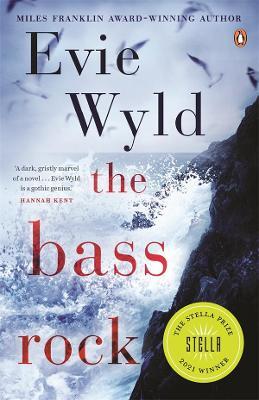 The Bass Rock is the story of several women who, at different times, have lived in a house in the shadow of The Bass Rock which sits off the rugged coast somewhere in Scotland. There are three separate story lines, with each woman's connection to the others being revealed as the stories unfold. The main character is a woman living in London who regularly travels to Scotland, while the other woman are connected to the house and The Bass Rock in other ways, in the past.
I really like the setting of this novel, the various main and secondary characters, and the clever interplay of characters between the story lines although I did have to go back and re-read bits as I'd missed some things initially. The story/ies also never felt formulaic or predictable even though key moments in each woman's life are revealed early on and as the stories unfold. I felt like it was the clever and insightful exploration of the women's motivations, failings, inner resilience and capacity to withstand their circumstances were really at the heart of this novel as opposed to the plot, if that makes sense.
If you enjoy layered fiction, interesting characters and historical fiction, I think you will enjoy The Bass Rock.
VERDICT: ****
Buy it HERE
TV Series
I feel like I've been on a non stop TV binge this month and have watched truckloads of series lately. I've spent most of my TV time in the UK and US this month, although I can highly recommend three excellent local offerings too.
In the crime/suspense department, the best thing we watched was Mare of Easttown (Binge), starring Kate Winslet, which I'd started to watch last month. This is an excellent, gritty, small town crime story which reminded me a lot of two other excellent series The Killing and Broadchurch.
We are also thoroughly enjoying and would recommend Smother (ABC iView), an Irish series which is suspenseful and is keeping us guessing. We have two episodes to go, so I'll provide a full report next month.
In a similar vein, but set in the UK, we also watched The Pact (Stan) set in a Welsh village which was terrific – I loved the Welsh country side as much as the tension and intrigue – and the  excellent Bloodlands(SBS on Demand), set in Northern Ireland which is a murder mystery of sorts set amidst the tensions of the treaty between Northern Ireland and Ireland. With only four episodes, Bloodlands is ideal for a weekend in lockdown binge.
Our most recent British crime drama was The Five (ABC iview) which is an adaptation Harlan Coben's novel of the same name which begins with the mysterious disappearance of a five year old boy, Jesse from the care of his twelve year old brother Mark and his three tween friends.
This is a suspenseful, ten episode thriller which we smashed over a week. If you enjoyed Coben's last series The Stranger, I'm sure you'll also enjoy this series. Bonus: Luke from The Handmaid's Tale is in this series although he has a British accent which is a bit strange …
We also enjoyed the US series The Undoing (Binge) which stars Nicole Kidman and Hugh Grant as an upwardly mobile professional couple living in Manhattan who are plunged into drama when a young mother at their son's school is brutally murdered. Both Nic and Hugh are at the top of their game in this suspenseful series.
For light relief, I watched the Tina Fey produced Girls5Eva (Stan) about the reunion of a '90s girl band (the women are now in their forties) which was funny and easy watching with twenty minute episodes.
I also watched Season 3 of Shrill (SBS on Demand) which was pretty good too and easy to smash out in a couple of nights.
To mix things ups, we watched the Australian series The Unusual Suspects (SBS on Demand) starring Miranda Otto and Peter O'Brien. Set in the glittering Sydney social scene and featuring some unbelievable houses, this is a contemporary heist-comedy-drama featuring a fab cast including four Filipino actors which is a first in an Australian TV series.
Two series we watched but I was less enthused about were The Serpent (Netflix) which I loved for it's 70s aesthetic and production but thought it was way too long and The Flight Attendant (Stan) which again, had promise, but needed some serious editing.
The second series of Lupin (Netflix) was great and picked up where season 1 finished. I think teenagers would also dig this slick series which has an almost comic strip vibe with its detailed backstory, childhood friendships, archetypal villain and chameleon like protagonist.
The excellent series featuring Rachel Griffiths, Finding the Archibald was fab too, with its history of the Archies, close look at the art of portraiture and Rachel's search for the portrait which defines 100 years of the Archie.
On a more serious note, I would also highly recommend the excellent doco by Jess Hill See What You Made Me Do (ABC iView) which gives a sobering account of the reality and pervasiveness of domestic violence and coercive control in Australia but also offers some insights from perpetrators and hopeful international perspectives about moving out of this long standing crisis.
Movies
I took the kids to see a preview of In the Heights weeks ago, as we couldn't wait to experience more of the Lin-Manuel Miranda magic we all loved so much in Hamilton.
While it is an entertaining, very well put together movie-musical and my boys enjoyed it, overall I'd have to concede that  In the Heights is a bit too long and I think has a lot less broad appeal than Hamilton and didn't reach anywhere near the same, pardon the pun, heights. The casting is fab though, and the songs and choreography are great with some stand out scenes such as the awesome public pool scene/song '96G'.
Podcasts
I've haven't spent much time in Podcast Land of late given the above but I have enjoyed regular catch ups with the Chat Ten Looks Three Crew and I'm thrilled to be going to the launch Too Peas in a Podcast's Mandy and Kate's book next week. Will I see you there?
This post contains affiliate links. You don't pay any extra and I earn a small commission. Read more in my Disclosure Policy here. 
So over to you, what have you enjoyed reading, watching or listening to lately?