Welcome to my latest review post!
It's been a while between posts thanks to a blur of sequential lockdowns here in Victoria as well as a peak period at my (other) work. Both have left a serious appetite for distractions but not a lot of time – or head space – to write.
But I'm back now and thrilled to be able to share with you some of the excellent things I've been enjoying lately.
From laughs and light relief to meaty home grown drama, I'm confident you will find something new and interesting in my latest round up …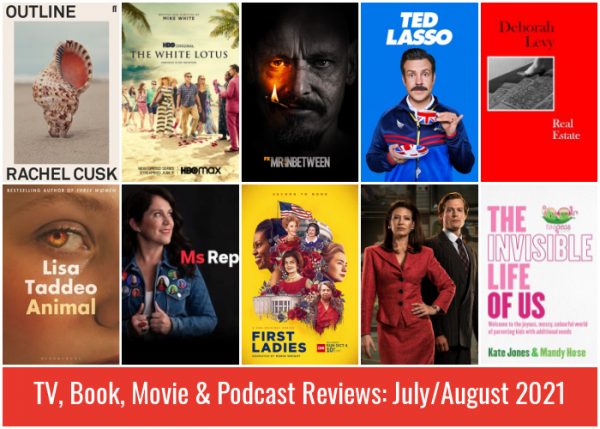 1. Books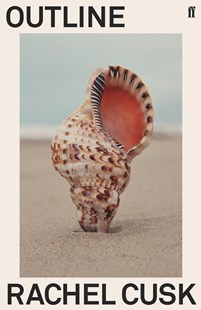 I thoroughly enjoyed the first book in the groundbreaking 'Outline' trilogy by British author Rachel Cusk.
This easy to read novel is deceptively simple but is unusual because it defies traditional narrative structures. (Some enthusiastic reviewers have gone so far as to describe Cusk as 'reinventing the novel' in this series).
Each chapter is a discrete conversation or interaction between the British author/narrator Faye and the various people she meets one summer in Athens where she is teaching a writing class. While there is no linear narrative or plot per se, there are themes and revelations that come to light over the course of the book.
What also becomes clear as the book progresses is how very little we know about our narrator. In contrast, we get to know the people she meets and talks with quite well – they talk endlessly about themselves, giving an 'outline' of their own lives, often with little, if any interest in Faye. The characters are many and varied, and the dialogue and descriptions interesting and evocative. It's an enjoyable holiday read in this sense.
It is through their stories and Faye's perceptive lens that we discover things about these people that they are not, in fact, deliberately disclosing or communicating. This very simple but disciplined approach to the structure of the book – in keeping the narrator as small a character as possible – made me think long and hard about our collective tendency to relentlessly bombard other people with our own perspectives, stories, ideas and versions of ourselves without insight, reciprocity or  interest in the other person.
I am looking forward to reading the next two novels in this series – Transit and Kudos.
VERDICT: *****
Buy it HERE.
The Invisible Life of Us by Kate Jones and Mandy Hose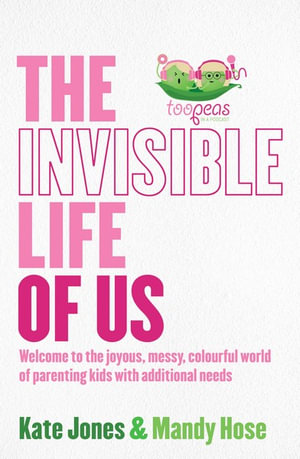 I won't pretend this is an unbiased review because it isn't!
Mandy and Kate of Too Peas in a Podcast are gorgeous friends of mine who somehow, in the middle of the long lockdown 3 of 2020, managed to write a book together, into which they poured their hearts, souls and the wisdom of their experiences of parenting twins with additional needs.
I laughed, cried and learned so much reading this book, and I'd highly recommend it to you whether you are a parent, health professional or just someone who wants to know more, so they can do better.
If you want to hear more, I interviewed Mandy and Kate for their book launch which you can watch/listen to here.
VERDICT: *****
Buy it HERE.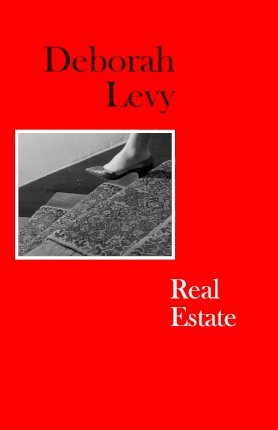 As some of you may know, I am obsessed with British author Deborah Levy (yes, another female British writer!) and have inhaled both her fiction and non fiction books. Many of her books have featured in my favourite book lists in the last few years.
Real Estate is the third and final instalment in her living autobiography and begins with Deborah living in a crumbling apartment block in London, just before the youngest of her two adult daughters is about to leave home to study at university.
Deborah is a middle aged, successful writer but longs for the security and serenity of her own home – some 'real estate'. The book follows her to Paris and Berlin as she grapples with middle age, creative freedom, womanhood, friendship, legacy and so much more.
I loved this final instalment – particularly it's clever and satisfying conclusion – but probably, because of my life stage, related to her earlier books in this series more, particularly the brilliant The Cost of Living. It really is such a gift to read the considered, wise words of an older, experienced creative woman who is not afraid to speak her truth.
VERDICT: ****
Buy it HERE
I didn't love Lisa Taddeo's critically acclaimed doco-novel Three Women but confess that I found it strangely compelling.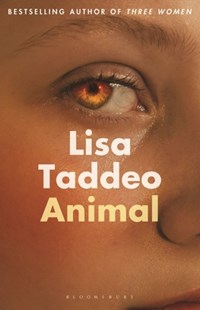 I had the same experience reading the novel Animal, in which the fictional protagonist – Joan – is a somewhat deranged and disturbed young woman who is in survival mode as she leaves NYC and crosses the US into semi rural California following her ex-lover's public suicide in her presence.
The way Joan approaches life and those who come into her orbit is deeply unsettling and difficult to read in parts.
Her life's trajectory has been determined to a large extent by various men and their treatment of her. As the novel progresses though, we're thankfully provided with the context and back story for her rage, single mindedness and murderous pilgrimage. Sure, it's not the way everyone might react, but her choices make a lot more sense when her history is eventually explored in the back half of the book.
I can't recommend Animal because it is graphic and disturbing so it won't appeal to everyone. That said, it is compelling and repelling and does provide an escape of sorts. It certainly took me away from lockdown in Melbourne while I read it.
I also think it's a credit to Lisa Taddeo that she somehow manages to engage her audience and keep them turning those pages despite the sometimes unsavoury and confronting subjects she writes about. There is also no doubt  that some of her success is due to her ability to tap into and articulate the rage that many women feel or have felt at times in their lives.
VERDICT: ***
Buy it HERE.
2. TV Series
How could we ever survive successive lockdowns without a seemingly endless supply of awesome TV series?
I honestly do not know.
Before I launch in to various categories –  what we feel like watching is often about our mood after all – I'd like to begin with my favourite series in recent times.
My Faves 
The best thing I've watched lately was the excellent Mr Inbetween (Binge/Foxtel). I absolutely and thoroughly enjoyed this slow burning series featuring suburban hitman and all round awesome Dad, friend and brother, Ray Shoesmith.
Over its three series, we get to know Ray, his best mate Gav, his brother Bruce (in the late stages of MND) and daughter Brittany. Along with Ray himself, these characters are very well drawn and a pleasure to watch, though given Rae's criminal occupation, there is also some violence along the way and various criminal shenanigans.
I loved everything about this homegrown series – the dialogue, plot, characters and setting are all excellent.
In a completely different vein, I also thoroughly enjoyed the doco series First Ladies (SBS on Demand) and Ms Represented (ABC iView) both of which provided great insights and archival footage into women in politics over the last century.
First Ladies consists of six episodes featuring six different First Ladies, while Ms Represented gives a thorough and insightful history of women's representation – or lack thereof – in the Australian federal parliament.
Our eldest sons watched both series with us and thoroughly enjoyed them too.
Drama
I've watched some great drama TV series of late.
The White Lotus (Binge) was an interesting and thought provoking satire highlighting and exploring the poor behaviour of privileged wealthy white travellers at the expense of the service staff at a fictional resort on the island of Maui, Hawaii.
The cast was universally excellent – especially Jennifer Coolidge's cringe inducing, needy and self centred character. I wouldn't say this is an enjoyable watch as most of the characters are pretty despicable but it's definitely a compelling one and an interesting commentary on our times.
I've also been enjoying the Australian made series The Newsreader (iView) and Wakefield (iView). Both are very well made with great casts and that unique Australian sensibility and style that is such a pleasure to watch. I'm mid way through both series and would definitely recommend both.
I didn't have as much luck with Finding Alice (iView) or Succession (Binge). I could only manage a few episodes of both as I found nearly all of the characters deeply unlikeable and the story boring. I am especially disappointed that I could not tolerate Succession given so many rate it so highly. What am I missing? After four episodes – which was a stretch – I honestly could not go one minute further.
Crime
Along with Mr Inbetween (Binge), I enjoyed the short three part series Manhunt (iView) which is a fictional recreation of a mysterious murder in London in the early noughties. It tells the story of how the killer was brought to justice in the absence of any witness, motive and minimal evidence.
I also watched the crime doco Sophie: Murder in West Cork (Netflix) which was sad and interesting, as most crime docos are.
Laughs and Light Relief
I've been seriously craving light relief lately and found some absolute winners in the fab Starstruck (ABCiView) and the hilarious (oldie but a goodie) Derry Girls (Netflix).
Both feature short, funny twenty or so minute episodes which are perfect if you can't concentrate for long or you're in between series.
I've also been enjoying weekly eps of season 2 of Ted Lasso (Apple TV) and love his brand of goodness and wholesomeness contrasted with the fierce and brutal environment of an English football club. This is such a great feel good show – it's a shame the language is so fruity (i.e. F bomb central) as I think my older boys would enjoy it too.
Hacks (Stan) was a happy surprise and I loved seeing two clever comediennes in this original TV series set in Las Vegas about an ageing entertainer and her newbie comedic writer.
We've also been watching and enjoying Breeders (Stan) which is another funny British series about parenting which comes in easy to consume twenty minute episodes.
Doco
I love a good doco and as I mentioned above, I'd highly recommend the Australian series Ms Represented (iView) and First Ladies (SBS on Demand).
I also adored Love on the Spectrum (Season 2) (iView) which we watched with our two older (teenage) sons. This is such a great series.
3. Movies
As well as watching the TV series, Ms Represented, First Ladies and Love on the Spectrum with our older (teenage) sons, we've been watching family movies most weekends. It's been a challenge to find movies that suit our children's ages (10, 13 and 15).
We've rotated the chooser of the movie and here's what we've been watching over the last couple of months, along with The Office, all of which I'd recommend:
The Secret Benedict Society (Disney Plus) – My choice
The Tomorrow Wars (Amazon Prime) – Mr 15's choice
Catch Me if You Can (FYI there are a couple of f-bombs and a sex scene) – Mr SnS's choice
Napoleon Dynamite – Mr 13's choice
The Three Amigos – My choice
The Dark Knight – Mr 15's choice
Next on our list are The Father of the Bride and Baz Lurhmann's Romeo and Juliet as my fifteen year old is studying Romeo and Juliet.
4. Podcasts
I've stuck to the usual suspects lately, notably Casefile for long walks and Chat Ten Looks Three.
I did enjoy the pod Who Was Prince? which is a deep dive into all things Prince.
This post contains affiliate links. You don't pay any extra and I earn a small commission. Read more in my Disclosure Policy here. 
So over to you, what did you enjoy reading, watching or listening to lately?